Since several months the British capital has become « the» trend setter. So set your watches on English time and check out these two collector items « with a twist ».
The first one is signed Chris Ladbrooy for Sushi Shop.   To celebrate the opening of their second boutique in London, the made in UK illustrator has allowed his imagination to run free for this new sushi box. In addition to being fun and offbeat, it includes 36 pieces, including a novelty with tuna and white truffle, #OMG.
At chocolatier Pierre Marcolini, it's Tom Dixon, who is in charge of creation. The star designer has revisited the chocolate box with a London Brick style. The colorful geometric setting features his signature detailing, coppery reflections. Inside? 36 yummy chocolate mouthfuls or 12 macaroons, it's up to you!
And to be on top of the glam and trendy hot new happenings in London, rendezvous on Do it in London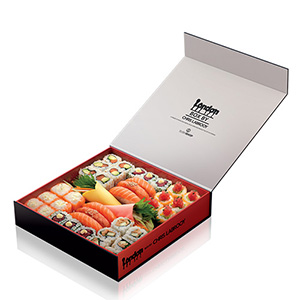 Sushi Shop, London Box by Chris Labrooy, 45€.
Pierre Marcolini x Tom Dixon, chocolate kit 41€, with macaroons 31€.