In a quest for modernity, the famed Michelin bibendum just rewarded a series of new cool and unfussy tables. A short-list of starred restaurants and chefs who conquered the heart of the editorial team—to be tested urgently.
Le Rigmarole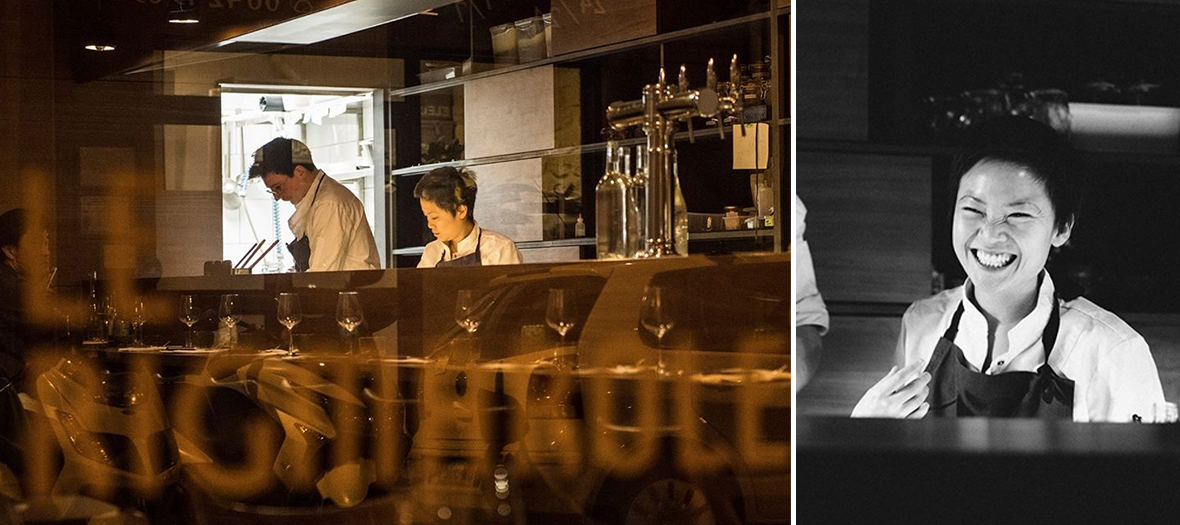 The chef. Applauded by the Fooding upon opening this pocket-sized restaurant in 2019, Franco-American Robert Compagnon is no doubt… the best Japanese chef in Paris! But also as radical as he is avant-gardist. The incredible atmosphere of this small gastronomic club (low key lighting, bar, superglam' clientele) has a lot to do with it.
To be tested. Grilled meats on Japanese charcoal but also his pasta. Special kudos for the terrific desserts of Californian Jessica Yang.
Le Rigmarole, 10 Rue du Grand Prieuré, 75011 Paris, 01 71 24 58 44
La Scène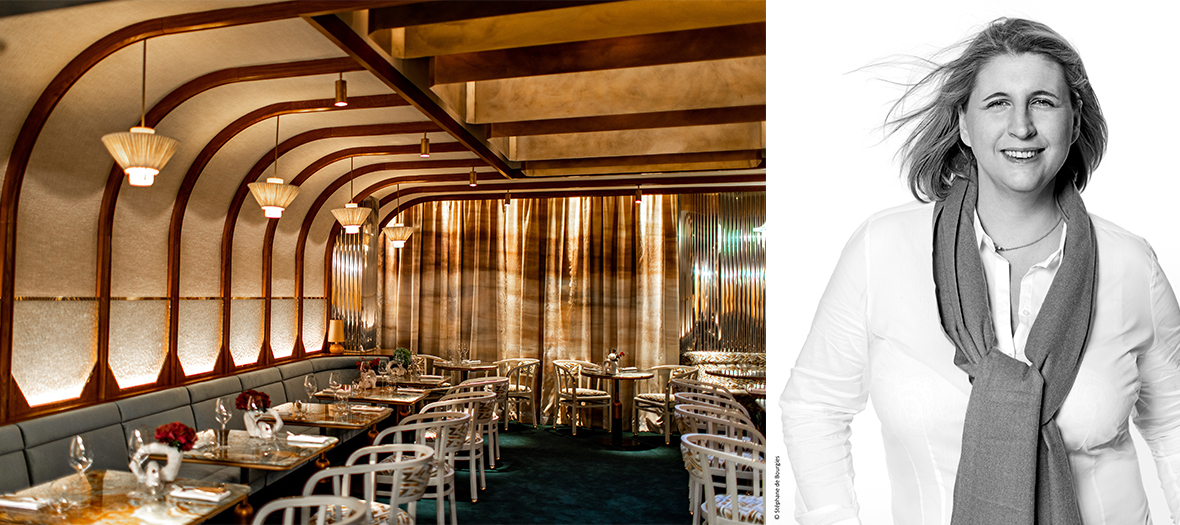 The chef. In the cathodic spotlight of M6, Stéphanie Le Quellec established her reputation by taking over the helm of the Prince de Galles dining room, la Scène, rewarded with two stars. A new launch and two new stars this year for the chef who delocalized her table while keeping the same name for "her own" business and a splendid Toro and Liautard decor on Avenue Matignon.
To be tested: French toast with caviar and sweetbreads. Damned! Another solution: squatting the bar, conceived like a palace bar for a cocktail and gourmet tapas.
La Scène, 32 Avenue Matignon, 75008 Paris, 01 42 65 05 61
Anne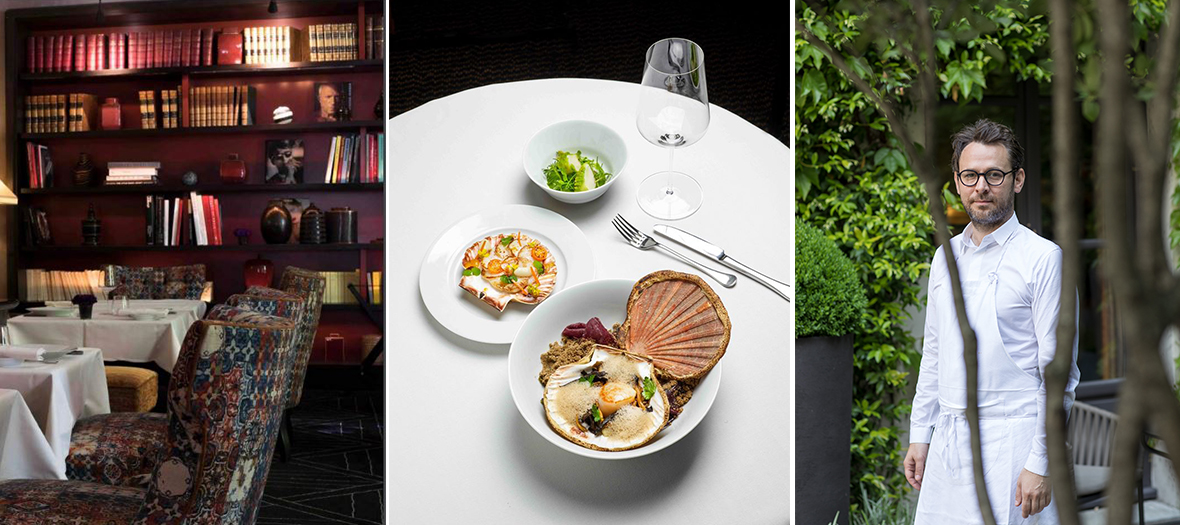 The chef. It's as Place des Vosges neighbour that the coolest 3-star chef of his generation, aka Mathieu Pacaud (L'Ambroisie) coaches with the help of his second, Enzo Scaramuzzino, the kitchens of the secret hotel Le Pavillon de la Reine. The sex-appeal of this table is that it's everything except fussy: 20 places nestled in a small salon-library or in the garden when the weather is balmy …
To be tested: the red snapper like a bouillabaisse one, of the signature dishes, as well as their chocolate soufflé. Another curiosity: the terrific 100% vegetarian menu in 4 services (€95).
Anne, 28 Place des Vosges, 75003 Paris, 01 40 29 19 19
Le Sergent Recruteur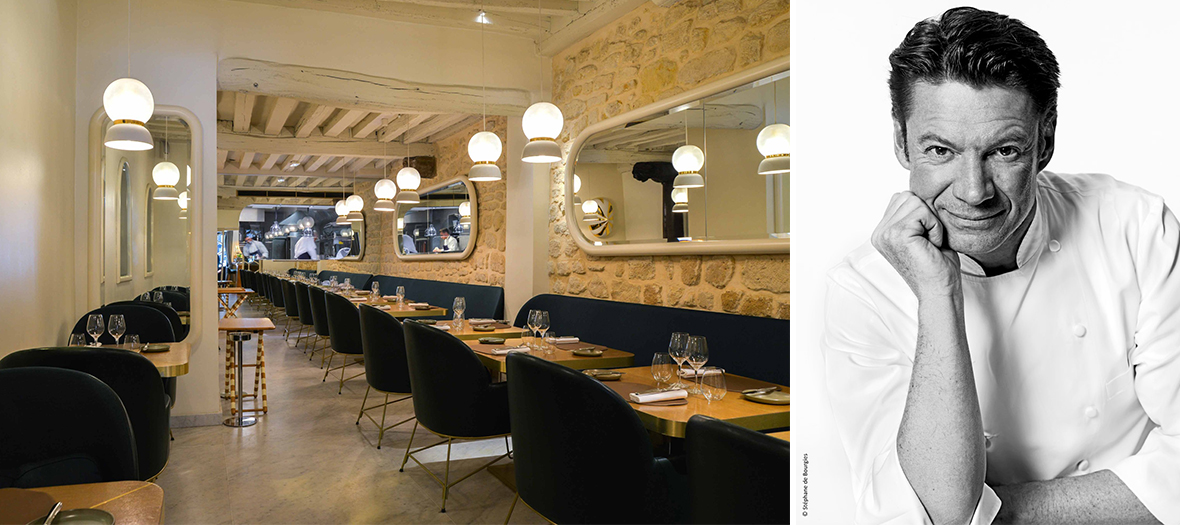 Le chef. It was a daring wager than to take over Le Sergent Recruteur after the Cédric Naudon scandal of "La Jeune Rue". The challenge has been largely met by the brilliant Alain Pégouret (team Robuchon and Christian Constant) who brings back the gold gilding to this magical and charming bistronomic address on the Ile Saint-Louis.
To be tested: of course the polenta of truffle, parmesan and runny egg yolk, a sea crab, lobster jelly, cream of fennel without forgetting the quail goldened in pepper butter and fois gras juice.
Le Sergent Recruteur, 41 Rue Saint-Louis en l'Île, 75004 Paris, 01 43 54 75 42
Le Pavyllon Alléno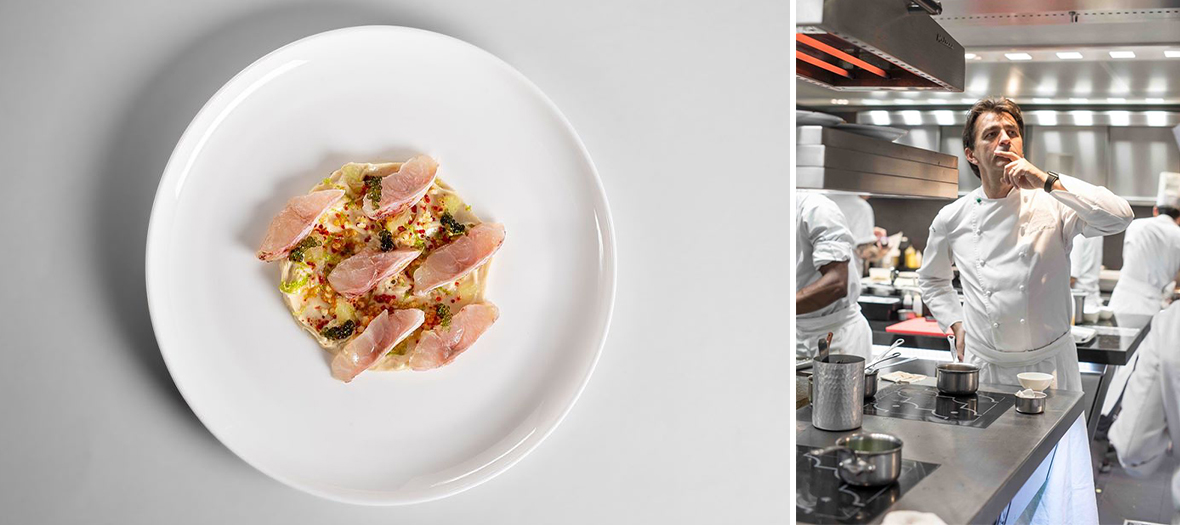 The chef. No need to present Yannick Alléno, figurehead of French gastronomy, now the big honcho at Pavillon Ledoyen. Big news, this hear, he has opened next to his 3-star restaurant, le Pavyllon, a bistronomic table conceived like a bar, with a scenography by Chahan Minassian. A culinary show at an accessible price to test the prodigy's cuisine.
To be tested: his tempuras, served with all the plats. The pithiviers of hare, the formidable Strogonoff of wagyu and stick potatoes that are already considered as must-eat. The lunch menu at €68 is also terrific.
Pavyllon Alléno, 8 Avenue Dutuit, 75008 Paris, 01 53 05 10 00
L'Abysse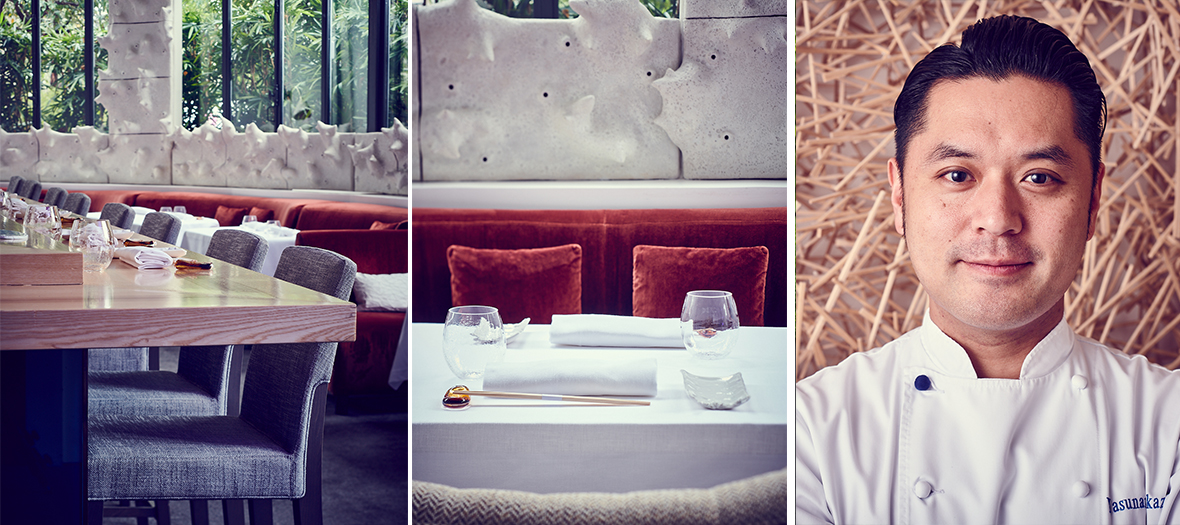 The chef. Yasunari Okazaki, an amazing sushi master expatriated in France by Yannick Alléno to open the most upscale sushi bar in Paris. And it just happens that the Japanese table is also at the heart of the Pavillon Ledoyen—making this address the heart of Parisian gastronomy.
To be tested: the fantastic lunch menu (€98) sitting at the counter. Big hit: a chirashi of noble fish to be enjoyed with fantastic sakés.
L'Abysse, 8 Avenue Dutuit, 75008 Paris, 01 53 05 10 00
Kei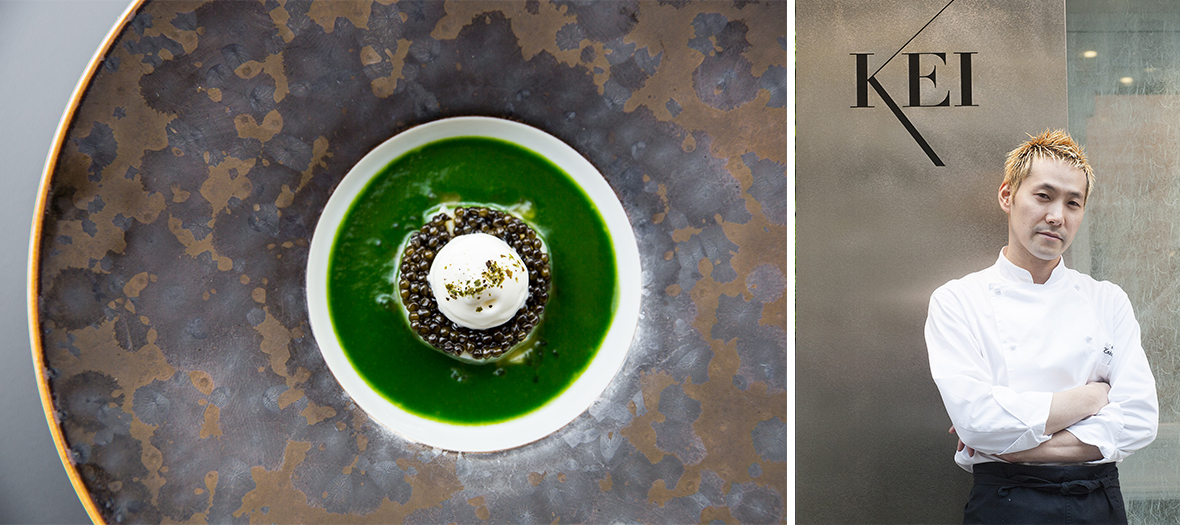 The chef. Son of a traditional Japanese chef, Kei Kobayashi, who trained with Alain Ducasse, is the first Japanese to be awarded three Michelin stars. His signature? A minimalism, a poetry and a creativity which perfectly enhance traditional French cuisine. Good news, his table in Les Halles ensures excellence without the fussiness of many 3 star venues.
To be tested: His famous garden of crispy veggies with an anchovy  mayonnaise and tapenade of olives, which everyone is talking about! The Passard brigade will continue. Another marvel: the smoothie of citrus fruit at Bachès.
Lunch menu €58, tasting menu €150
Kei, 5 Rue Coq Héron, 75001 Paris, 01 42 33 14 74
Aspic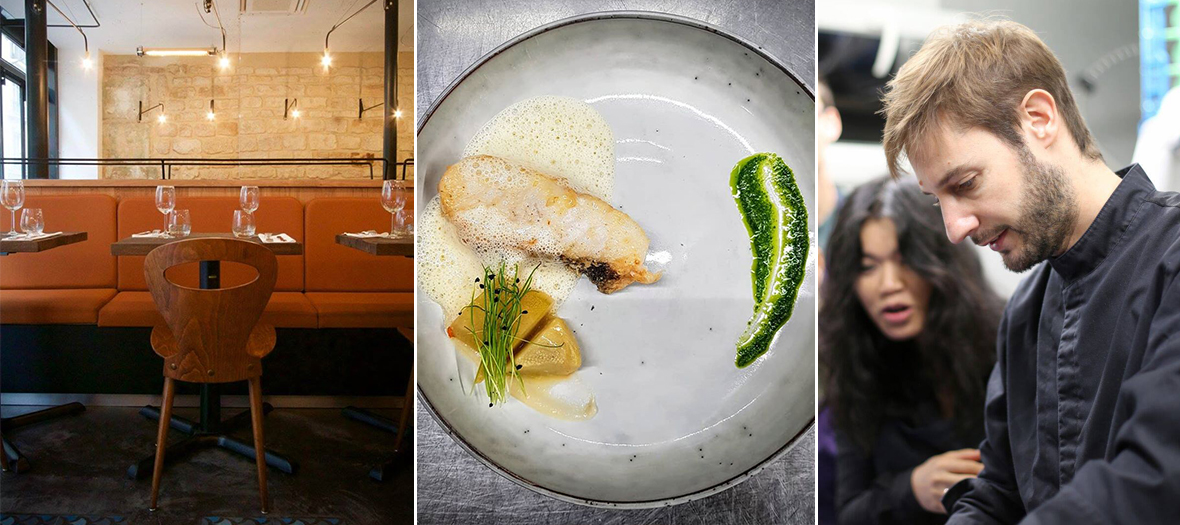 Le chef. After years in the finance world, Quentin Giroux dropped everything for cuisine. And it's at the Ministry of Foreign Affairs and Epi Dupin that the young chef started out before opening Aspic: un gastro' ultra cosy with a retro décor, where the cooks serve dishes themselves. Chic. A well-deserved first Michelin star!

To be tested: The signature appetizer fleur de sel brioche, butter with zest of cumbawa served at the outset with charcuterie of fennell, straight from Italy. The tasting menu in 7 dishes (€69) changes every 3 weeks. To finish on a high note: you depart with a gourmet surprise gift to play the prolongations at home. Joy.

Aspic, 24 Rue de la Tour d'Auvergne, 75009 Paris, 09 82 49 30 98



Also discover highly awaited new restaurants and the best baos in Paris.