To keep up with the latest and finest, the Michelin guide awards its famous macaroons to the coolest and most refined establishments. We've short-listed some of the award-winning restaurants that have seduced our editorial staff— to be tried and tested without delay.

Frenchie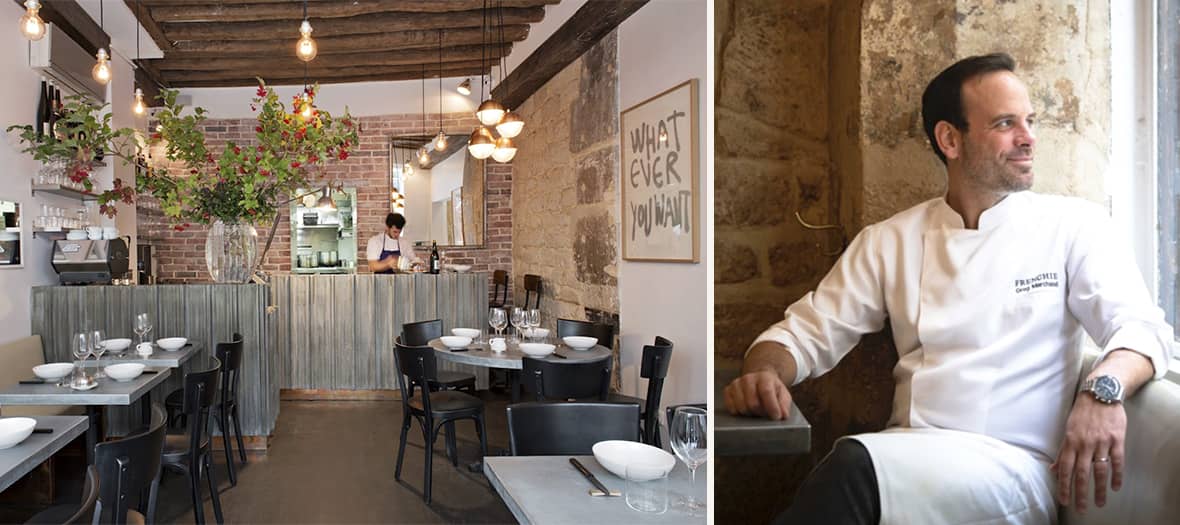 About the chef — Gregory Marchand, aka Jamie Oliver's little protégé, was the rising star of his generation when he was first featured in the French magazine Fooding 11 years back.
Alongside his fast-food and wine bar, Marchand made Frenchie a must-visit, contemporary gourmet table.
Must-try dishes — His menu's updated on the daily. French plates with a touch of international influences and mean flavors.
Frenchie, 5 rue du Nil, Paris 2th. 01 40 39 96 19. Open Monday to Sunday from 6:30 pm to 10:30 pm. 140 € for a 5 course meal where the chef is given carte blanche.
Baieta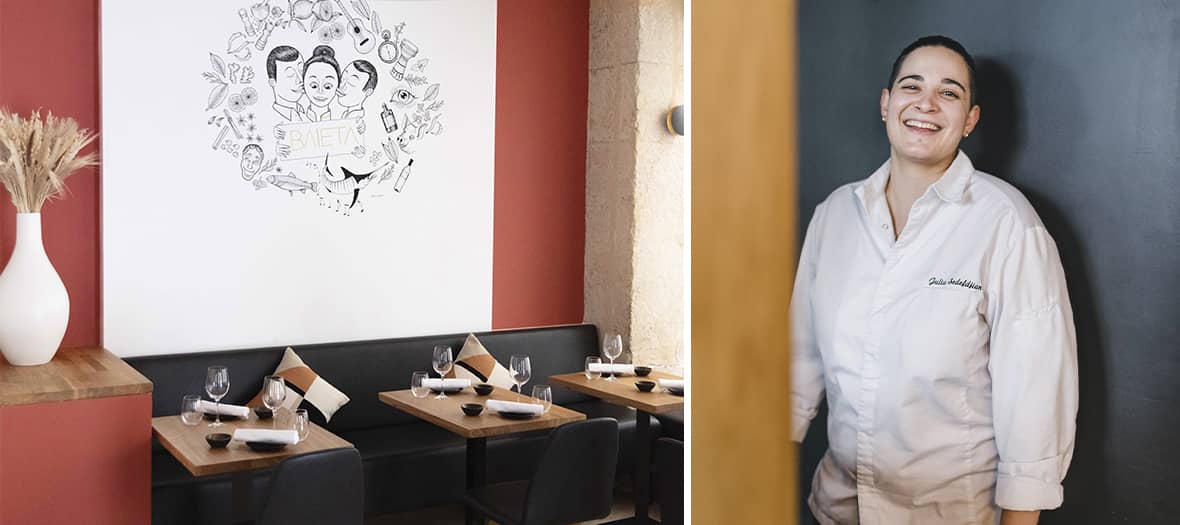 About the chef — When Julia Sedefdjian was awarded her first Michelin star in 2016 that put her on the map as the youngest starred chef in France (she was barely 20!). A couple months later, the up and coming superstar - and her two mates from Les Fables de la Fontaine - pulled up stakes to open their own restaurant Baieta (that means kisses in the French Riviera lingo btw). A successful venture so far!
Must-try dishes — The signature local dishes served in a sexy, upscale version (yummy!): the infamous bouillabaisse ("la bouillabaieta 2.0"), the roasted Dombes duck and scrumptious citrus supremes accompanied by a bergamot sorbet. We adore the 3, 4 and 7 course meals (55€, 90€ and 115€ respectively).
Baieta, 5 rue de Pontoise, Paris 5th. 01 42 02 59 19. Open from Tuesday to Saturday for lunch and dinner.
© The Travel Buds
Tomy & Co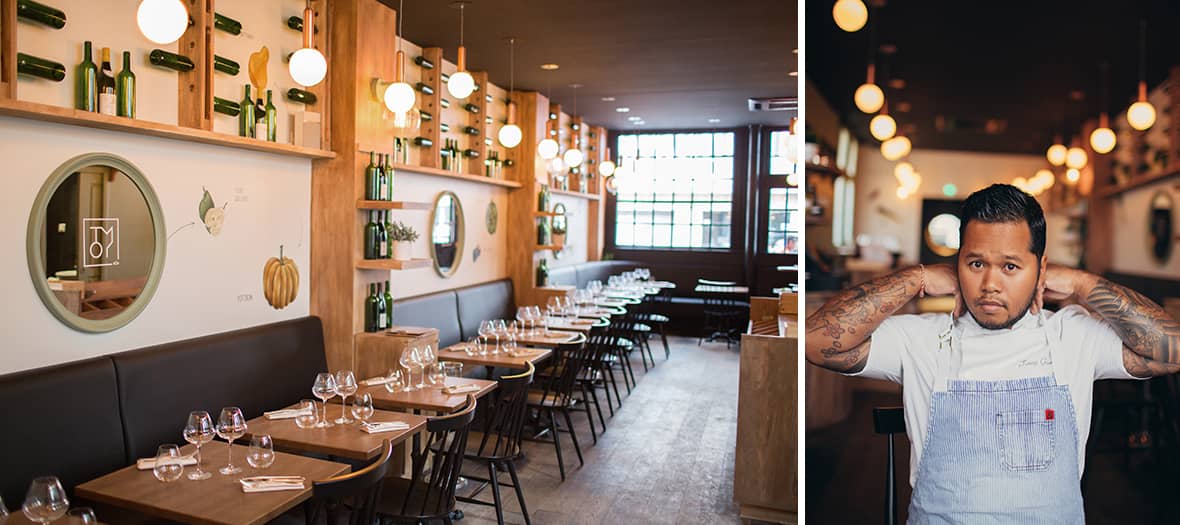 About the chef — Despite his young age (barely forty), Tomy Gousset possesses all the attributes of a great chef. He worked his way up from the famed Taillevent and Le Meurice restaurants to launch Pirouette, a table packed with creative cuisine that made a splash on the Rue Surcouf for the past three years: Tomy and Co.
Must-try dishes — A can't miss : his Croque-monsieur with black truffle & chicken juice (38€). Another absolute must: his brand new pithiviers veal / chicken / foie gras and sunchoke condiments. Menu includes a starter, main course and dessert (lunch and dinner 68€). And voilà!
Tomy & Co, 22 rue Surcouf, Paris 7th. 01 45 51 46 93. Open from Monday to Friday, lunch and dinner.
Virtus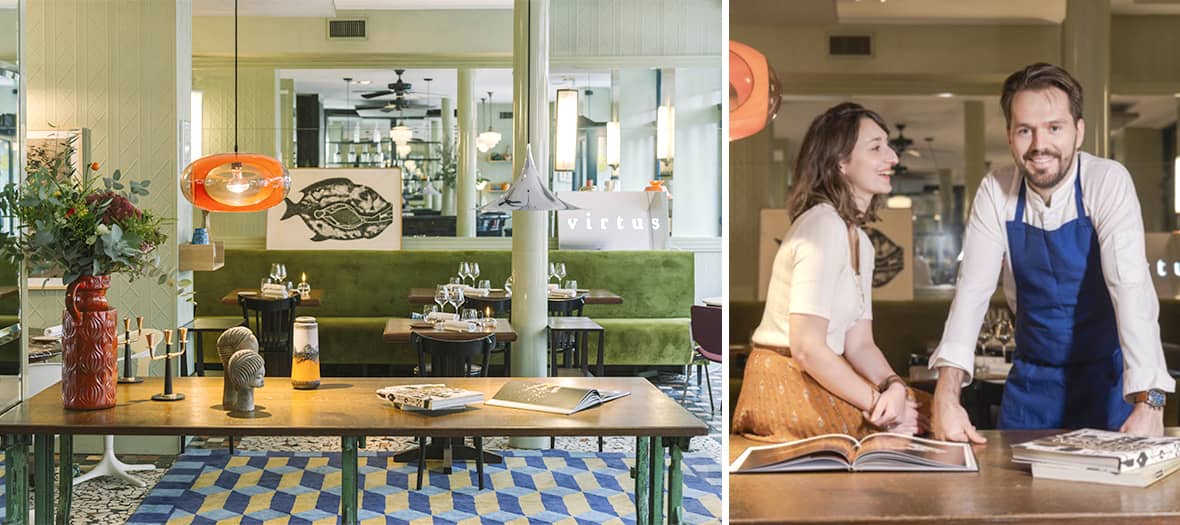 About the chefs — Virtus delights us with their stunning duo made up of Frédéric Lorimier (who we've seen next to chef Arnaud Donckele in Saint-Tropez) and Camille Gouyer (Vague d'or - Le Cheval Blanc Saint-Tropez). A power couple that stirs up excitement right down to the final bite, offering a menu bursting with sea and citrus aromas, reminiscent of the South of France!
Must-try dishes — You simply cannot pass this up: grilled squab with candied leg, melting potato with onions and parsley, braised scallops with candied kumquat, passion fruit with squash and vanilla ice cream. We rush there at lunchtime for 3 course or 4 course menus (49€) or at dinnertime, to savor and unwind.
Virtus, 29 rue de Cotte, Paris 12th. 09 80 68 08 08. Open Tuesday to Saturday, lunch and dinner.
L'Ours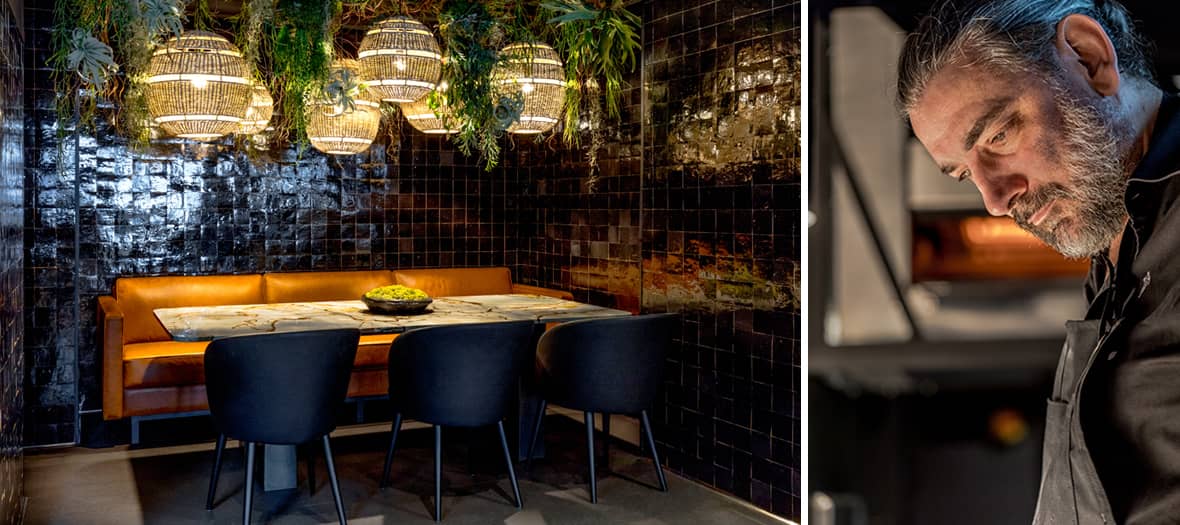 About the chef — Following his starred restaurant Qui Plume La Lune in the 11th (awarded a Michelin star in 2014) Jacky Ribault has now won the highly coveted macaroon for his restaurant, L'Ours, which opened in Vincennes. This native of Brittany, who passed through places like Gstaad and Tokyo, built an enchanting forest-themed restaurant that guarantees unforgettable memories.
Must-try dishes — Jacky Ribault opted for unconventional, i.e. no formal menus, rather, he takes us by surprise. The leitmotif? Fine cuisine imbued with Japanese influences. Some good examples are the Bluefin tuna, the subtle summer dashi, the pollack cooked with miso sabayon and the voluptuous mango-passion soufflé. Your best bet? The lunch formula at 65€.
L'Ours, 10 rue de l'Église, 94300 Vincennes. 01 46 81 50 34. Open from Tuesday to Saturday for lunch and dinner.
© Julie Limont
La Scène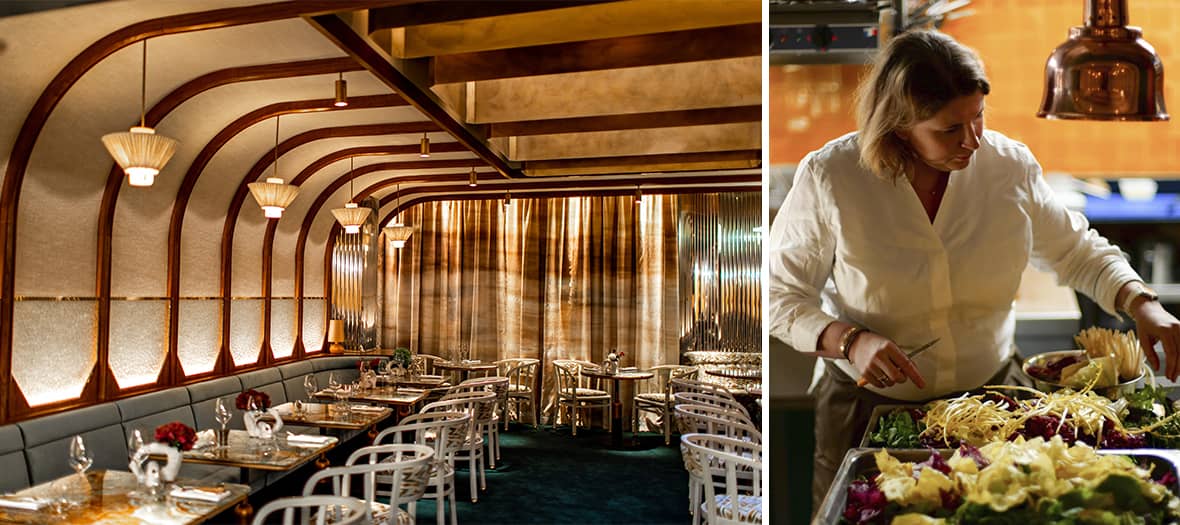 About the chef — Stéphanie Le Quellec is a celebrity TV chef who's made a name for herself by taking the reins of the dining room La Scène (Prince de Galles) awarded two stars. The chef has now relocated - leaving the name intact - to run her own kitchen in a lavish décor by Toro and Liautard.
Must-try dishes — The creamy risotto with black truffles and the saddle of lamb. Nom-nom! Alternatively, you can sit at the bar (designed just like a luxury hotel bar) to sip cocktails and enjoy gourmet tapas.
La Scène, 32 avenue Matignon, Paris 8th, 01 42 65 05 61. Open from Monday to Friday for lunch and dinner.
Anne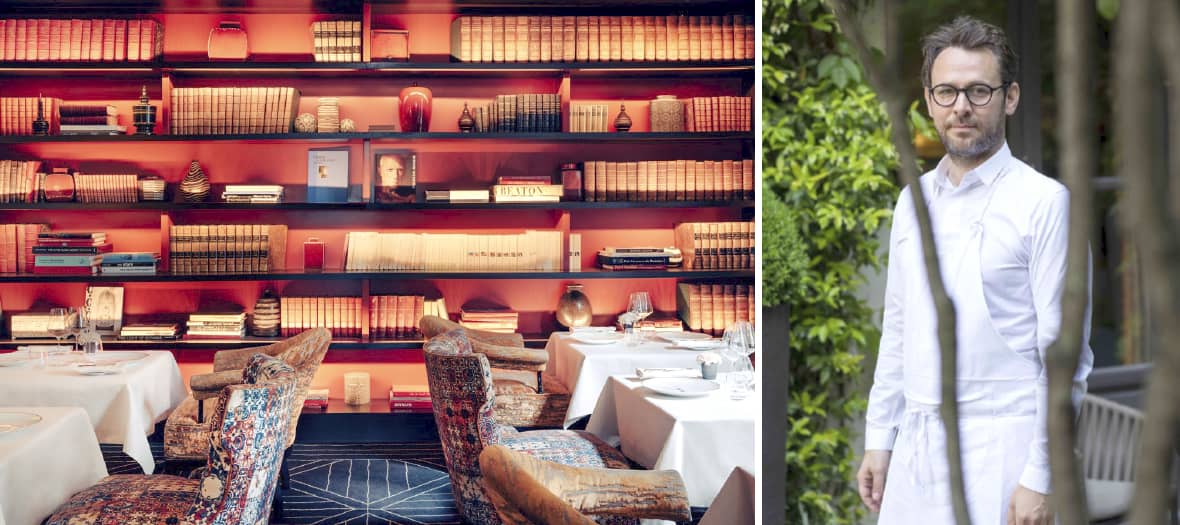 About the chef — In the neighboring Place des Vosges, the hottest 3-star chef Mathieu Pacaud (L'Ambroisie) oversees the day-to-day operations of the secret hotel Le Pavillon de la Reine, with chef Stéphane Bernard's guidance. What sets this table apart? It seats 20 people in a cosy lounge-library or outside in the garden on spring days...
Must-try dishes — The signature dish: veal on rice, along with his mean chocolate soufflé. And for those of you who fancy unexpected twists, opt for the carte blanche menu (150€).
Anne, 28 place des Vosges, Paris 3th, 01 40 29 19 19. Open from Monday to Friday for lunch and dinner. Open from Wednesday to Saturday for lunch and dinner and on Sundays for lunch.
© Philippe Vaures Santa Maria
Le Sergent Recruteur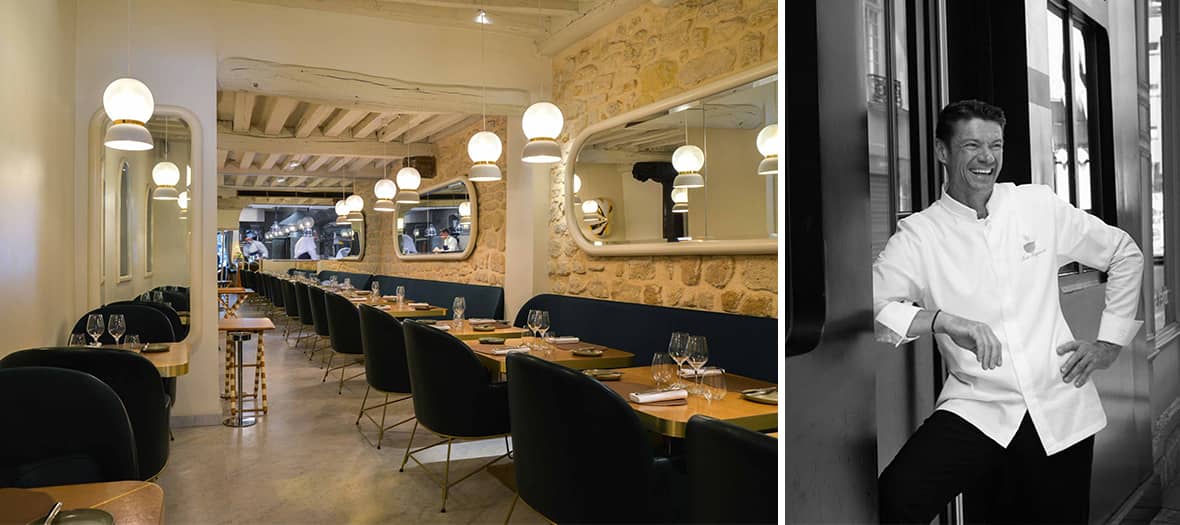 About the chef — It seemed like a bold move to take over Le Sergent Recruteur after the scandal involving Cédric Naudon and La Jeune Rue. Alain Pégouret (Robuchon & Christian Constant team) rose to the challenge and restored this legendary and charming bistro on the island of Saint-Louis with flying colors. Let's applaud his bravery and forget about the jerks.
Must-try dishes — The truffle polenta, parmesan and runny egg yolk, a pearly Haddock with sea fennel steam, not to mention the golden quail with pepper butter, juice with foie gras.
Le Sergent Recruteur, 41 Rue Saint-Louis en l'Île, Paris 4th, 01 43 54 75 42. Open Tuesday evening and from Wednesday to Saturday for lunch and dinner.
Pavyllon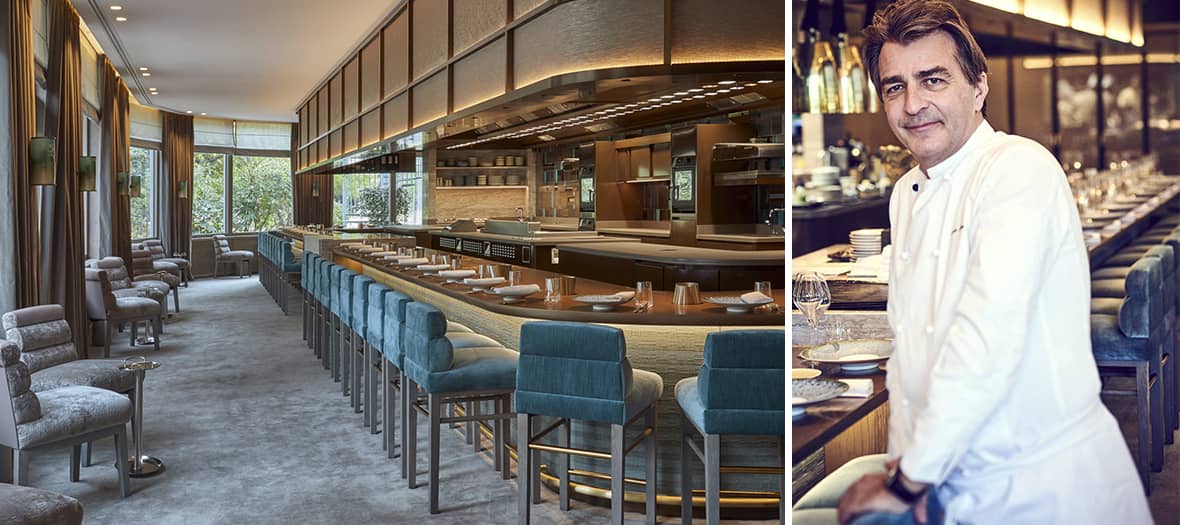 About the chef — Yannick Alléno, renowned figure in the realm of French haute cuisine and honcho of the Pavillon Ledoyen, needs no introduction. Adjacent to his 3-star restaurant he inaugurated a bistronomic table, the Pavyllon, laid out as a bar and designed by Chahan Minassian. An accessible dining experience to sample the chef's menu.
Must-try dishes — The breaded pork chop Kiev style and the red mullet stuffed with chorizo. Now for date night, we recommend the cordon bleu for two with vin jaune jus and grated nutmeg (48€). The lunch menu is also mouthwatering.
Pavyllon Alléno, 8 Avenue Dutuit, Paris 8th, 01 53 05 10 00. Open from Monday to Sunday for lunch and dinner.
© Nicolas Lobbaëstel et Veronese
L'Abysse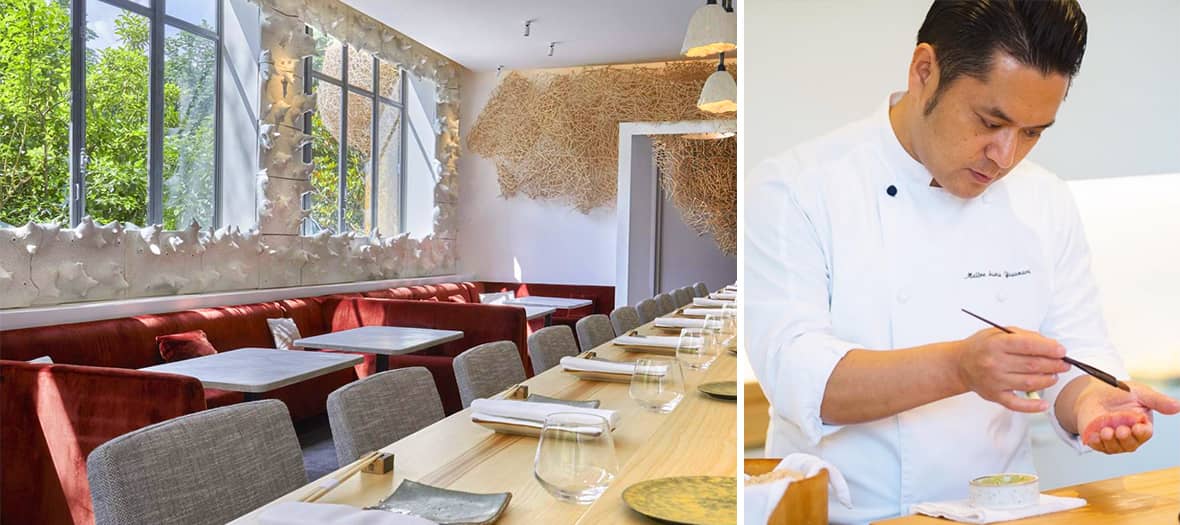 About the chef — Yasunari Okazaki, sushi chef extraordinaire, was expatriated to France by Yannick Alléno to run the most exclusive sushi bar in all of Paris. The Japanese table stands in the heart of the Pavillon Ledoyen, positioning this location as the ultimate gourmet spot. 2 ⭐️.
Must-try dishes — The fabulous lunch menu (98€) seated at the bar.
Highlight of the show: a chirashi of the finest fish to be accompanied by a selection of delicious sakes.
L'Abysse, 8 Avenue Dutuit, Paris 8th, 01 53 05 10 00. Open Monday to Friday for lunch and dinner.
Kei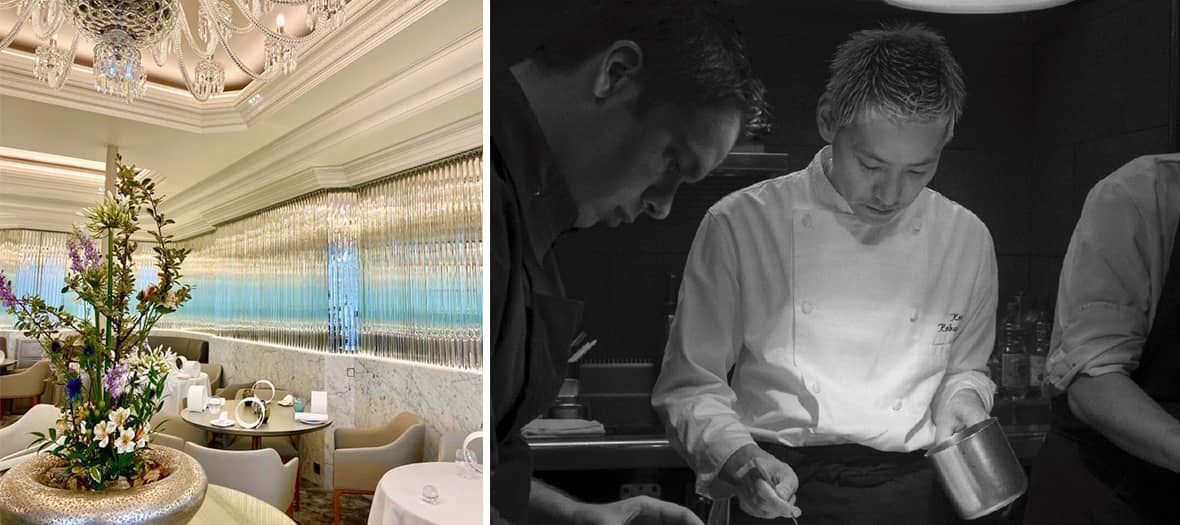 About the chef — Kei Kobayashi, son of a traditional Japanese chef, learned the ropes at Alain Ducasse and became the first Japanese chef to be awarded 3 Michelin stars. His trademark? Simplicity, poetry and creativity, all of which beautifully enhance the traditional French cuisine. Good news is, his table in Les Halles boasts excellence minus the frills of many three-starred restaurants.
Must-try dishes — His signature crunchy garden vegetables paired with smoked Scottish salmon. Passard can be proud. The red shiso granita is another gem.
Kei, 5 rue Coq Héron, Paris 1st, 01 42 33 14 74 . Open from Tuesday to Saturday for lunch and dinner. Lunch menu 58€. Tasting menu 198€.
Aspic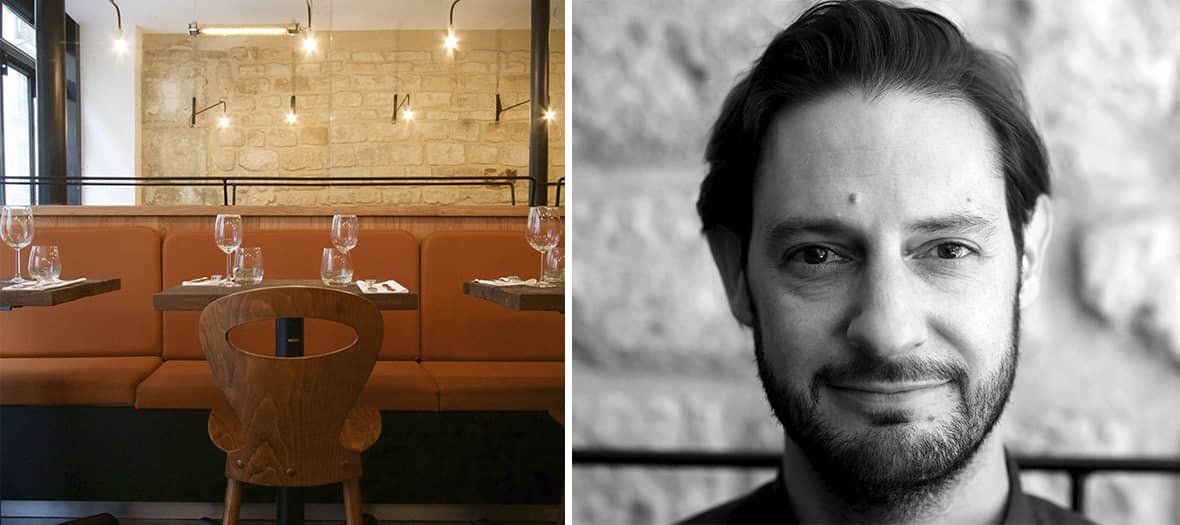 About the chef — After years as a financier, Quentin Giroux threw in the towel to pursue his passion for cooking. The young chef worked at the Ministry of Foreign Affairs and at the Epi Dupin, to name a few, prior to opening Aspic, a laid-back, vintage chic gourmet restaurant where every dish is served by the cooks themselves. A well-deserved first Michelin star!
Must-try dishes — We fell in love with the Breton scampi, beet puree with dark chocolate and drooled over the Pont l'êvèque mousse, onion chutney, croutons, apple and yellow lemon. The menu comprises a unique, 7-course tasting menu (109€). How delightful.
Aspic, 24 Rue de la Tour d'Auvergne, 75009 Paris, 09 82 49 30 98.
Open Monday to Friday from 7:30 pm to 11 pm.
Also see 5 coffee shop to work and Where to eat the best pastas in Paris ?