The subtext when we heard the instructions of Macron ? In the closet, shoes with heels, fitted blazers for the office, bling belts, leather pants, sequined dresses and wow bags. Clearly, the confinement implies the era of homewear , this art of undermining all the comforts to telecommute well wrapped up in soft / warm / fluffy / scratching unnecessary mentions.
Be careful, however, to differentiate pajamas and household clothes. The Snoopy pilou outfit is for the night (or forever)! Since the only person you will meet today is her reflection in the mirror, you might as well avoid self-depressing and bet on comfy AND stylish pieces. Couture hoodie , moumoute sandals , oversized t-shirt , large branded socks or even blanket jumpsuit … Follow the guide.
We invest in the favorite label of young US fashionistas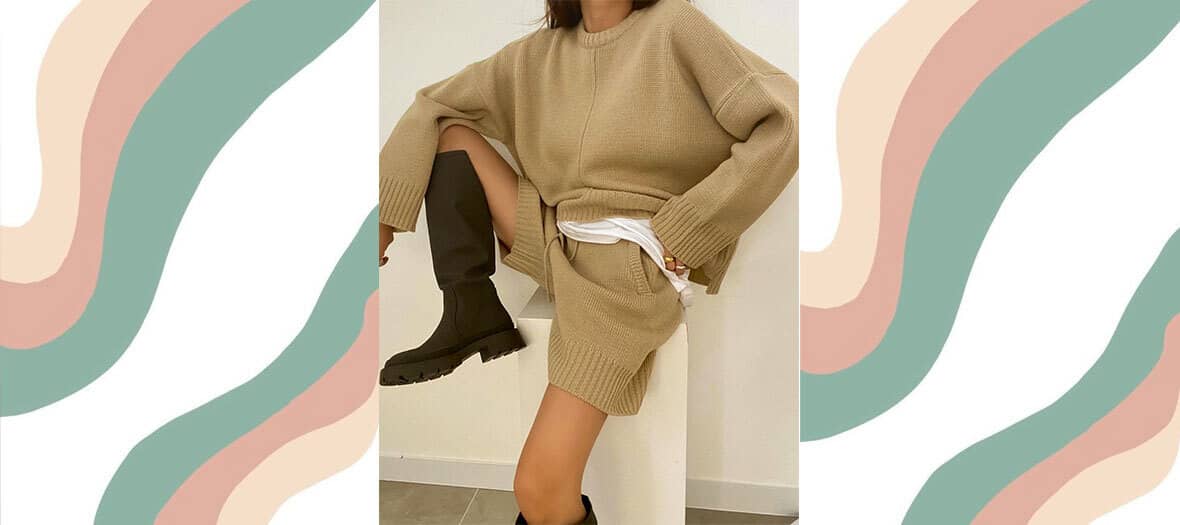 We can clearly get out with once deconfined. Even today, even directly for shopping or taking the air with a pair of tights, combat boots and a bob. In short, this The Source Unknown set (this mysterious ultra-stylish multi-brand that thrills American Generation Z ) is an all-terrain vehicle to own.
Mesh set, The Source Unknown , around € 105
We bundle up in a structured hoodie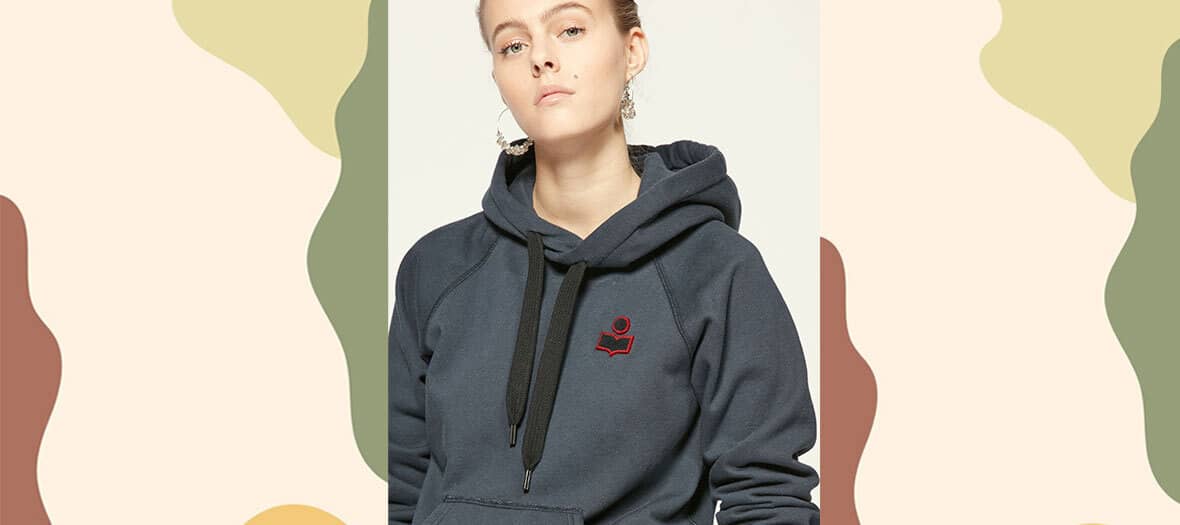 Icon of cocooning at home, we are investing in a new and really pretty hoodie like that of Isabel Marant Étoile in which we will really feel more beautiful than in a shapeless version reduced by the years. In short, loose is no, staying at home while keeping your fashion skills is yes.
Malibu sweatshirt, Isabel Marant Étoile , € 220
We swap our slippers for fluffy sandals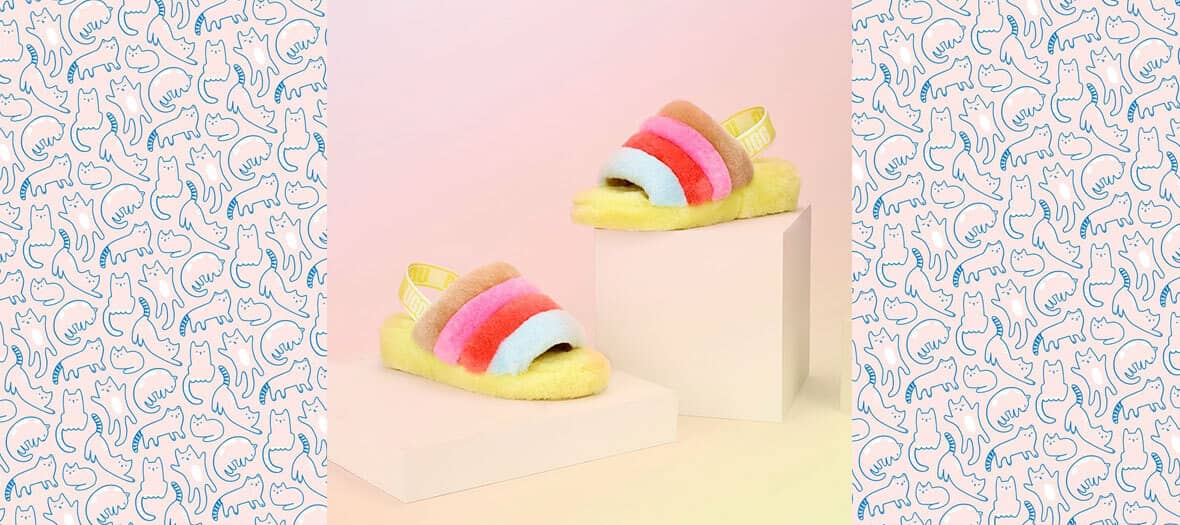 The tatanas nibbled by the dog and other slippers chipped at the hotel do not suit our desire to confine style at all. Slippers are fun in the fluffy sandals from the Australian label Ugg , comfortable, warm and airy so as not to suffocate your feet.
Fluff Yeah Sundae Sandals, Ugg , € 119.95
We accept jogging, but only in cashmere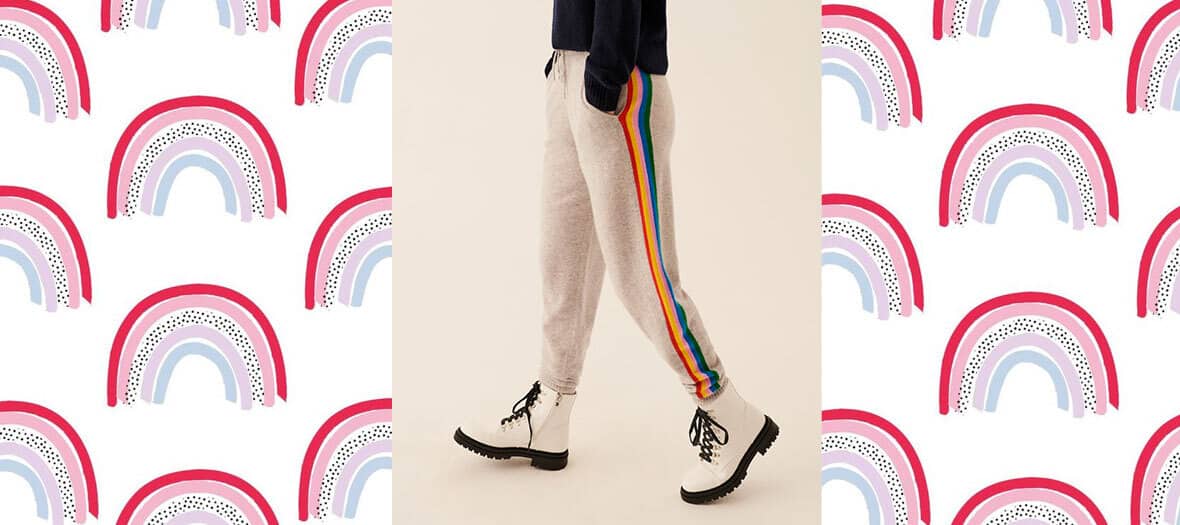 From Future continues to sell its cashmere at low prices to soften our confined winters. We manage our teleworking warm in a 2- ply jogging with colorful bands for a sportswear look that flirts with the elegance of a noble material par excellence.
Jogging with 2-ply cashmere bands, From Future , € 169
We assume the Jacquard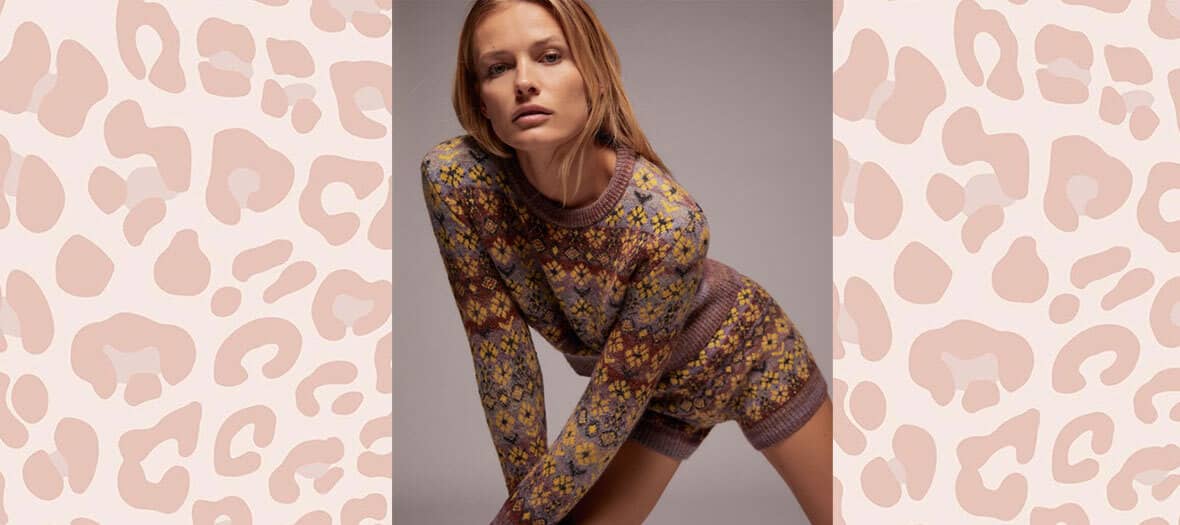 This blanket set, in addition to its comfy side, gives a resolutely fashionable silhouette to your confined day with its jacquard halfway between the aristo-chic of Sussex and the Heidi spirit. A look so cool that we can already imagine diverting it into winter clothes to wear it outside, swapping the house's lined ankle boots for sneakers or even a pair of cowboy boots with an oversized coat.
Jacquard knit sweater , € 29.95 and knit shorts , € 19.95, all Zara
We skull with branded socks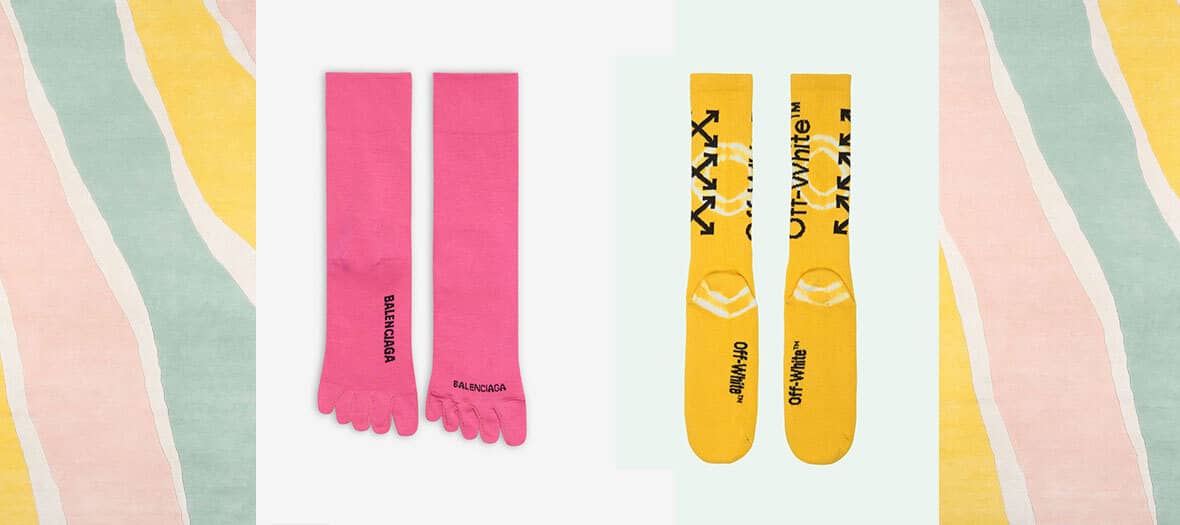 It would not be a question of catching cold stupidly! Keep your toes well protected up to the calves in designer high socks from Off-White or Balenciaga with a fan-shaped toe option for the seconds. And in a vitamin color to wake up the rest, it's even better.
Knee-high socks, Off-White , € 85
High socks, Balenciaga , € 85
The sports tracksuit is revisited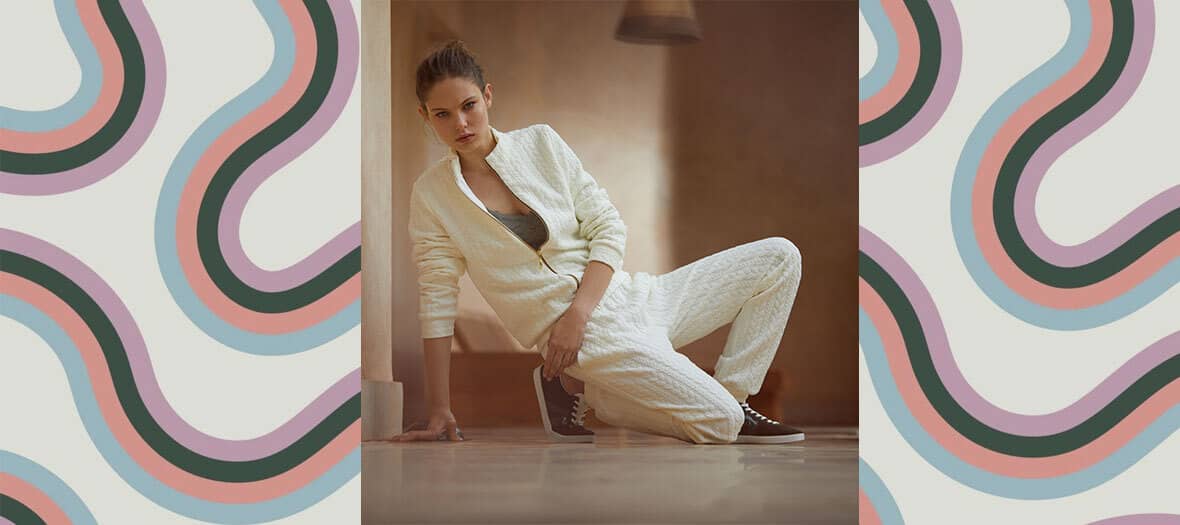 Whether to recover after a workout at home or to cocoon at home, the chavs' jacket + jogging takes stylish airs at Sugarloaf. We love its cut and its velvet material that gives us the impression of reliving the heyday of Paris Hilton .
Kamila jacket € 240 and Joanne pants € 140, all Pain de Sucre , available early November
We play the seductive jumpsuit all in white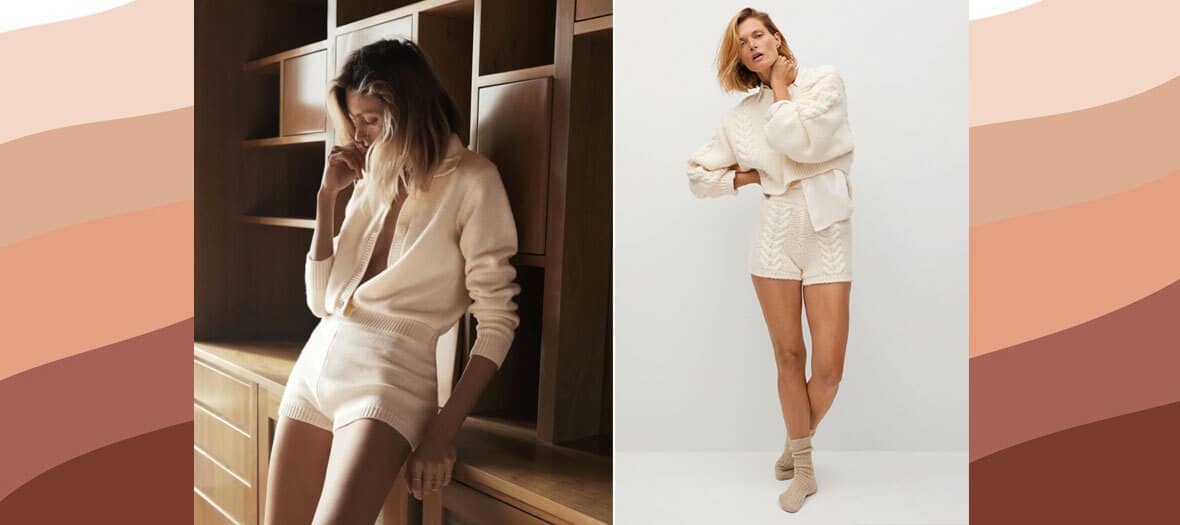 Rather attractive, as a containment paraphernalia! We walk around in a sweater + immaculate mesh shorts set like Zara and Mango to keep your butt warm while keeping control over your sex appeal. Thick woolen socks required to complete the " it's everyday Sunday " look.
Cable knitshorts € 29.99, cable knit sweater € 39.99, all by Mango
Knitted jumpsuit, Zara , € 49.95
You don't steal your boyfriend's t-shirts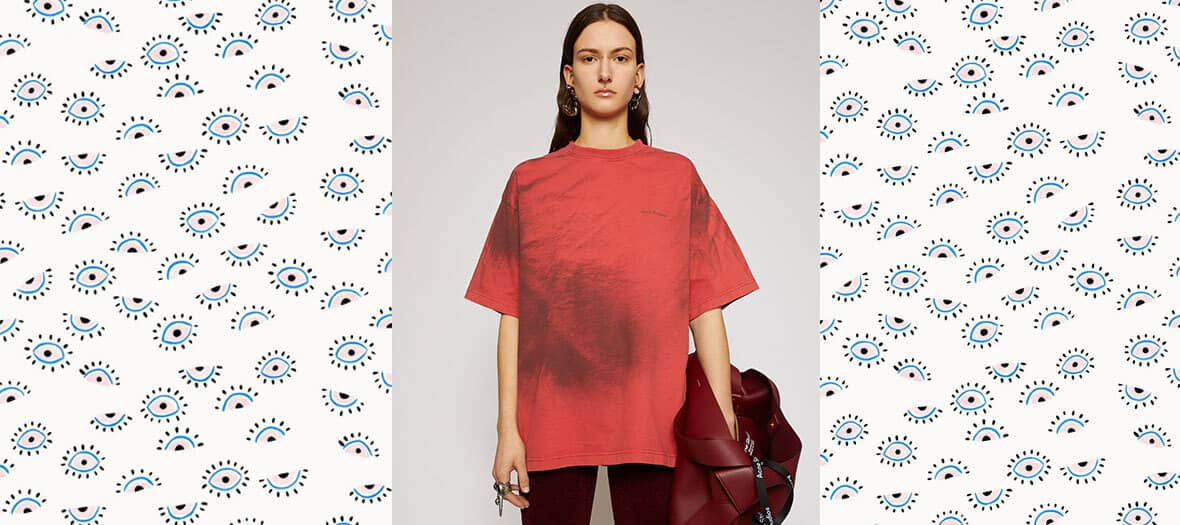 Stitched to your lover, this oversized Acne Studios t-shirt? Not at all. No need to squat in the gentleman's wardrobe when you have an innate sense of style. Homewear is a bit à la carte: here we play the faded XXL t-shirt, very long falling on burgundy leggings in the tone, which will only show the delicacy of the legs.
Oversized T-shirt, Acne Studios , € 190
We dare to go to harem pants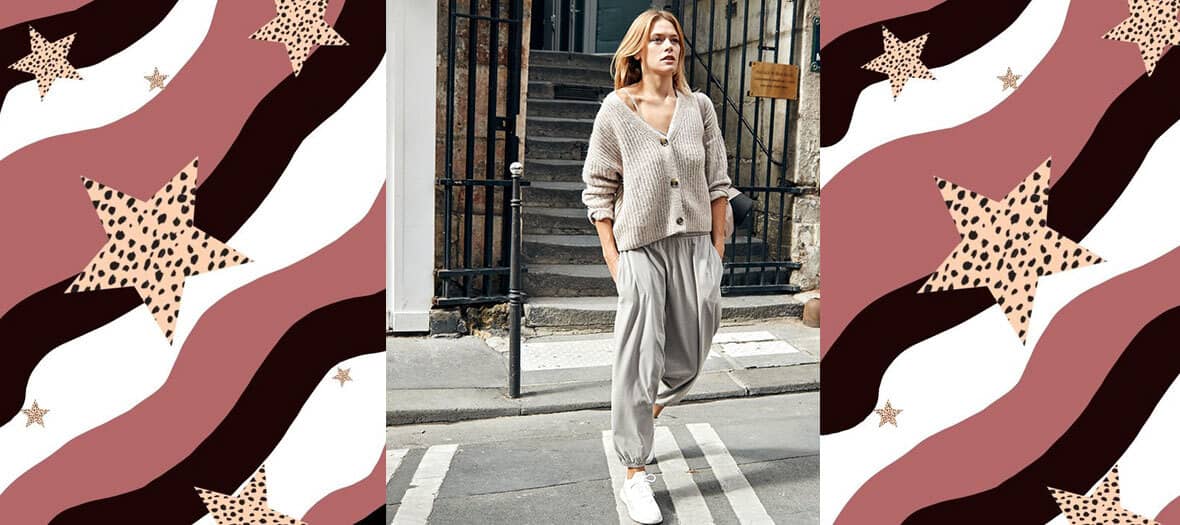 From here we can hear the slayers of bad taste exclaim against the great return of the harem pants. Scoop: Y / Project , Etro , Moncler and Vivienne Westwood have distilled it on their winter shows, when Dior , Max Mara and Salvatore Ferragamo have used it to instill a dose of orientalism in their collections for next summer. So we say hello to this unloved garment imagined as a homewear version at Oysho , worn with sneakers and a large knitted soft sweater.
Harem pants 100% organic cotton € 39.99 and jacket with V-neck and buttons € 39.99, all Oysho
Also discover 6 good reasons to switch to upcycling and the new generation of accessories .