They are Danish, Australian, Swedish, Spanish, English or Korean. But above all, they are shaking up the codes of fashion and creating a craze around their collections. What are the foreign labels to follow closely? A quick tour of the new fads spotted on Instagram and who dress fashion girls.
Rotate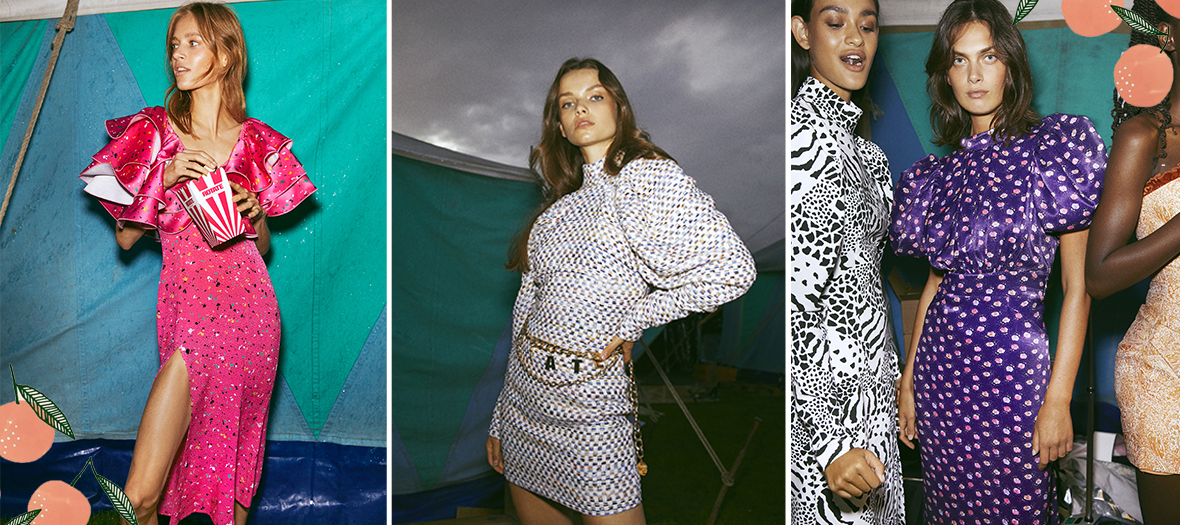 Nationality: Danish.
DNA: evening dresses that shine, imagined in Copenhagen by Birger Christensen and stylists and influencers Jeanette Madsen and Thora Valdimars . A pure Danish product, therefore, and firmly anchored in the Instagram era with shimmering colors, feel good prints and ultra flattering cuts.
Price of the offense: satin purple dress with balloon sleeves € 294.39, orange strapless dress with wide ruffles € 267.63, split dress with floral print € 227.48.
www.rotatebirgerchristensen.com
Minju Kim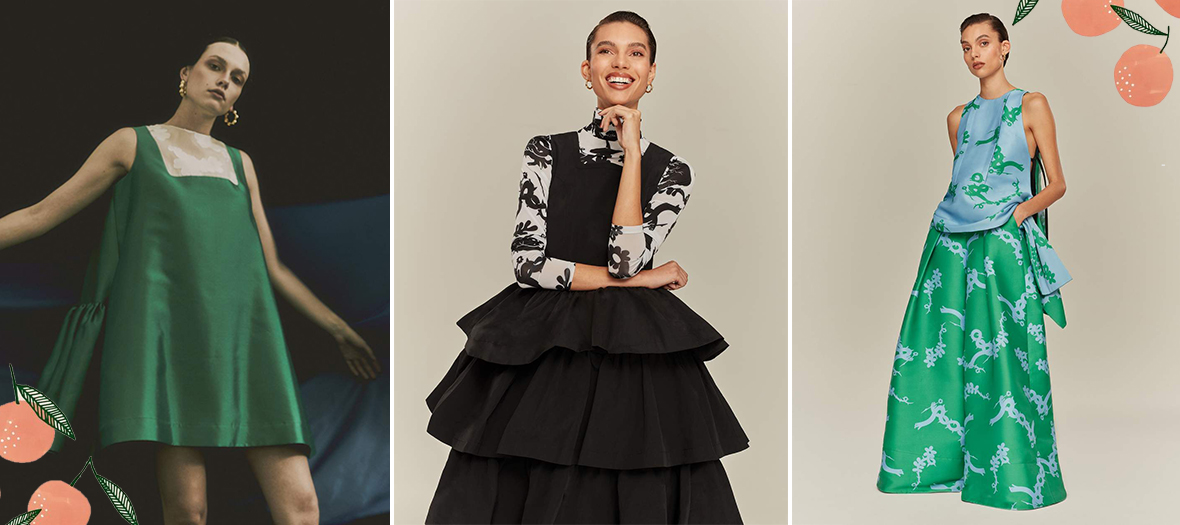 Nationality: Korean.
DNA: she recently won the Netflix Next In Fashion competition , and therefore the right to distribute her collection on the net-a-porter.com eshop . At the same time, Korean Minju Kim is giving herself an international name and signs wildly colorful pieces, with prints drawn by her hand and kawaii cuts at will. An embellished look that makes you smile and makes you want to say goodbye to your bleak shirt-suit combo.
Price of the offense: wide jacquard pants € 550, pink silk twill minidress € 1,172.22, asymmetric crocheted cotton top € 444.44.
Ghospell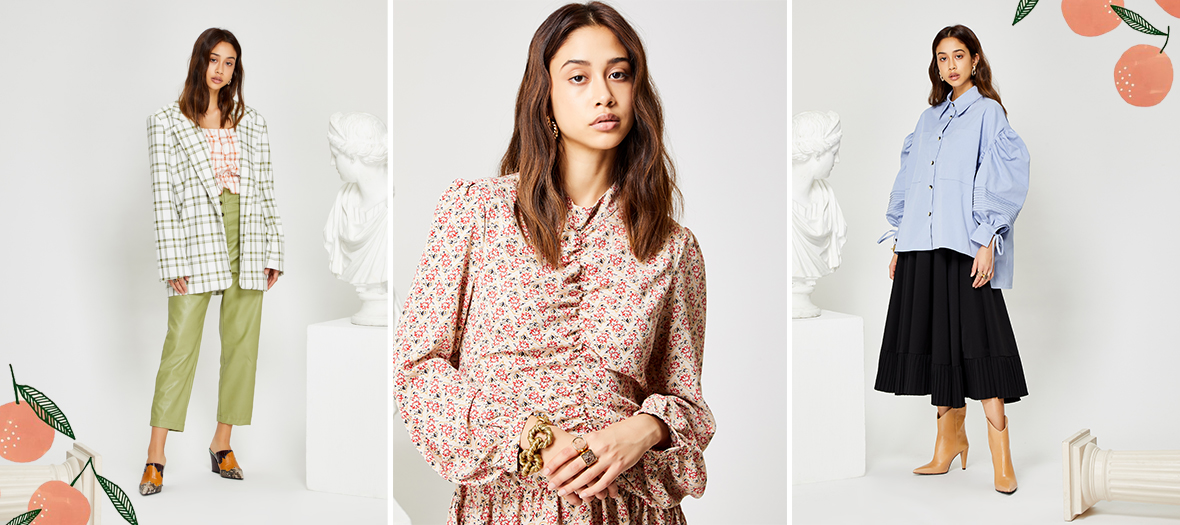 Nationality: English.
DNA: an urban and sophisticated style, rather minimalist , condensed in collections with soft colors renewed every 6 weeks. Special mention for the workmanship of the sleeves and cuts that provide an ox effect, without piercing your wallet. In a few words: sewing at a low price.
Price of the offense: pistachio faux leather pants € 74, oversized checked jacket € 109, satin blue shirt with large collar € 69.
Eiko Ai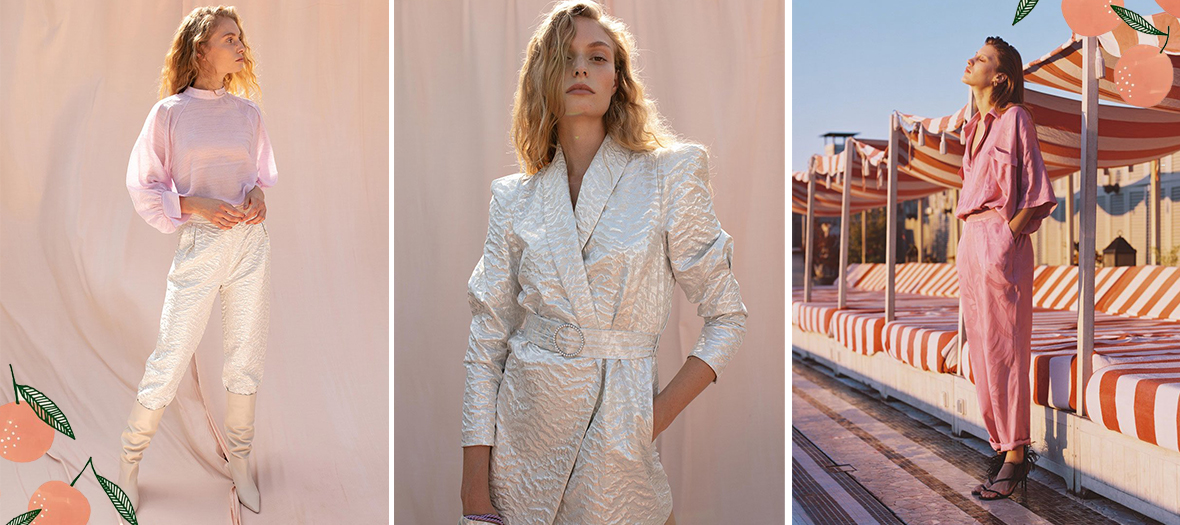 Nationality: Spanish.
DNA: dresses, playsuits, and sets Powerful colors pink, lilac and silver, made in Barcelona in an eco-friendly approach. What to put on confidence and femininity in the bar to go to work, dance and dine.
Price of the offense: silver pants € 175, belted dress € 259, saffron-colored jumpsuit € 249.
Yolke Girl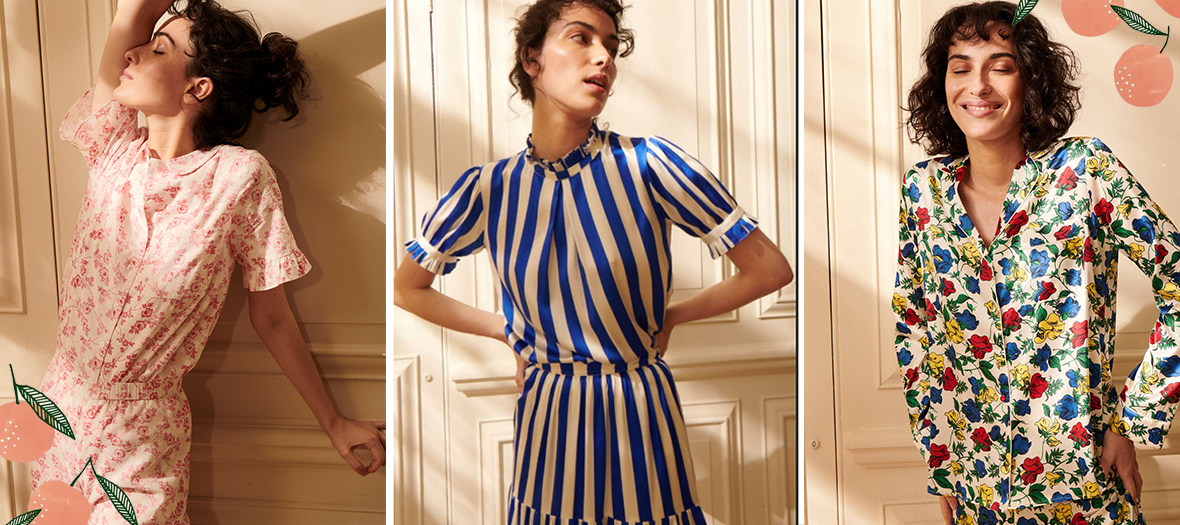 Nationality: English.
DNA: first recognized for their luxurious printed pajamas , the duo Ella Ringner and Anna Williamson are expanding their ready-to-wear and even decoration collections with the same cottage spirit with small flowers, halfway between Virgin Suicides and Pride and Prejudices . The icing on the cake: silks and light cottons are sourced locally in an eco-responsible approach .
Price of the offense: floral shorts / shirt set € 140.64, wrap skirt € 140.64, long dress with plunging neck € 257.84
Munthe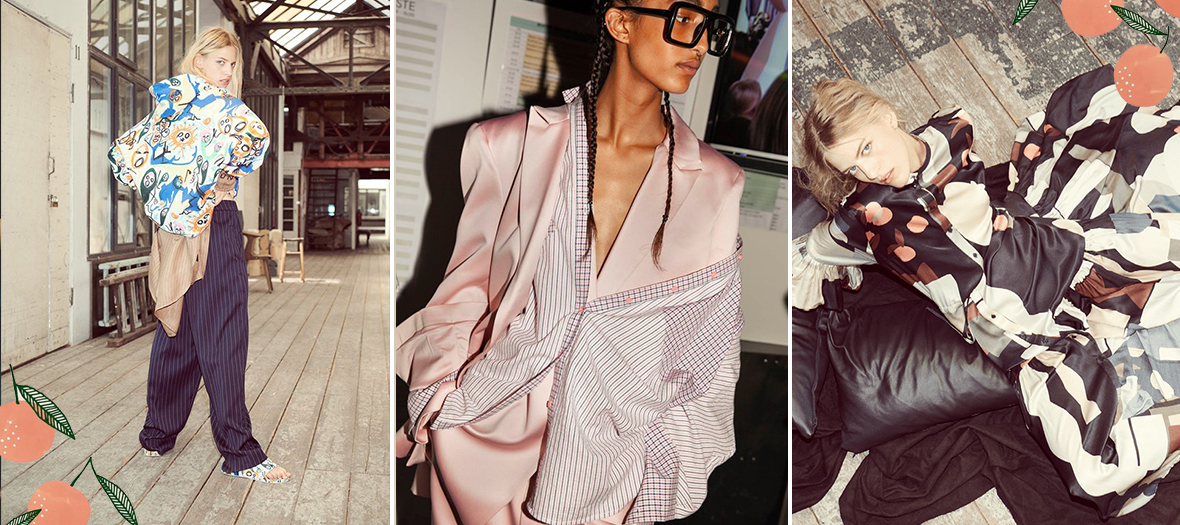 Nationality: Danish.
DNA: trusted by the most cutting-edge fashionistas in Copenhagen , Munthe delivers cool and colorful Scandinavian fashion. Fluid dresses with pretty prints, oversized tailored pants as chic as they are chill with little sneakers, blouses with textured collars, long overshirts in baby tones ... Or how to afford a Nordic look, fashion and comfort like the influencers there.
Price of the offense: wide striped pants € 179, blue checked overshirt € 279, knitted sweater € 209.
Aeryne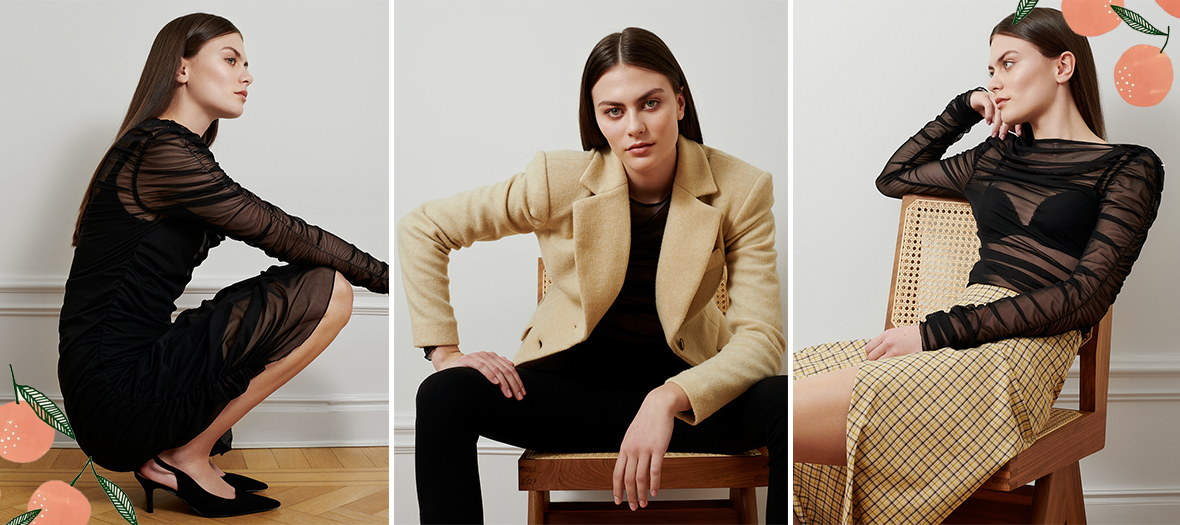 Nationality: Swedish.
DNA: a follower of effortless, Aéryne is inspired by the codes of Scandinavian fashion, designs her collections in Paris and has them produced in a sustainable way in Hungary . But it is in Sweden that it all started for this label which imagines micro-collections (#antigaspi) and dresses the fashionistas who weigh in Stockholm . The current line is reminiscent of the sixties lines of Courrèges with visible zips, short jackets and flared jeans.
Price of the offense: zipped imitation leather skirt 180 € on sale at 54 €, jeans with large pockets 155 € on sale at 47 €, blue jacket with curls € 320 on sale at 96 €.
Sister Jane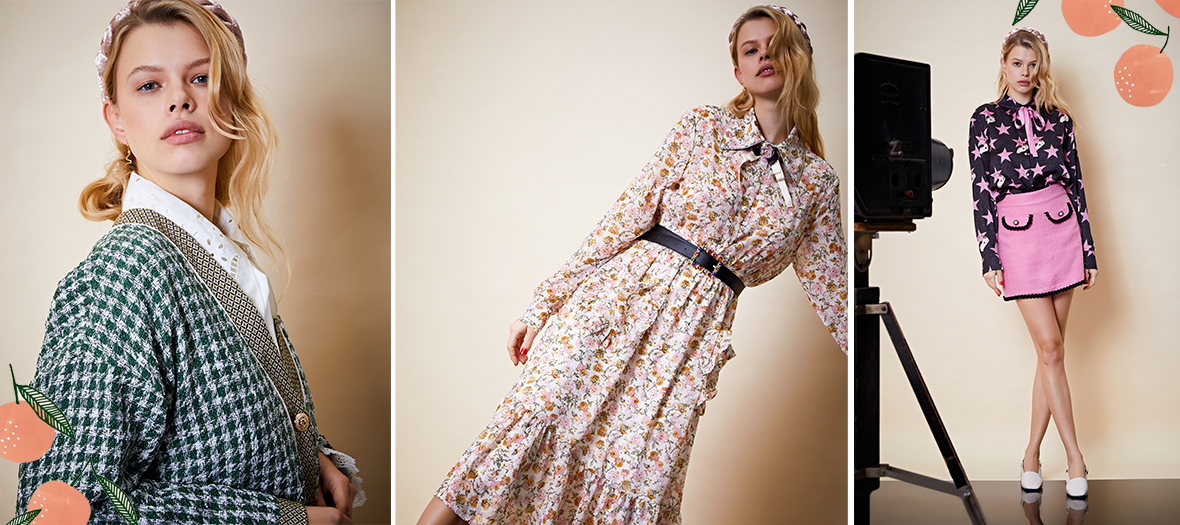 Nationality: English.
DNA: with fresh and colorful designs inspired by vintage , a London eccentricity and retro cuts and patterns to perfection, Sister Jane is the little sister of the previously mentioned Ghospell label . A preppy baby-doll uniform that sticks to the granny-chic trend operated in particular by Alessandro Michele at Gucci .
Price of the offense: tweed-style miniskirt € 66.95, muslin babydoll dress € 97.95, jewel belt € 29.95.
Kina and Tam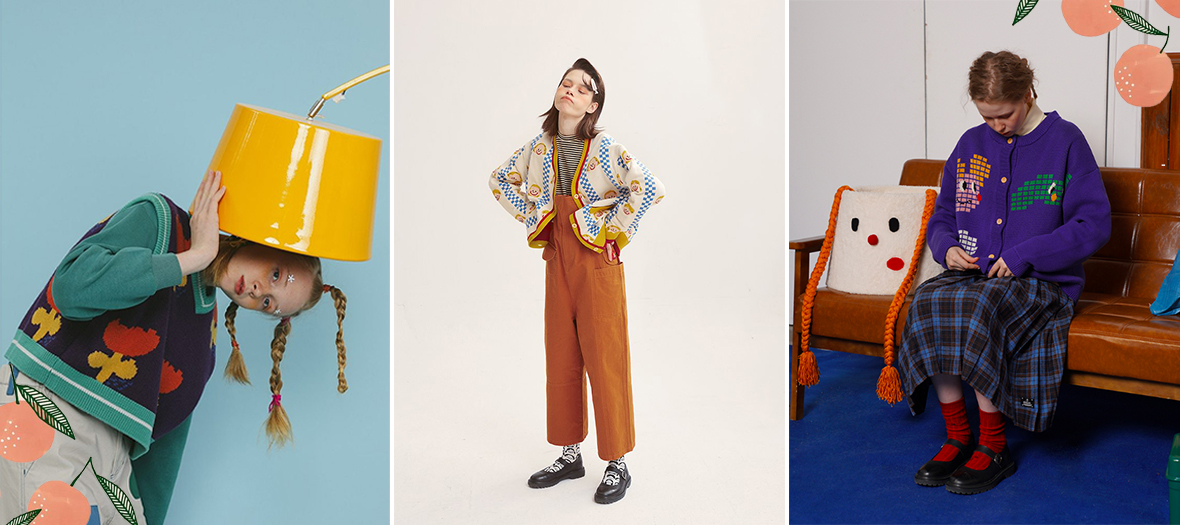 Nationality: Australian.
DNA: if the dirty kids in the playground were fashion beasts, they probably would have created the Kina and Tam label . Playful, joyful and resolutely unique, the collection is full of knits with clowns, dolls, Japanese cats and little rabbits, and seems drawn by a first grade class living in an enchanted world. Instagrammers in Copenhagen love it.
Price of the offense: tulip knitted jacket € 54.55, maneki-neko sweater € 81.83, puppet cardigan € 90.92.
Karen Mabon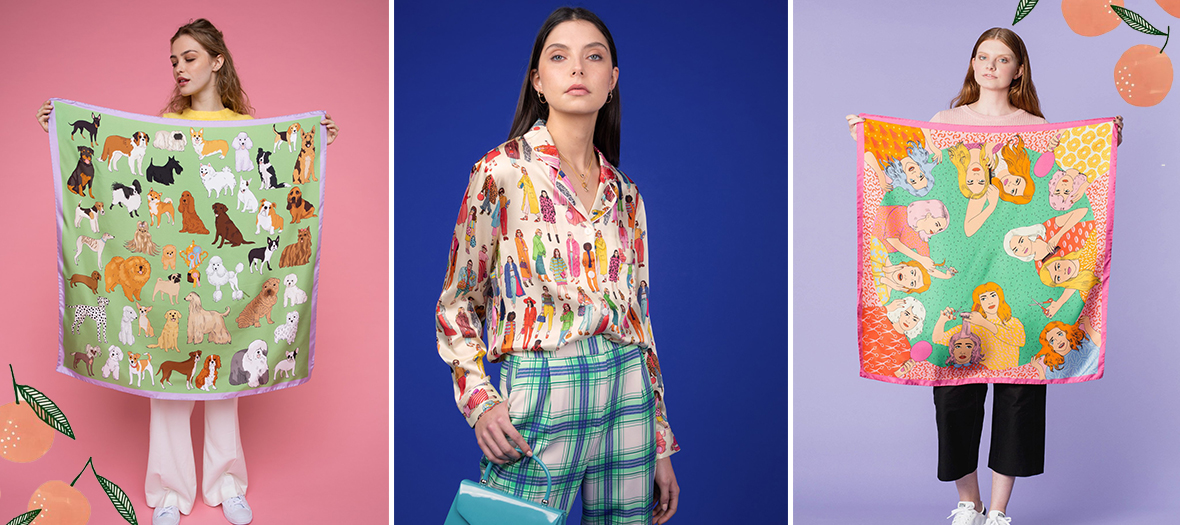 Nationality: English.
DNA: spotted in France for her recent collaboration with Monoprix , Karen Mabon is the empress of the funny print scarf . Army of dogs, flowers of all kinds, kittens balancing on shelves, an enchanted merry-go-round or even looké characters inspired by Parisian fashion week , the Londoner dresses the backs of the neck in a good mood.
Price of the offense: leopard scarf € 58, superstitious blouse € 140, street style pajamas € 258.
Also discover the new brands everyone is talking about and the French brands to name-drop .