It's the stylish combo to whip out mid-season. 1 pullover, 1 scarf.
Or when the little silk scarf brings additional soul to nice knitwear and keeps us snuggly warm during the last chills or early Spring. With colours to boot, the pairing is ideal to give us a healthy glow.
Queen of Hearts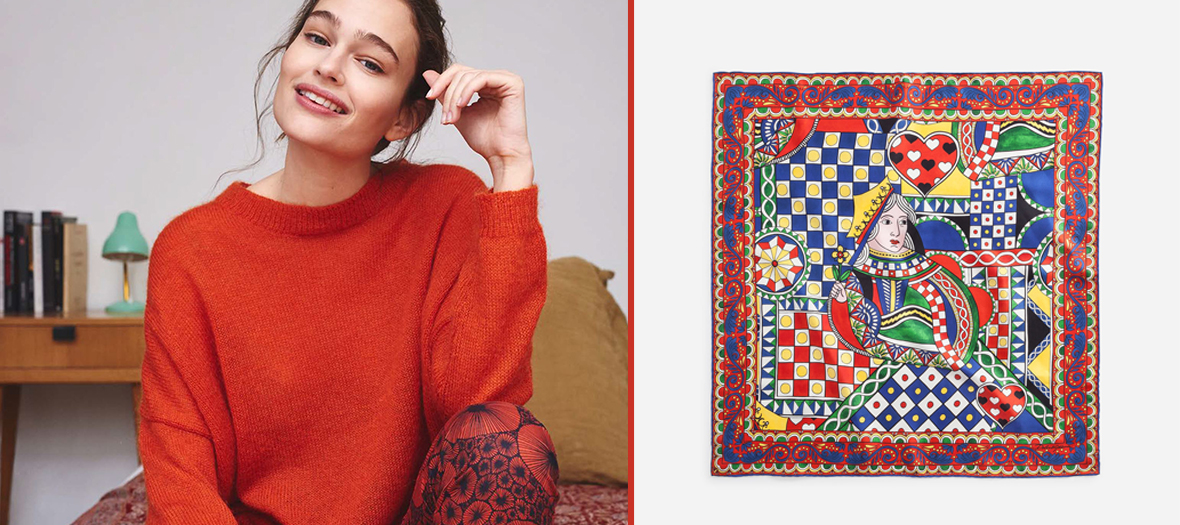 A fab Dolce & Gabbana scarf with a playing cards motif will convey lots of peps to this cute Bella Jones pullover in a very flattering brick colour.
Oversized pullover Beluga, Bella Jones, €145.
Printed silk scarf 70x70cm, Dolce & Gabbana, €225.
Weekend on the Île de Ré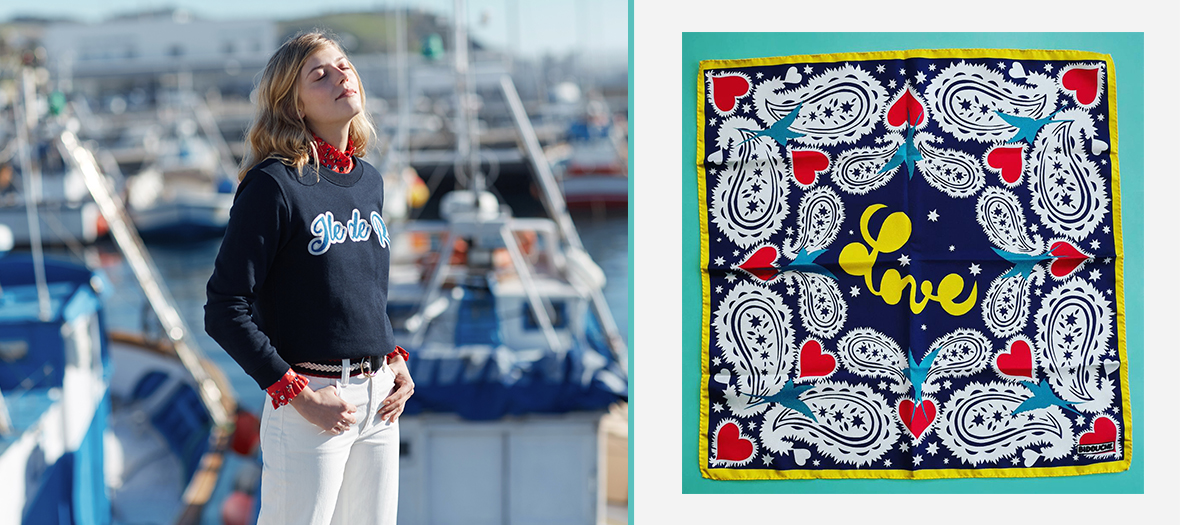 In the mood to look out at the sea rather than the bottom of the pool with this navy blue pullover, right from the darling Île de Ré capsule by our national Claudie Pierlot. And to sustain the wind, a silk bandana by Bidouche, the up and coming designer.
Sweat Tod - Île de Ré capsule, Claudie Pierlot, €125.
Silk bandana 50x50cm, Bidouche, €80. Orders by email (contact.foulards.bidouche@gmail.com) or through the Instagram account of the designer @alexandrefabreteste.
Sweet lifestyle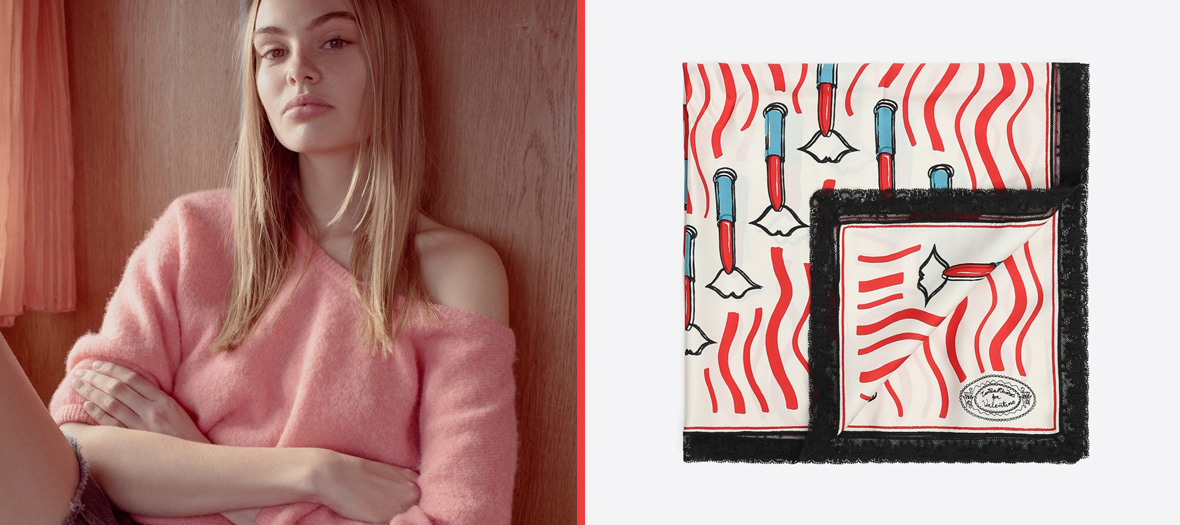 The very essence of the "fetish pullover" with this American Vintage version, worthy of a Woolite ad, to be worn with a kiss-kiss scarf by Valentino.
Hanapark pullover with 7/8th sleeves, American Vintage, €115.
Printed scarf in serge silk 70x70cm, Valentino, €290.
The country in Paris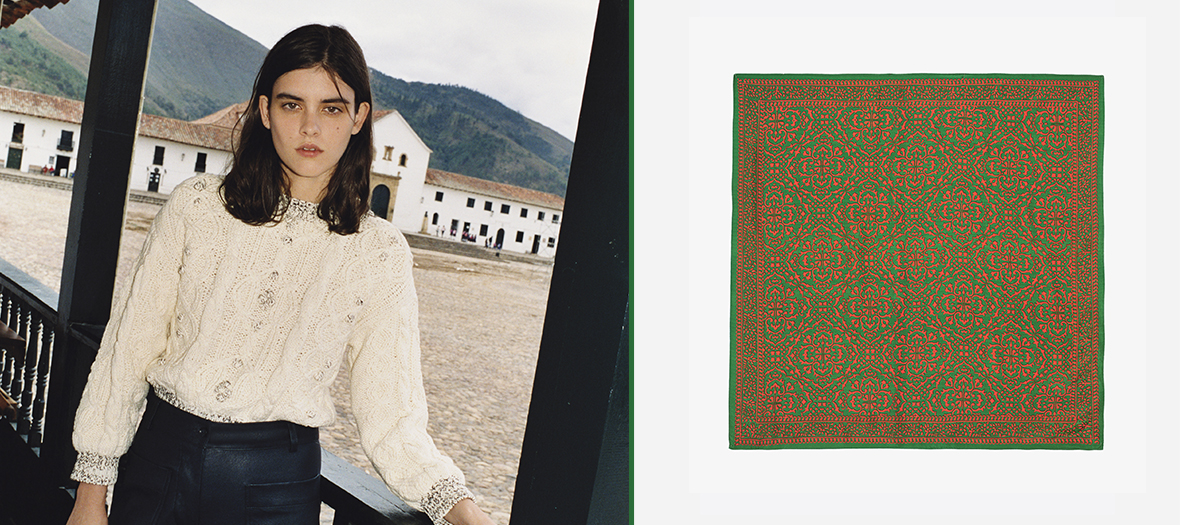 This adorable Sessùn knit pullover and its Sœur Paris silk scarf makes us long for the countryside and a crackling fireplace, in order to extend Winter charm for a little while longer.
Popayan cable knit pullover with pompons, Sessùn, €145. Available in boutiques.
Capucine silk scarf 70x70cm, Sœur Paris, €95 .
Tutti frutti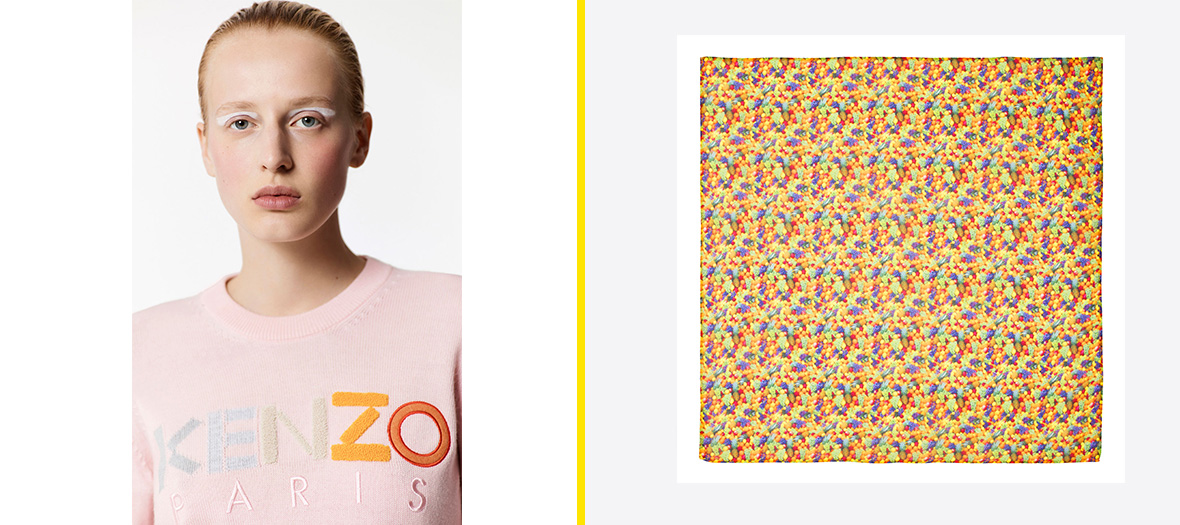 A zippy duo between the candy print of Soi Paris and the logo pullover of Kenzo in every colour, uber trendy.
Pink pullover with logo, Kenzo, €350 on sale at €175.
Silk scarf, Soi Paris, €65.
A sunny wedding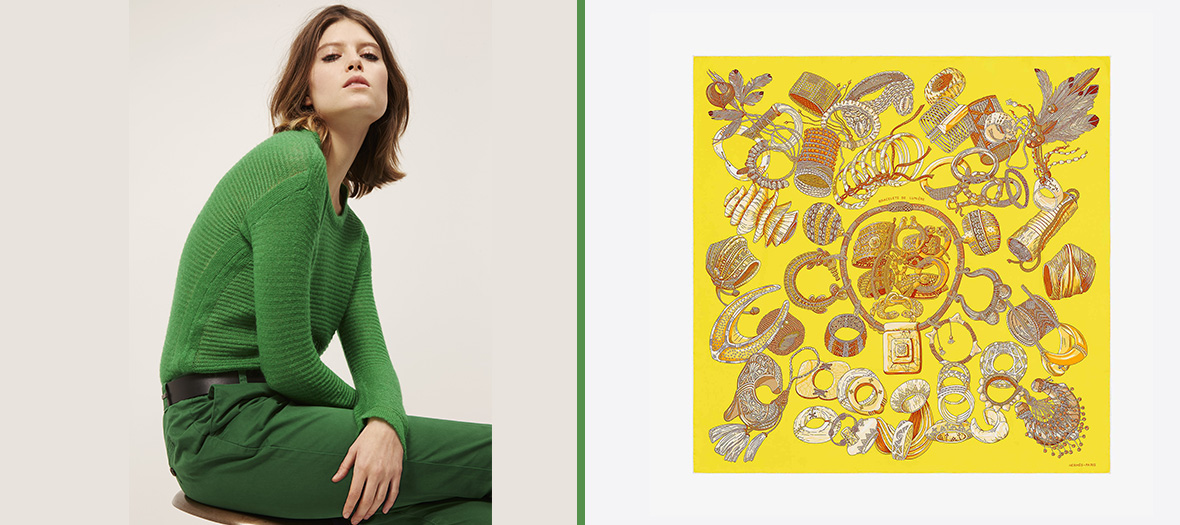 Le Brazilian yellow and green, such is the magical association of this inspiring duo: a pine green MKTstudio pullover, and the legendary Hermès silk scarf.
Kovalin pullover, MKTstudio, €89 .
Bracelets de Lumière 90x90cm scarf in silk twill, Hermès, €360.
The chic combo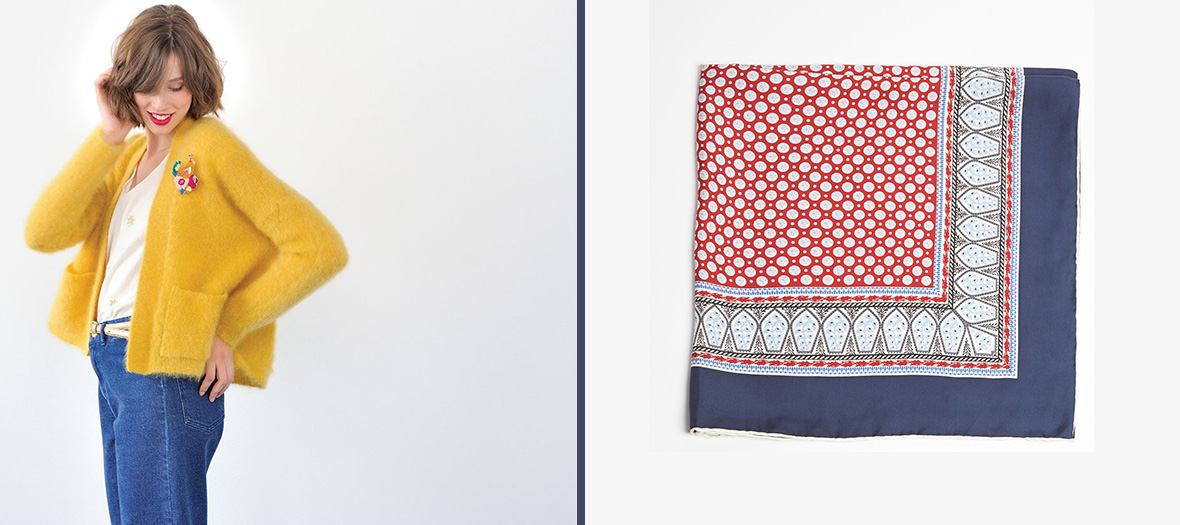 Dare the saffron chick yellow with a soft cardigan by Des Petits Hauts, so chic when matched up with a 1-2-3 very aristocratic silk scarf.
Ochre Calvi cardigan, Des Petits Hauts, €195.
Ashton silk scarf with graphic print, 1-2-3, €69.
The explosive couple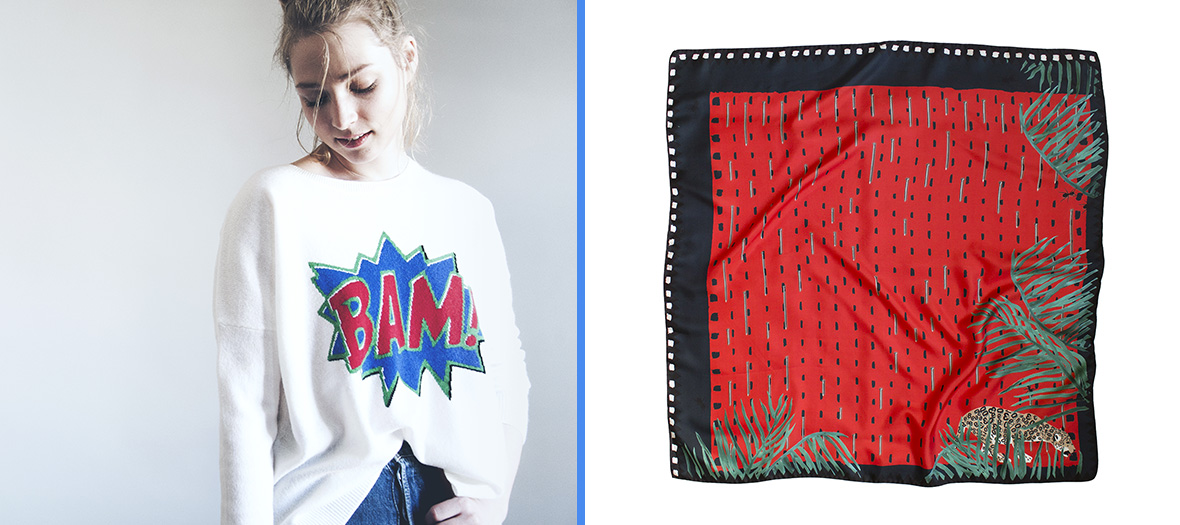 Revisit your indispensable cashmere pullover with a pop motif pop like at Madluv, to be dynamited with a Heart Heart Heart scarf hiding a leopard, to watch ahead of time in 3D on their Insta account.
Bam 4 cashmere pullover, Madluv, €259.
Silk scarf 90x90cm, Heart Heart Heart, €110.
Tone on tone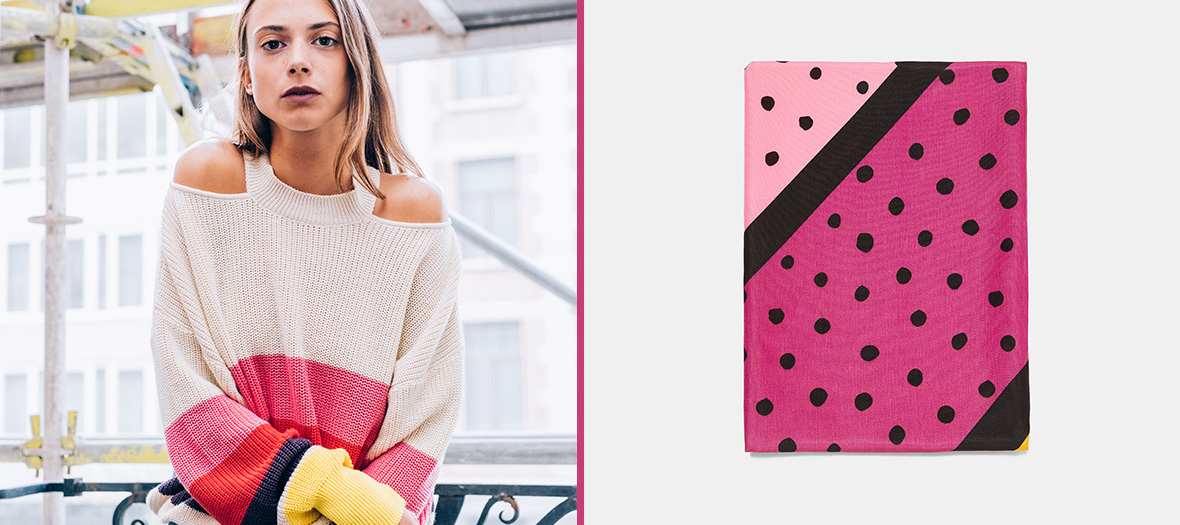 The queen of knitwear, Valentine, continues in her ultra stylish vein with this pullover featuring cut-outs and stripes, to be twisted with a cute Zara scarf in the same overtones.
Feverish pullover, Valentine Witmeur, €245.
Printed scarf, Zara, €7.95.
Rainbow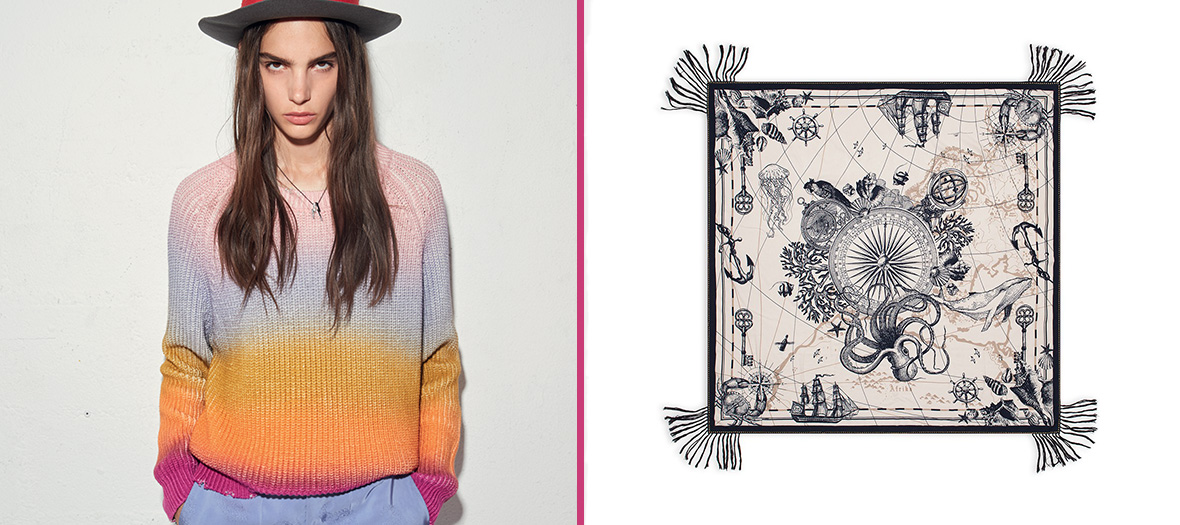 The tie and dye signs its great comeback this season. All the more reason to invest in this Zadig & Voltaire beauty, whose rock side is enhanced with a tad roguish pirate scarf by Amenapih.
Kary pullover in wool and cotton, Zadig & Voltaire, €265.
Seaside Off White scarf, Amenapih, €69.
Also discover 1 t-shirt + 1 scarf, the stylish fall combo.