Since summer never seems to be ending despite a few early morning chills, it's quite a challenge figuring out what to wear. The chic and clever alternative when your dressing seems like a total void? Combining a stylish t-shirt and a silk scarf to protect your delicate neck from the first frosty days. Now just pick amongst these 20 half-season musts.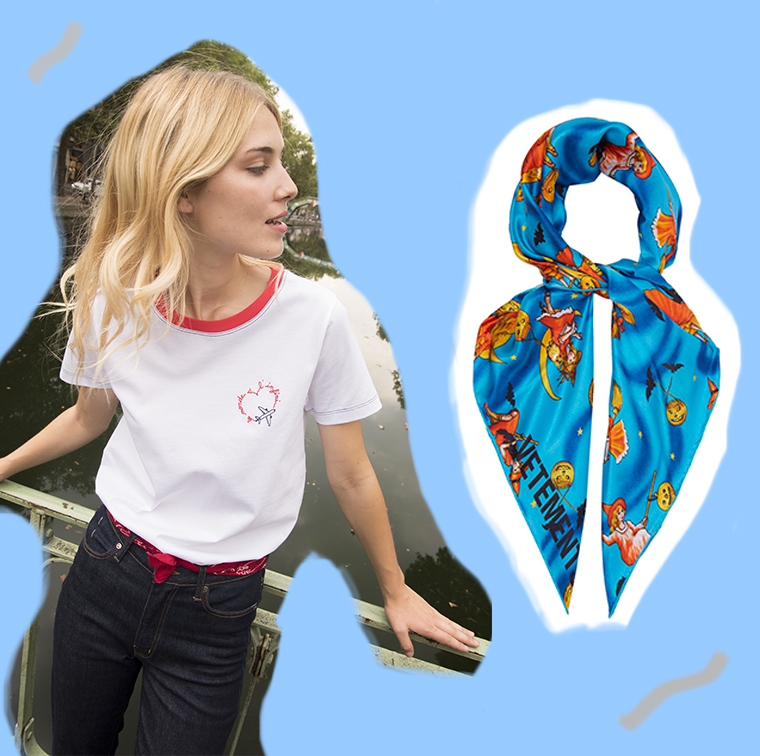 As improbable as obvious, Air France is launching with Maison Labiche a capsule of three already cult-shirts that are open invitations to travel. France is in the air and Le monde à l'infini embroidered on the heart, to never forget escaping is an option. And for extra pep's, a  bewitching Vetements scarf featuring the colours of Halloween.
T-shirt Le monde à l'infini, Maison Labiche x Air France, €55.
Silk scarf with Halloween print, Vetements, €380.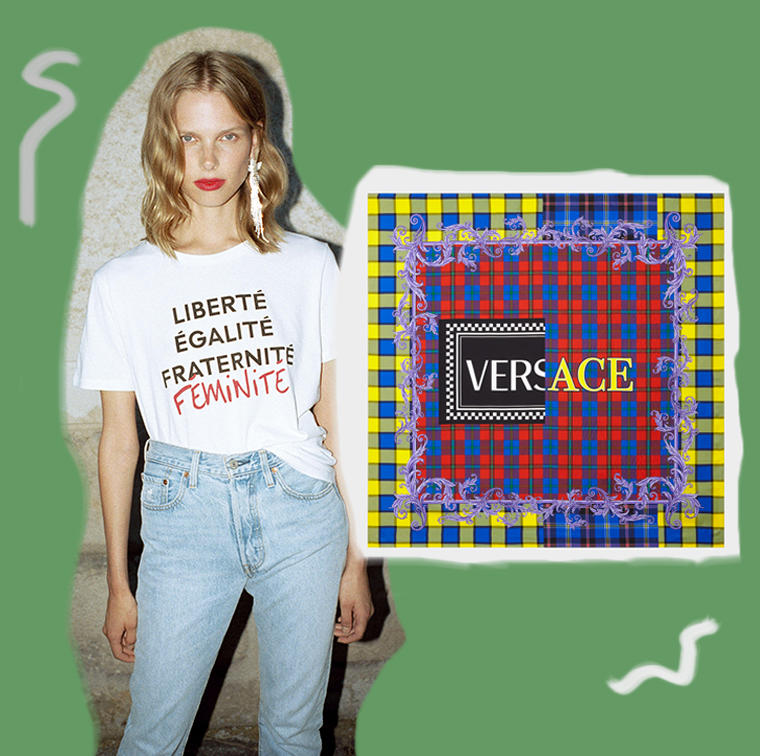 Liberty, equality, fraternity, femininity Versace ! Or when the logo scarf with a tartan motif enhances a committed t-shirt. Le Printemps imagined along with celebrities a very fashionable capsule whose benefits will be donated to the Rose Association, that supports women with cancer. Brigitte, Vanessa Bruno, Sarah Lavoine or Caroline de Maigret share their vision of femininity, to be displayed like a flag.
T-shirt Rose Assocationnx Printemps, au Printemps and on www.placedestendances.com, €28
Silk scarf with vintage tartan logo, Versace, €290.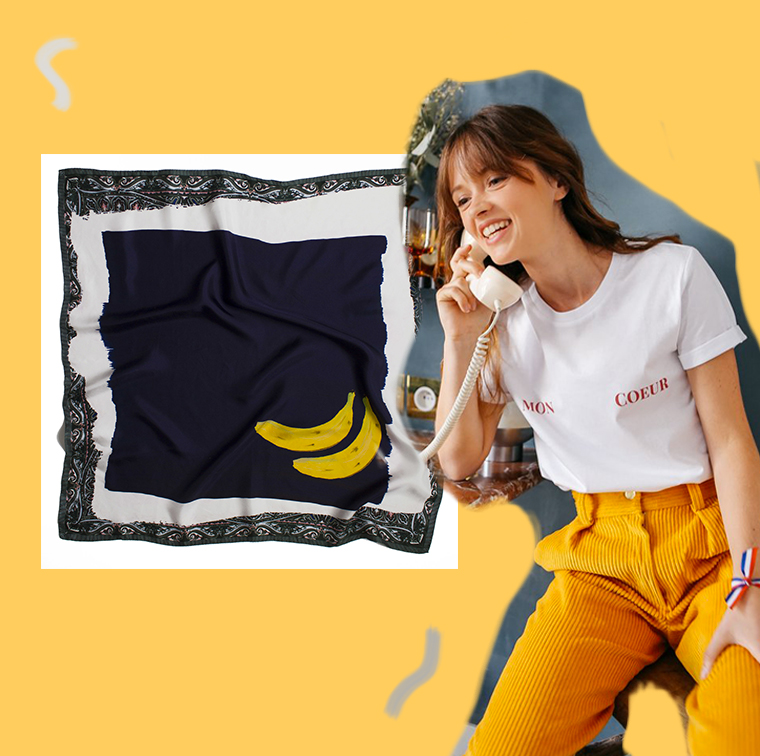 How about a little love? Parisian designer Elise Chalmin charms all those in love with her romantic t-shirt—a tad naughty. Go straight to the point with this pretty Heart Heart Heart silk scarf with a tutti frutti motif. Now treat yourself to a bouquet of flowers and you will be in the loop.
Plan Cœur T-shirt, Elise Chalmin, 52 €.
Silk scarf, Heart Heart Heart, 98 €.

For the good cause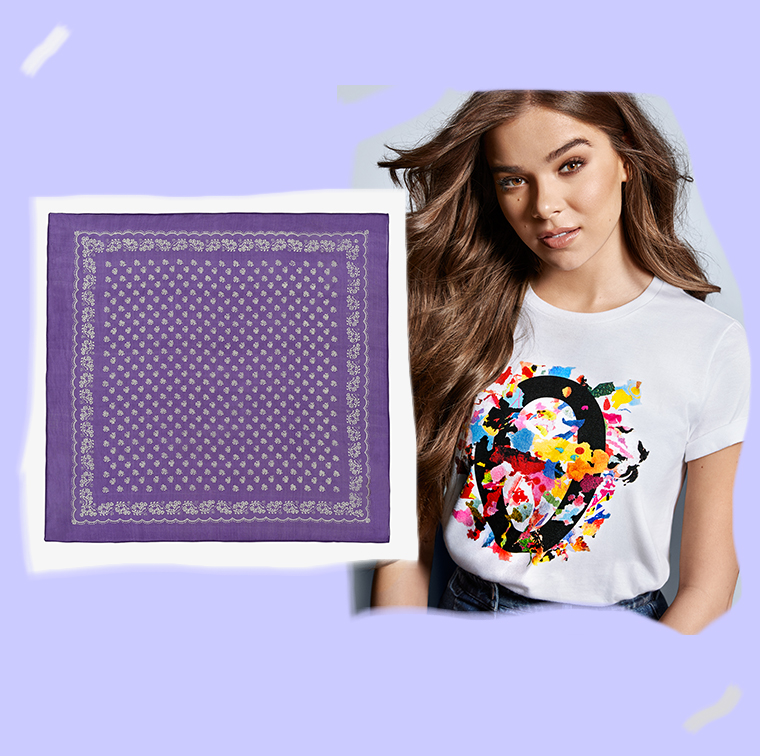 Michael Kors fans have the perfect excuse to complete their collection. In the framework of his annual campaign, Watch Hunger Stop, the New York label is putting up for sale a colorful t-shirt pimped by the artist Eli Sudbrack. And to play it down, a discreet scarf with small bandana motifs by Sœur.
T-shirt Watch Hunger Stop, Michael Kors, €35 .
Dalton scarf, Sœur, €55.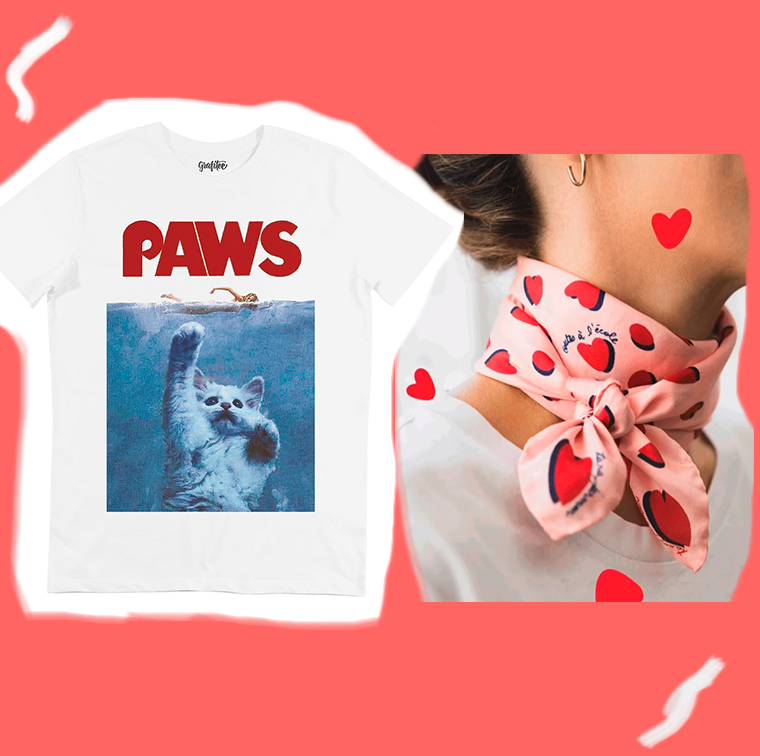 A wink to the cult film by Spielberg featuring a kittie #lolcat, is one of the stylistic deliriums found on the site of Grafitee. And to protect the neck, a Tara Jarmon scarf with all the benefits donated to the association Toutes à l'école, to educate little Cambodgian girls. Cute + cute = the fashion equation of the season.
T-shirt Sea Kitten, Grafitee, €25.
Pink scarf Toutes à l'école, Tara Jarmon, €29.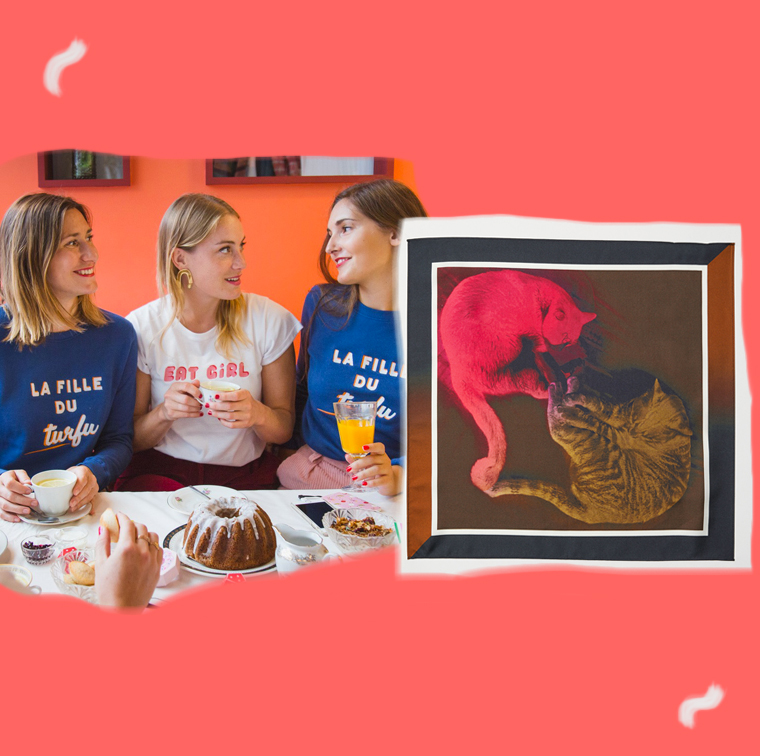 We all have a foodie friend who could proudly wear this adorable "Eat Girl" top imagined by Audrey and Lorna, the girls behind Sept Cinq. And matched up with darling silk scarf at a mini price by H&M, go for it!
T-shirt Eat Girl, Sept Cinq, €55.
Silk scarf, H&M, €24.99.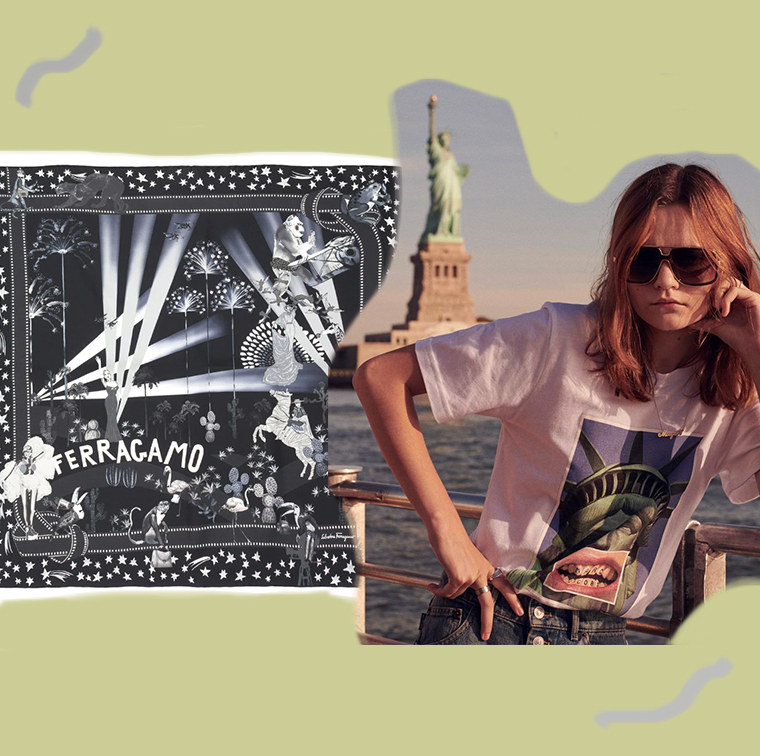 Everyone is talking about him. Instagrammer @hey_reilly has fun playing with the logos of deluxe houses (the one of Fendi with street airs of Fila, that's him). So when he imagines t-shirt for Marc Jacobs, we rush to buy it before it runs out of stock. To be worn with cute silk Salvatore Ferragamo scarf—for a wild Hollywood style.
T-Shirt @Hey_Reilly x Marc Jacobs, €100.
Hollywood Movie silk scarf, Salvatore Ferragamo, €195 on www.farfetch.com.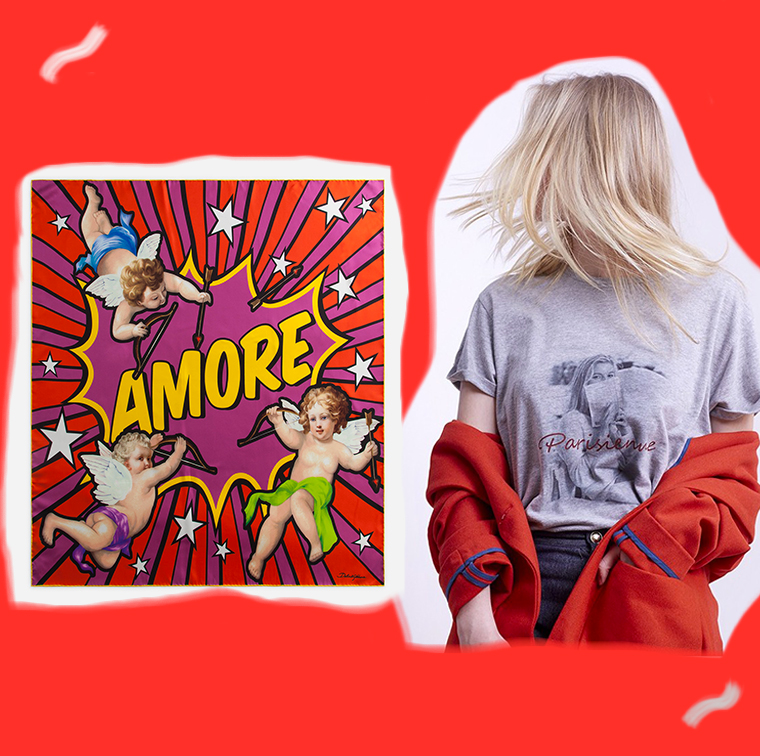 Love is sure to strike the Parisienne with this sweet-stylish combo. A Dolce & Gabbana combo between comic strip and Renaissance cupids, that brightens up the grey of this lovely top in soft cotton imagined for the little gals of Pigalle by Parisienne et alors.
Grey chiné T-shirt  Pigalle Parisienne, Parisienne et alors, €35 .
Printed silk scarf, Dolce & Gabbana, €295.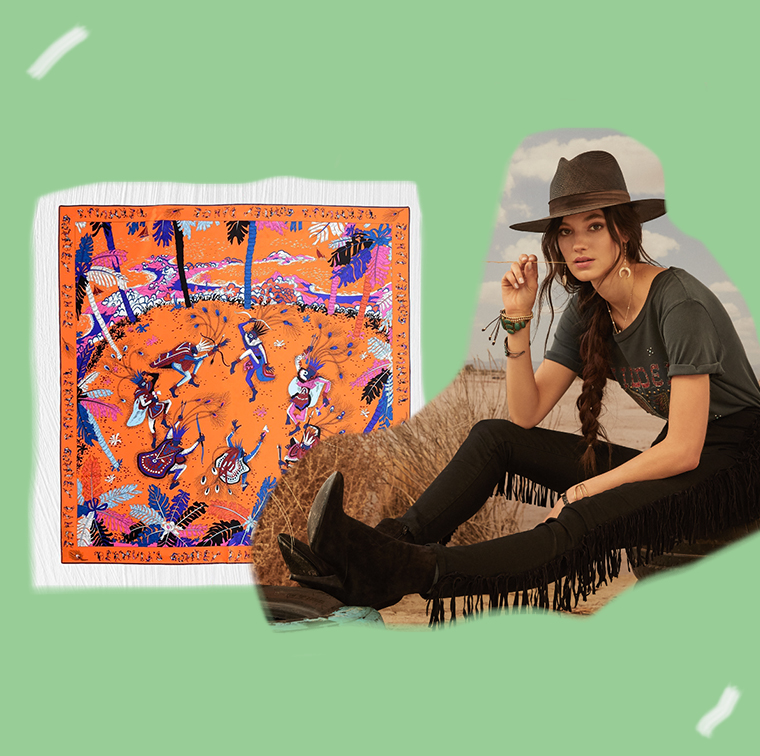 Stylish even in her urban ranch, the city cowgirl whips out her  badass Mother t-shirt as fast as a printed scarf signed Emilio Pucci. To be privileged: the bright orange hue that saves the day when our complexion looks a little grey.
T-shirt Wilder oversize, Mother, €189. Available at Bon Marché.
Printed silk scarf, Emilio Pucci, €290.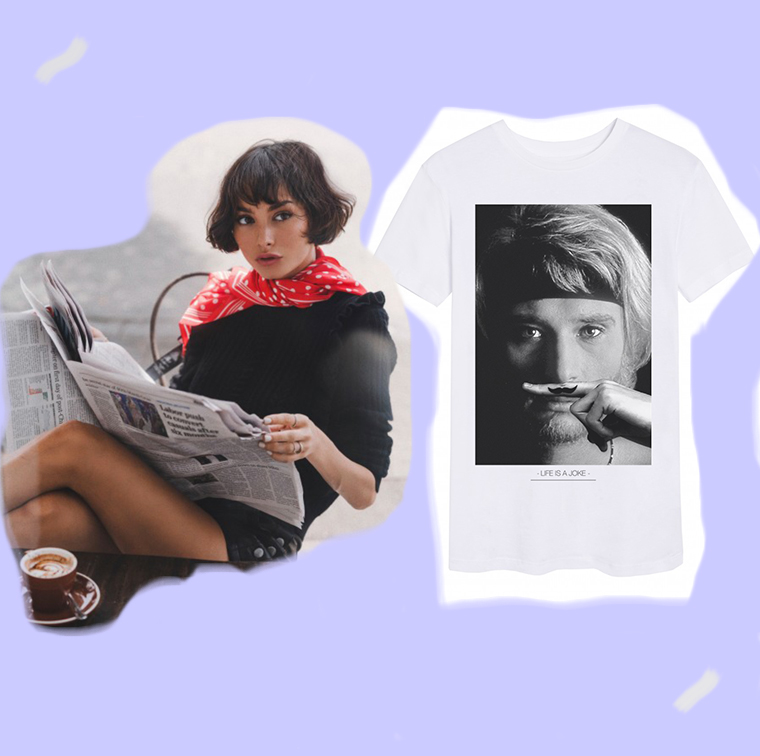 After Kate Moss, Will Smith and Beyoncé, Eleven Paris is relaunching its cult mustache t-shirt with our national icon, aka Johnny Hallyday. Dare wearing it with cowboy boots and a red scar from the top rock label, The Kooples.
T-shirt Moustache Johnny Hallyday Nysta, Eleven Paris, €45.
Red silk scarf with polka dots, The Kooples, €80
Also discover the new brands everyone is talking about and the new boutique of Chiara Ferragni.