Finding the perfect bathing suit to feel beautiful on the beach, such is the challenge as soon as Summer is around the corner. And since we want it both chic, sexy and hiding our small complexes, there exists an online concept-store featuring a trendy selection of the best brands in the world.
Remember the name: Ôdabaïa, a real ode travel, from Sydney to Saint-Tropez including Rio or Californian beaches, with collections of bathing suits, beachwear, boho beach jewellery and pretty baskets… In short, the entire paraphernalia to be a bomb under the sun exactly. Discover our selection of the 10 must-have pieces.
For longer legs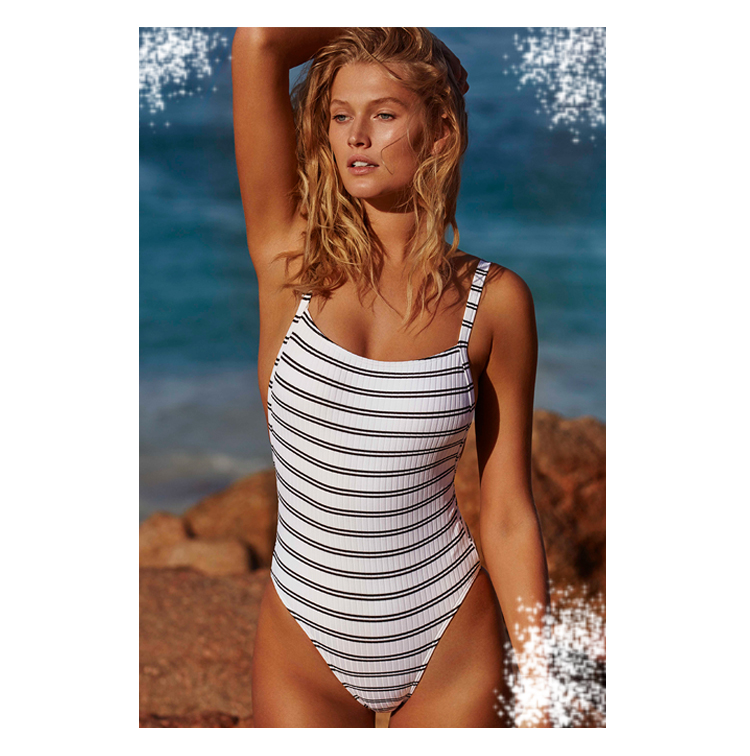 The trick when your hips are a little wide? Make legs look much longer with an indented bathing suit that goes way up, in order to create an optical effect. This model by the label Seafolly, coming straight from Australia and offered by Ôdabaïa, is the perfect example for those who want a silhouette worthy of Baywatch. Furthermore, its retro cut and its stripes are right up there in this Summer's trend.
One-piece Retro bathing suit, Whit-Inka Stripe, Seafolly, €119 .
Play at being a mermaid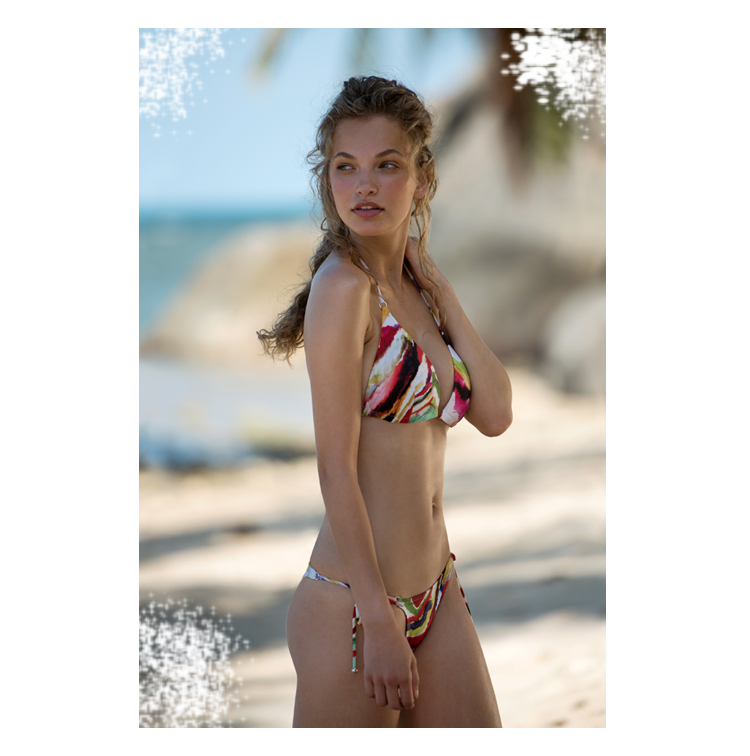 Here is the ideal bikini for those who hate bathing suit marks. A high triangle tied in the back of the neck, an adjustable pair of panties, an aquarelle motif with flattering colours, this small nugget is signed Pain de Sucre and is available on Ôdabaïa.
Triangle Bikini Top, Aquarella, Lido, Pain de Sucre, €80 .
Bikini Bottom with adjustable bows, Aquarella - Diva, Pain de Sucre, €70.
Divert the attention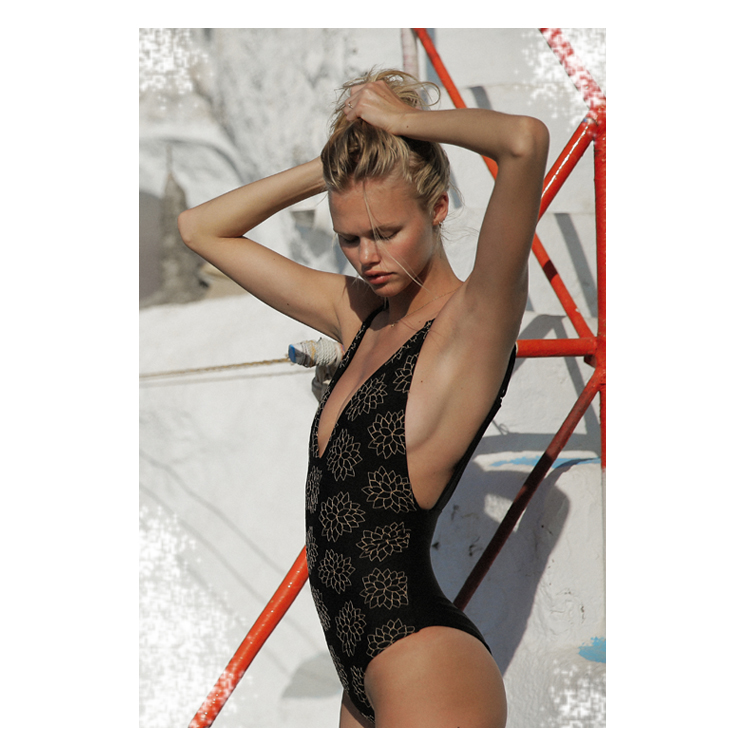 For those who have a little tummy, here is the solution of those who know what to do: divert the attention thanks to a one-piece bathing suit that smoothes the tummy and attracts the gaze on a maxi cleavage (thus on an asset). This model by Tori Praver, available on Ôdabaïa, definitely does the job, with pretty embroideries to boot. Thanks to its adjustable straps, you can regulate the cleavage effect in keeping with your morphology. A must.
One-piece Elena bathing suit, Storm/Latte - Eres Embroidery, Tori Praver, €129.
Treat yourself to a dream tan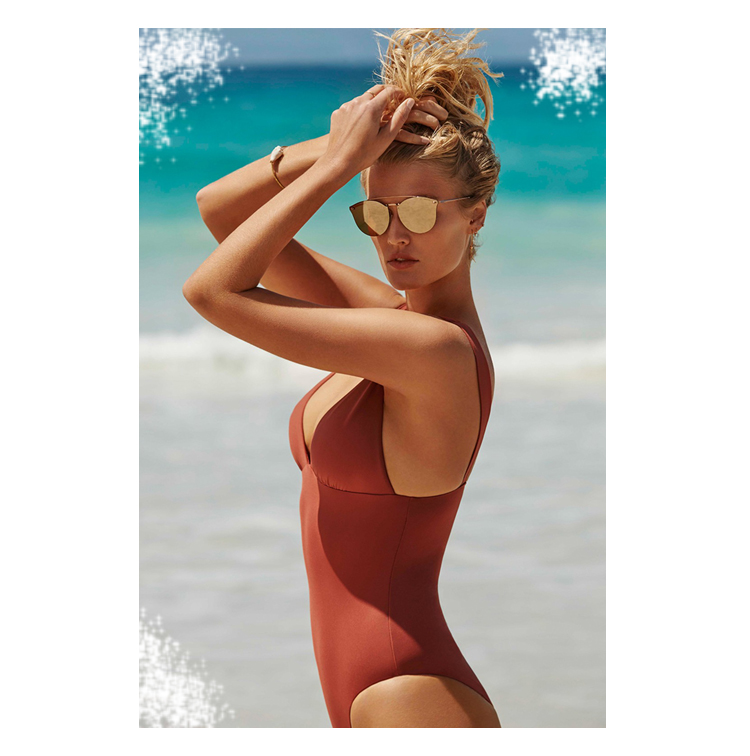 This Summer's colour will be, note it once and for all, terracotta. Particularly great for a bathing suit, it has the advantage of enhancing very white skins as well as matt ones. The already cult one-piece of Seafolly is a must. And, of course, you will find it on Ôdabaïa.
One-piece Triangle bathing suit, SEAFOLLY, Ambre Brulée - Active, Seafolly, €105 .
Go for the ruffle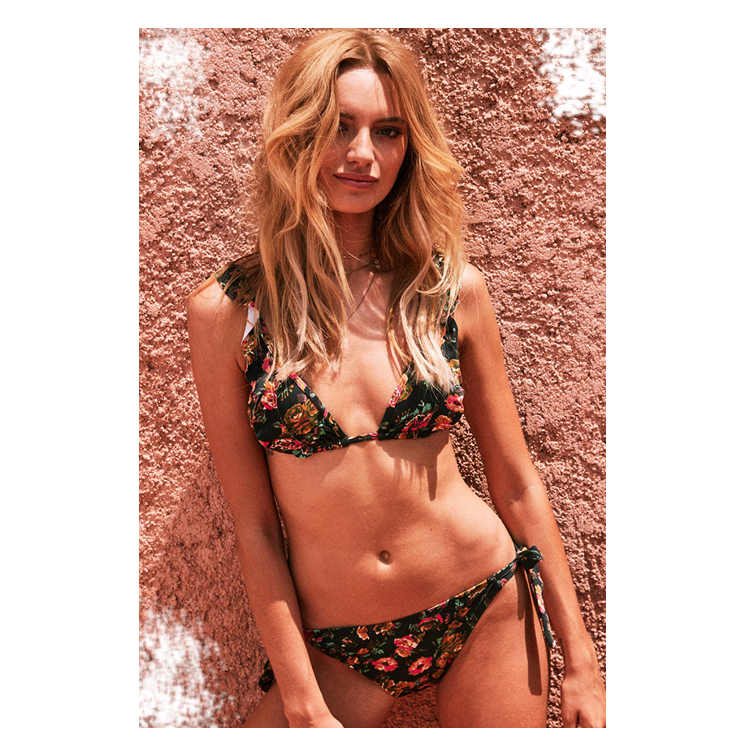 Perfect to give small breasts some volume, the ruffle is the coquettish detail to adopt this season. Ôdabaïa has perfectly understood this and offers the great looking Amenapih bikini with a floral print at a mini price. Quite simply the adorable bathing suit to slip in your suitcase and to whip out at every occasion.
Two-piece ensemble, Black Triangle Floral Print - Madly, € 69.
Imitate Lara Croft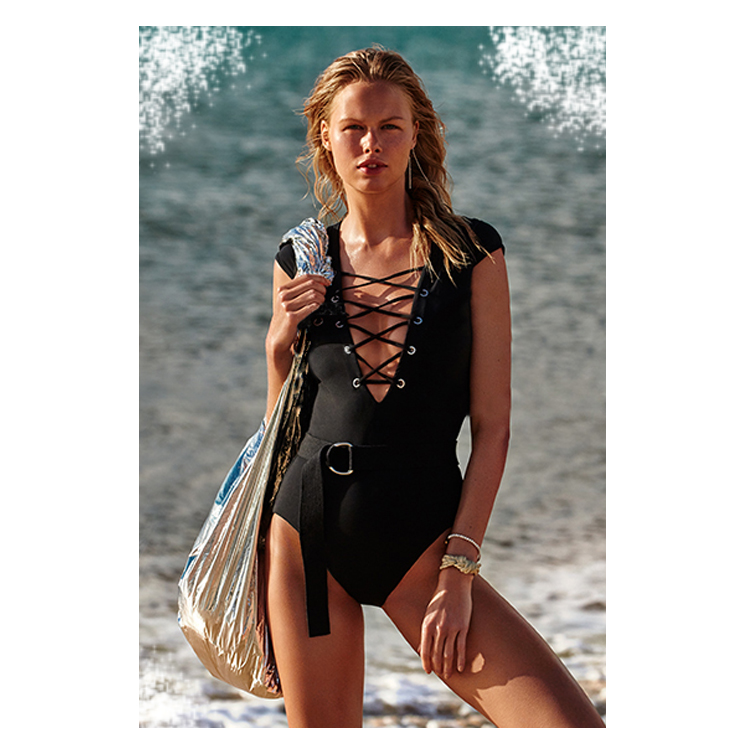 It's easy to show off when you come out of the water wearing a furiously sexy bathing suit. And you can do just that with this Seafolly model with laces that precisely enhances the cleavage. Or how to emulate Lara Croft in one fell swoop. Wow ! It's available on Ôdabaïa. Heads are going to spin...
One-piece bathing suit with Laces, Black - Active, Seafolly, €108.
Dare the nude style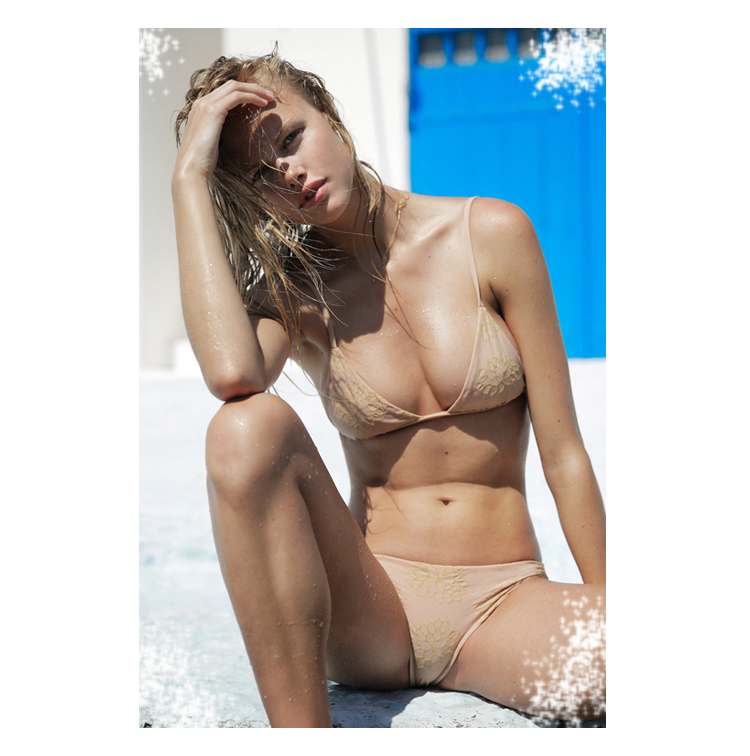 It's the bikini equivalent of Carrie Bradshaw's "naked dress" (the famous nude dress that sent Big over the edge). Not easy to wear? This bikini in the same overtones, spotted by Ôdabaïa, by Tori Praver, ex top model and designer, native of the Hawaiian island of Maui wonderfully enhances golden skins and of course offers a strong potential of suggestion. To be avoided if your skin looks like chalk at the beginning of the holidays, but to whip out in order to make a sure catch.
Bikini Top Artemis Latte/Storm - Eres Embroidery, Tori Praver, €79 on sale at €67.15.
Bikini Bottom Alegra Latte/Storm - Eres Embroidery, Tori Praver, €79.
Slip into a cute Summer dress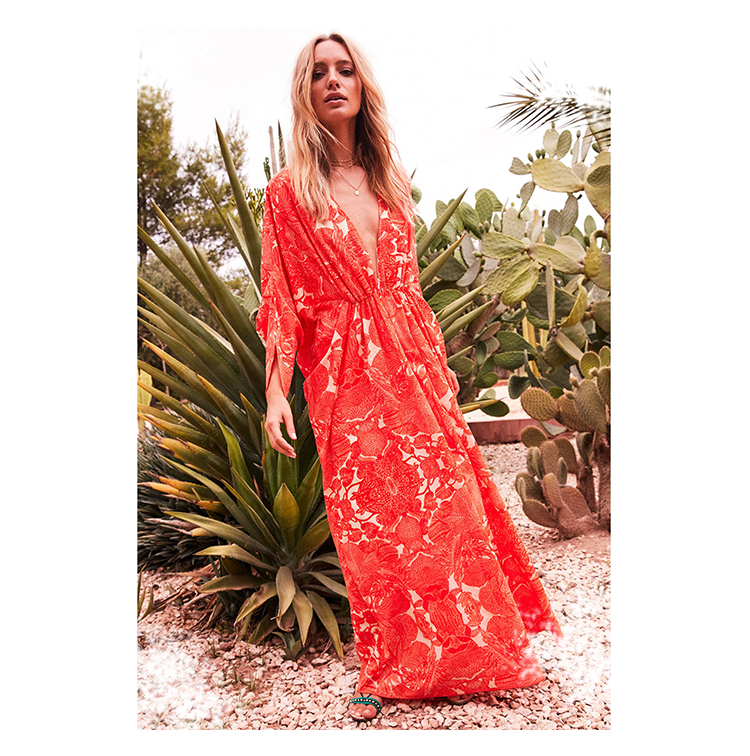 What could be fresher that a light Summer dress to had for the beach ? With its floral print smack in the trend and its flared cut, this Amenapih model, worthy of Coachella, offered by Ôdabaïa, is an ally of choice to set off a golden complexion. Ultimately trendy when worn with a pretty basket, you can even slip it on to go sip a cocktail at a beach party. Cheers!
Long vaporous dress, Rose Fleuri - Reggae, Amenapih, €158
Be proud of your cleavage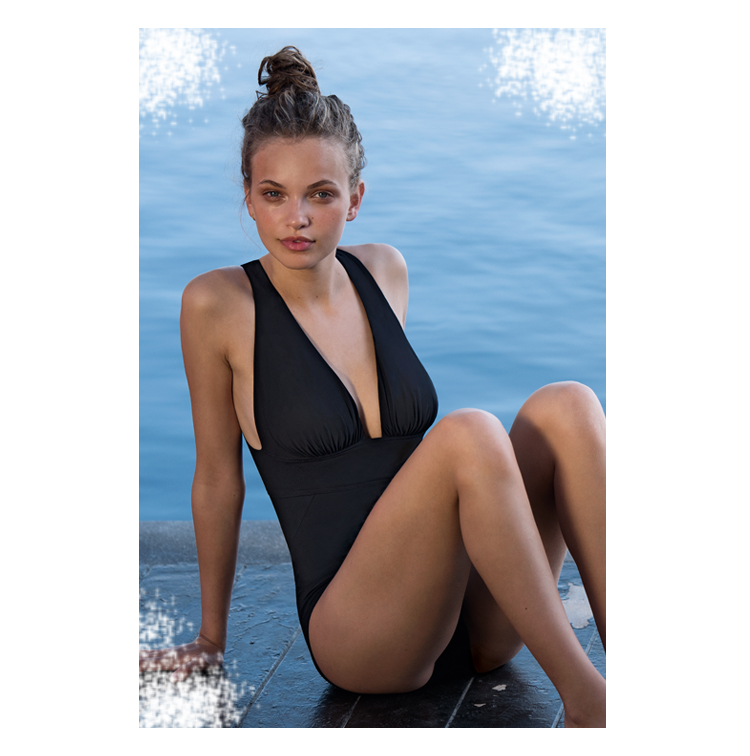 Pain de Sucre, this is the favourite label of gals with big bosoms. All their bathing suits are designed in order to pimp and pump up your clevage, as with the Capri that one finds on the site of Ôdabaïa. Ultra glam, its straps are crossed in the back for more support. In other words, the perfect black bathing suit that you must absolutely have.
One-Piece bathing suit, Black - Capri, Pain de Sucre, €135.
Incarnate the 1001 nights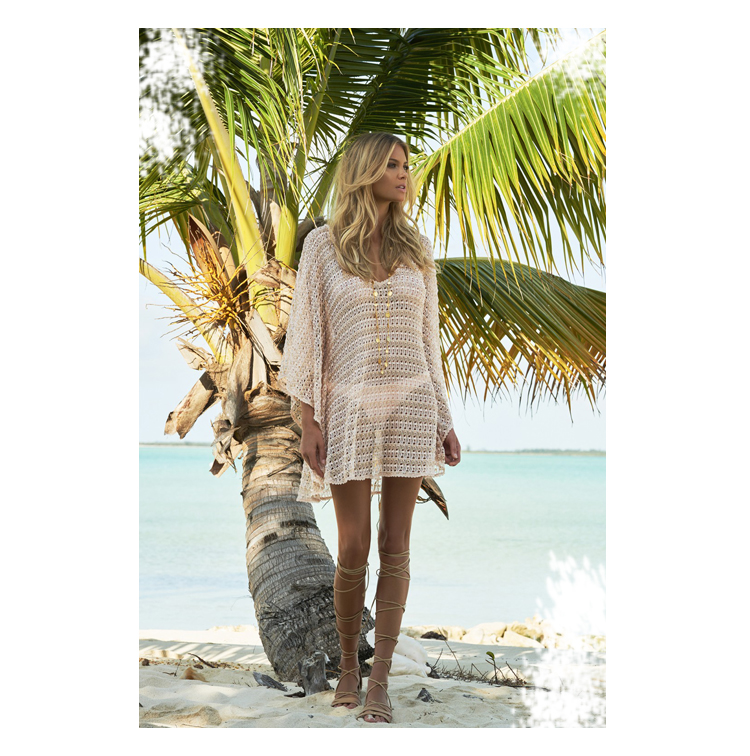 Coming from the Orient and given an Occidental style by Christian Dior and Yves Saint Laurent, the caftan is back in the running this year with a strong 1001 nights inspiration, featured in the collections of leading designers. So quite logically, it pops up on holidays in a knitted version by Melissa Odabash on Ôdabaïa. To slip into between two dips with a long golden necklace to show off at the pool.
Short knitted caftan with V neckline, Perle - Madison, Melissa Odabash €373 on sale at € 279.75.