It's the ideal solution for our need of freedom and gourmet treats during the Covid context… This summer, leading houses and chefs are overflowing with ideas to provide picnics for foodies to be enjoyed on the grass, or even on your own terrace. Spotlight on the most yummy specimens of the season.
The social food of the Drugstore by Eric Frechon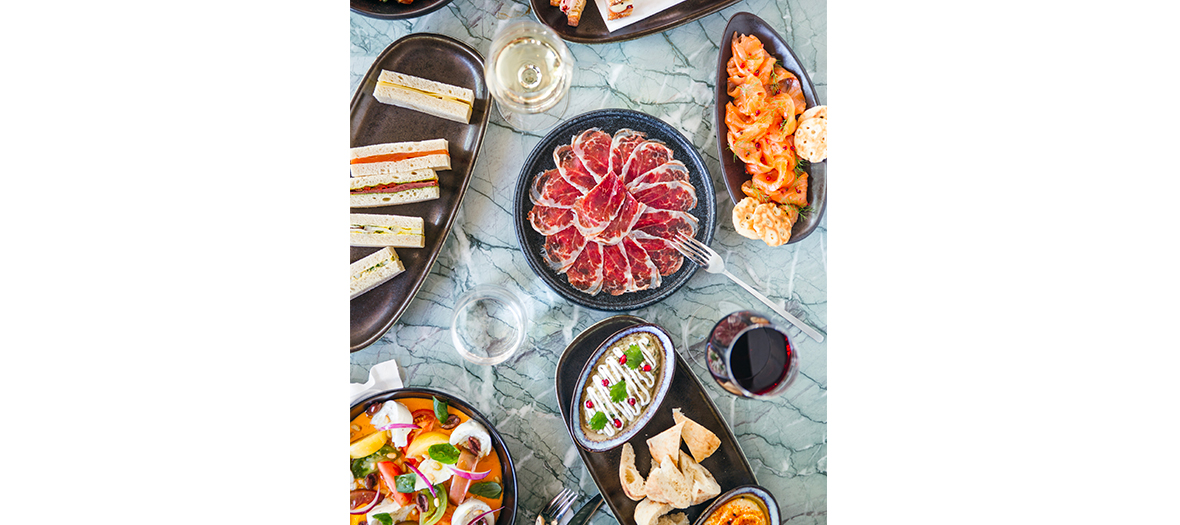 With Eric Frechon at the helm of this mythical Champs Elysées brasserie, the Drugstore does it again this summer. The team has imagined a picnic or shared dinner offer, delivered where you want, when you want.
To be enjoyed: your favourite specimens to be picked from their bar of finger sandwiches: chicken curry, tuna mayo, smoked salmon and lemon butter, affined comet cheese or pastrami pesto (€2). And let's not forget their delicious houmous (€4.60), an incredible niçoise (€9,90) or a Spanish paleta (€12.90).
How to obtain it? In click&collect mode every day from 9am to 9pm at the Drugstore, 133 Avenue des Champs-Élysées, Paris 8th of by delivery on www.publicisdrugstore.com
Amandine Chaignot at Pouliche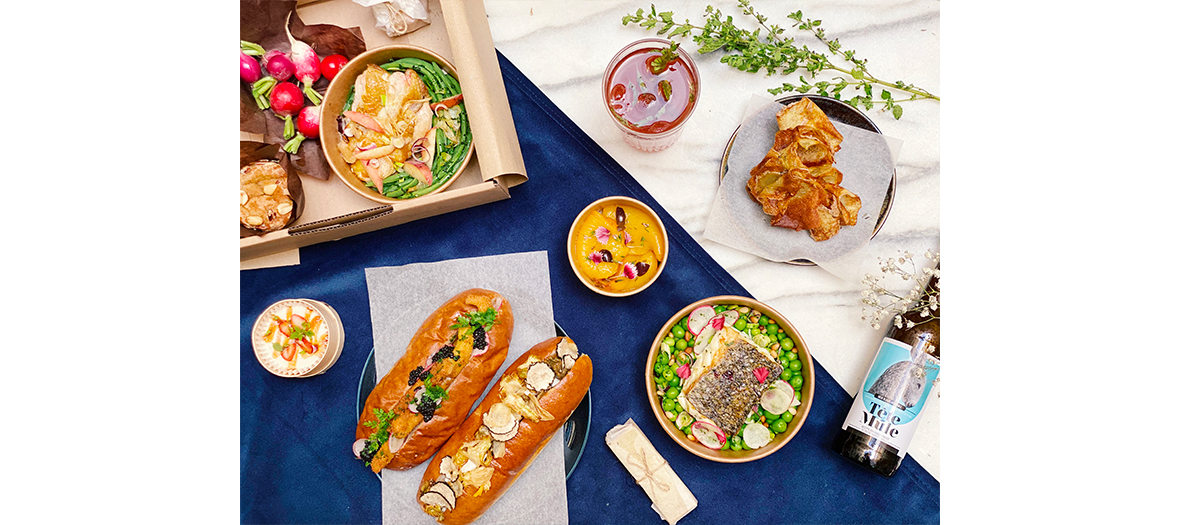 Pouliche. No need to introduce this new signature table in the 10th, opened by the young and brilliant entrepreneur cheffe Amandine Chaignot, who has created the buzz amongst foodies since her opening last Fall.
To be enjoyed: 3 "freedom" formulas where one finds the signature of the star cheffe and lots of yummy products with bouquet of radish by Laurent Berrurier, small sablés with parmesan + strawberries with light mascarpone cream, an Ossau Iraty cheese to be tasted with the bread of Thierry Breton, without forgetting the peanut-pecan cake! Just choose if you prefer the veggie option (sautéed courgettes with summer truffle), meat (a salad of partridge, peaches) or fish. The alternative? Incredible sandwiches.
€37 per basket. How to obtain it? In click and collect mode at Pouliche: 11 rue d'Enghien, Paris 10th or by delivery via deliveroo. Closed from the 9th to the 17th of August.
The trendy delights of Boucherie Grégoire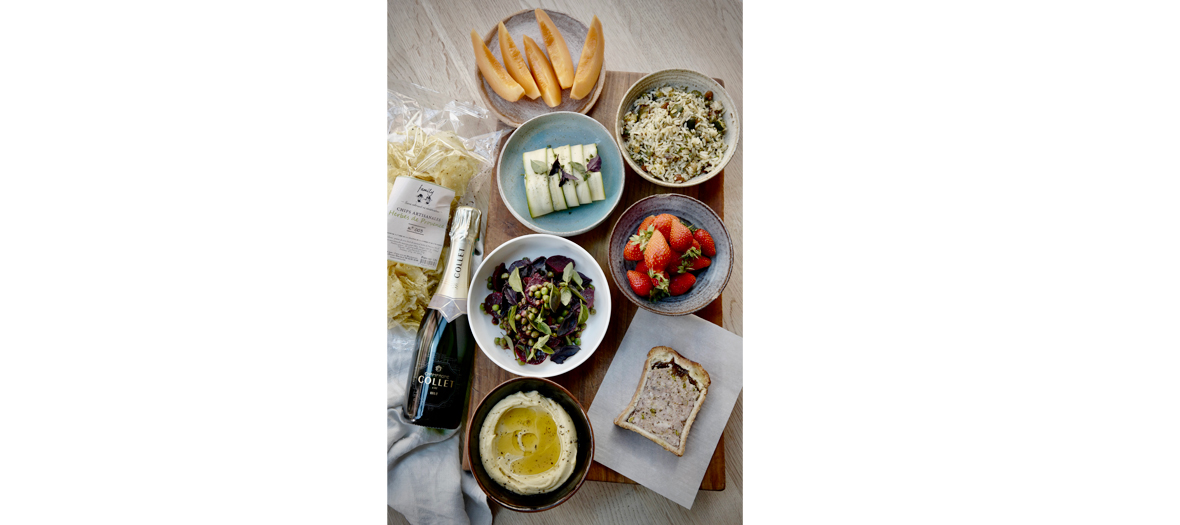 It has everything of the perfect bistronomic picnic, prepared with ultra-sourced products in the kitchens of Quinsou, the star table of Antonin Bonnet. But it's in the marvellous Boucherie Grégoire taken over by the chef that one finds his premium picnic treat. Ideal to go settle in the Luxembourg gardens for a great moment of pleasure.
To be enjoyed: a slice of signature pâté en croûte from the Boucherie Grégoire, a package of natural chips, burrata with courgettes, assorted salads of the moment made with produce from the vegetable garden of James Henry Edward at Doyenné—top notch saucisson, bread made by Quinsou with the organic flours of Roland Feuillas, a half-bottle of Collet champagne, seasonal fruit and a fresh goat cheese from the Ferme en Chatain.
Basket at €45 for 2 persons. To be reserved by telephone on 01 42 22 58 41. Basket pickup on Saturday only at Boucherie Grégoire. 29 Rue de l'Abbé Grégoire - 75006. Open starting the 27th of August.
The very chic snack of Maison de la Truffe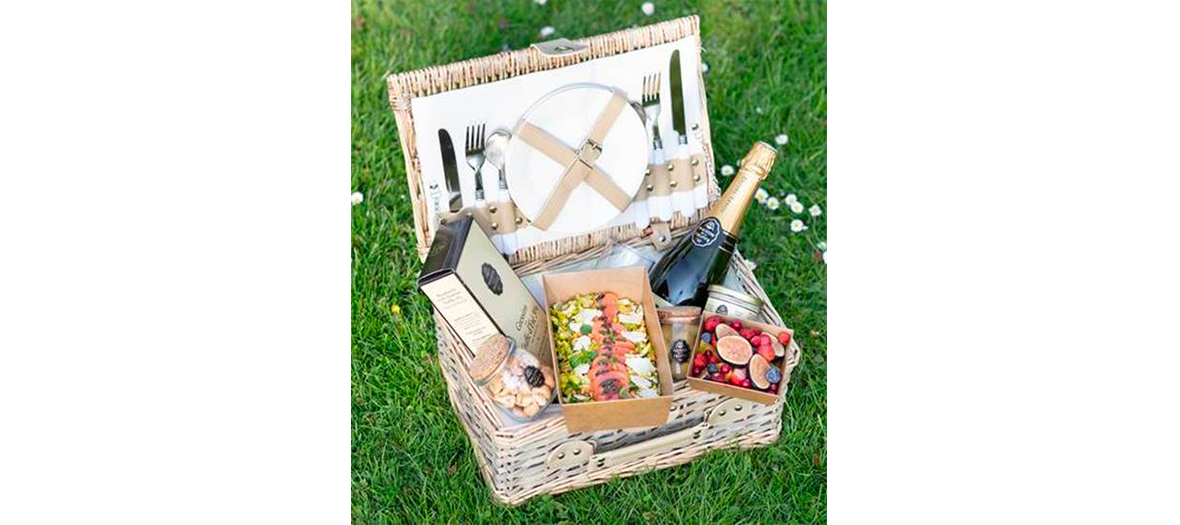 This truffle landmark reinvents deluxe happy hour! With its hamper filled with truffle delights, its aficionados will not be able to resist condensed luxury at a cool price (€69 for 2). And to continue the luncheon on the grass garden party of the Queen of England: to push the adventure a little further we choose the wicker basket option, with tableware to keep for your upcoming chic picnics €149 for everything).
A must-taste: bread baguette, a bottle of Lacombe Noaillac 2016 wine - 75cl, 2 packs of chips with mustard flavour, honey and white truffle, 2 packs of chips, a nice slice of Brie with truffle for 2 and a saucisson with summer truffle.
For sale to go (to be ordered 24h ahead of time) at La Maison de la Truffe – 19, Place de la Madeleine 75008, 01 42 65 53 22
Also discover the 4 secret gardens for a picnic in Paris and 3 hotels with pools right near Paris