Exit the tray of tabbouleh or other bags of industrial crisps! Today, you can picnic in a chic version, in one of the capital's beautiful parks. Here is our selection of the best packed lunches, to share without moderation!
The most customizable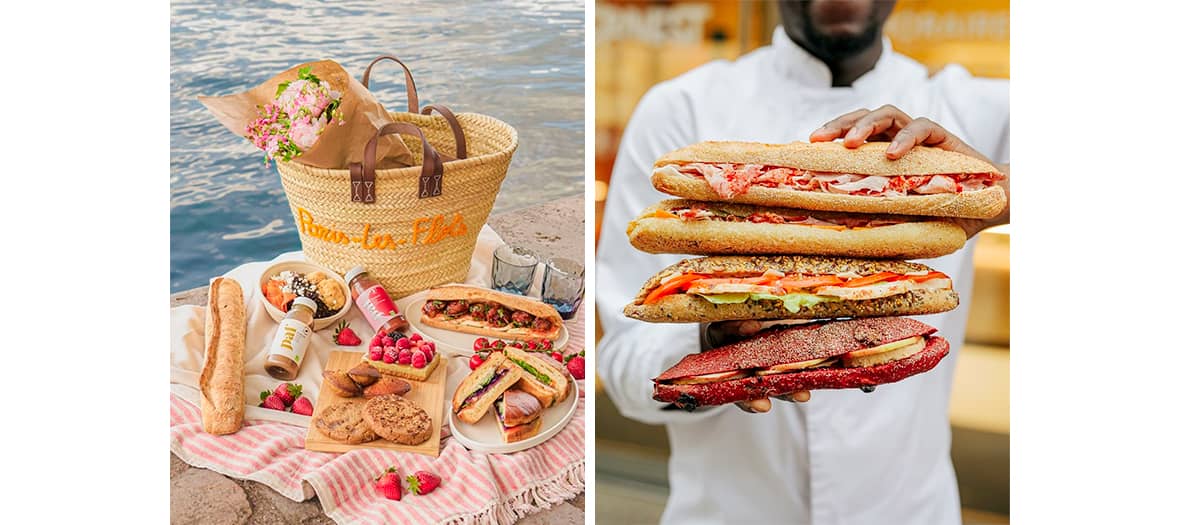 There is a major drawback in turnkey meal baskets: some products are less appealing than others. It is to alleviate this hassle that La Samaritaine has set up a customizable picnic for this summer! Among a gourmet and chic selection, all you have to do is choose!
What do we find there? On the savory side, we love Ernest's Japanese sandwich, by Noëlle d'Hainaut and Eric Kayser , with its sourdough bread, teriyaki sauce, breaded chicken balls and mozzarella. More healthy, we opt for the Bowl Danube (millet tabbouleh, stripped smoked salmon with Greek yoghurt sauce) from Dalloyau . For dessert, head for the strawberry tart from Ernest, and its Breton biscuit. And when it comes to drinks, there's nothing like the delicious Paf Douceur juice with hazelnut, date, vanilla and pink salt flavor to quench your thirst! If you don't want to choose, Source by Joie also offers a picnic box, with a vegetarian club sandwich, a seasonal salad and an individual pastry. No more reason to hesitate!
Most ? If the cooler is often preceded by its image "camping in Argelès", La Samaritaine gives pride of place to Business and Pleasure Co, a brand of premium beach accessories, which offers elegant coolers with a vintage design. We are already fans! (€89 for a cooler, available at La Samaritaine).
Where to taste it? If there is a place to enjoy your picnic, it is the banks of the Seine, at the foot of the historic building. A real postcard landscape, ideal for playing Emily in Paris .
The price ? €14 for the Source by Joie Picnic Box for one person, and €18.50 (Japanese sandwich + Paf Douceur juice + strawberry tart) for a full meal basket.
La Samaritaine, 9 rue de la Monnaie, Paris 1er, more info online .
The most family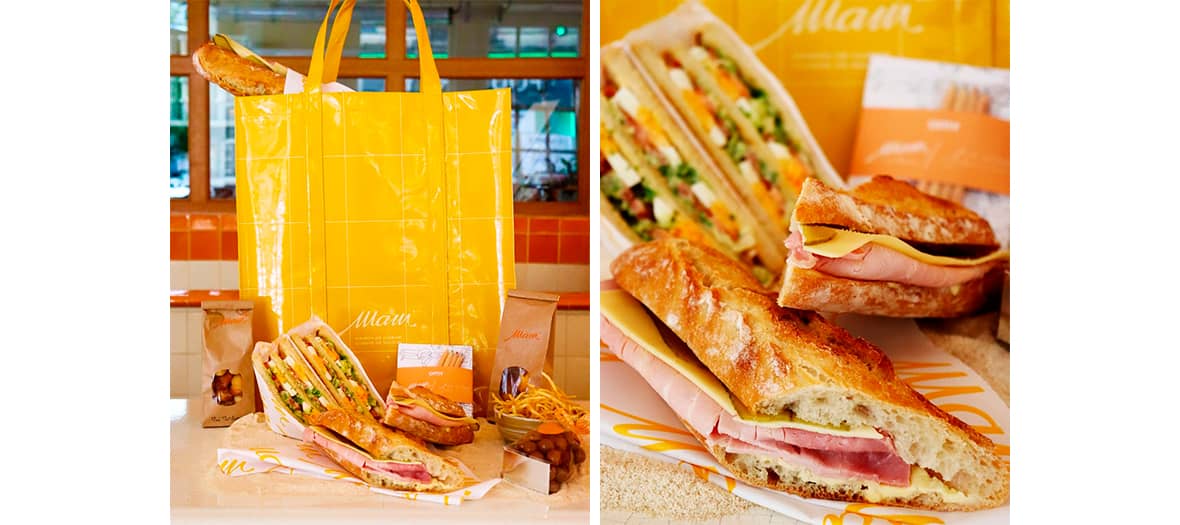 For this summer of 2022, starred chef Stéphanie le Quellec, at the head of the "MAM" Kitchen House, has teamed up with OMY coloring to create a "Kid's friendly" picnic basket. Ideal for getting together with the family on Sundays and enjoying the sun before the holidays!
What do we find there? In addition to the savory snack (chips cut into mini-fries), Stéphanie le Quellec offers four bottles of water, two Parisian sandwiches (ham and cheese), which remain fairly classic in terms of taste. Because the explosion of flavors is found more in the veggie sandwich (toasted sandwich bread, hard-boiled eggs, beefsteak tomatoes, homemade mayonnaise, chopped tarragon and chervil), available in two copies in the basket (for twice the pleasure! ). As for the sweets, we will fall more for the creamy madeleines than for the praline chocolates, which are a little disgusting. A beautiful packed lunch, which the palate will remember!
Most ? The XXL coloring from OMY, which will keep the children busy for a while (which is not to be refused!) as well as the reusable shopping bag, for the beach, for example!
Where to go to taste it? As the basket is only available in click and collect in the MAM boutique, in the 17th arrondissement, it is best to sit at Parc Monceau, on a bench around the lake, or on the lawn, in the shade of the trees.
The price ? €50.
Mam Stéphanie le Quellec x Omy, 22 rue Fourcroy, Paris 17th, packed lunch for 4 people, more info online .
The most iodized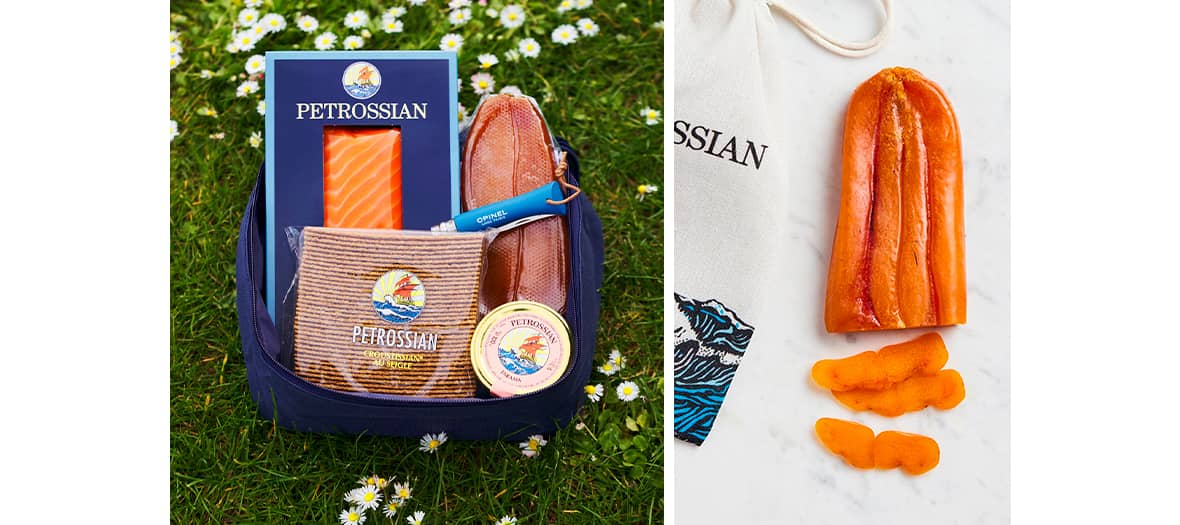 What could be nicer than tasting a bottarga under the Parisian sun? This is the promise of the Petrossian picnic basket, released on June 19, on the occasion of Father's Day. Find an iodized taste before summer? We are ready!
What do we find there? A bottarga of your choice (plain, the best, with black truffle, Caspian spices or smoked with Timut berries), a classic tarama, a packet of Crispy rye, to spread the tarama and a Tsar ® cut of smoked salmon , melting and delicate in the mouth. All in a chic insulated basket stamped Petrossian, for a gourmet picnic!
Most ? The blue Opinel knife, to cut bottarga or smoked salmon, so you don't need extra cutlery!
Where to go to taste it? If Petrossian delivers its basket in 24 hours from Monday to Friday throughout Metropolitan France, it is also possible to pick it up in a store, such as the most legendary of them, 18 boulevard de la Tour-Maubourg, in the 7th district . With your picnic in your possession, you can relax in the Catherine Labouré garden, a stone's throw from the Bon Marché. An unknown green space housing a former convent, today converted into a picturesque and romantic garden. Petrossian in a former convent? We take !
The price ? 97 €
Meal basket for 2 to 3 people, available in store, more information online .
© Pull photo
Catherine Labouré garden, 29 rue de Babylone, Paris 7th.
The most gourmet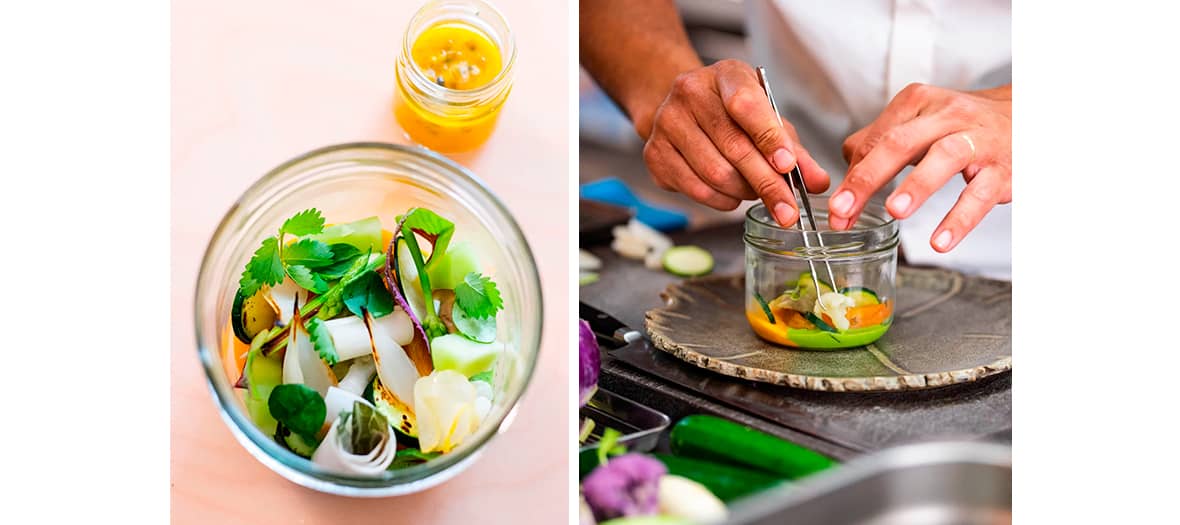 Who said a picnic couldn't be starred? For MPépite , the starred chef of the Oka restaurant (Paris 5th arrondissement ) offers a top-of-the-range picnic basket, in four stages. Combining French producers and Brazilian recipes, in homage to his origins, Raphaël Rego surprises with delicate dishes, to travel to Copacabana!
What do we find there? A cold starter, made up of vegetables depending on availability, with maracujà sauce, a smoked fish crudo with citrus fruits and Acai juice from Amazonia and, for dessert, a tapioca with coconut milk, a tribute to his childhood. And, for the sweets, it's according to the chef's mood!
Most ? Every day, the basket is different, depending on the arrivals, in order to give a little more mystery to your picnic!
Where to go to taste it? MPépite delivers from Thursday to Sunday, in inner Paris and in the inner suburbs. Why not stroll in front of one of the ponds of the Bois de Boulogne, or the Natural Garden , an unknown haven of peace where nature is queen, backed by the Père Lachaise cemetery (120 rue de la Réunion, Paris 20th ) .
The price ? 89 €, excluding delivery costs.
MPépite, Raphaël Rego box, for one person, available all summer, more information online .
© Yacine Sadik
Also discover an open-air gourmet passage and 5 palace experiences to try once in a lifetime .