Nestled in a peaceful street in the 2nd arrondissement, facing the Notre-Dame de Bonne Nouvelle church and just steps away from the Grands Boulevards, La Baignoire is the ideal address for a romantic getaway for two. The first restaurant of Chef Cécile Lévy, previously known for her work at Tekés, this charming table combines charm and refinement around a cuisine that goes straight to the heart.
Dive into the cozy world of La Baignoire
In the storefront, a bathtub filled with candles, a vintage touch-tone phone, aged terracotta tiles on the floor. In this intimate and dimly lit room, a handful of cloth-covered tables, vintage porcelain tableware, fresh flowers, candles, and soft music create a serene, wise, and ultra-romantic atmosphere that makes you want to whisper sweet words to each other. While the destination is perfect for romantic dinners, La Baignoire also hides, in its basement with exposed stones, a large table ideal for dinners and celebrations with a group of friends.
Fusion Inspiration
Cécile Levy had already delighted our palates at Tekés with vibrant and joyful vegetarian Middle Eastern cuisine. Before leading the brigade of this successful restaurant, the little sister of the Michelin-starred Shabour honed her skills for 17 years in Israel, particularly at The Norman in Tel Aviv. At La Baignoire, her first solo restaurant, she offers us a fully fusion gastronomic journey, mixing Mediterranean, Japanese, and French influences, revealing her talent in every dish with an unexpected touch that leaves a lasting impression.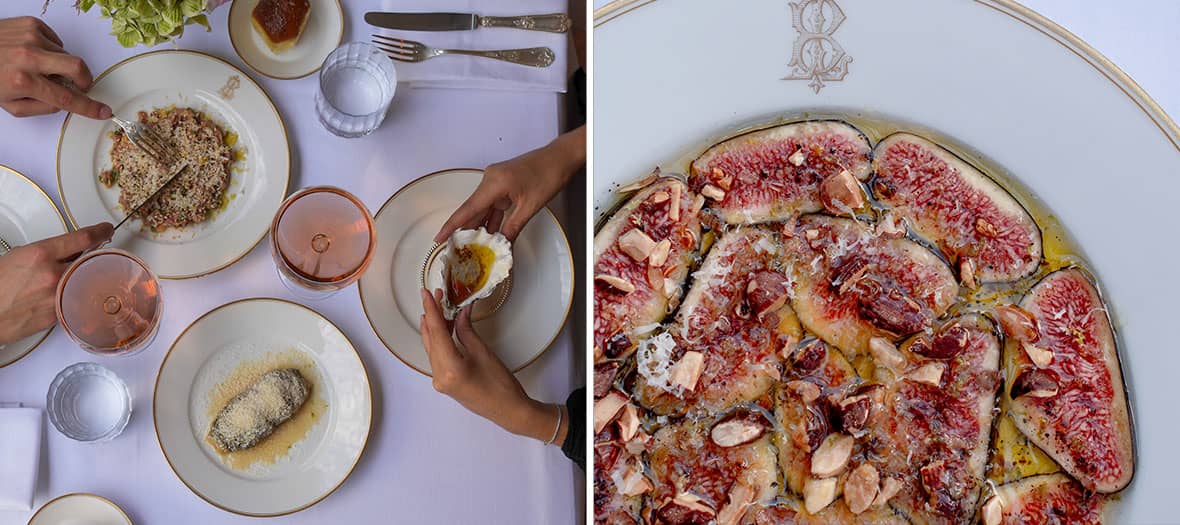 The menu arrives, written in ink in a small notebook: so poetic. Each dish is introduced by the main ingredient that composes it. That evening, it all starts with Fig carpaccio, enhanced by fine crumbles of smoked sheep's tomme cheese, toasted almond shards, Timut pepper, and olive oil: a perfect balance of flavors (€19). The Leek, more than perfect, indulges in the indulgence of white miso, raw cream, and sage (€16). The sequence finishes convincingly with a sublime faux-filet steak drizzled with Japanese curry, red wine sauce, and accompanied by baby carrots: remarkable (€34)! For seafood lovers, the lightly seared monkfish is covered with an autumn tomato sauce, wasabi butter, and a drizzle of toasted sesame oil: a little wonder (€17). Appetites are satisfied, but it's impossible to resist the Lemon dessert, a deconstructed and refined version of the lemon tart, adorned with meringue and lemon-flavored pearls (€12).
Special mention for the soft homemade challah bread that served to finish all the dishes with a delightful indulgence!
Open from Tuesday to Friday from 12:00 PM to 2:00 PM and from 7:00 PM to midnight, and on Monday and Saturday from 7:00 PM to midnight.
Also, discover the best Levantine dining in Montmartre and the 5 must-try sausage and mashed potato dishes in Paris