When four former members of the Balagan team joined forces to create a dining experience centered around nomadic cuisine in the heart of Montmartre, naturally, it piqued our interest at Do It. Their gamble paid off: Adraba has quickly established itself as the new must-visit spot for a distinctive dinner in a genuinely captivating atmosphere.
Having relocated from Israel to France a few years ago, the quartet behind Adraba (Elior the chef, David behind the bar, Eden managing the floor, and Shlomit handling the business) first crossed paths in the kitchens of Balagan, the festive stronghold of the Assaf Granit and Uri Navon team. They've retained the harmonious camaraderie, spontaneous applause, birthday songs, and the jovial spirit that guarantees a great evening.
So, grab your best friend (for the best spot at the bar facing the chefs) or your group of friends to celebrate any occasion in a modern, wood-and-lime-dressed setting, where a mural evokes the journey offered through the Levant: not just in Israel but also in Iraq, Greece, and Turkey.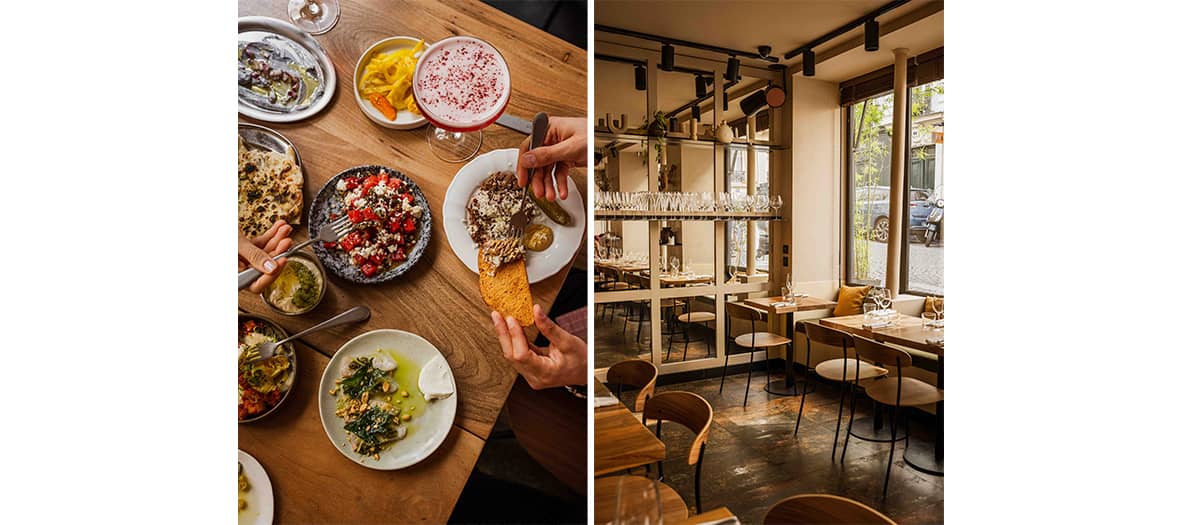 Feeling hungry? Even better! At Adraba, the plates are generously filled. Whether you decide to share them or not, the delectable dishes keep coming, each with a unique character. The common thread is a genuine sensory voyage through the Mediterranean and the Middle East. Start with the essential Esh bread to dip in tahini and served with pickles (€7), and then consider the mischievous Mush Mush: beef tartare, tirshi rémoulade, and bone marrow (€16), which is complemented by a refreshing citrus, pistachio, and sumac tabbouleh (€13). Continue with a Dag al hadan (sea bass, white butter, and malouchia, €24), and the Sultana, a lamb kefta and roasted salad on Turkish pita, a flavor explosion (€23).
We also loved: the daring dessert choices, with surprising spiced ice creams, and the absolutely delicious cocktails like the Louisa (Cazadores Tequila, verbena, lemongrass, and grapefruit soda, €15) and the alcohol-free Rassi (mango, ayran, ras el hanout, €10).
Open from Tuesday to Saturday evenings only, with a Sunday brunch from 12 PM to 5 PM.
© Jessica Bascou / Malou Agency
Discover the restaurant where Shabbat is celebrated every day and the Moroccan restaurant making waves in the 9th arrondissement.