Rustic and incredibly comforting, this timeless duo that enlivens and warms the appetites indulges in the rich, creamy, and spicy. A tour of the places to savor the best of the sausage and mashed potatoes, this naughty classic that delivers an indecent dose of pleasure!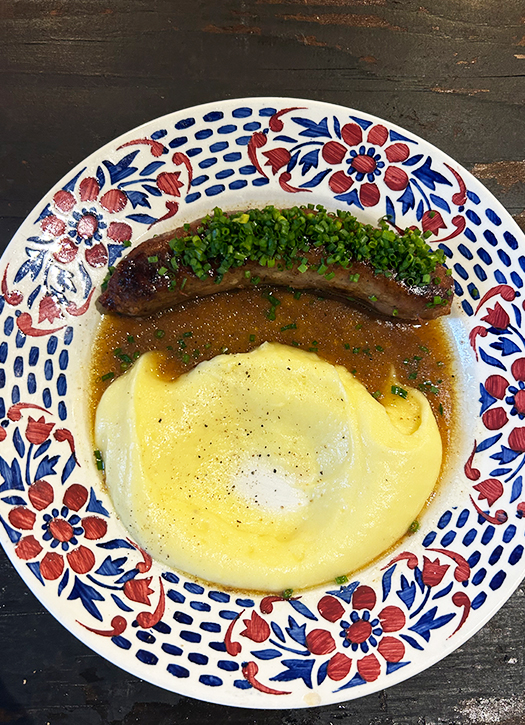 The place: nestled in the Passage des Panoramas, this aptly named spot catches the eye with its flamboyant neon sign and tantalizes the appetite with its impressive meat cabinet. Offering a range of indulgent options on its menu, this bistro can be enjoyed either at its large counter or at its small wooden tables, accommodating feasts for several.
Its added value: a tempting pork sausage, prepared with a knife, quickly seared on the griddle, and finished in the oven to retain its juicy quality. A velvety-textured mashed potato made with Charlotte potatoes, butter, and cream. But above all, a top-notch sauce made from roasted pork pieces, red wine, and remarkably flavored shallots that one could savor with a spoon (€15)!
Club Cochon, 38 passage des Panoramas, Paris 2e. 01 88 61 15 75.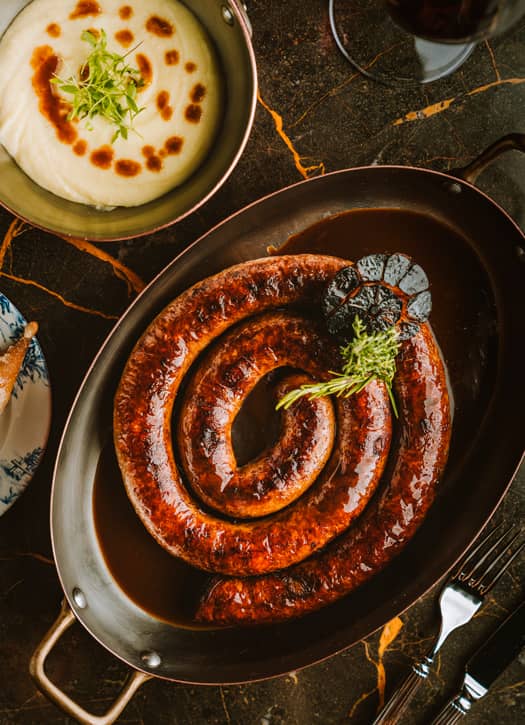 The place: It's the scoop that left the entire food scene in awe. The Prince de Galles, a venerable hotel on Avenue George V, entrusts the kitchen of its bar-restaurant 19.20 to the lively TV chef Norbert Tarayre, who envisions a 2.0 version with a strong bistro (even broth) orientation, set in a stunning Art Deco decor. In essence, they clearly serve the most stylish sausage and mashed potatoes in Paris.
Its added value: a rich and buttery mashed potato following the cult (and utterly decadent) recipe of Joël Robuchon, and a massive sausage meant to be shared for two (€65), smothered in a particularly skillfully crafted meat jus.
Restaurant & Bar 19.20 par Norbert Tarayre, 33 avenue George V, Paris 8e. 01 53 23 78 50.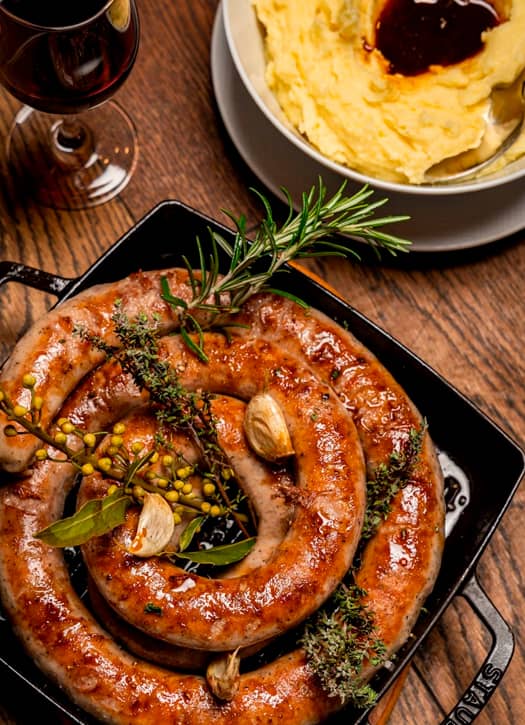 The place: A dedicated gourmet, the three-starred chef Eric Frechon has taken the nostalgic Proustian madeleine and given it a gourmet twist in his brasserie Lazare. It continues to attract hurried business tables between two trains and families who eagerly indulge in the vibrant atmosphere of a train station restaurant.
Its added value: picture a top-notch Morteau sausage served with homemade mashed potatoes, jus, and a touch of thyme (€25)… Enough to awaken the retro glamour potential in just 2 minutes flat. We love: finding the sausage and mashed potato recipe in the brilliant Lazare cookbook, a classic to keep in the kitchen!
Brasserie Lazare Paris, Rue Intérieure, Paris 8e. 01 44 90 80 80.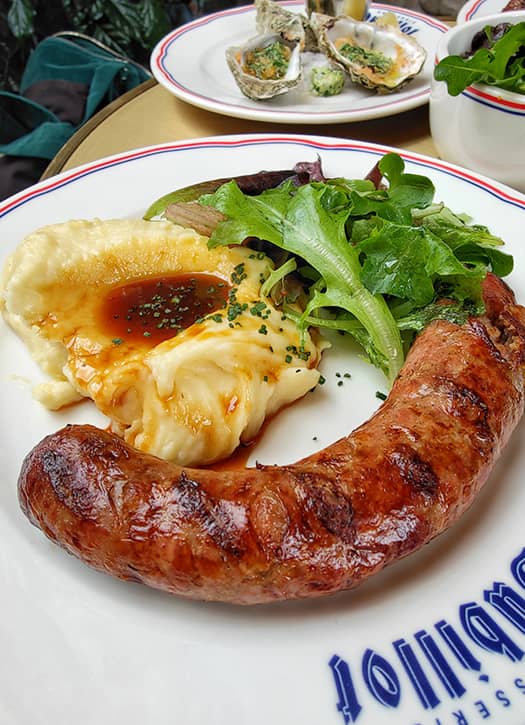 The place: An iconic dish across the four establishments of the La Nouvelle Garde group, the sausage and mashed potatoes has been taken very seriously, so much so that it has become their signature dish. Amid the colorful walls of Brasserie Dubillot, nestled in the vibrant Rue Saint-Denis, it can be enjoyed in a delightfully retro and decidedly cheerful atmosphere.
Its added value: The pork meat, sourced from Terroir d'Avenir, is delivered fresh every morning and passes through the hands of the chef, who crafts the sausage himself, adding a secret blend of spices. Then, 180 grams of good meat are grilled in a charcoal oven, placed at the center of a plate with buttery mashed potatoes (plenty of butter), drizzled with a luscious meat jus, and accompanied by a handful of mesclun for a fresh touch (€14)!
Brasserie Dubillot, 222 rue Saint-Denis, Paris 2e. 01 88 61 51 24.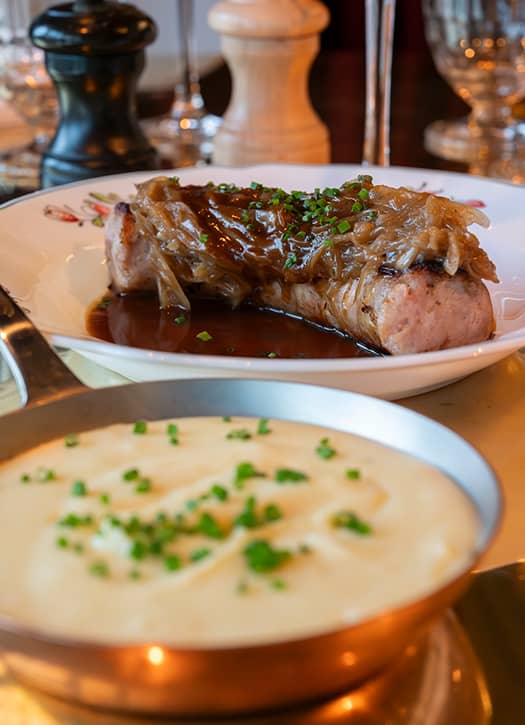 The place: The latest addition to the Bistrots Pas Parisiens brings a 15th-arrondissement vibe with a 70's disco mood, complete with mirrored disco balls. The restaurant also welcomes the three-star chef Glenn Viel (Ousteau de Baumanière) who crafts the menu for this devilishly vintage and festive new establishment with its psychedelic carpet, DJ booth, and piano.
Its added value: The generous garnish of caramelized shallots that covers a king-size all-pork sausage, sourced from Maison Conquet in Aubrac, perfectly roasted and accompanied by buttery mashed potatoes, served separately in a cute caquelon. Perfect for hearty appetites! (€22).
Podium Bistrot Disco, 2 rue Linois, Paris 15e. 01 77 36 70 00.
Also discover The lively bistrot to book immediately and the character bistrot in the 9th arrondissement.