It's a very discreet address that you may not even have heard of. And yet, just crowned with its second star, Philip Chronopoulos ' table at the Palais Royal Restaurant deserves to linger there for a sunny lunch in the most beautiful garden in Paris .
A magical place
Go past the Buren columns towards the Palais-Royal garden , and look left. Under the columns, at the corner, nestles this confidential restaurant whose chef Philip Chronopoulos has been at the helm since 2015. It must be said that its charm lies precisely in this intimate and secret aspect, far from the garish terraces taken over by tourists and hipsters of all kinds.
There, the hushed interior offers an extension of the surrounding gardens, all in wood and light colors reminiscent of the surrounding sand. But it is also (and above all) for its sublime terrace that you come here for a quiet lunch, sheltered from cars and the hustle and bustle of Paris.
High-flying dishes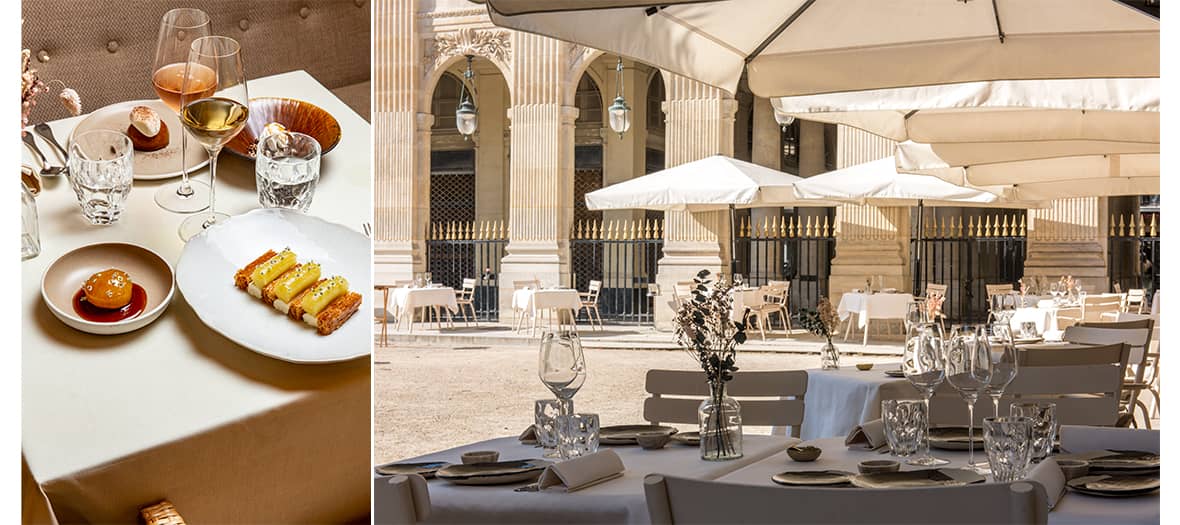 We understand the awarding of this second star from the start of the service, as the teams take great care, first providing a farandole of appetizers (feta, herbs, taramasalata, egg) to whet your appetite.
The lunch menu (€110) gives pride of place to the Mediterranean origins of the Greek chef, whose generosity is transformed into delicacy over the course of surprising and, to tell the truth, quite simply divine dishes: green bean - lemon - lemon balm - gwell or prawns - basil - broccolini for the starters, then monkfish - saffron - fennel - kaffir or pork - cherry - onion - mustard for the dishes.
The desserts will divide lovers of rum baba (this one is enhanced with coffee) and twigs in search of freshness on the one hand to end the meal with a delectable strawberry - elderberry - vanilla, without forgetting of course the sweets maousses that will have to be finished so as not to offend, like at the grannies of the South! We give in willingly...
Open midday and evening on weekdays, closed Saturday and Sunday.
© Simon Detraz / Guillaume de Laubier
Also discover the new terrace of the Carnavalet museum and the new rooftops to squat this summer .