Having dinner in a revisited "bouillon," going out in an Art Deco decor, sitting down at a new style of trucker's pitstop or socializing on formica tables… Being roguish and the Parisian spirit are very much in the air: eggs mayo, asparagus mimosa, puddings and chocolate mousse are the new culinary stars and bistros with soul are the most popular amongst trendy Parisians. The proof: all the leading chefs are involved! Coolness is ageless...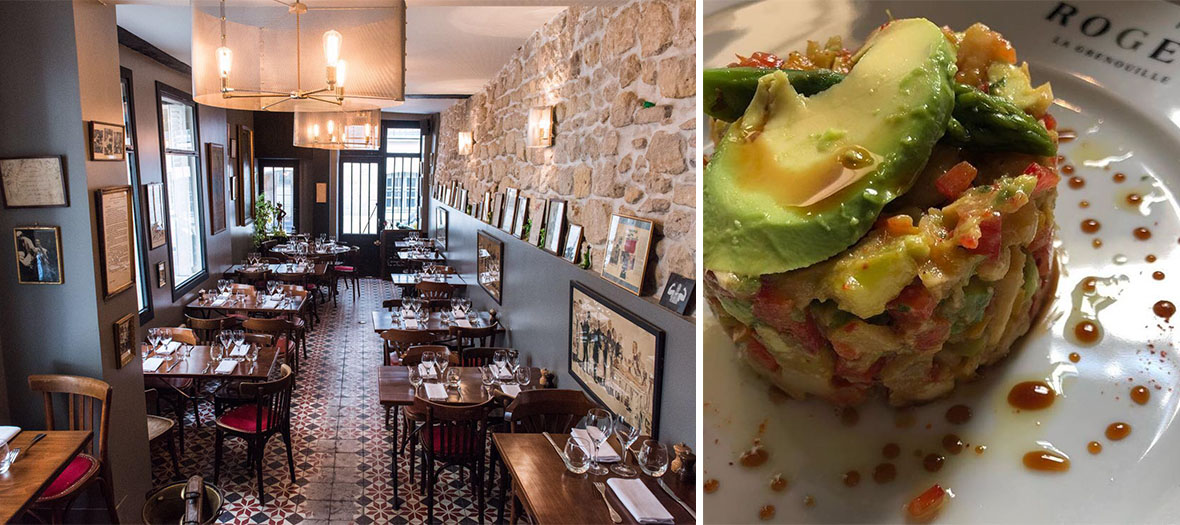 The place: Roger la Grenouille? A mythical bistro where Picasso, Balthus,Saint-Exupéry, Mistinguett, and Queen Mum of England dropped by. Years later, François Pagot, associated with Laurent de Gourcuff, took over this cult address at Odéon and truly made it a socialite landmark. Matthieu Chedid, Guillaume Canet, Beigbeder, Louis-Marie de Castelbajac… The big names of the Left Bank have their habits here...
To be tested: fried snails and frogs on the menu since a century: totally wild … In a new-age version: their "Frog Burger" is a must of retro junk-food.
Roger la Grenouille, 28 Rue des Grands Augustins - 75006 Paris
For more informations about Roger la Grenouille discover our article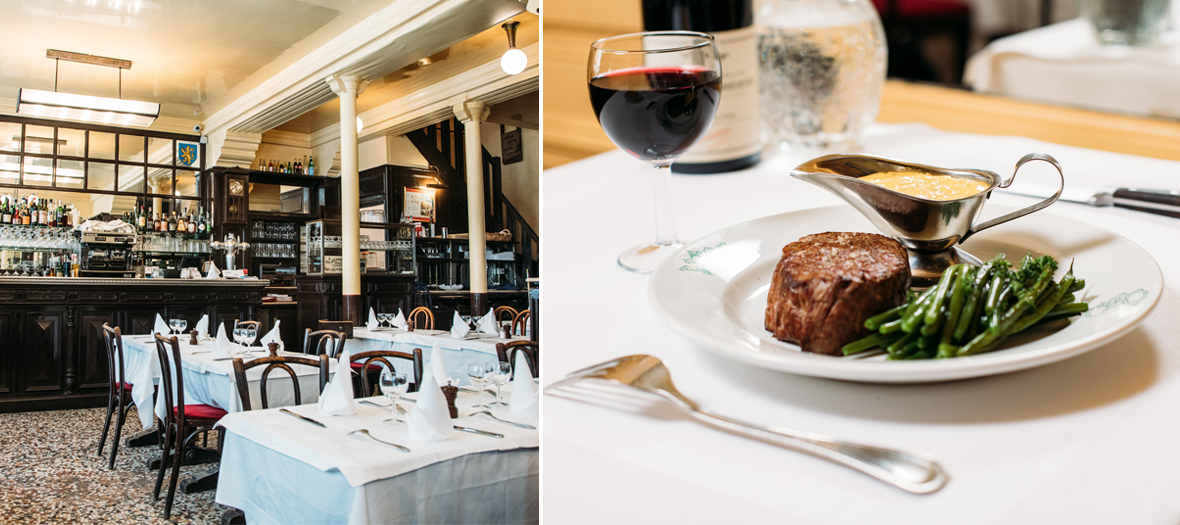 The place: and it's a winning trio for Les Marches (16th) and Aux Bons Crus (11th)!
After having successfully implanted in Paris the surprising but very friendly concept of the  bourgeois "routier" trucker pit stop, Margot and Felix Dumant have this time taken over the mythical address of Montorgueil: Aux Crus de Bourgogne. The go-getting twins have awakened this sleeping beauty with their usual talent, preserving the 1900 decor, its large mirrors and white table cloths, while bringing in a stylish clientele always game for a roguish cuisine. To be noted a really stunning XXL pedestrian terrace.
Must-test: the entire traditional and very appealing menu! As a winning starter, eggs mayo (5,50€), a salade frisée with bacon bits and poached egg (€10) or the irresistible artichoke vinaigrette (€10). For mains: entrecôte béarnaise or filet of beef with a pepper sauce with amazing fries. Special kudos to the chicken in a yellow wine sauce with morel mushrooms (€25)... And for dessert the chocolate mousse (€8) or a floating island with pink pralines.
All to be washed down with a good bottle of Burgundy—of course.
Aux Crus de Bourgogne 3, rue Bachaumont 75002 Paris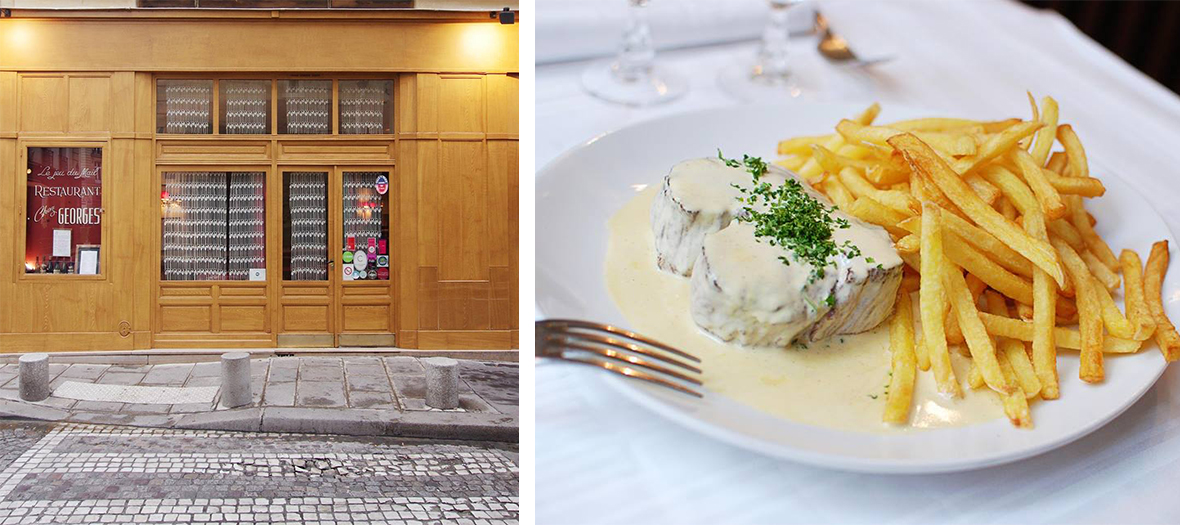 The place : Careful, institution! At the heart of the historical center of foodes, bistros and late night suppers, Georges is considered as the resistant of trends and tackiness around Etienne Marcel. Its clientele (the teams of all the surrounding fashion houses mode) make all the local glamour quotas explode and attracts all the celebs passing through town.
To be tested : the salad with bacon bits and coddled eggs, the salmon with sorrel, the grilled andouillette, their famous beef tip with a mustard sauce and fries as well as the irresistible profiteroles au chocolat…
Chez Georges, 1 Rue du Mail - 75002 Paris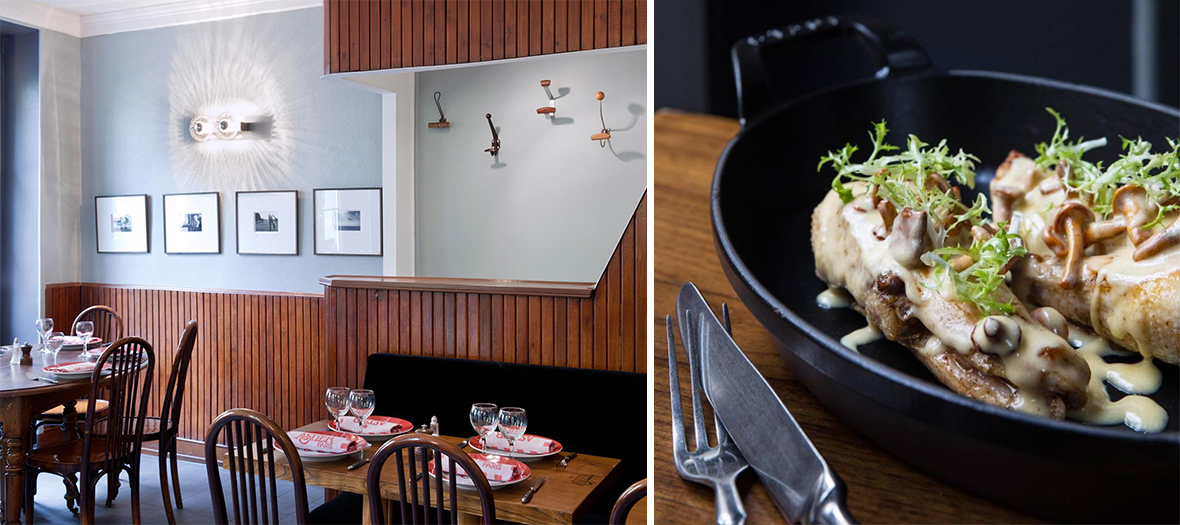 The place : An institution made in Oberkampf since 1956 where it's fun to indulge with style. Taken over a few years ago by the clever gourmet wonder boy, Frédéric Hubig, a real gourmet dandy (Jeanne A, this die-hard bistro has kept its soul in a super slick decor.
To be tested : all the great classics: herring with apples and vinaigrette, sirloin tip with dauphine potato, clafoutis. And the cellar: what a cellar!
Astier, 44 Rue Jean-Pierre Timbaud - 75011 Paris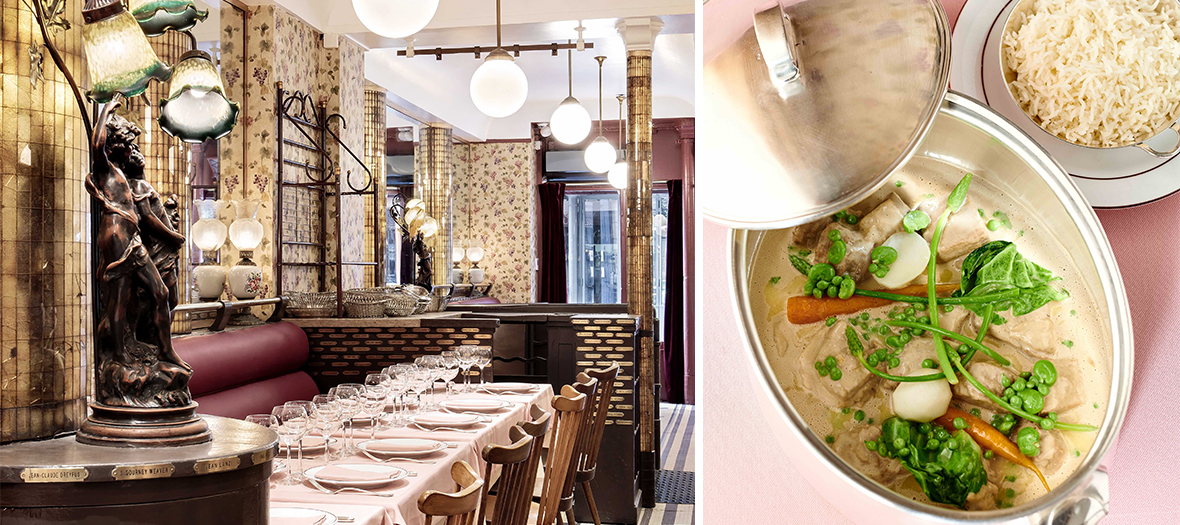 The place : Drum rolls ! The cult rendezvous of Les Halles, where revellers came for great eats at every hour, has just been taken over by… Jean François Piège himself! Which means that this is where all the Parisian inside-trackers come to discover his interpretation of real bourgeoise cuisine. Yum!
To be tested : eggs mimosa, marrow bone, veal blanquette, kidney in the Dijon style, and an amazing cheese platter.
La Poule au Pot, 9 Rue Vauvilliers - 75001 Paris
For more informations about La Poule au Pot discover our article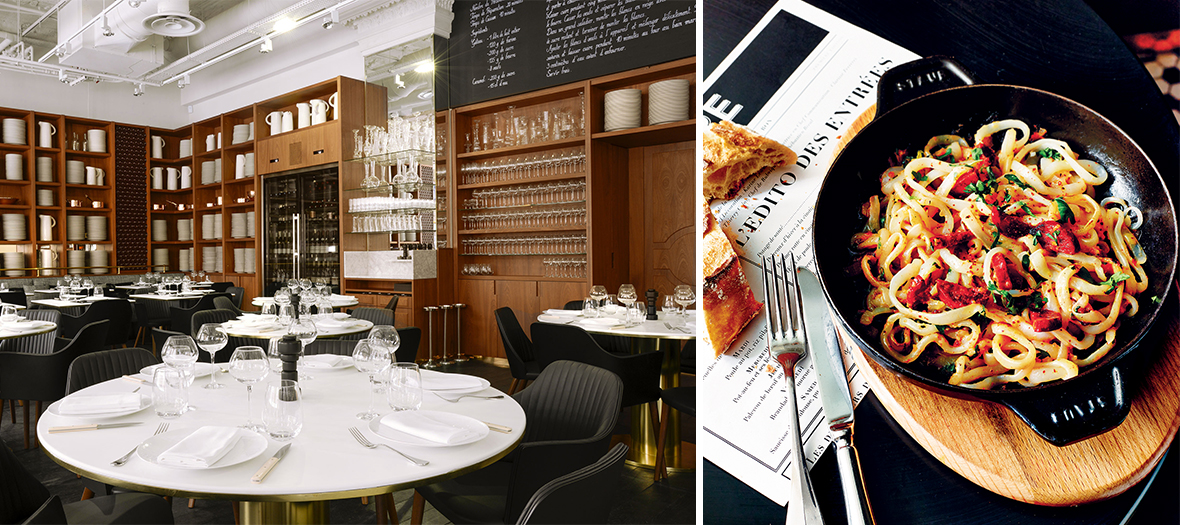 The place : The most chic train station bistro you have ever known. Normal: it is signed Eric Fréchon, the star chef who dreamt up this new affordable formula. The original set up features a menu presented like a train panel, comfy leather banquettes and a three-star service.
To be tested : the best sausage and mashed potatoes in Paris, asparagus mimosa, mussels and fries, a croque-monsieur with truffle and his famous "Paris-Deauville" cake.
Le Lazare, Parvis de la Gare Saint-Lazare rue Intérieure - 75008 Paris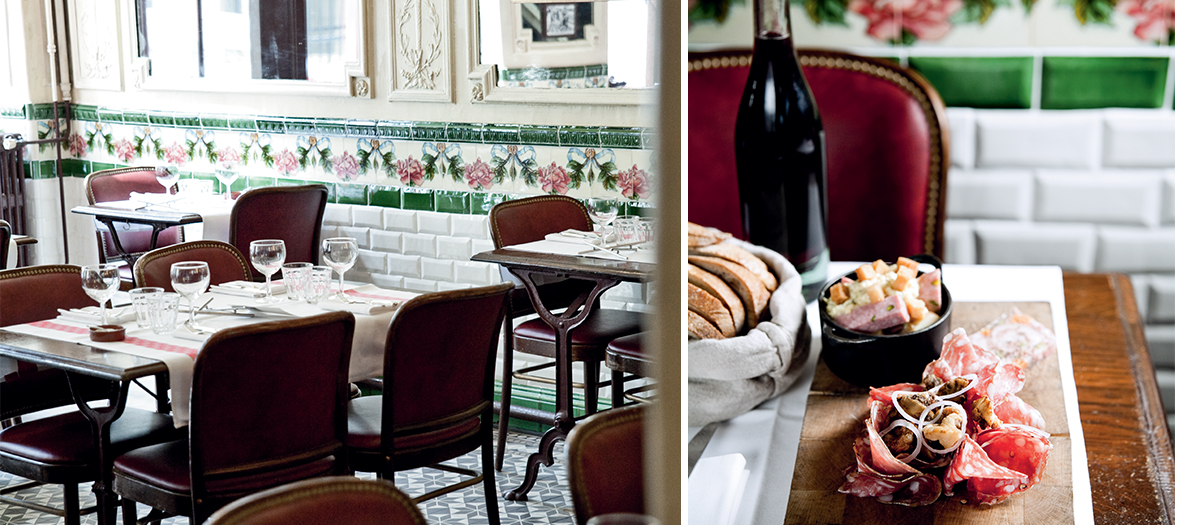 ©Pierre Monetta
The place : Zinc, machine with plunger, metro tiling: impossible to bypass this bistro, born in 1890, where Woody Allen filmed his famous "Midnight in Paris". Because he has great flair, the great Alain Ducasse has taken over this cult address and make it the best bouchon lyonnais in Paris.
To be tested : pike quenelles sauce nantua, frogs legs, raviole de la Mère Maury, farm range chicken and top notch meats, praline tart…
Aux Lyonnais, 32 Rue Saint-Marc - 75002 Paris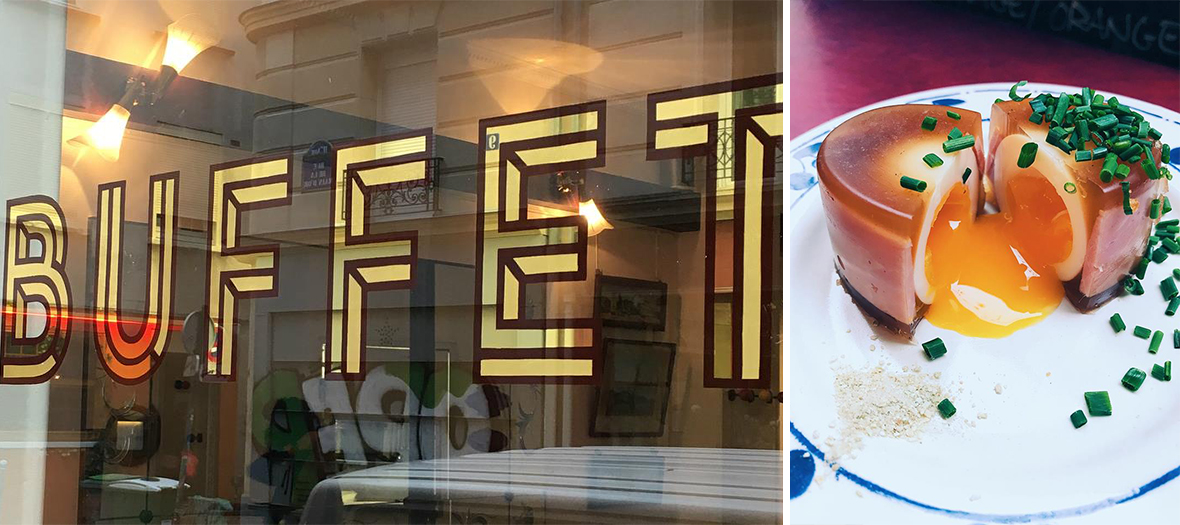 The place : A real winner in the Bastille district, this "buffet" with buddy prices, gingham table cloths, formica and banquette that neither Jean Gabin nor script writer Audiard would have denied. A return to the future orchestrated by the brilliant owners of Au Passage, who placed their co ex sous chef Christopher Edwards in the kitchen to concoct great dishes. The ideal place to indulge in all the foodie whims of the local hipsters.
To be tested : in keeping with the daily specials: jellied egg, shepherd's pie, blood sausage, mackerel-mayo, cake of French toast with apricot...
Buffet, 8 rue de la Main d'Or - 75011 Paris

La Rôtisserie de la Tour d'Argent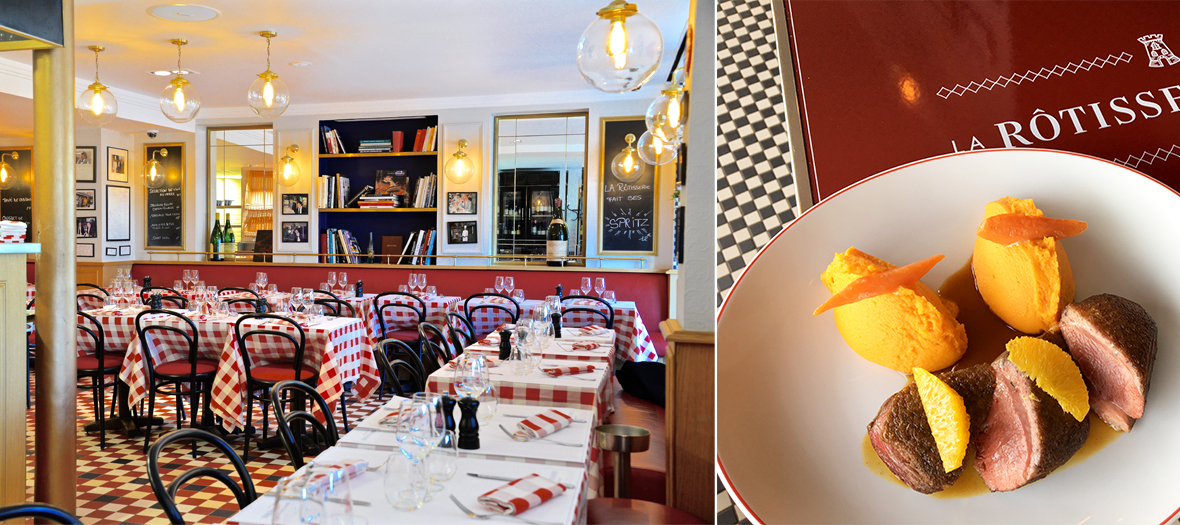 The place: as the kid brother of the famed Tour d'Argent, you can expect exceptional products from the cult restaurant that inspired Ratatouille, here in an "accessible" version. Installed at the foot of the original venue, this totally vintage bistro with checked table cloths, old fashioned servers and leeks-vinaigrette has everything to please. Without forgetting the superb view on the Seine and the Ile Saint-Louis. An ideal combo for a successful outing Left Bank.
Must-test: the house specialty is meats cooked on a spit! Yum… Starting with the famous Maison Burgaud duck (€ 75 for 2 persons). While it is not served "bloody", like at the main restaurant, the duckling with seasonal fruit comes out in two services and remains amazing! Other spit-cooked specialties: roasted pigeon with savory (€ 37), shoulder of lamb roasted in a salt crust or the black-footed chicken from Challans (€ 22)— all served with a choice of house fries, mashed potatoes or market veggies.
19 quai de la Tournelle, 75005 Paris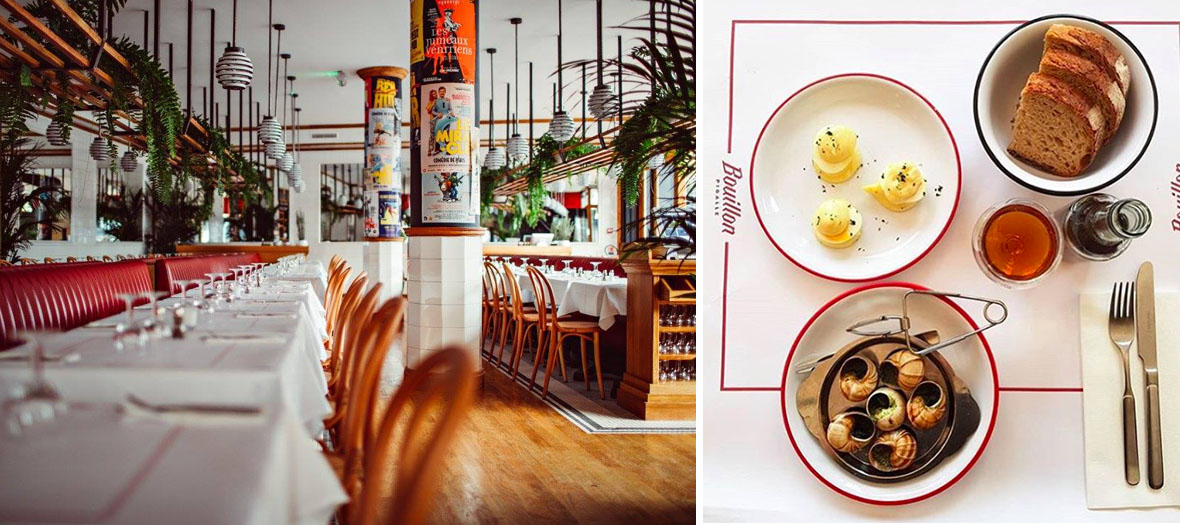 The place : The Moussie brothers have updated the concept of the Parisian bouillon in a vintage Belle Epoque decor. Result: the most trendy and least expensive bistro in the capital!
To be tested : All the dishes "of our ancestors" is its claim to fame! Leeks in a vinaigrette sauce, céleri rémoulade, cod brandade, veal head with its famous gribiche sauce, mousse au chocolat and cream puff with chantilly...
Bouillon Pigalle, 22 Boulevard de Clichy - 75018 Paris
For more informations about Bouillon Pigalle discover our article
Also discover the best bakeries in Paris and the restaurants open all night in Paris