© Romain Ricard
Dine in broth , go out in an Art Deco setting , sit down at a trucker 's or socialize on Formica... The rabble and the titi spirit have never been so fashionable: egg mayo, asparagus mimosa, clafoutis and chocolate mousse hold the upper hand and the tables with a soul turn out to be the most popular spots for trendy Parisians. The proof: all the great chefs get involved! Coolness definitely has no age...

The Petit Retro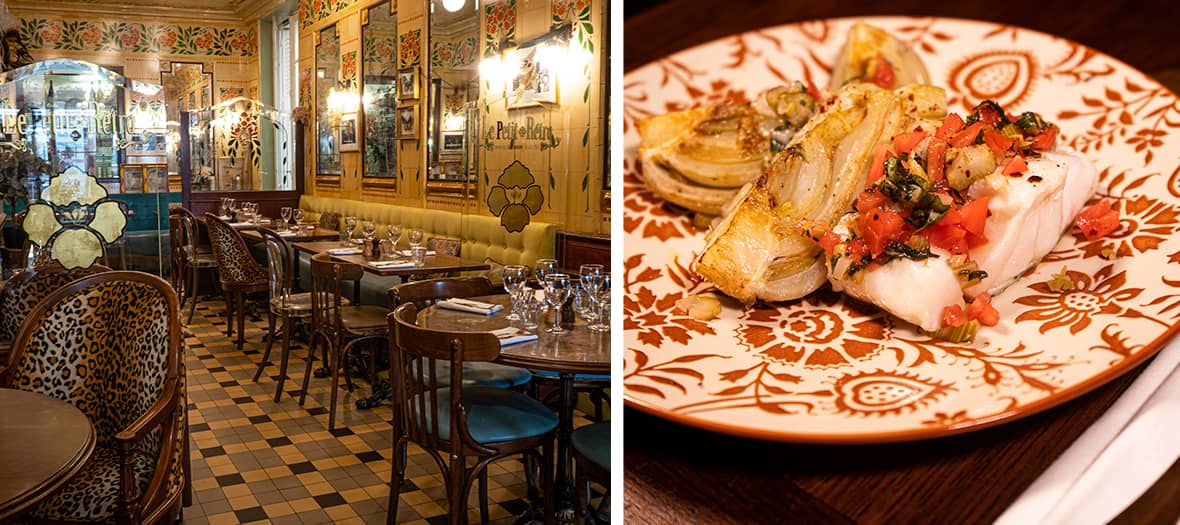 The place: with a new chef in the person of Irwin Durand (behind his starred restaurant Le Chiberta in the 8th arrondissement) and under the benevolent leadership of King Guy Savoy , Le Petit Rétro offers a facelift. A veritable 16th century institution nestled in a discreet street, this bistro inaugurated in 1904 is not lacking in charm with its decor of listed earthenware, its turquoise banquettes and its massive bar. A friendly address to rediscover for fans of good well-simmered bourgeois dishes.
To be tested: a retro version pâté en croute (€20), a pumpkin and chestnut egg casserole (€15), langoustine ravioli (€34), a puff pastry with vegetables (€20), an excellent traditional veal blanquette and pilaf rice (€28.50). For dessert, we opt for an ethereal floating island of pink pralines and caramel (€12) or the crème brûlée , resolutely satisfying (€12).
Le Petit Rétro 5 rue Mesnil, Paris 16th, open Monday to Saturday for lunch and dinner
Bofinger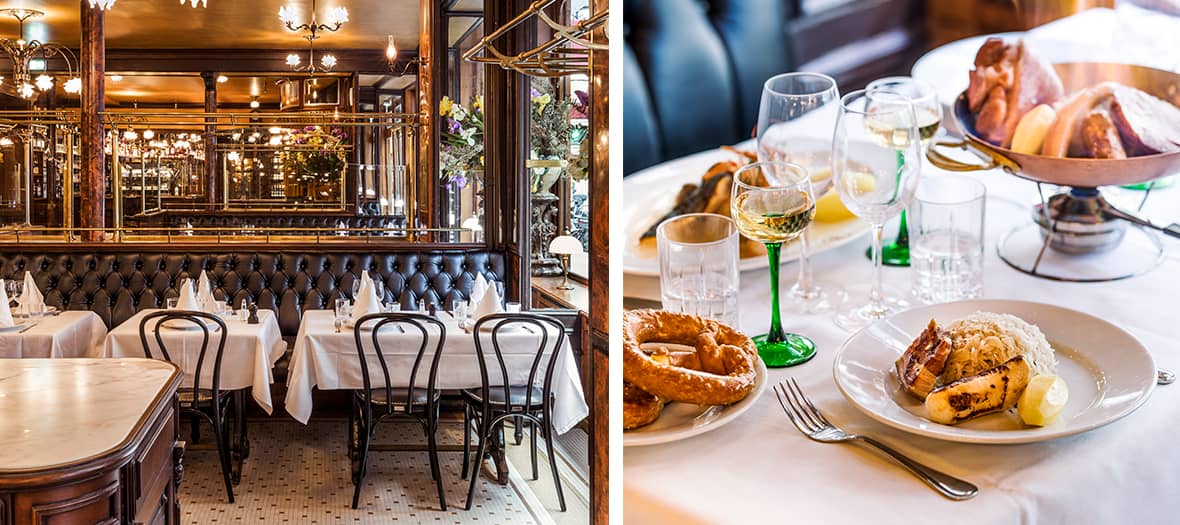 The place: it's hard to do more wow than this breathtaking Art Nouveau decor. Under the dome, from the comfortable black leather Chesterfield benches , near the bar or upstairs, each space is the promise of a madly Parisian moment... in this Alsatian institution founded in 1864 by the mythical restaurateur of the same name . straight from his native Colmar and playing the double card of scaling . The charming waiters lift the fish and set the kouglofs on fire before our eyes, we bring you a little pretzel with your Alsatian kir with mirabelle plum liqueur (€9.20): the atmosphere is unique, life is good.
To be tested: puff pastry of prawns as a starter (€19.50), homemade pâté (€12.50), Canadian lobster ravioli (€32), sole meunière (€46), well-stocked seafood platters ( between €29.50 and €79.50) or on the meat side, a braised beef tenderloin with Pinot Noir from Alsace. Note: the starter main course dessert menu at €35 or €19.90 for lunch during the week (starter main course or main course dessert) with certain dishes from the menu, including the signature sauerkraut .
Bofinger , 5-7 rue de la Bastille, Paris 4th. Open every day for lunch and dinner, Sunday non-stop
© Romain Ricard
Chez Fred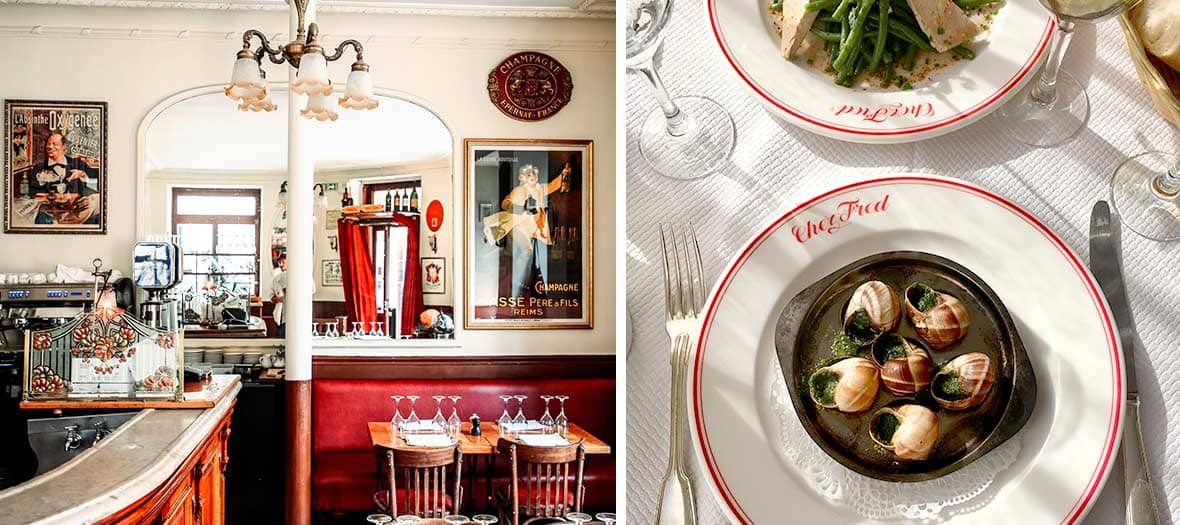 The place: a former Lyonnais stopper installed since 1945, just after the war, facing the so pretty Pereire promenade, Chez Fred has just had a slight facelift with a new boss, Laurent Hullo (ex-Monsieur Bleu, Kinugawa), a new chef, Benjamin Lavenne (ex-Procope, Le Georges) and a clean sweep on the walls. We still keep the titi atmosphere with old Maigret-compatible posters, old New Year's menus from 1895, and still this almost mythical wooden bar and the obligatory red benches. Close on Sunday !
To be tested: the divine Burgundy snails (€12 for 6) and the chef's terrine (€9), the very mild Charolais tartare (€23) or the fillet of beef with pepper or Béarnaise sauce (€38) and their salad bowl of perfectly crunchy fries, or sweetbreads with morels and homemade mashed potatoes (€45), to wash down with a glass of Côtes du Rhône (€8). For dessert, we absolutely share the thin apple tart and its crunchy vanilla ice cream that takes up the entire plate (€12) or the whipped rum baba (€12).
Chez Fred 190 bis boulevard Pereire, Paris 17th, open Monday to Friday from 12 p.m. to 2 p.m. and from 7 p.m. to 11 p.m.
Cafe Lignac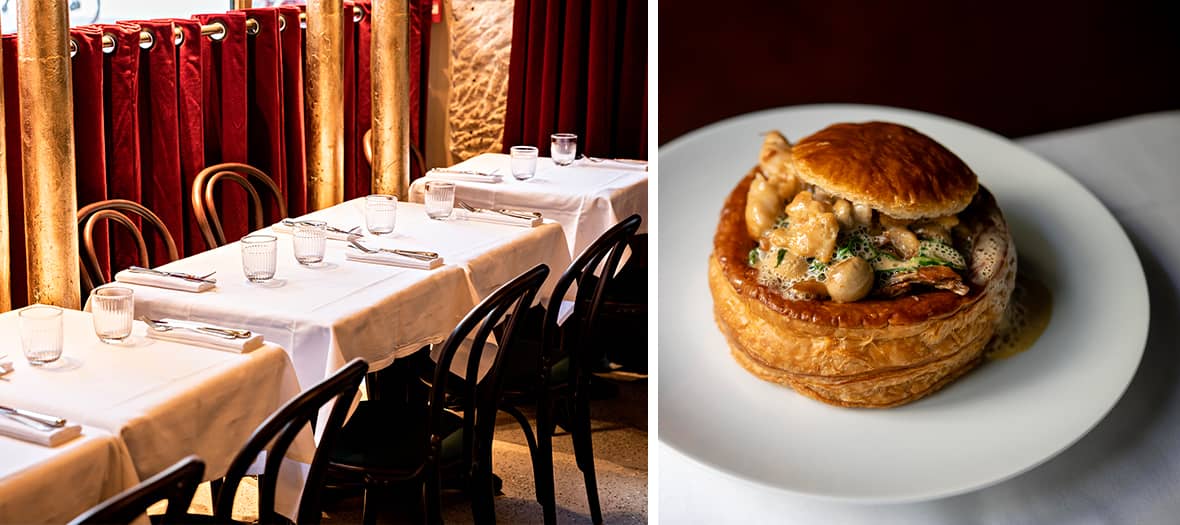 The place: no, 139 rue Saint-Dominique is not a new bistro. Cyril Lignac has just taken over the Christian Constant café , a " real " Parisian address for regulars, worthy of Claude Sautet and Emily In Paris . Café Lignac is already an institution, a place that transcends fashions with the possibility of disembarking at any time of the day to drink a coffee, have a quick lunch, chill around a little tea and 'a divine tarte tatin (€10) to entertain everyone all afternoon, order a croque and a Negroni or even a glass to toast as an aperitif.
To be tested: in the directory of entries, it canaille! Mimosa egg (€11), artichoke vinaigrette (€17), pumpkin and smoked eel velouté (€15), vitello tonato (€19) or squid with chorizo cream (€17). For the main course, Lignac lays down his paw: vol-au-vent (€38), poultry milanaise like at home (€28), chicken casserole with mushrooms and yellow wine (€32), Paleron de Black Angus with black garlic and vegetables (€31) or caramelized miso salmon with baby spinach (€26). Madeleines from Proust du titi Parisie n, the desserts obviously come from the Lignac pastry shop where Benoît Couverture works wonders between the rum baba and the praline and pecan mille-feuilles (€10). Not to mention the French toast that we found on our plate (€12).
Café Lignac , 139 rue Saint-Dominique, Paris 7th open every day from 12 p.m. to 3 p.m. and from 7 p.m. to 11 p.m.
LES ROUTIERS STYLÉS of DUMANT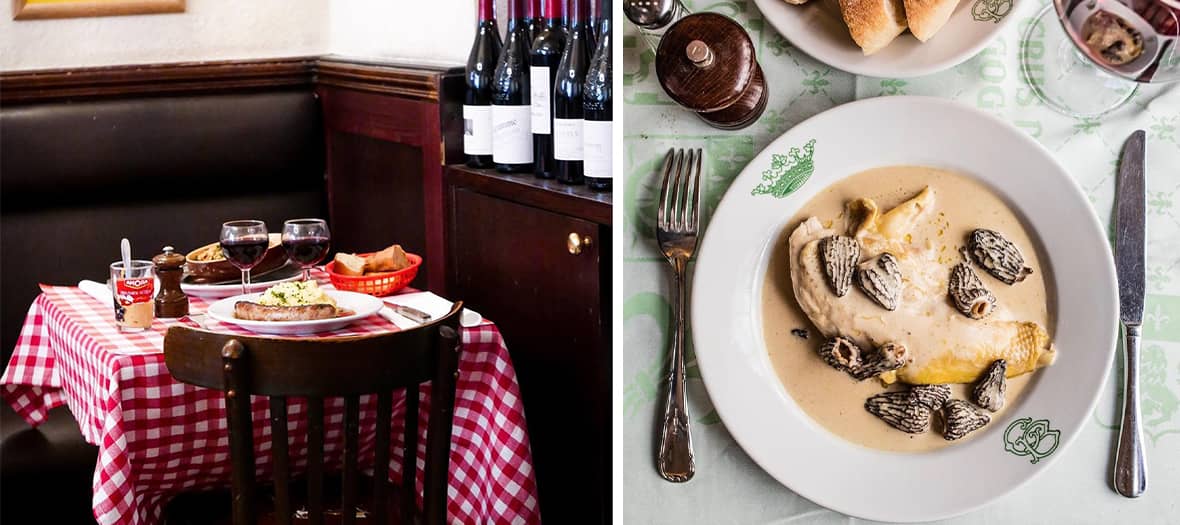 The places: with Les Marchés (16th), Aux Bons Crus (11th) and Aux Crus de Bourgogne (2nd), Margot and Félix Dumant have succeeded in establishing in Paris the surprising but pleasant concept of the bourgeois " traveller ". With their usual talent, the twins bet on 1900 decor with large mirrors and sometimes white, sometimes checkered tablecloths and pleasant terraces, while bringing in a stylish clientele in search of rabble.
To be tested: the whole menu, very bourgeois and absolutely extra! In Les Marches: eggs mayo (€6), entrecôte béarnaise (€22) and quenelles (€20). The veal blanquette is a hit (€20), while the regulars at the Crus de Bourgogne rave about its fillet of beef with Béarnaise sauce (€22) and profiteroles (€9.50). We wash it all down with a bottle of Burgundy , for the occasion.
Markets 5 rue de la Manutention, Paris 16th, Aux Bons Crus 54 rue Godefroy Cavaignac, Paris 11th, Aux Crus de Bourgogne 3 rue Bachaumont, Paris 2nd, open daily from 12pm to 2.30pm and from 7pm to 10.30pm
L'ENTRECÔTE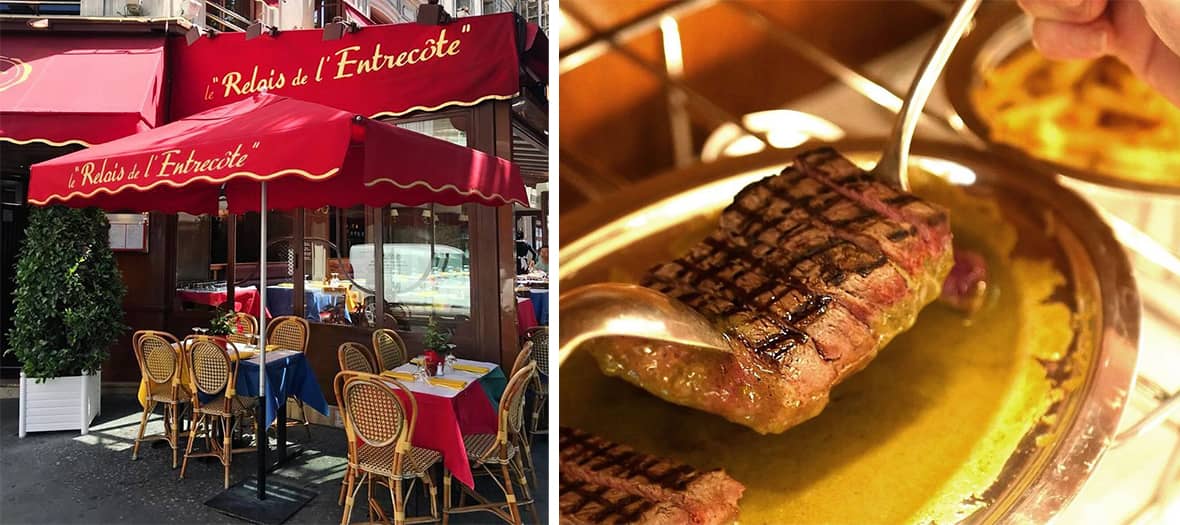 The place: from Neuilly to Saint-Germain, all the beautiful Parisian people are still looking for the secret ingredient of the divine sauce of L'Entrecôte , a historical monument of addictive meat and without fuss where the Americans of passage, the CEO of the CAC and the actors jostle at the gate. Suffice to say that after a year of deprivation, taking a tour of this meaty historic monument in Marbeuf or Saint-Germain-des-Prés and rediscovering its atmosphere should be prescribed by prescription...
To be tested: as usual, a unique menu with a salad of walnuts as a starter then tender sirloin + a divine magical slightly green sauce + crunchy fries to perfection and to wash down with organic wines from Château de Saurs, all served in two batches by little ladies in aprons. Authentic is chic! ( Formula at €26.50).
Le Relais de l'Entrecôte 20 rue Saint-Benoît, Paris 6th, open daily from 12 p.m. to 2:30 p.m. and from 6:45 p.m. to 11 p.m.
© Instagram / Le Relais de l'Entrecôte
CHEZ GEORGES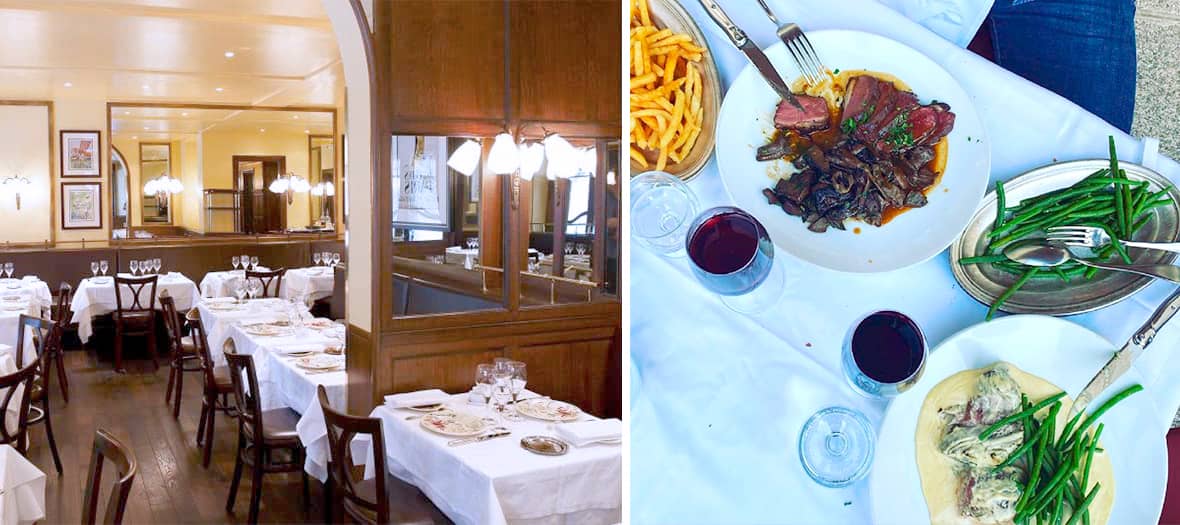 Instagram/ @elorouge
The place: attention institution! In the heart of the historic district of the scoundrel, bistros and suppers, Georges acts as a resister to the trendy and old-fashioned ways of Etienne Marcel. Its clientele (teams from all the fashion houses on the block) blows up all the glamorous quotas in the area and attracts visiting celebrities like flies. Note: Chez Georges has extended its terrace to the divine Place des Petits Pères, still with its unmistakable checkered tablecloths which still make it the cutest and most picturesque table in Paris.
To be tested: the snout salad, the salmon with sorrel , the grilled andouillette, the famous beef steak with mustard sauce and fries, and the chocolate profiteroles .
Chez Georges 1 rue du Mail, Paris 2nd open Monday to Friday from 12 p.m. to 2 p.m. and from 7 p.m. to 10:30 p.m.
À L'ÉPI D'OR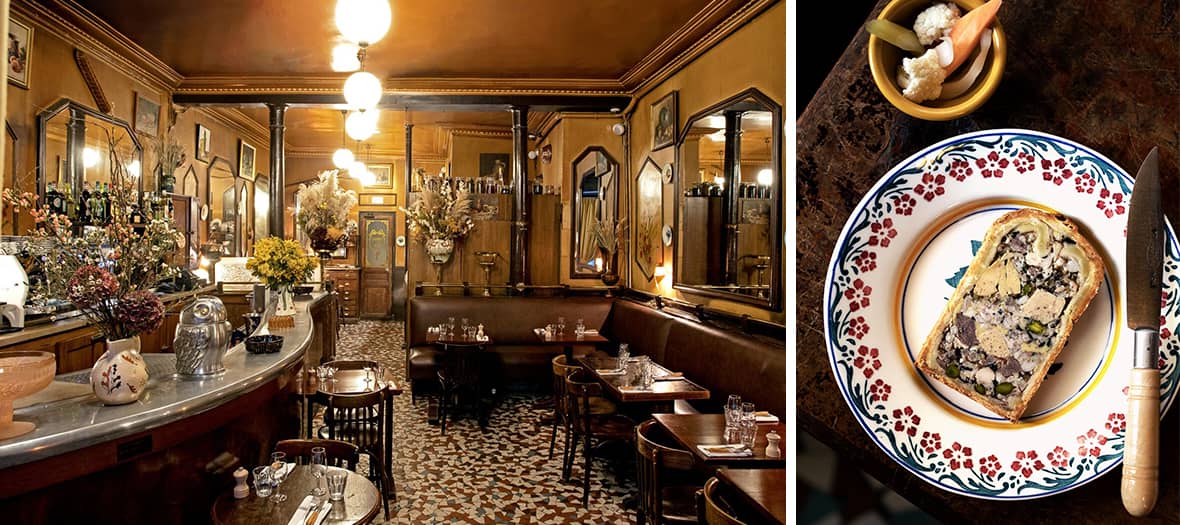 The place: the whole of Paris crowds behind the retro storefront of this legendary address on rue Jean-Jacques Rousseau , a stone's throw from Louboutin . There is excitement in the air and beautiful people to inaugurate their 5th address. Elodie and Jean-François Piège have hit hard again. After their trendy rehabilitation of La Poule au Pot , a century-old brasserie in Les Halles, À l'Épi d'Or is unanimously acclaimed. An atmospheric address in its own juice and madly girl power with Mariola in the kitchen, Margot to manage the room and the regulars, starting with the gang of friends Aurélie Saada ( Brigitte ), Caroline de Maigret or Cécile Cassel aka Hollysiz . ..
To be tested: we like to let ourselves be guided by the weekly planner at very low prices: starter-main course or main course-dessert at €32. The total at 42 €. Otherwise, we bet on the liver mousse to spread on Poilâne bread toasted until you're hungry (€14), a green salad with a memorable vinaigrette (€10), an unforgettable croque-madame (€16) or a steak tartare served with homemade fries to dip in mayo (€23) to wash down with a glass of Beaujolais or Chablis (€12). For desserts, it depends on the day: a thin apple and cinnamon tart on the Tuesday menu , a fig and coconut Vacherin on Friday ...
At the Épi d'Or 25 rue Jean-Jacques Rousseau, Paris 1er, open Monday to Friday from 12 p.m. to 2:30 p.m. and from 7 p.m. to 11 p.m.
LES DEUX GARES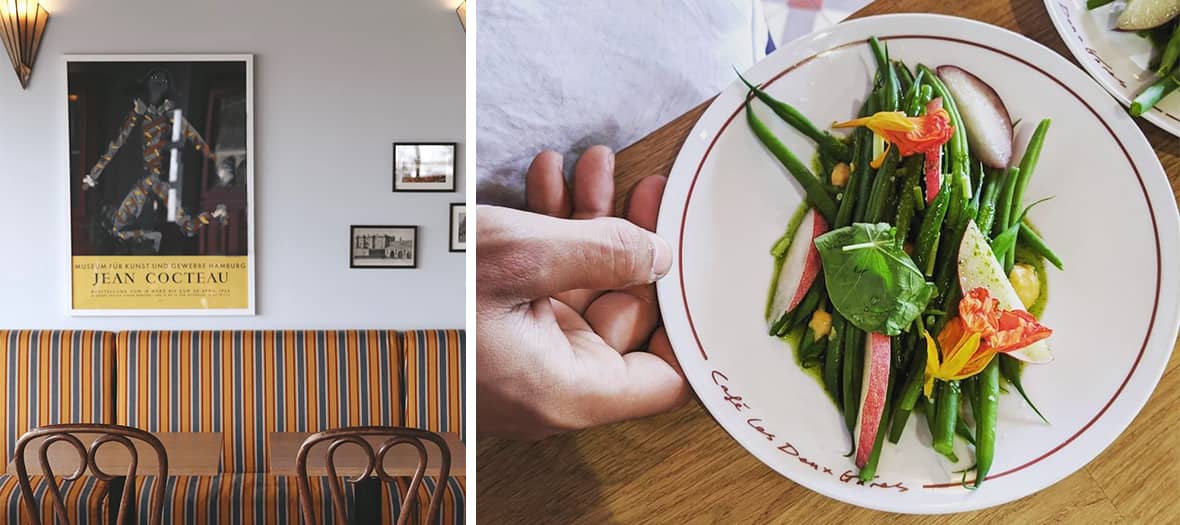 The place: located in the 10th arrondissement, this real station bistro is a delicious foretaste of the imminent opening of Les Deux Gares , the highly anticipated hotel of Adrien Gloaguen, the hotel entrepreneur of Touriste ( Welcome , Beaurepaire , Panache , it's him). In addition to the chef's table service, the place is experienced as a station and neighborhood address, from 7 a.m. for a comforting coffee-croissant then non-stop all day with a good sandwich, until the evening thirsts around a balloon and a plate of dry sausage until midnight.
To be tested: the sensational Jonathan Schweizer , who had already turned heads at Sauvage in the 6th arrondissement with his brilliant sense of the auteur bistro, wields the same talent here and deploys a simple but certainly sexy baby menu , all washed down with references the most name-dropped natural wines . On the slate, the starter, main course, dessert menu changes every day (€23). To give you an idea, today it was braised endive and smoked pecorino or velouté of celeriac in grass oil with a pear and hazelnuts from Piedmont as a starter, to follow saithe with potatoes , turnips with Grenoble sauce. For dessert, between goat cheese gouda and crème fraîche, caramel and puff pastry ice cream, our hearts swing.
Les Deux Gares 1 rue des Deux-Gares, Paris 10th, open Monday to Saturday from 9 a.m. to midnight
© Instagram / Café Les Deux gares

LE MAQUIS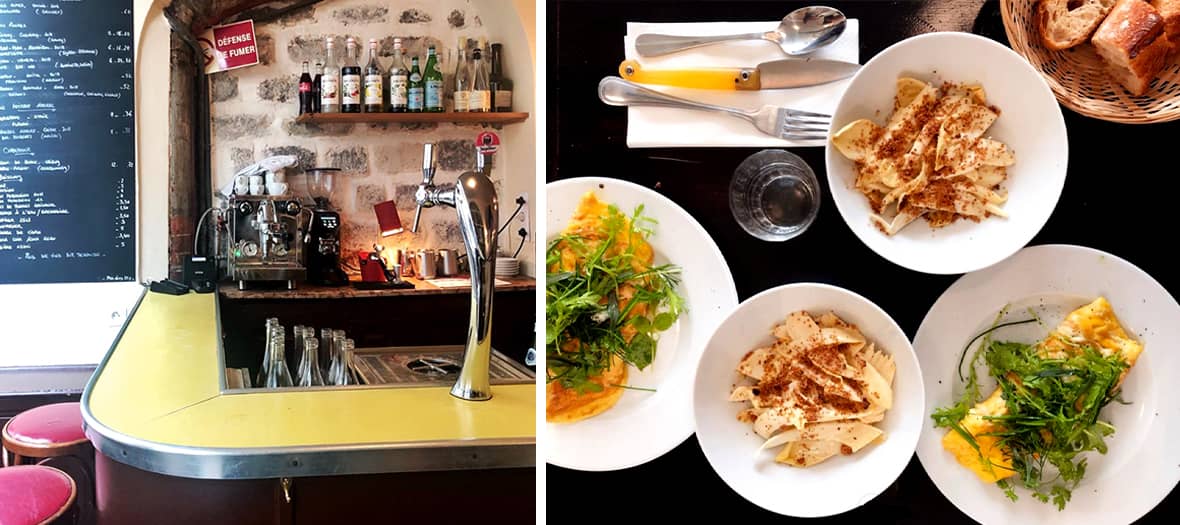 The place: elected best bistro in Paris by the Priceless Cities Best New Bistro x Mastercard, this charming harbor in the 18th arrondissement smells of an atmospheric rendezvous between tasteful gourmets, international fashionistas and pretty local girls... And for good reason: we drink a lot in front of the Formica counter before sitting down on the leatherette benches , with a well-tanned playlist that comes straight… from the stoves! Because here, the gangstas like to cook with good music. It suits us well.
To be tested: plates full of technique but without fuss. It's rare to confine yourself to such perfection… The menu changes every day, you might come across the veal brain fritot with tartar sauce, to be chow down on a plain champagne (€7) as an aperitif before a sea bream tartare royal shiso and lemon caviar (€14) and an insane black pudding pâté (€8). Only problem: now, you will have to book well in advance. But believe our experience, you will come back to it…
The Maquis 53 rue des Cloys, Paris 18th
LA RÔTISSERIE D'ARGENT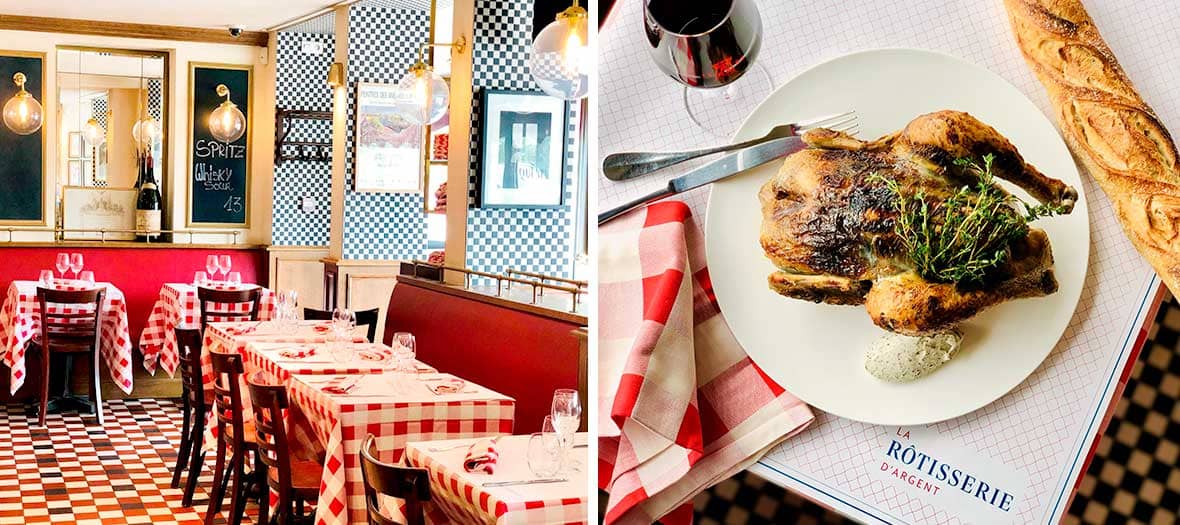 The place: at the little brother of the Tour d'Argent , they serve the exceptional products of the mythical starred restaurant which inspired Ratatouille in an " accessible " version. Installed at the foot of the parent company, this vintage bistro with checkered tablecloths, old-fashioned waiters and leeks with vinaigrette has it all. Not to mention the only Parisian terrace to squat over a bridge, installed as an extension of the room above the Seine. Unbelievable.
To be tested: the house specialty is meat cooked on a spit! Yum… Starting with the famous Label Rouge free-range half-chicken , poultry juice, garlic in the shirt and mashed potatoes (€28), a Limousin lamb navarin and its duo of taggiasche carrots and olives (€29), or again the Salers prime rib (for two people), Béarnaise sauce and matchstick potatoes as an accompaniment (€94).

La Rôtisserie d'Argent 19 quai de la Tournelle, Paris 5th, open every day from 12 p.m. to 2:15 p.m. and from 7 p.m. to 10:30 p.m.

The Petit Bouillon Pharamond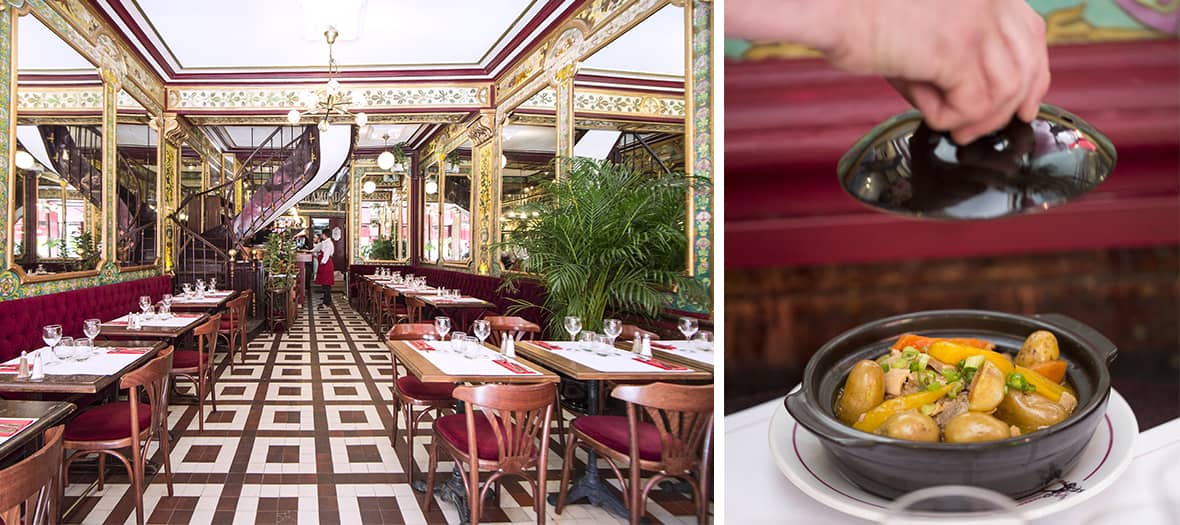 The place: a tripe institution in Les Halles , Le Petit Bouillon Pharamond is reinventing itself with Benjamin Moréel and Christopher Préchez at the helm (Café de Mars, Lefty, Little Georgette, John Weng, Le POD). Nestled in a tall half- timbered building on three floors stretches what the Belle Époque signed most charming: large mirrors, red velvet benches, wooden staircases, painted mirrors, mosaics, gilding and glass paste. Not to mention the cheerful terrace on a lively square in the Ventre de Paris.
To be tested: there are of course the iconic dishes of the broth cuisine , all homemade on the spot with French meat, organic eggs and charcuterie sourced from Olivier Brosset : mimosa egg (€1.90), snails (6, €90), homemade foie gras (€9.50), casserole of pasta shells with cheese, truffled cream and spring onion (€7.50), whole roasted sea bream (€13.50), camembert (€2.90), tart tatin (€4.50), to be washed down with a glass of organic red Languedoc IGP (€4.20). It is therefore difficult to get more than €25 per person while eating really, really well.
Le Petit Bouillon Pharamond 28 rue Pierre Lescot, Paris 1st, open daily from 12 p.m. to midnight

LE CAFÉ DU COIN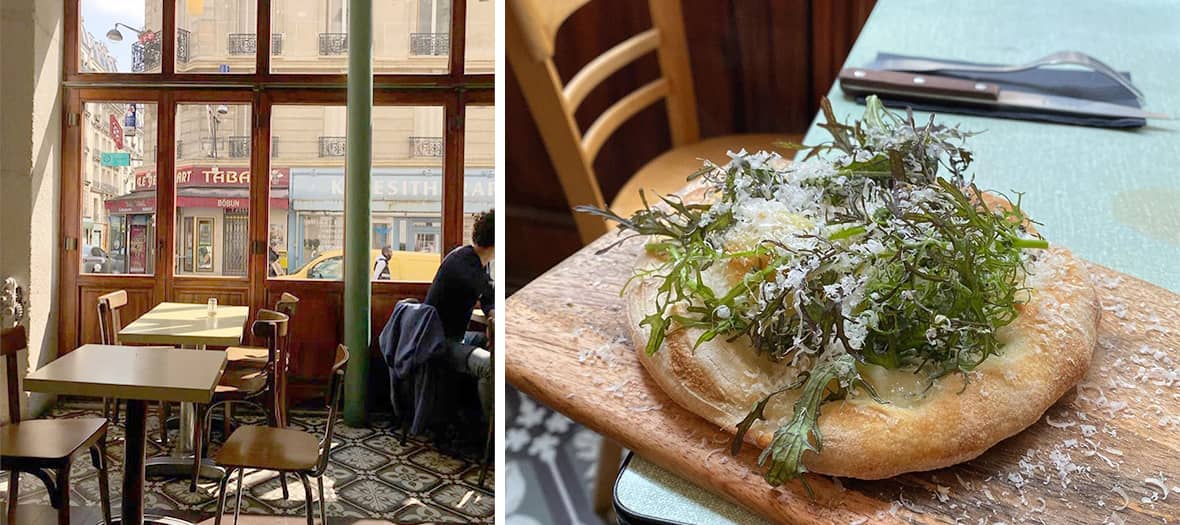 The place: you meet all the fine gourmets of Paris there, starting with Julie Gerbet and the Fooding clan . Super good, super cute, the Café du Coin of the super-taulier Florent Ciccoli ( Cheval d'Or , Le Bien Venu) mixes styles with panache with a lot of Belle Époque and 70's references , with all the benches and the counter rigorously.
To try: today it was the beef tataki with mango pepper and mustard seeds as a starter (€6), a haddock with roasted celery, spider crab bisque, fennel and umeboschi condiment (€17), and a delicious chocolate ganache and cottage cheese ice cream (€3). The starter main course dessert menu is 23 euros to the delight of our wallet.
Café du Coin 9 rue Camille Desmoulins, Paris 11th, open daily from 12 p.m. to 2:30 p.m. and from 7 p.m. to 11 p.m.
© Pierre Lucet Penato
And always...
Brasserie Lipp : more for its atmosphere than for the quality of its dishes but to try once in your life for a cassoulet or sauerkraut.
151 boulevard Saint-Germain, Paris 6th, open daily from 9 a.m. to 12:45 a.m.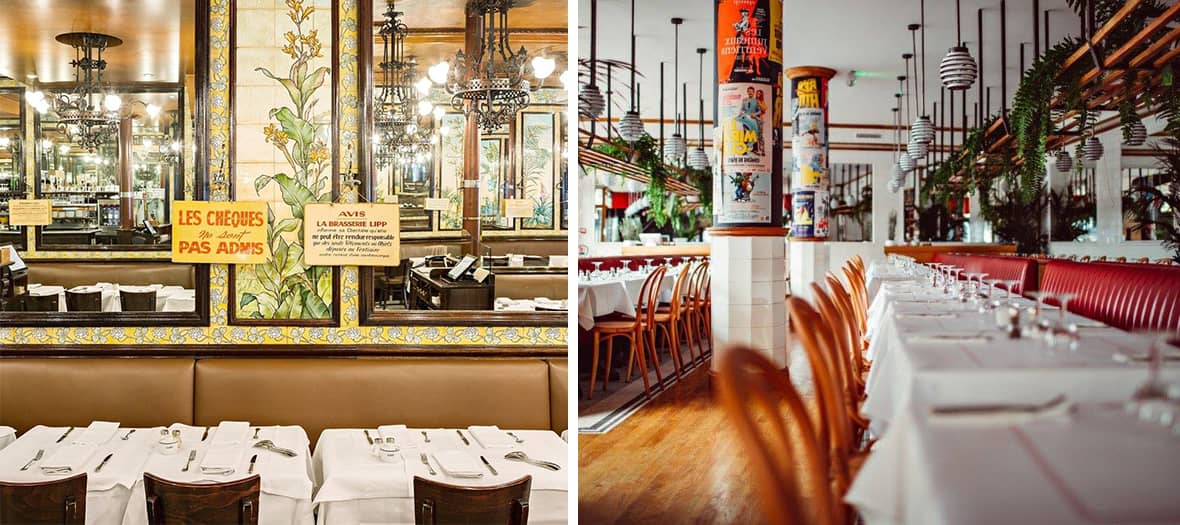 © Instagram / Brasserie Lipp
Brasserie Bellanger : new darlings of the Parisian foodie scene Charly & Victor do the job and ensure with their new super trendy guard .
140 rue du Faubourg Poissonnière, Paris 10th, open daily from 9 a.m. to midnight, Fridays and Saturdays until 12:30 a.m.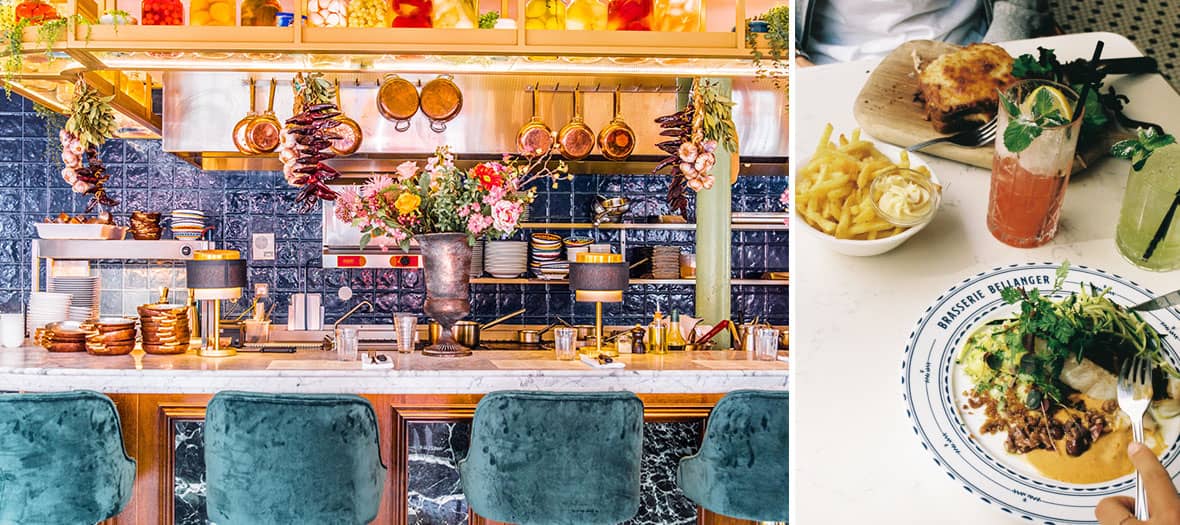 @Guillaume Belvèze @The travel buds
Bouillon Pigalle : between the parent restaurant with balcony-terrace and its Bouillon Service to take away from the République side or on delivery, Pierre Moussié has it all with his good little dishes at great prices.
22 boulevard de Clichy, Paris 18th, open daily from noon to midnight

Also discover Gargouille, a sunny bistro in the heart of Pigalle and the new iodized table of the food power couple David and Stéphanie Le Quellec