© Romain Ricard

Dining in a french "bouillon", eating out in an Art Deco decor or a routier-style joint, socializing on high-end pieces of Formica... The "canaille" and the "titi" mindset (so Parisian) have never been so in - mayo eggs, asparagus mimosa, clafoutis and chocolate mousse are all the rage. Places with character and substance are the most popular spots for hip Parisians. In fact, all top chefs want in on the action! So, what are the best bistros in Paris?
Le Chardonnay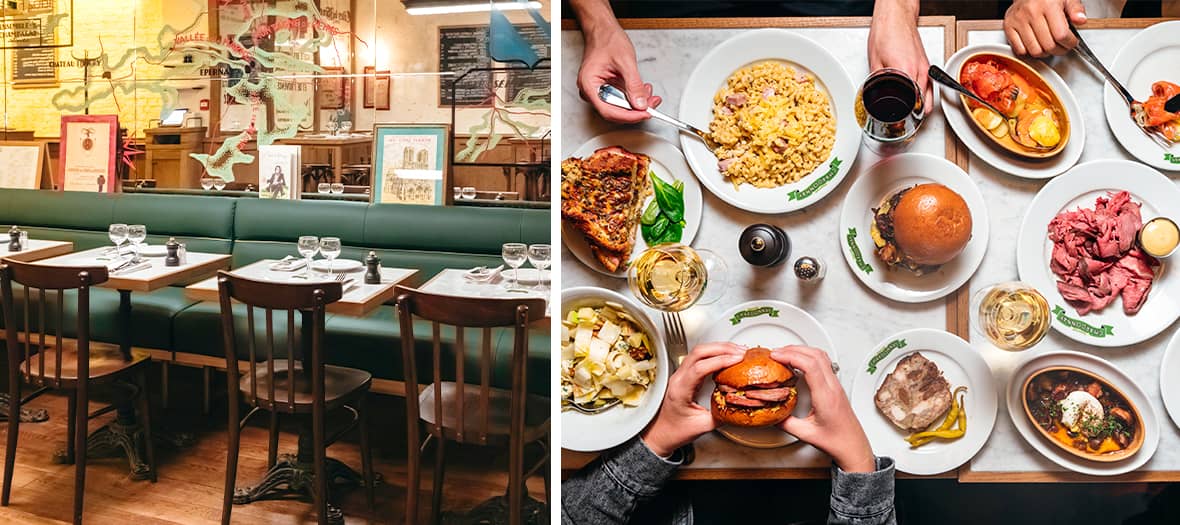 The spot — the Dumant family (Les Marches, Aux Bons Crus) strikes again! Next door to their Crus de Bourgogne, the Chardonnay unfolds a bar-style menu where guests can either sit on benches, high tables or at the bar in a crazy Parisian vibe where glasses clink, cutlery falls and diners have a blast.
Must-try dishes — Yum, the leeks mimosa (8 €) or the herring apples in oil (10 €) for starters, or perhaps the rillettes to share and spread greedily on toast (6 €). The pulled-guignon burger is the star dish (20 €), but lovers of croques will love the truffle one, generously topped with Prince de Paris ham (20 €). The crowning delight is a pike quenelle with Nantua sauce (16 €), served with seasonal vegetables (5 €) or gratin dauphinois (4 €).
Le Chardonnay 3 rue Bachaumont, Paris 2nd, open Tuesday to Saturday, lunch and dinner
Magnum 150cl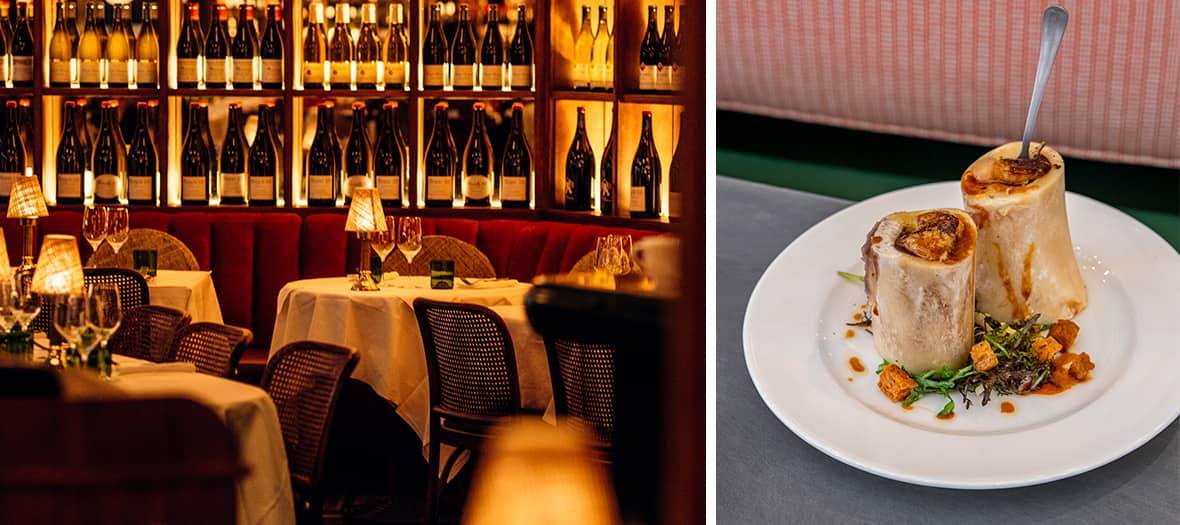 The spot — ever since François-Régis Gaudry bragged about his vol-au-vent on Insta people have been flocking to Magnum 150cl. This new restaurant, close to the Parc Monceau, was created by chef Matthieu Garrel with the intention of bringing the legendary French gastronomy back into the spotlight, decorated with carpeting and walls adorned with hundreds of wine bottles (around 220 references, including 50 magnums).
Must-try dishes — scampi ravioli (18 €), marrow bone with foie gras (15 €), mashed sausage "au mètre" (by the meter), beef fillet with pepper sauce and French fries (39 €), vol-au-vent (38 €) and, for dessert, rice pudding with caramel (12 €) or floating island (9 €) Dieters should refrain—butter is king here.
Magnum 150 cl 1 rue de Phalsbourg, Paris 17th, open daily for lunch and dinner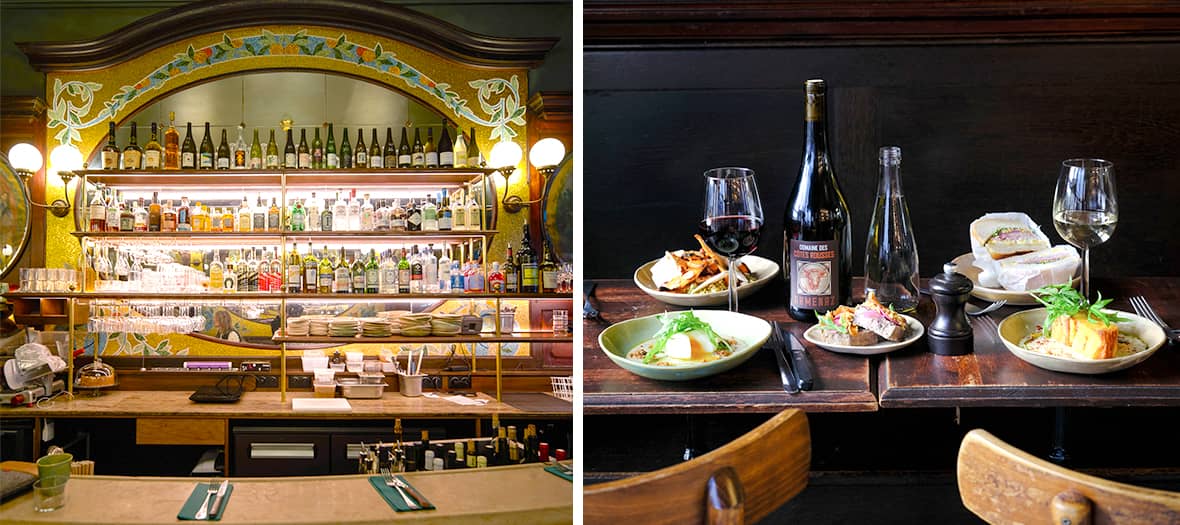 The spot — At last, a nice spot near Place de Clichy! A chance to grab a drink after a show in one of the neighboring theaters. Between the Art Nouveau walls of a former brothel all dressed in wood and mosaics, this tiny bistro surprises by its mini size and its few tables facing a majestic bar. Chef Charleyne Valet assembles creative and colorful dishes in a "titi" spirit.
Must-try dishes — terrine and homemade pickles (8 €), mayo eggs, japon prince de Paris and toasted bread condiment (8,50 €), potato millefeuille, salmon eggs and dill (12 €), sweetbreads, Jerusalem artichokes cream, chips and meat juice (21,50 €). On a sweet note, the sesame flan or the carrot cake displayed on the bar will tempt you. 
Cyrano 3 rue Biot, Paris 17th, open Monday to Friday from 9am to 2am and Saturday to Sunday from 10am to 2am
The Petit Retro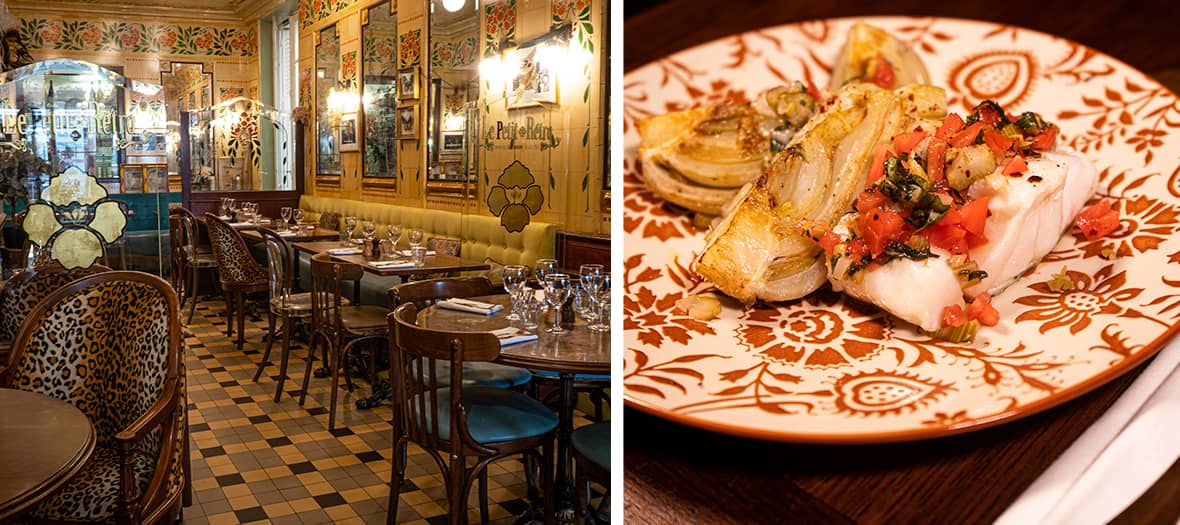 The spot — With Irwin Durand as its new chef (the man behind the starred table Le Chiberta in the 8th arrondissement) and under the watchful eye of king Guy Savoy, Le Petit Rétro gets a facelift. This charming bistro - a 16th arrondissement staple tucked away in a quiet street - first opened in 1904. It features a classy earthenware decor, with turquoise benches and a massive bar. A delightful place to enjoy well-prepared delicacies.
Must-try dishes — A retro version of the pâté en croûte (20 €), egg casserole with pumpkin and chestnuts (15 €), langoustine ravioli (34 €), a flaky vegetable pie (20 €), an excellent traditional veal blanquette with rice pilaf (28,50 €). For dessert go for the airy floating island with pink pralines and caramel (12 €) or the crème brûlée, definitely worth it (12 €).
Le Petit Rétro 5 rue Mesnil, Paris 16th, ouvert du lundi au samedi midi et soir
Bofinger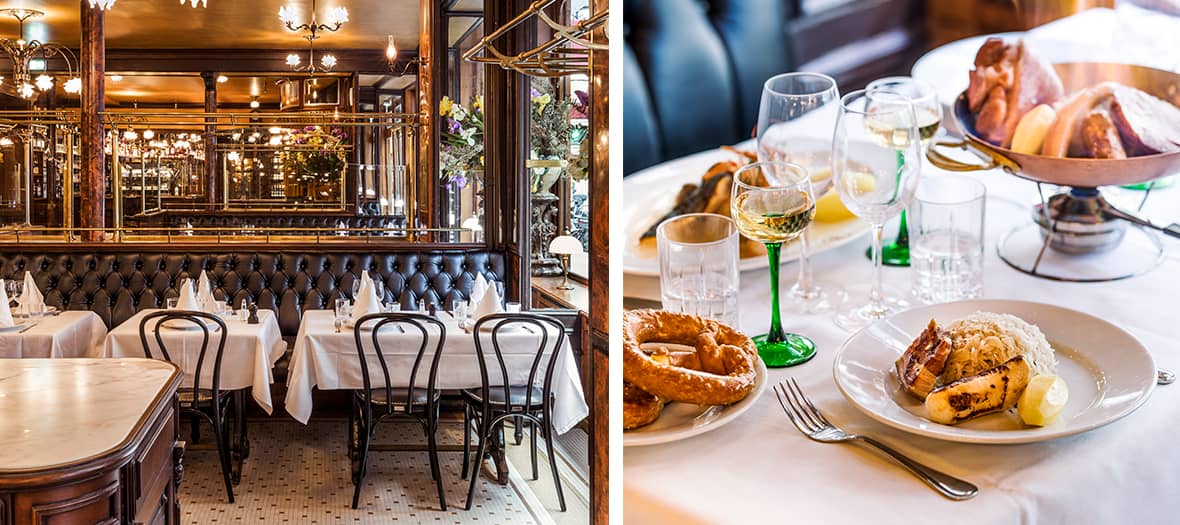 The spot — The Art Nouveau décor is as breathtaking as it gets. Under the dome, from the comfortable black leather Chesterfield benches, near the bar or upstairs, each room guarantees a unique Parisian moment… in this Alsatian establishment founded in 1864 by the mythical eponymous restaurateur, straight from his native Colmar, who plays the dual card of the "écailler". The charming wait staff lift the fish, light up the kouglofs before our eyes, and bring you pretzels with Alsatian kir and mirabelle plum liqueur (9.20€): the atmosphere is one of a kind.
Must-try dishes — prawn puff pastry as a starter (19,50 €), homemade pâté en croûte (12,50 €), Canadian lobster ravioli (32 €), sole meunière (46 €), well-stocked seafood platters (between 29,50 € and 79,50 €) or beef fondant braised with Alsace Pinot Noir. Of note: the 35 € starter-main course-dessert menu or 19,90 € for a weekday lunch (starter-main course or main course-dessert) with some dishes from the menu, including the signature sauerkraut. 
Bofinger, 5-7 rue de la Bastille, Paris 4th. Open daily for lunch and dinner, Sundays all day
© Romain Ricard
Chez Fred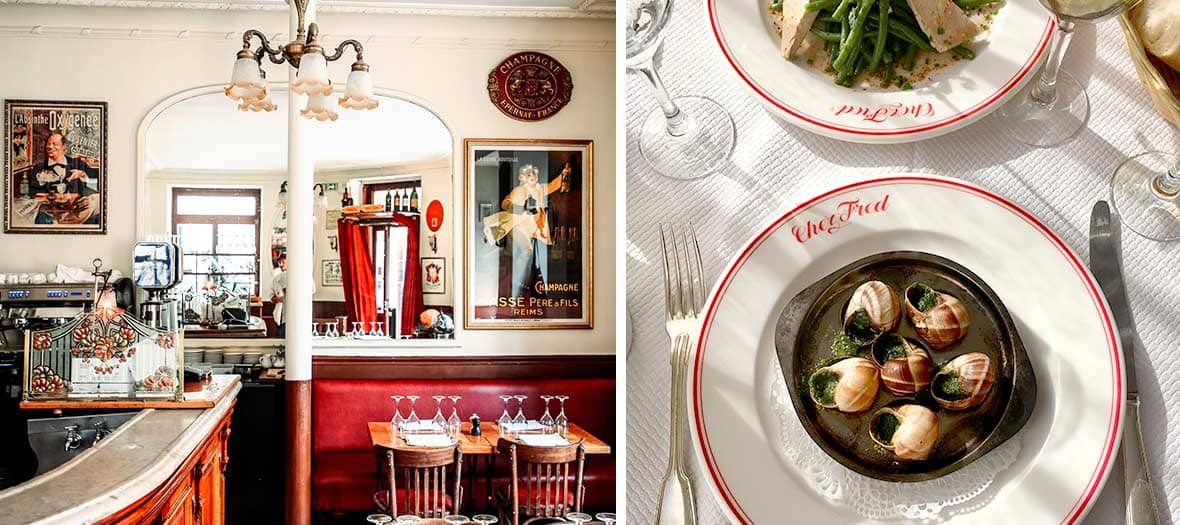 The spot — Formerly a Lyonnais bouchon since 1945, just after the war, facing the beautiful Promenade Pereire, Chez Fred recently got a facelift with a new owner, Laurent Hullo (ex-Monsieur Bleu, Kinugawa), a new chef, Benjamin Lavenne (ex-Procope, Le Georges) and a clean coat of paint. The atmosphere is still titi-like with old New Year's menus dating back to 1895 and the mythical wooden bar with its red benches. Closed on Sundays!
Must-try dishes — the delectable Burgundy snails (12 € for 6) and the chef's terrine (9 €), the very sweet Charolais tartar (23 €) or the beef filet with pepper sauce or béarnaise (38 €) and their perfectly crunchy fries, or the sweetbread with morels and homemade purée (45 €), to be washed down with a glass of Côtes du Rhône (8 €). As for dessert, the fine crispy apple pie and its vanilla ice cream, (12 €) or the rum baba with whipped cream (12 €).Chez Fred 190 bis boulevard Pereire, Paris 17th, ouvert du lundi au vendredi de 12h à 14h et de 19h à 2
Cafe Lignac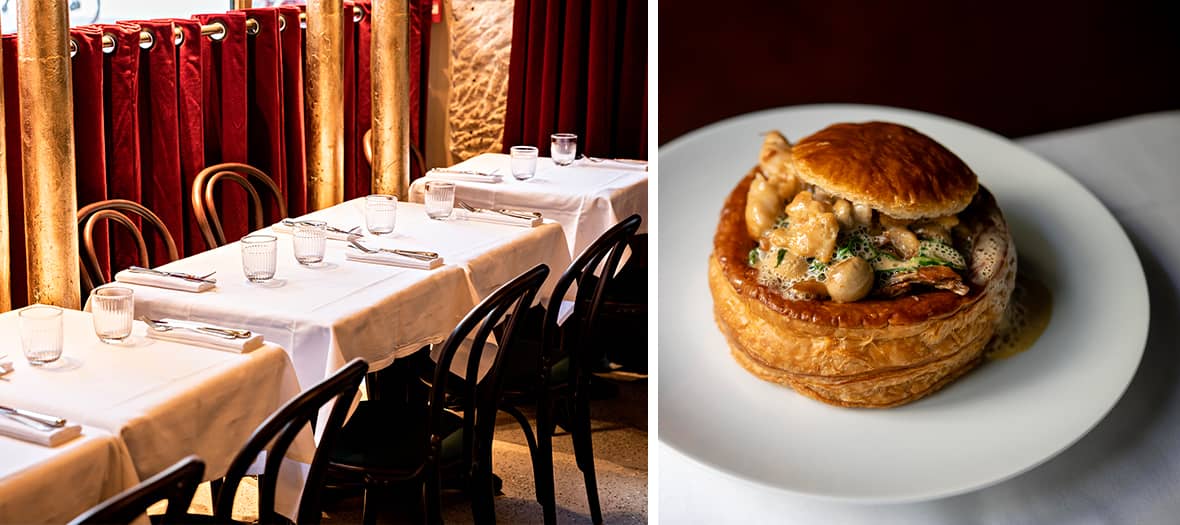 The spot — nope, 139 rue Saint-Dominique is not a new bistro.
Cyril Lignac recently took over Christian Constant's café, a Parisian favorite, worthy of Claude Sautet or Emily In Paris.
Café Lignac is already considered a landmark - a place where one can drop by at any time during the day for a cup of coffee, a quick bite, tea and tarte tatin (10 €), a croque and Negroni, or simply a glass of wine to toast to the aperitif.
Must-try dishes — For the appetizers: French deviled eggs (11 €), artichoke vinaigrette (17 €), pumpkin velouté and smoked eel (15 €), vitello tonato (19 €) or squid with chorizo cream (17 €). For the main courses: vol-au-vent (38 €), chicken Milanaise (28 €), chicken casserole with mushrooms and yellow wine (32 €), Black Angus chuck with black garlic and vegetables (31 €) or miso caramelized salmon with spinach shoots (26 €). Madeleines de Proust of the Parisian titi, the desserts naturally come from the Lignac patisserie where Benoît Couvrant excels, from rum baba to praline and pecan mille-feuilles (10 €). And let's not forget the French toast (12 €). 
Café Lignac, 139 rue Saint-Dominique, Paris 7th open every day from noon to 3pm and from 7pm to 11pm
LES ROUTIERS STYLÉS of DUMANT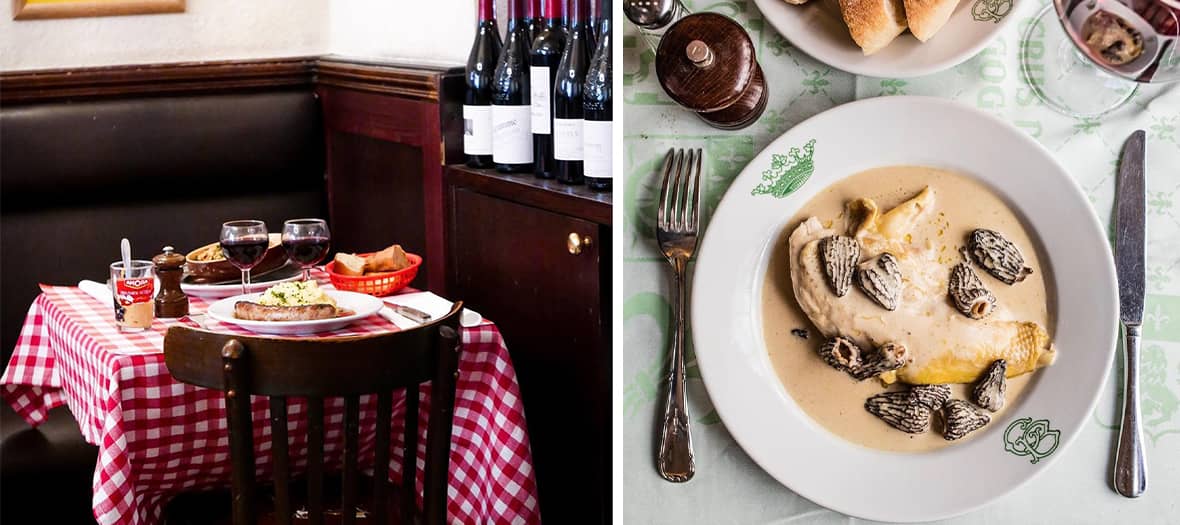 The spots — With Les Marchés (16th), Aux Bons Crus (11th) and Aux Crus de Bourgogne (2nd), Margot and Félix Dumant have managed to create an exciting new concept of bourgeois "routier" in Paris. The talented twins have chosen a 1900s décor with large mirrors, white and checkered tablecloths and lovely terraces, bringing in a stylish clientele craving excitement.
Must-try dishes — The whole menu is absolutely excellent! At Les Marches: eggs mayo (6 €), entrecote béarnaise (22 €) and quenelles (20 €). The veal blanquette, always a winner (20 €), while the regulars of the Crus de Bourgogne love the beef filet with Bearnaise sauce (22 €) and the profiteroles (9,50 €). A bottle of Burgundy accompanies the meal, as it should.
Les Marchés 5 rue de la Manutention, Paris 16th, Aux Bons Crus 54 rue Godefroy Cavaignac, Paris 11th, Aux Crus de Bourgogne 3 rue Bachaumont, Paris 2nd, open daily from noon to 2.30pm and from 7pm to 10.30pm
L'ENTRECÔTE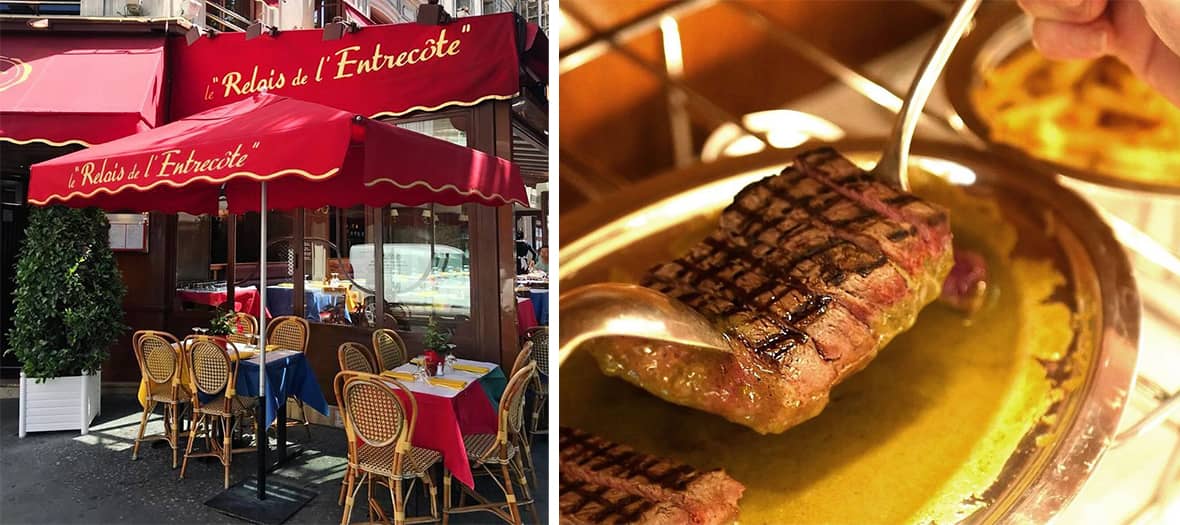 The spot — From Neuilly to Saint-Germain-des-Prés, Paris' crème de la crème still wonders about the mystery ingredient that makes the divine sauce of L'Entrecôte, a Parisian landmark serving up highly addictive fries with their no-frills simplicity of meat, where Americans, CAC 40 execs and actors queue at the door. After a year of privation, a visit to this epic place either in Marbeuf or Saint-Germain is just what the doctor ordered.
Must-try dishes — As per usual, a unique menu with a walnut salad, a divine tenderloin + a magic green sauce and crispy, crunchy fries, to be washed down with the organic wines of the Château de Saurs, all served in two batches by aproned ladies. Authentic is always chic! (Menu at 26,50 €).
Le Relais de l'Entrecôte 20 rue Saint-Benoît, Paris 6th, open every day from 12pm to 2.30pm and from 6.45pm to 11pm
© Instagram / Le Relais de l'Entrecôte
CHEZ GEORGES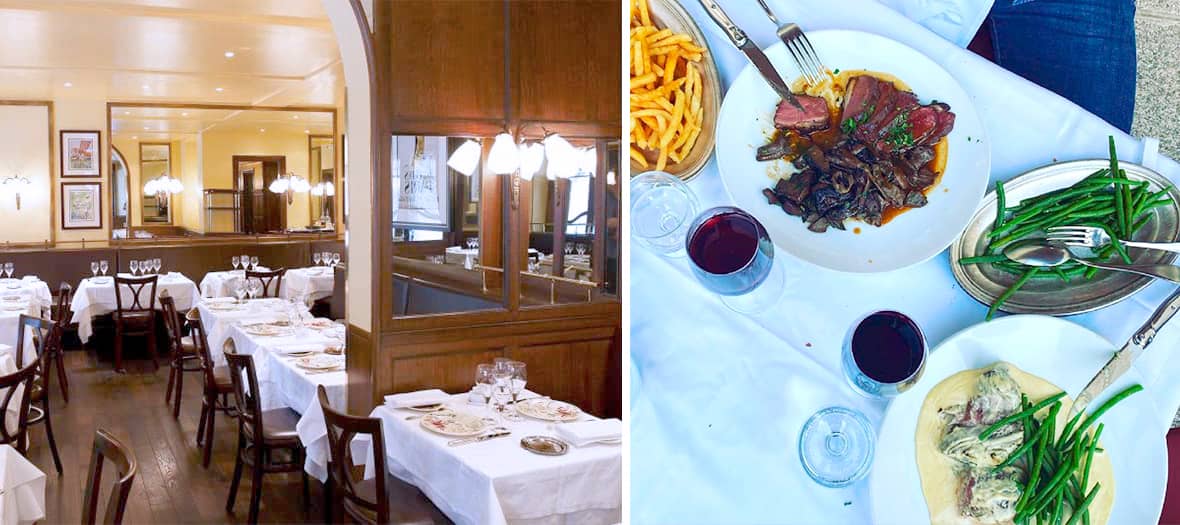 Instagram/ @elorouge
The spot — Another celebrated landmark - In the historical bistro and supper quarter of Paris, Georges stands out amidst the trendy and cheesy Etienne Marcel. The clientele is highly glamorous with teams from all the fashion houses on the block and celebrities from all over. Note: Chez Georges has extended its terrace on the divine Place des Petits Pères, with its famous checkered tablecloths that still make it the cutest and most picturesque table in all of Paris.
Must-try dishes — headcheese salad, salmon with sorrel, grilled andouillette, the infamous beef steak with mustard sauce and French fries, and chocolate profiteroles.
Chez Georges 1 rue du Mail, Paris 2nd open from Monday to Friday from noon to 2pm and from 7pm to 10:30pm

The spot — an institution made in Oberkampf since 1956 where people like to dine in style. Taken over a few years ago by Frédéric Hubig, real gourmet dandy (Jeanne A), this authentic bistro has kept its original charm in a highly polished decor.
Must-try dishes — The classics: guinea fowl supreme with Macvin and girolles just fried in butter (27 €), sweetbreads and veal kidney casserole and roasted pumpkin (41 €), Bresse poultry pie (35 €) and the signature rum baba for dessert (12 €). 
And the wine cellar: quite extraordinary!
Astier 44 rue Jean-Pierre Timbaud, Paris 11th, open every day from noon to 2:30 pm and from 7 pm to 9:30 pm
À L'ÉPI D'OR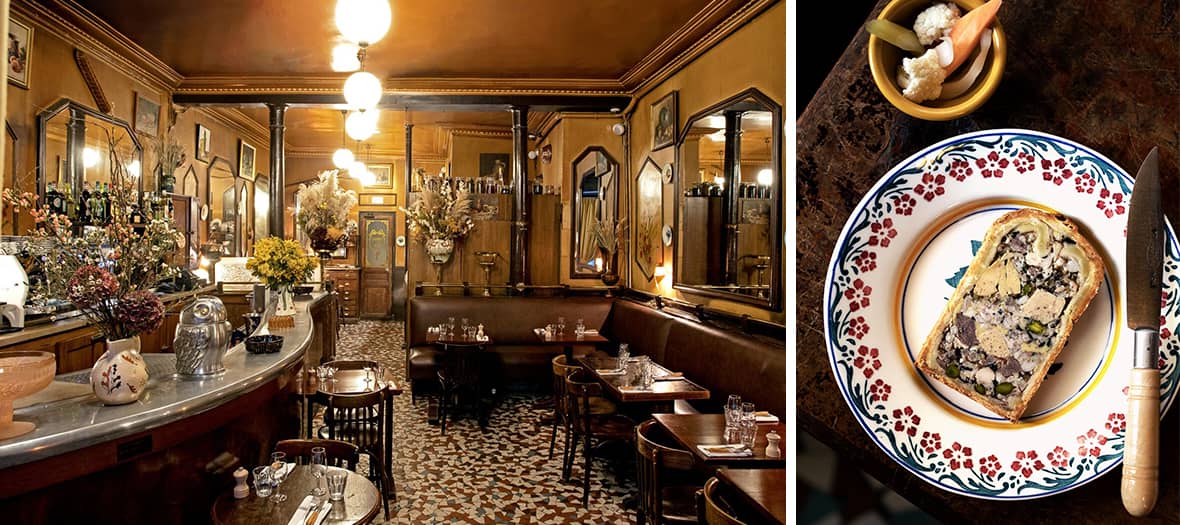 The spot — Parisians flock to this legendary address on rue Jean-Jacques Rousseau, just a few blocks from Louboutin, behind the retro facade. The air is full of excitement and the crowd is buzzing for the opening of their 5th address. Elodie and Jean-François Piège hit it big once again. Following their trendy renovation of La Poule au Pot, a century-old brasserie in Les Halles, À l'Épi d'Or is unanimously acclaimed. A place full of character and girl power with Mariola cooking, Margot managing the floor and the regulars, Aurélie Saada (Brigitte), Caroline de Maigret or Cécile Cassel aka Hollysiz…
Must-try dishes — the weekly menu : starter-main course or main course-dessert at 32 €. The entire menu at 42 €. Otherwise, you can opt for liver mousse spread on toasted Poilâne bread (14 €), a green salad with a very memorable vinaigrette (10 €), an unforgettable croque-madame (16 €) or a steak tartare served with homemade fries dipped in mayo (23 €) topped with a glass of Beaujolais or Chablis wine (12 €). Desserts vary on the daily: fine apple and cinnamon pie on Tuesdays, fig and coconut vacherin on Fridays…
À l'Épi d'Or 25 rue Jean-Jacques Rousseau, Paris 1st, open Monday to Friday from noon to 2:30 pm and from 7 to 11 pm
LES DEUX GARES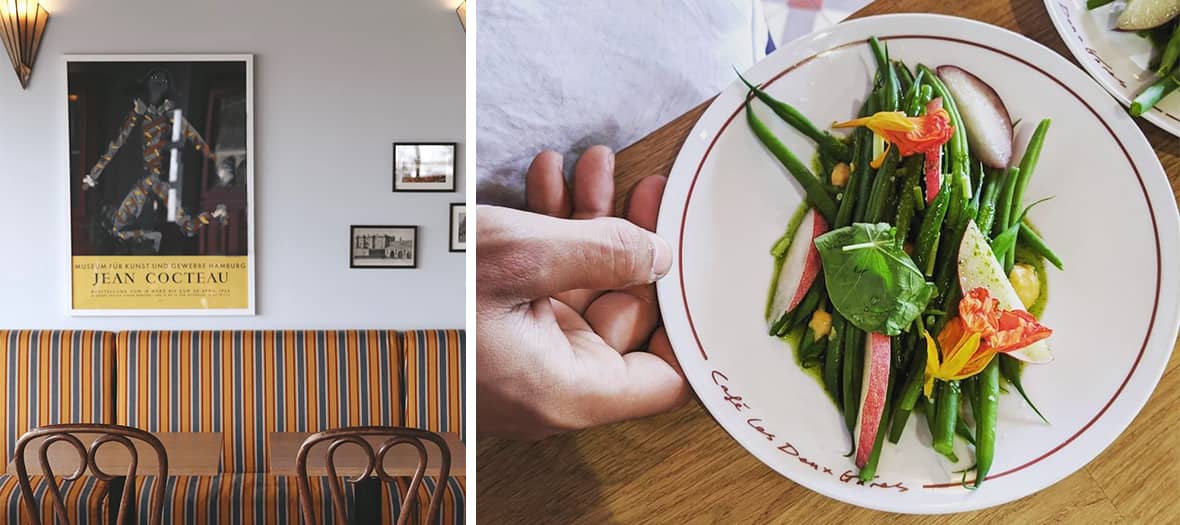 The place: located in the 10th arrondissement, this real station bistro is a delicious foretaste of the imminent opening of Les Deux Gares , the highly anticipated hotel of Adrien Gloaguen, the hotel entrepreneur of Touriste ( Welcome , Beaurepaire , Panache , it's him). In addition to the chef's table service, the place is experienced as a station and neighborhood address, from 7 a.m. for a comforting coffee-croissant then non-stop all day with a good sandwich, until the evening thirsts around a balloon and a plate of dry sausage until midnight.
To be tested: the sensational Jonathan Schweizer , who had already turned heads at Sauvage in the 6th arrondissement with his brilliant sense of the auteur bistro, wields the same talent here and deploys a simple but certainly sexy baby menu , all washed down with references the most name-dropped natural wines . On the slate, the starter, main course, dessert menu changes every day (€23). To give you an idea, today it was braised endive and smoked pecorino or velouté of celeriac in grass oil with a pear and hazelnuts from Piedmont as a starter, to follow saithe with potatoes , turnips with Grenoble sauce. For dessert, between goat cheese gouda and crème fraîche, caramel and puff pastry ice cream, our hearts swing.
Les Deux Gares 1 rue des Deux-Gares, Paris 10th, open Monday to Saturday from 9 a.m. to midnight
© Instagram / Café Les Deux gares

LE MAQUIS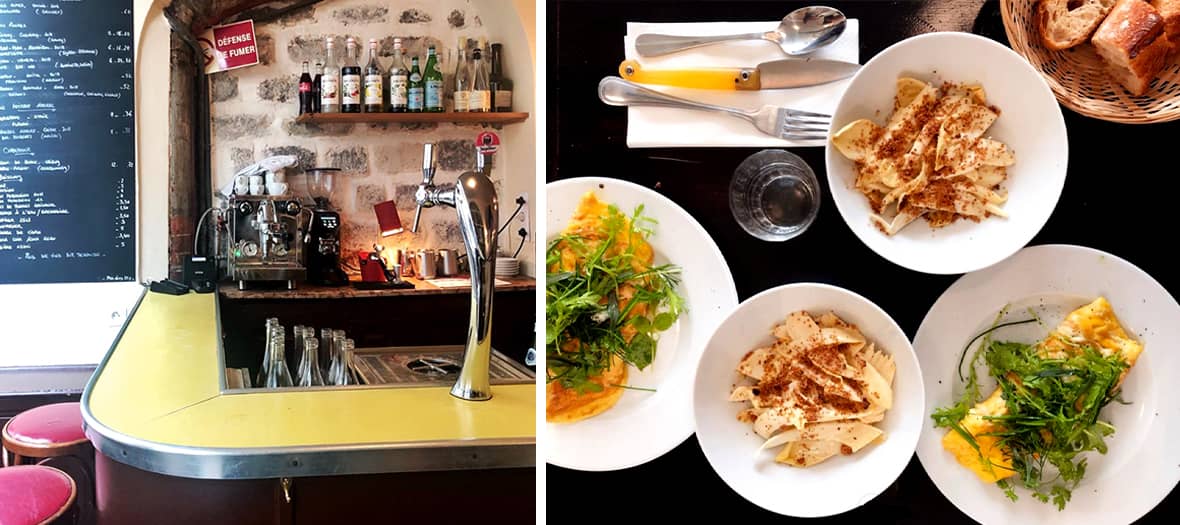 he spot — Voted best bistro in Paris (meilleur bistrot de Paris) by the Priceless Cities Best New Bistro x Mastercard, this lovely 18th eatery is the ultimate meeting place for discerning gourmets, international fashionistas and pretty local girls... And rightly so: you can sip cocktails at the Formica counter before sitting down on the skaï benches, with a playlist cooked up to perfection..! Because around here, gangstas like to cook with great music. Sounds good to us.
Must-try dishes — Plates full of skill without the frills (rare to come close to such perfection). The menu changes every day, you might find the fritot of calf's brains with tartar sauce, to be savored with natural champagne (7 €) as an aperitif before a tartar of royal sea bream with shiso and lemon caviar (14 €) and an insane black pudding pâté (8 €). Here you'll have to make reservations ahead of time, but trust us, you'll be glad you did. 
Le Maquis 53 rue des Cloys, Paris 18th
LA RÔTISSERIE D'ARGENT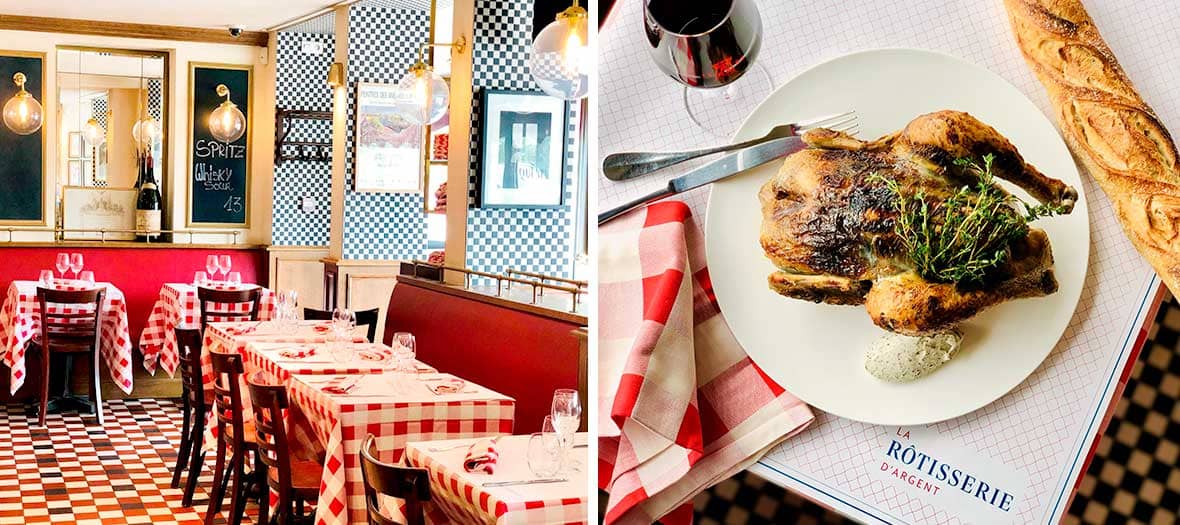 The spot — The little brother of La Tour d'Argent serves the outstanding creations of the legendary starred restaurant that inspired Ratatouille in an "affordable" version. Located near the parent company, this vintage bistro with checkered tablecloths, old-fashioned waiters and leek vinaigrette has all the ingredients for success. And let's not forget its unique Parisian terrace, set up as an extension of the room above the Seine. Breathtaking.
Must-try dishes — The house specialty is meat cooked on a spit! Yum... From the famous Label rouge half chicken, poultry juice, garlic and mashed potatoes (28 €), to the Limousin lamb navarin with carrots and taggiasche olives (29 €), or the Salers beef rib (for two), Béarnaise sauce and pommes allumettes (94 €). 
La Rôtisserie d'Argent 19 quai de la Tournelle, Paris 5th, open every day from noon to 2:15pm and from 7pm to 10:30pm
The Petit Bouillon Pharamond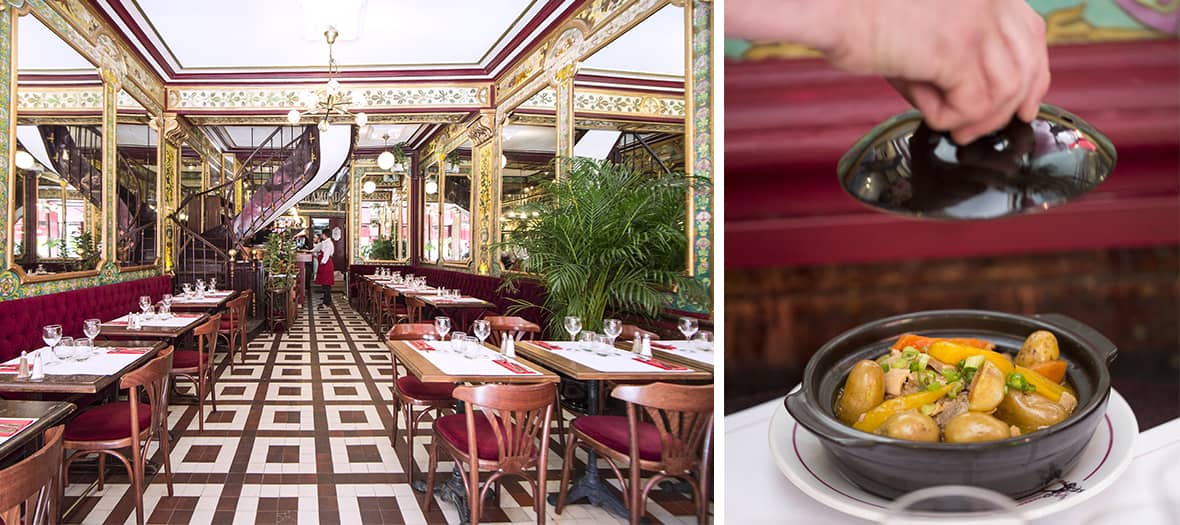 The spot — Le Petit Bouillon Pharamond, famous Parisian landmark near les Halles, welcomes chefs Benjamin Moréel and Christopher Préchez (Café de Mars, Lefty, Little Georgette, John Weng, Le POD). Nestled in a three-story half-timbered building, the restaurant boasts the most charming features of the Belle Époque: large mirrors, red velvet benches, wooden staircases, painted mirrors, mosaics, gilding and glass paste. And of course, the lively terrace overlooking a busy square in the Ventre de Paris.
Must-try dishes — The iconic Bouillon cuisine dishes are of course present, all homemade on site with French meat, organic eggs and charcuterie sourced from Olivier Brosset: Eggs mimosa (€1.90), snails (€6.90), homemade foie gras (€9.50), coquillettes cocotte with cheese, truffle cream and scallion (€7.50), whole roasted sea bream (€13.50), camembert (€2.90), tarte tatin (€4.50), with a glass of Languedoc IGP organic red wine (€4.20). Count 25€ max per person for an excellent meal.
28 rue Pierre Lescot, Paris 1st, open every day from noon to midnight
LE CAFÉ DU COIN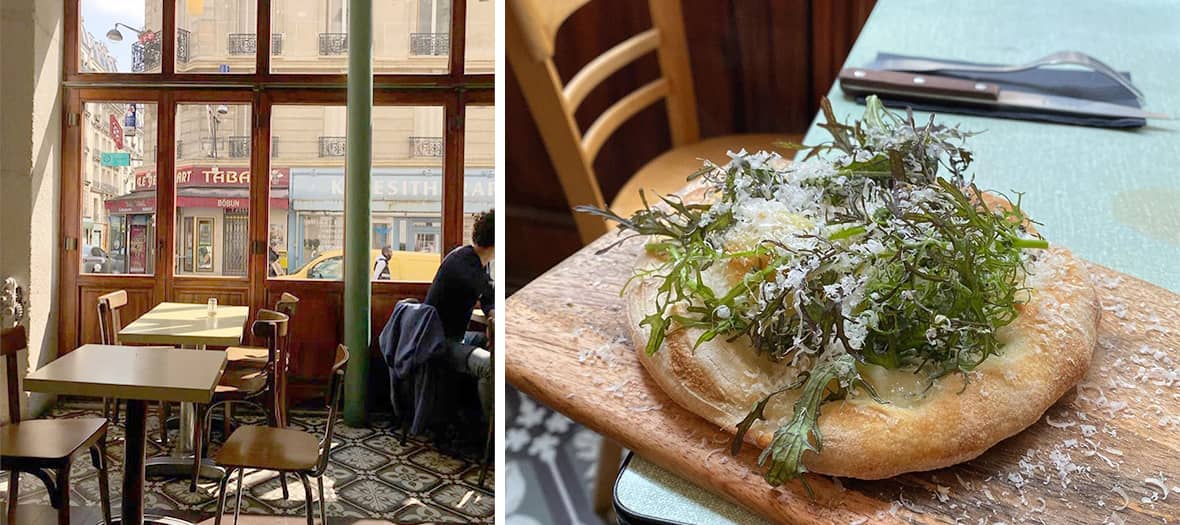 The spot — You'll meet all the connoisseurs, starting with Julie Gerbet and the Fooding family. Delicious and pretty, Le Café du Coin, run by the legendary Florent Ciccoli (Cheval d'Or, Le Bien Venu), mixes styles with panache, using references to the Belle Époque and the 70's, with the customary benches and counter.
Must-try dishes — Today they had beef tataki with mango, chilli and mustard seeds as a starter (6 €), haddock with roasted celery, spider crab bisque, fennel and umeboschi condiment (17 €), and a delicious chocolate ganache with fromage blanc ice cream (3 €). The starter and main course menu costs 23 euros, to our great delight. 
Café du Coin 9 rue Camille Desmoulins, Paris 11th, open every day from noon to 2:30 pm and from 7 pm to 11 pm
© Pierre Lucet Penato
And always...
Brasserie Lipp : you'll want to go for the dishes, the cassoulet or the sauerkraut are simply unforgettable.
151 boulevard Saint-Germain, Paris 6th, open every day from 9am to 12:45am
© Instagram / Brasserie Lipp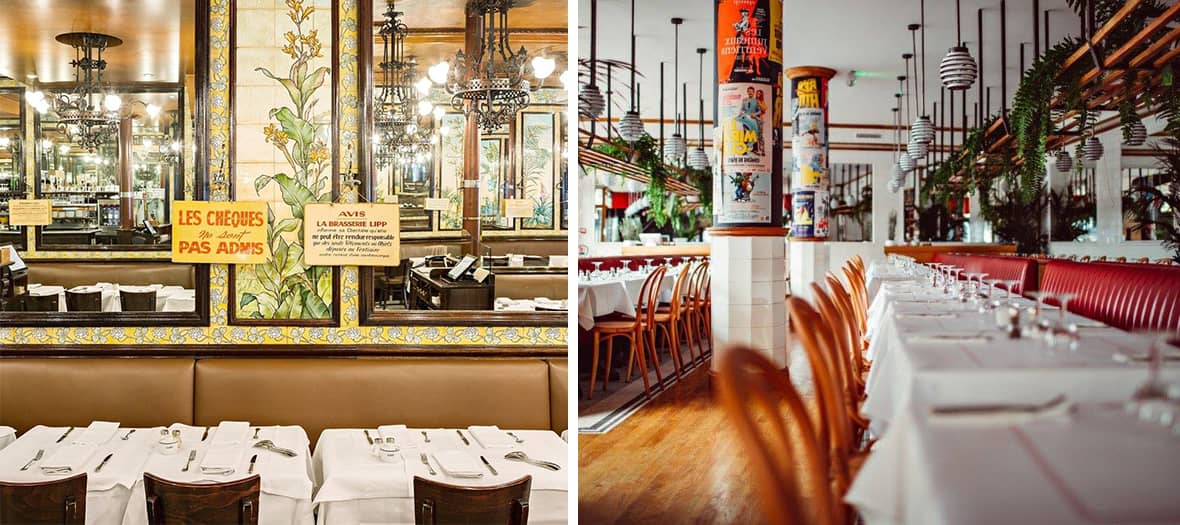 © Instagram / Brasserie Lipp
Brasserie Bellanger : Charly & Victor, two new faces of the Parisian food scene hit the ground running with their trendy nouvelle garde.
140 rue du Faubourg Poissonnière, Paris 10th, open every day from 9am to midnight, Fridays and Saturdays until 12:30pm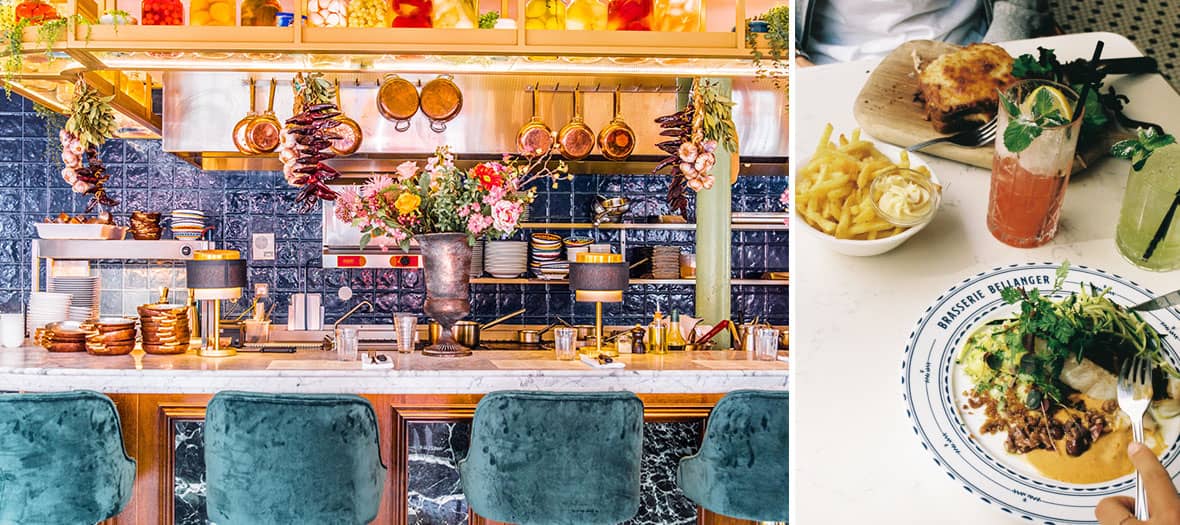 @Guillaume Belvèze @The travel buds
Bouillon Pigalle : Between the father restaurant with a balcony-terrace and its take-away/delivery Bouillon Service near République, Pierre Moussié has everything going for him, great dishes at great prices.
22 boulevard de Clichy, Paris 18th, open every day from noon to midnight
Also discover Gargouille, a sunny bistro in the heart of Pigalle and the new iodized table of the food power couple David and Stéphanie Le Quellec