This American holiday celebrated with the family every fourth Thursday of November, around a turkey is almost familiar to us as we have seen it in our favorite series. Thanksgiving is being exported to Paris on November 24, and a feast awaits you in these five restaurants in the capital. Over here the feast!
Cali Sisters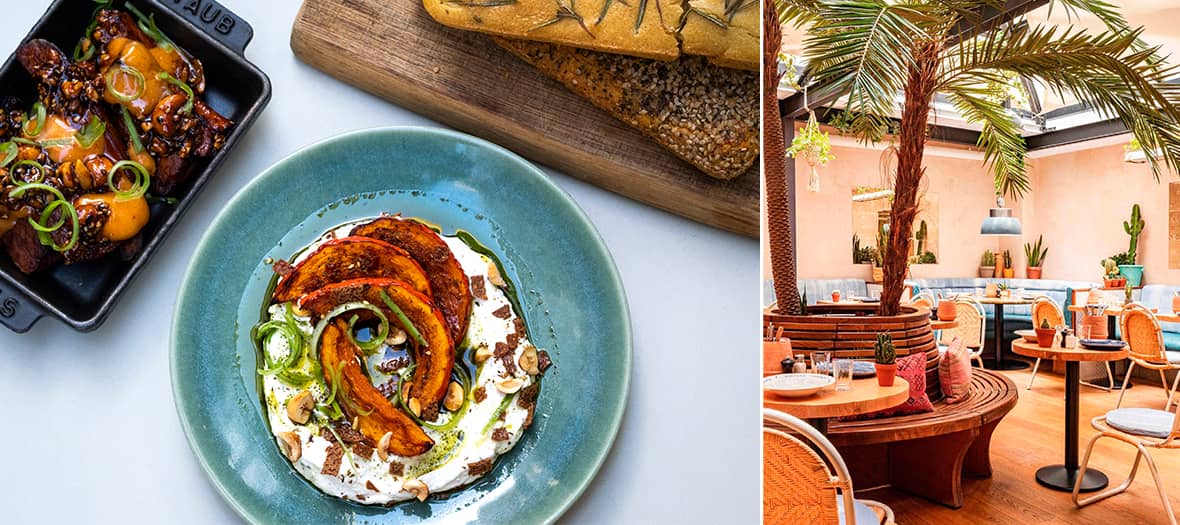 We no longer need to present this feel good spot run by Capucine and Juliette, the two sisters from Malibu who had already entrusted their first menu to the high priestess of American food in Paris: Carrie Salomon . Again, on the occasion of Thanksgiving . The chef takes over the kitchens of Cali Sisters and revisits the emblematic dishes of this celebration in her own way by injecting a good dose of South California inspiration . And the good news is that here Thanksgiving lasts 3 days!
At the table : spicy labneh with roasted squash, classic turkey candied for 4 hours also offered in a Mexican version pozole verde style , nicely green with pulled turkey and tortillas to accompany sweet potatoes caramelized with spicy hot honey and crunchy nuts. We end in style with a milk & honey pecan pie or a pumpkin tiramisu.
Good to know : the possibility of ordering a take-away Thanksgiving menu for 6 to 10 people before November 21 (€35 per person) to celebrate at home.
From November 24 to 26, Monday, Thursday & Friday: à la carte thanksgiving menu. Dinner Thursday, Friday and Saturday: menu €55. Special thanksgiving brunch on Saturday (€29).
Cali Sisters , 17 rue Notre Dame des Victoires, Paris 2nd .
Montecito at the Kimpton St Honoré Hotel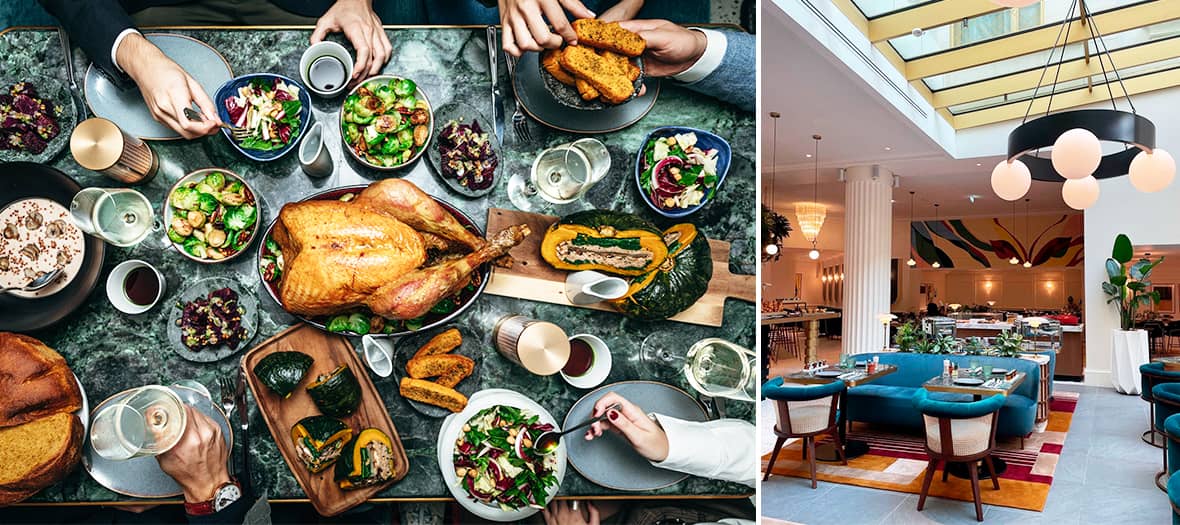 It's California in Paris between the walls of the chic Hôtel Kimpton , designed by Humbert & Poyet . Thanksgiving becomes the occaz' to sit down at the solar Montecito , restaurant run by chef Nicolas Pastot, who has imagined a generous menu featuring the traditional dishes of this famous holiday across the Atlantic by spicing them with a p 'tit twist creative and modern.
At the table: chestnut and mushroom velouté with buckwheat and chestnut crumble, and radicchio salad to start. To follow, the unmissable turkey presented here in the form of a leg confit with miso, maple syrup accompanied by a stuffed squash, sweet potatoes and sautéed Brussels sprouts. And for the finale, two pies to share: the refreshing lime, cranberry, hibiscus and the gourmet pumpkin, pecan nuts and raw cream.
Thanksgiving dinner served Thursday, November 24 from 7 p.m. Menu price: €85.
Montecito , 27-29 boulevard des Capucines, Paris 2nd . Resa: 01 80 40 76 03.
The Rooster & Son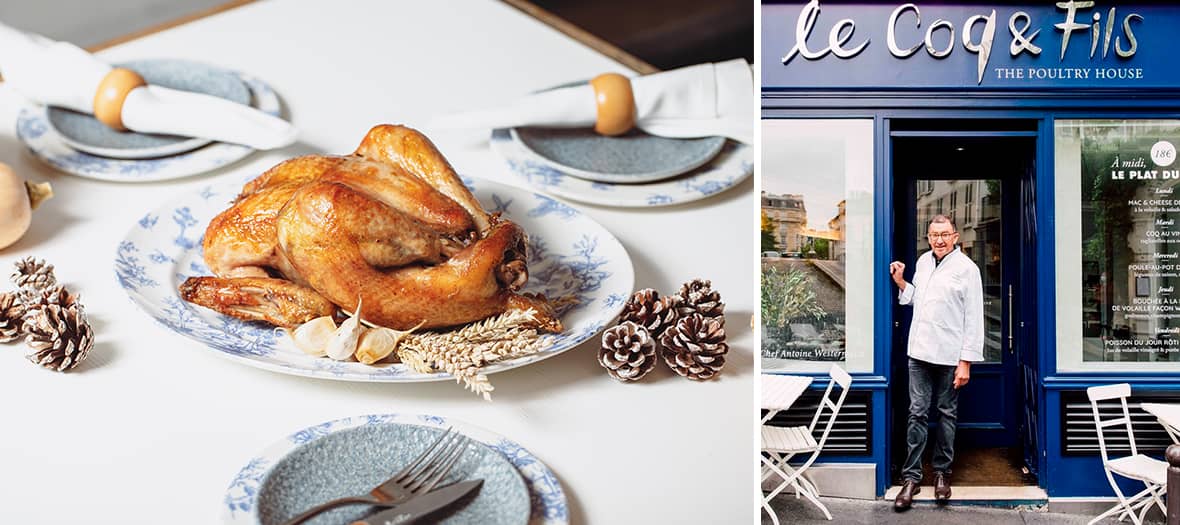 A lover of poultry as of the United States where he had a restaurant for 5 years in New York , the three-starred chef Antoine Westermann nurtures a strong bond with this celebration. At his table perched on the Montmartre hill , which has just won the virtuous Ecotable label , Thanksgiving is savored in excellence, a high gastronomy version around an exceptional Perle Noire turkey.
At the table : we start with a shot of turkey broth with fresh truffles (€6). We send each other a few bites of Westermann -style chicken terrine accompanied by celery remoulade with fresh truffles (€6). Before tackling the star of the menu: the Perle Noire Bressane AOC turkey, slowly poached in broth then roasted on a spit, served with a 12-spice meatloaf, fresh herbs and candied lemon, cranberry chutney (€44). As an accompaniment, a butternut purée & citrus zest (€10) or Brussels sprouts caramelized with acacia honey (€7). And for the sweet touch, a crazy 100% organic Black Forest style sundae with whipped cream and caramelized pecan nuts (€14).
The plus : for those who want to hang out at home, ready-to-roast Thanksgiving poultry is available to take away (€39).
Served November 24 for lunch and dinner from 7:30 p.m.
Le Coq & Fils , 98 rue Lepic , Paris 18th . 01 42 59 82 89.
RALPH'S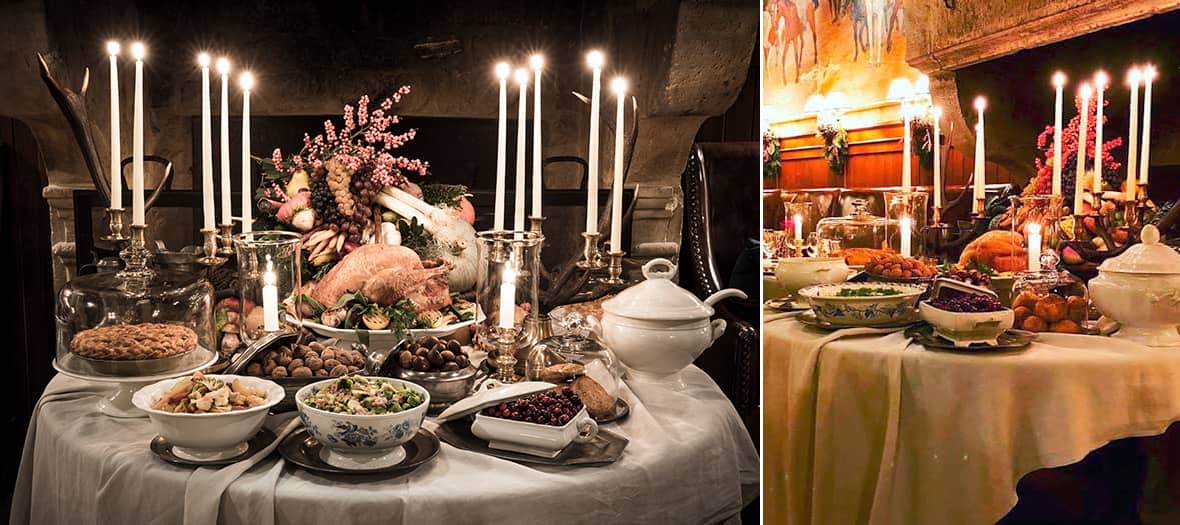 In its dreamy, ultra-chic country-house décor with a fireplace, Chesterfield armchairs, beams and paintings, Ralph's offers the ideal setting for the most elegant Thanksgiving in Paris. Moreover, here, everything begins with a glass of Louis Roederer Collection 243 champagne before settling down at the table. So glam.
At the table : it's a parade of refined dishes . Butternut Squash Soup, Vermont Winter Leaf Salad, Roasted Turkey with Calvados Sauce, Chestnut, Rosemary and Sage Stuffed Pork Sausages, Maple Roasted Root Vegetables, Bacon Roasted Brussels Sprouts , homemade mashed potatoes, mashed sweet potatoes, rice pilaf with mushrooms, apple and cranberry chutney and butter and cranberry cookies. To end this feast, the house's iconic apple pie, a Charleston pecan pie or the essential pumpkin pie.
Buffet served on Thursday November 24 at 6:30 or 9 p.m. €175 per person.
Ralph's , 173 Boulevard Saint-Germain, Paris 6th. 01 89 20 23 50.
Chiquette at Le Cinq Codet hotel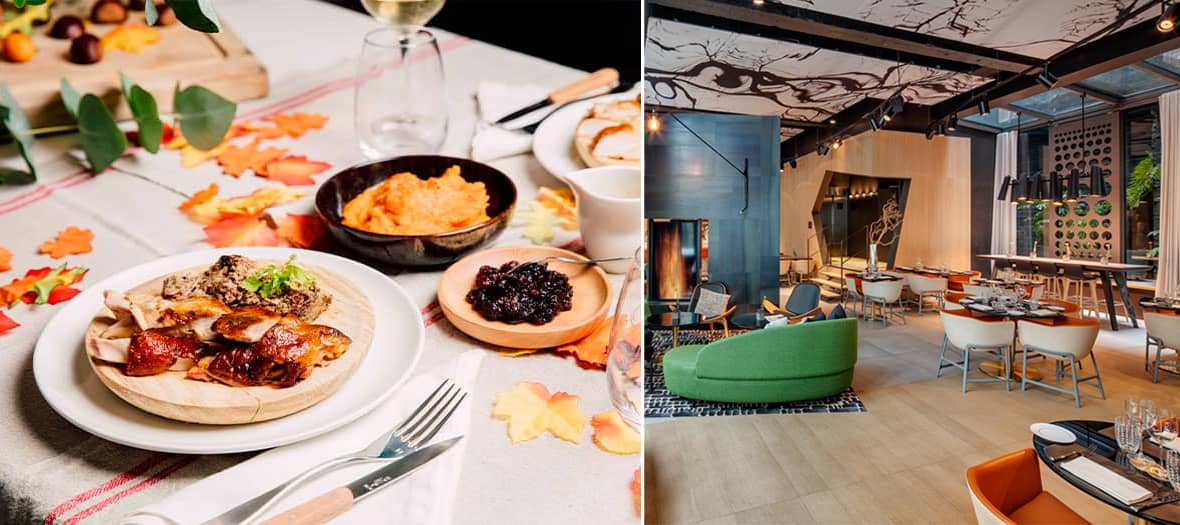 The charm of a hotel nestled in a 1930s building close to the Invalides . Within its walls, a restaurant with the funny name, Chiquette , a tribute to Louis Codet 's novel La belle chiquette , where the new chef David Maroleau offers cosmopolitan cuisine inspired by his experience in California . To be savored in a design decor with an Art Deco aesthetic by Jean-Philippe Nuel .
At the table : a three-course menu, sweet potato cream flavored with Cajun spices, stuffed and roasted turkey, gravy , cornbread and corn on the cob and pecan pie served with pumpkin pie ice cream .
Menu served on Wednesdays 16, 23 and 30 November, €60 excluding drinks.
Restaurant Chiquette at the Hotel Le Cinq Codet , 5 rue Louis Codet Paris 7th . 01 53 85 15 60.
Also discover The best bistrots in Paris and Alfred: Alexia Duchêne's cool new brasserie .