Every fourth Thursday of November, in the United States, a big gathering is organized for Thanksgiving—the traditional holiday celebrated with family and friends around a turkey and pumpkin pie. Where to test this amazing feast in Paris? The answer is 6 restaurants.
RALPH'S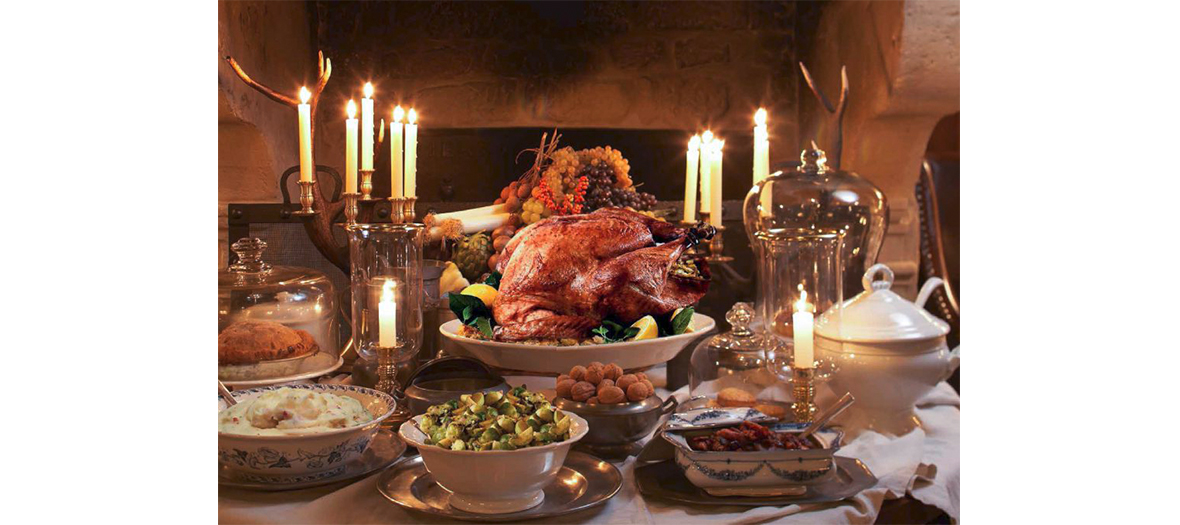 Impossible to dream of a more chic and warm environment than the most American of Parisian restaurants to celebrate Thanksgiving. Spotlight on the decor: a working fireplace, Chesterfield armchair and beams. Now just sit down with traditional warm cider or a glass of champagne.
At the table: a feast served buffet style! Butternut squash soup, salad of Vermont winter leaves, roasted turkey with a Calvados sauce, pork sausages stuffed with chestnuts, rosemary and sage, root vegetables with maple syrup, Brussel sprouts with bacon, mashed sweet potatoes, pilaf rice with mushrooms, apple and cranberry chutney, biscuits with butter and cranberries. And for the finishing touch, emblematic desserts: home-made apple and Charleston pecan pie or the traditional pumpkin pie.
Buffet served on Thursday the 28th of November in the evening. €135 wines included. All the info on Ralph's.
173 Boulevard Saint-Germain, 75006 Paris 01 44 77 76 00
COFFEE PARISIEN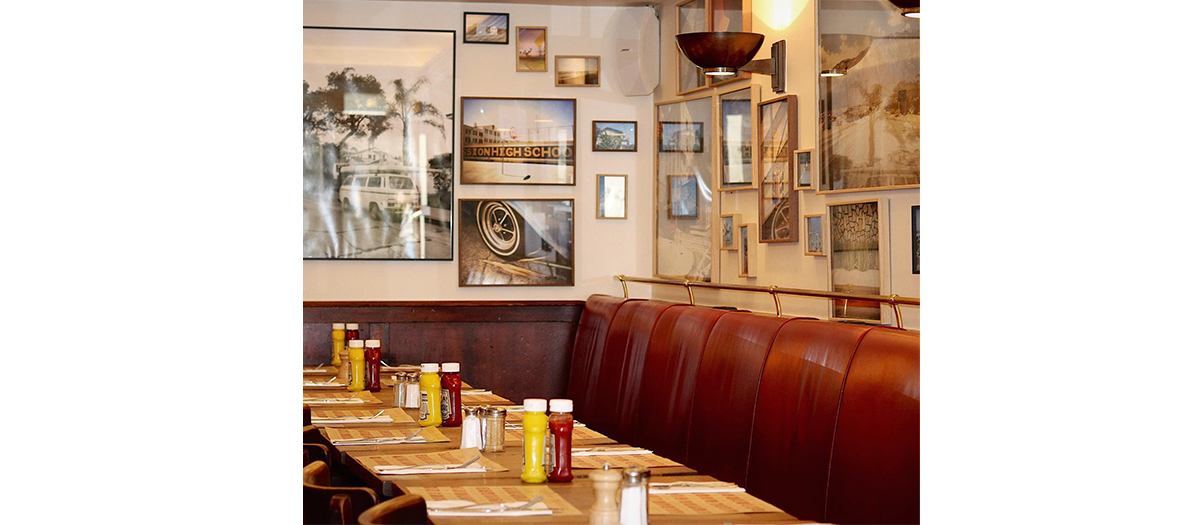 A trendy institution since the 90s, opened by the Goldstein family, this Yankee-style venue was the very first Parisian rendezvous to really convey New York coolness in a dedicated cantina, starting with the brunch, still unknown in France. Their Thanksgiving celebration is obviously a gregarious and socialite moment in a decor featuring photos by Lola James Harper…
At the table: Fall salad, pumpkin soup, stuffed turkey, vegetables and mashed sweet potatoes, cranberry sauce. For dessert: pecan pie, brownie or pumpkin pie…
Dinner served on Thursday the 28th of November.

4 Rue Princesse 75006 Paris 01 43 54 18 18
CHEZ BENOIT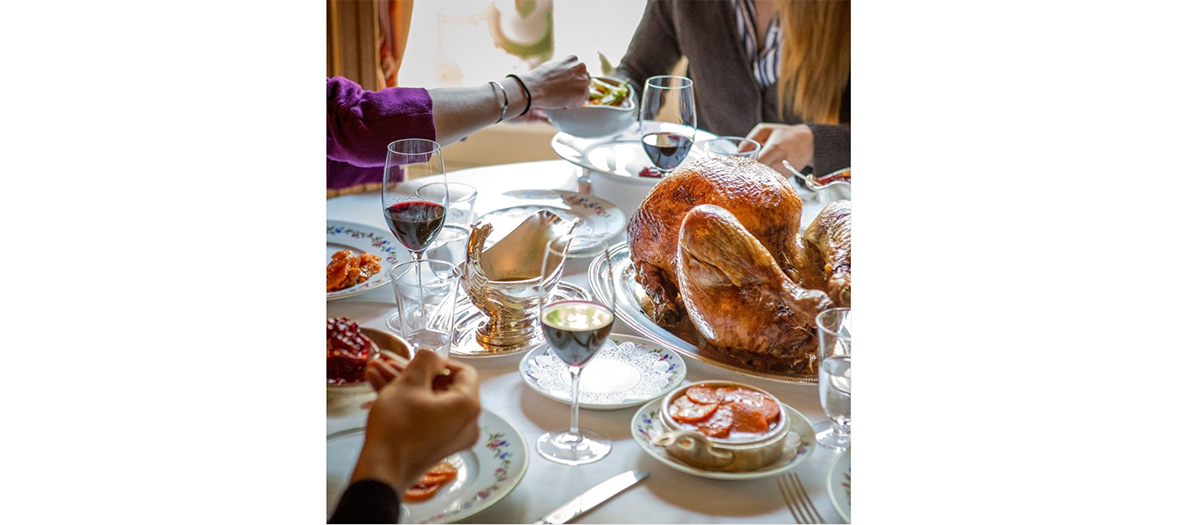 ©Benoit Paris
When Alain Ducasse decides to celebrate Thanksgiving in his starred Parisian bistro, the result is quite amazing. Resident chef Fabienne Eymard highlights like no one else the great French classics, and puts her talent at work for this traditional Yankee special feast. Joy!
At the table: a farm range turkey stuffed with mushrooms, cranberries and gravy—to be washed down with an amazing selection of good American wines opened for the occasion. And for the finishing touch there are very French deserts: soufflé, profiteroles, frosty nougat or mille-feuille.
Thanksgiving menu: €46 including main dish + a dessert. Reservations mandatory module.lafourchette.com.
20 Rue Saint Martin, 75004 Paris 01 42 72 25 76
LE COQ RICO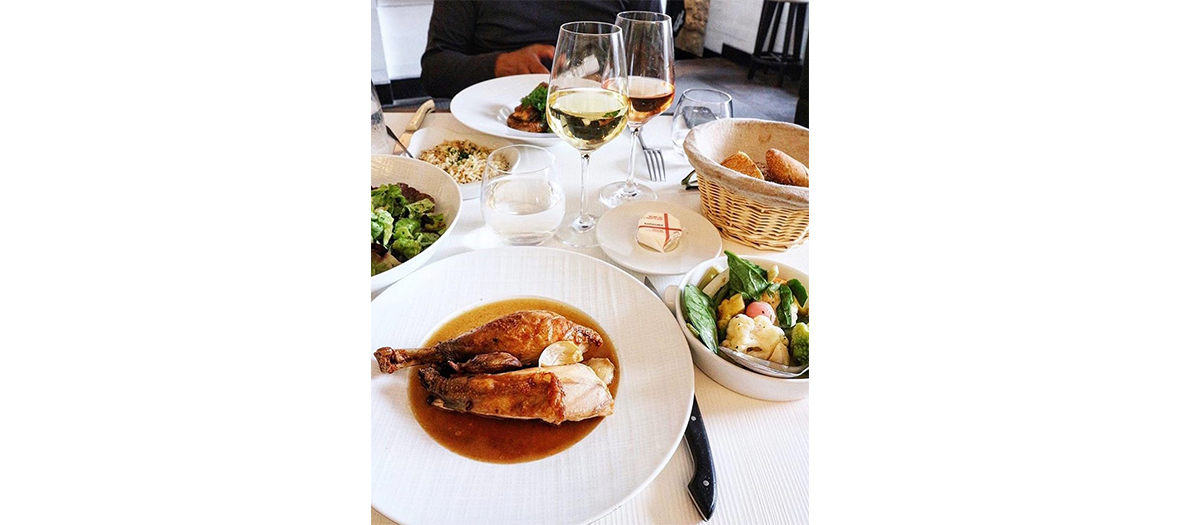 ©temps_des_reves
Installed since 5 years in New York, star chef Antoine Westermann is infatuated by this US ritual. Impossible for this dedicated gourmet to not celebrate his new whim for turkey and Thanksgiving in his bistro dedicated to poultry.
At the table: a terrine of poultry and cranberry chutney, velvety butternut soup with ginger and roasted hazelnuts, stuffed roast turkey from the Ardennes, served with a fricassée of chestnuts and red cabbage, mousseline of celery with apples. And to end the festivities: ice cream with soft spices.
Menu at €78 served at lunch and dinner on Thursday the 28th of November at Coq Rico. All the info on lecoqrico.com.
99 Rue Lepic, 75018 Paris 01 42 59 82 89
DRUGSTORE PUBLICIS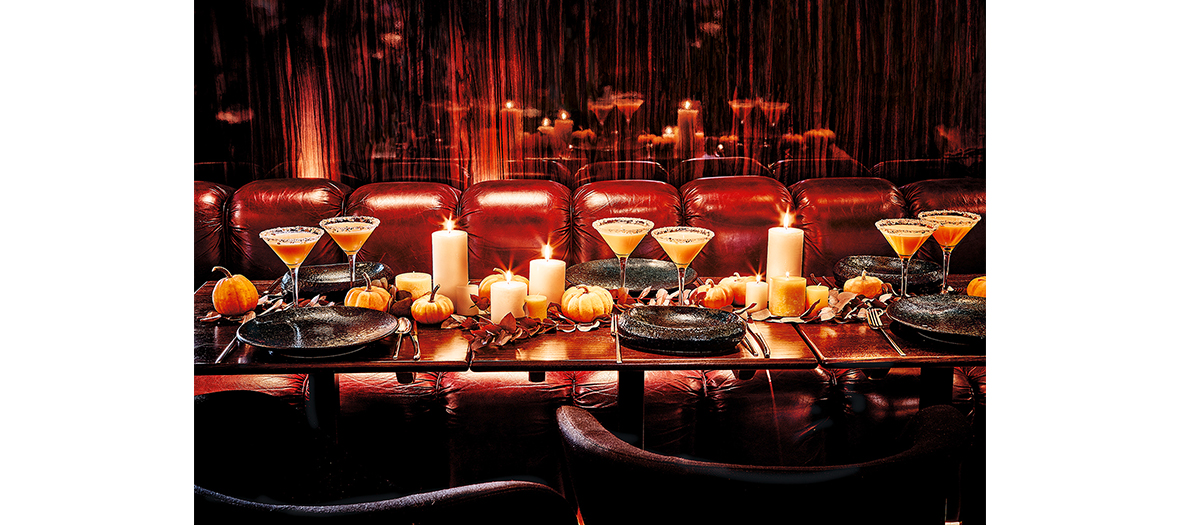 Yum! To celebrate turkeys and Thanksgiving, Éric Frechon has signed an exceptional US menu for the mythical Champs-Élysées brasserie revived by English designer Tom Dixon.
At the table: tempura of corn, pumpkin soup, gnocchi with roasted hazelnuts, stuffed farm range turkey cooked in a pot and mashed sweet potatoes, gravy. And as curtain dropper, the Drugstore Pecan pie, coffee and delicate sweet mignardises…
Thanksgiving dinner served on Thursday the 28th of November by reservation:
€60 drinks not included. All the info on the site of the Le Drugstore.
133 Avenue des Champs-Elysées, 75008 Paris. 01 44 43 77 64
MOB HOTEL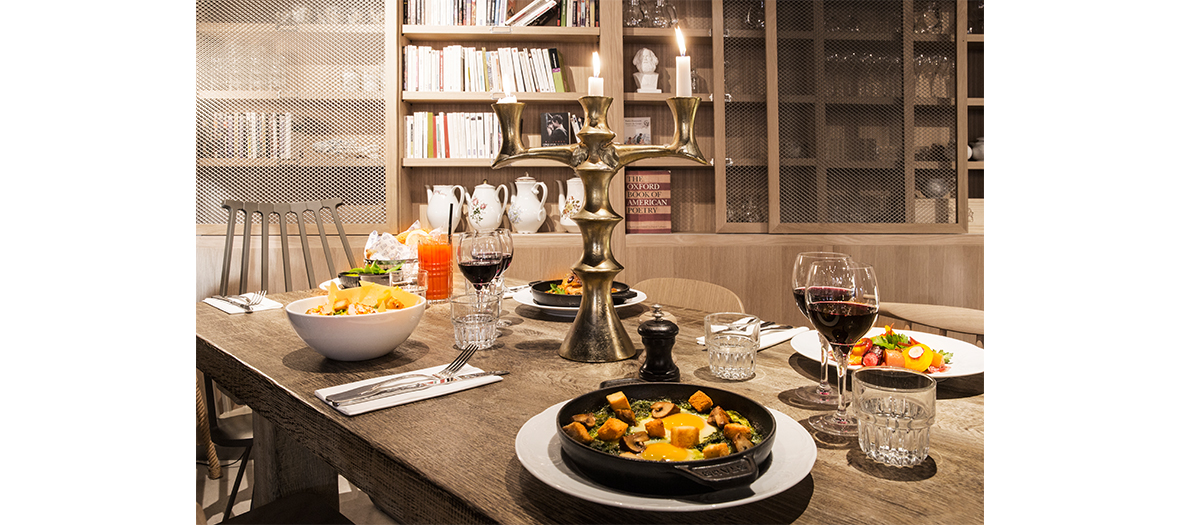 ©Aldo_Parede
The coolest hotel in Saint-Ouen, aka MOB, celebrates Thanksgiving with trendy New Yok chef Lisanna Wallance at the helm of the kitchens. Because sharing in a festive spirit is the name of the game at MOB.
At the table: pumpkin soup, turkey with apple cider, stuffed squash, cobb salad, grilled vegetables, deep dish potatoes or courgettes, mushroom tarts, onions, bacon bits, sweet potato and pumpkin, pear-chocolate-pecan, along with many other no gluten, vegan and organic specialties!
Menu €55 served on Thursday the 28th of November starting at 7pm. All the info on www.mobhotel.com.
6 Rue Gambetta, 93400 Saint-Ouen. 01 47 00 70 70

Also discover the new brasserie of Alléno and a kids friendly brunch at Batignolles.