Every fourth Thursday of November, in the United States, we hit the bell for Thanksgiving , a traditional holiday celebrated as a family around a turkey and a pumpkin pie. No question of depriving yourself! Follow our guide to the best addresses for an extraordinary feast.
Ralph's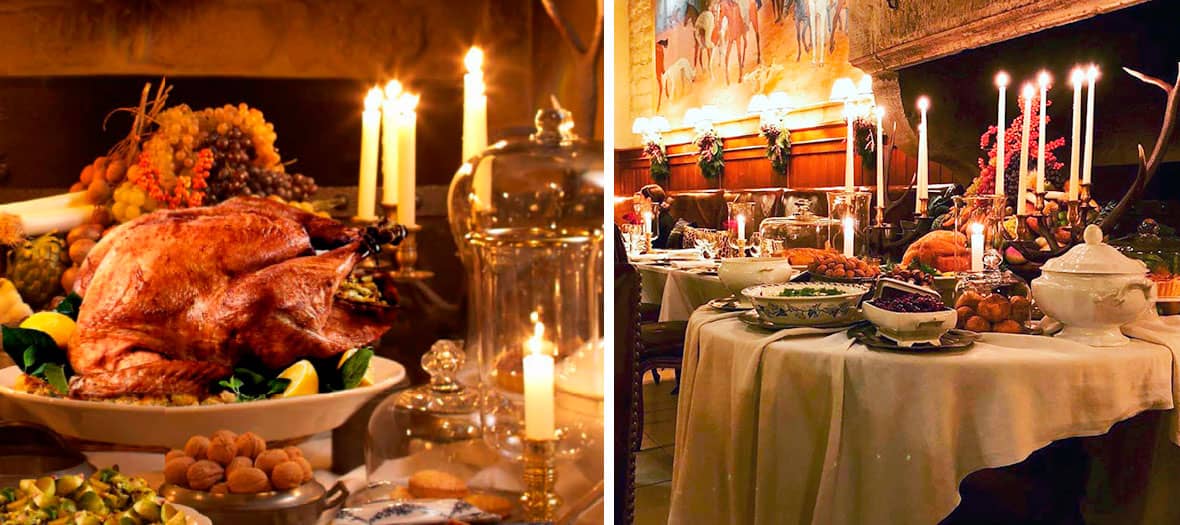 Impossible to dream of a place as chic and cozy as the most American of Parisian restaurants to celebrate Thanksgiving . We set the scene for you: lit fireplace , Chesterfield armchair and beams . It remains to sit at the table with the traditional hot cider or a small cup.
At the table: a feast served as a festive buffet worthy of the Succession series! Butternut squash soup, Vermont winter leaf salad, roasted turkey in Calvados sauce, pork sausages stuffed with chestnuts, rosemary and sage, roasted maple root vegetables, roasted Brussels sprouts with bacon , homemade mashed potatoes, mashed sweet potatoes, rice pilaf with mushrooms, apple and cranberry chutney and cranberry butter cookies. Finally, the iconic desserts: the homemade apple pie, the Charleston pecans pie or the traditional pumpkin pie .
Buffet served on Thursday, November 25 at 6.30 p.m. or 9 p.m. 155 € wine included.
Ralph's , 173 Boulevard Saint-Germain, Paris 6e. 01 44 77 76 00
Parisian coffee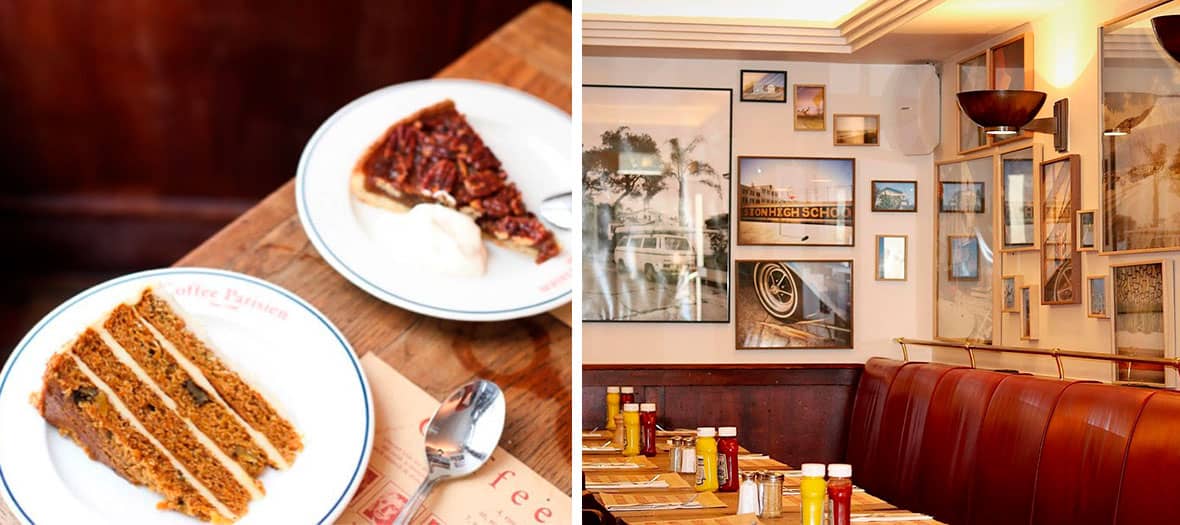 A trendy institution since the 90s opened by the Goldstein family , the coffee was the first Parisian rendezvous to really infuse New York coolness in a stylish canteen. The new owners carry on the tradition with a friendly and social Thanksgiving in a dinner lined with photos of Lola James Harper …
At the table: fall salad, pumpkin soup, stuffed turkey, vegetables and mashed sweet potato, cranberry sauce or ribs. For dessert: pecan pie, cheesecake or pumpkin pie ...
Dinner served on Thursday 25 November ( € 28 excluding drinks) .

Parisian coffee , 4 rue Princesse, Paris 6th. 01 43 54 18 18
The Rooster & Son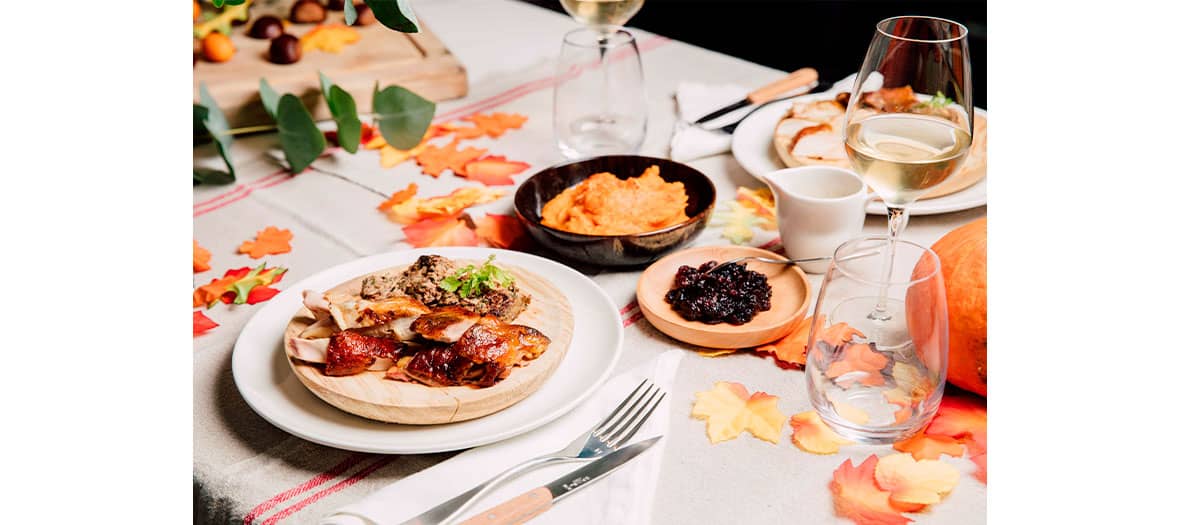 During his 5 years in New York , the starred chef Antoine Westermann fell in love with this US ritual. Impossible for this great foodie not to celebrate his new tocade for turkey and Thanksgiving in his bistro dedicated to poultry.
At the table: a red turkey from the Ardennes poached in poultry broth, stuffed and roasted on a spit, cranberry and orange chutney, served with mashed sweet potato, pumpkin with ginger and roasted walnuts.
€ 50, served for lunch and dinner. Whole turkey poached (165 €) or roasted (190 €) available in click & collect and delivery.
Le Coq & Fils , 98 rue Lepic, Paris 18th. 01 42 59 82 89
© Thetravelbud
Publicis Drugstore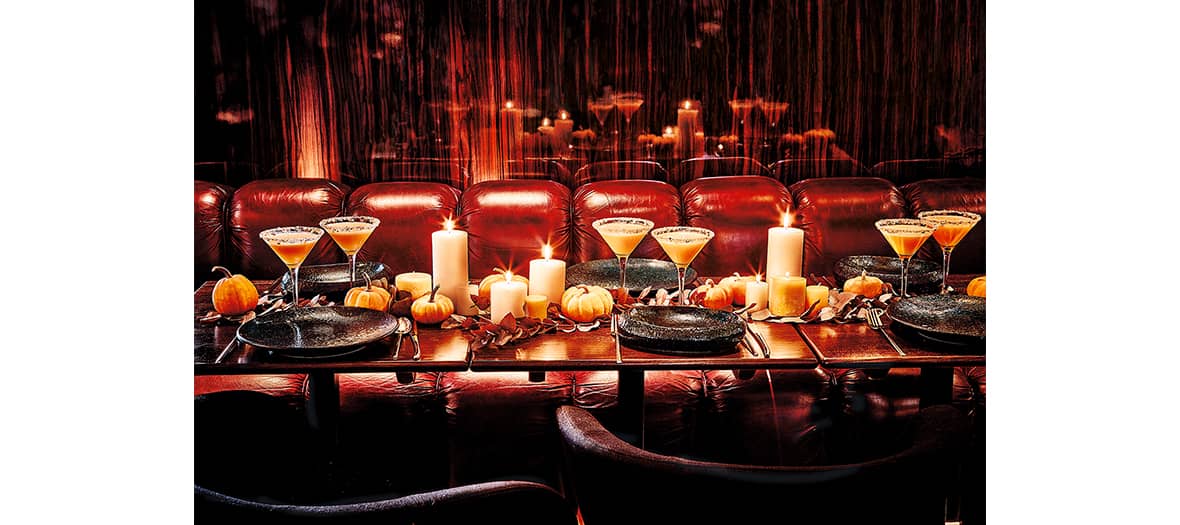 Yum, to celebrate the turkey and Thanksgiving, Éric Frechon signs an exceptional US menu for the legendary brasserie on the Champs-Élysées resuscitated by the English designer Tom Dixon .
At the table: corn tempura, pumpkin soup with chopped chestnuts and roasted hazelnuts, stuffed farm turkey roasted in a casserole dish and mashed sweet potatoes, foie gras and roast juice. We nail the show with the Drugstore Pecan Pie , a coffee and sweets ...
Thanksgiving dinner offered on Thursday, November 25 at the restaurant (€ 70 excluding drinks) or to have it delivered to your home (€ 80 excluding drinks).
Le Drugstore , 133 avenue des Champs-Elysées, Paris 8th. 01 44 43 77 64
Seed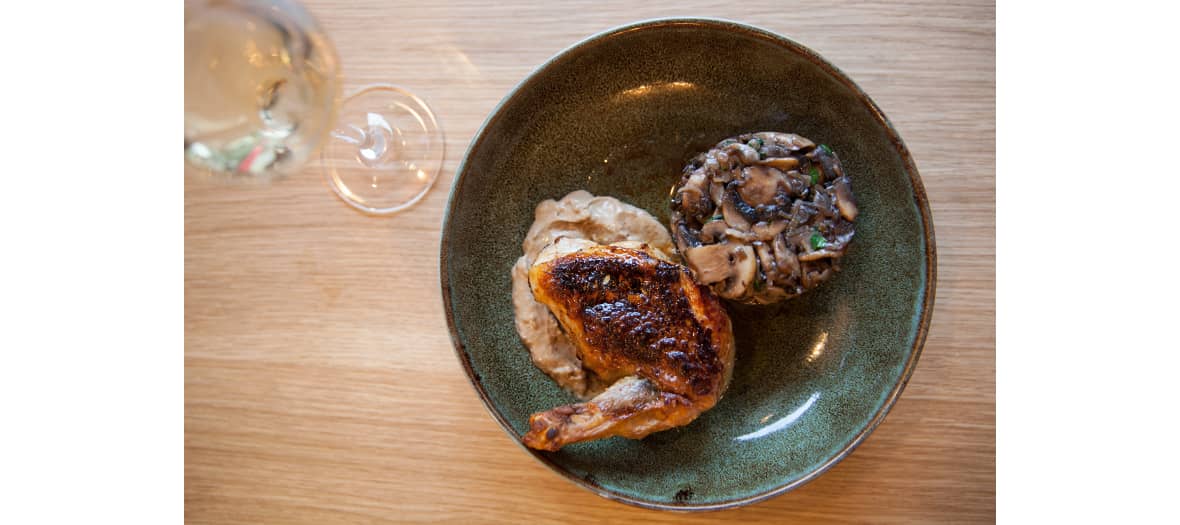 This dining cellar founded by Paul, grandson of a butcher, and Manu, serial entrepreneur, showcases natural wines and local products . From her few years spent in the US, Manu came back with a taste for business, and an American lover. Hence the desire to offer a special Thanksgiving menu, with exclusive super stylish recipes from Grazou , Manu's New York mother-in-law.
At the table: sweet potato hummus, pumpkin seeds and homemade breadsticks or mushroom and chestnut velouté; Virginia Ham, apricot pineapple confit and sweet potato fries or roasted guinea fowl supreme, porcini cream and pan-fried mushrooms; carrot cake or cheese cake from Les Filles du caterer .
Starter-main course or main course-dessert 25 €, full menu 30 € (excluding drinks). Available from November 25 to 27 for dinner, or in click & collect.
Pépin , 185 rue Marcadet, Paris 18th
© Lucas Lahargoue
Also discover the best breakfasts in Paris and Anahi by Mauro Colagreco.