The mythical brand Saint James for hipsters featuring Made In France sailor pullovers has set up a boutique in the Marais for all those who can't make it to Brittany !
On the shelves, ultra stylish basics, slightly updated with great cuts, quality woolens and materials. Go for the Rumilly model.
And also check out their coolab by Claudie Pierlot with for example a divine striped pouch in knitted wool!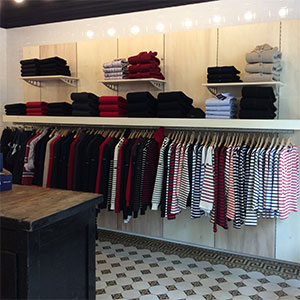 Our small passion ? The darling couture cap for 35€ , all in wool, that gives a resolutely Coco Chanel touch to all Parisiennes.
Open from monday to saturday from 11am to 8pm and on sunday from 2pm to 7 pm.
by Elodie Rouge @elorouge