© Lookbook Petite Mendigote SS17
Socialites don't have the monopoly on style. Parisiennes always come out ahead. Even when they just spend a few euros. This is when the Do It Team steps in. We have selected for all the penniless fashionistas the must-have summer pieces at rock bottom price. Sexy shorts in denim, embroidered sandals, pop bikini, panama hat, sunglasses, all starting at 6 € to be the most stylish in Paris, Ibiza or even in the wheat fields… Just take your pick!
The perfect country style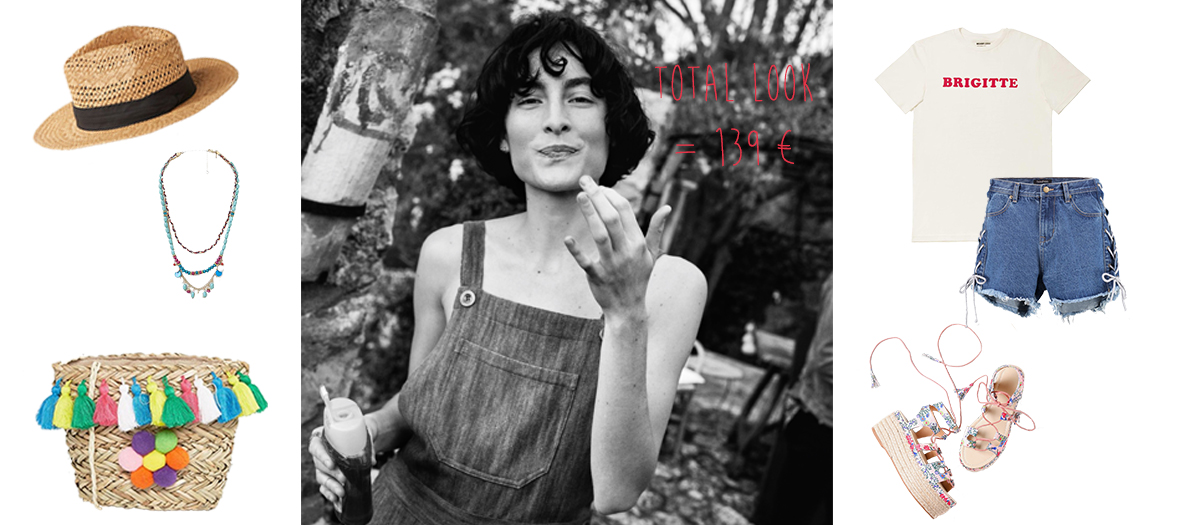 © Lookbook Sessùn SS17
The ideal look for bucolic holidays. We draw our inspiration from the denim look of Sessùn and its sun-filled spirit to put together a very contemporary silhouette. #PassionBrigitte
« Brigitte » T-shirt, Weekday, 15 €. Available since June 30th only at the Paris boutique of Weekday, at 121 rue Vieille-du-Temple.
Jean shorts with lacing on the side, Boohoo, 27 €.
Shoulder strap bag in straw with multicoloured pompons, Asos, 33,99 € on sale at 19,99 €.
Three-row necklace, Promod, 14,95 € on sale at 7,47 €.
Panama style hat, Cyrillus, 39,90 € on sale at 31,92 €.
Flat printed sandals with laces, She Inside, 37,31 €.
To look hot on the beach at Cap Ferret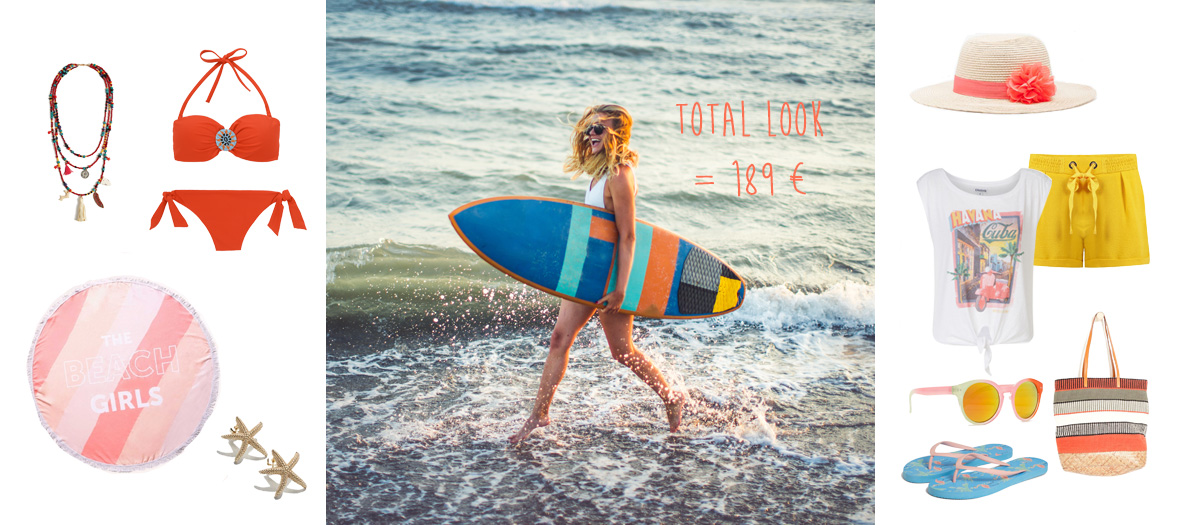 Wake up the beach girl sleeping inside you with this ultra vitamin total look for less than 150 €. This should definitely allow you to show off on the sly while walking along the sandy Dune du Pilat.
Orange two-piece bathing suit with ethnic detail, Etam, 29,99 € top and 14,99 € panties.
Fluid butter cup yellow fluide shorts, Naf Naf, 34,99 € on sale at 24,49 €. Available in the Etienne Marcel and Montparnasse Naf Naf boutiques.
T-shirt with La Havane print, La Halle, 14,99 € on sale at 7,49 €.
Necklace with cascade of pearls, Mango, 19,99 € on sale at 9,99 €.
Colourful beach bag, Camaïeu, 29,99 € on sale at 23,99 €.
Starfish earrings, & Other Stories, 19 €.
Wide brim hat and flower detail, Gemo, 10,99 €.
Ping flamingo flip-flops, Monki, 8 €.
Looking cool strolling on the Parisian pavement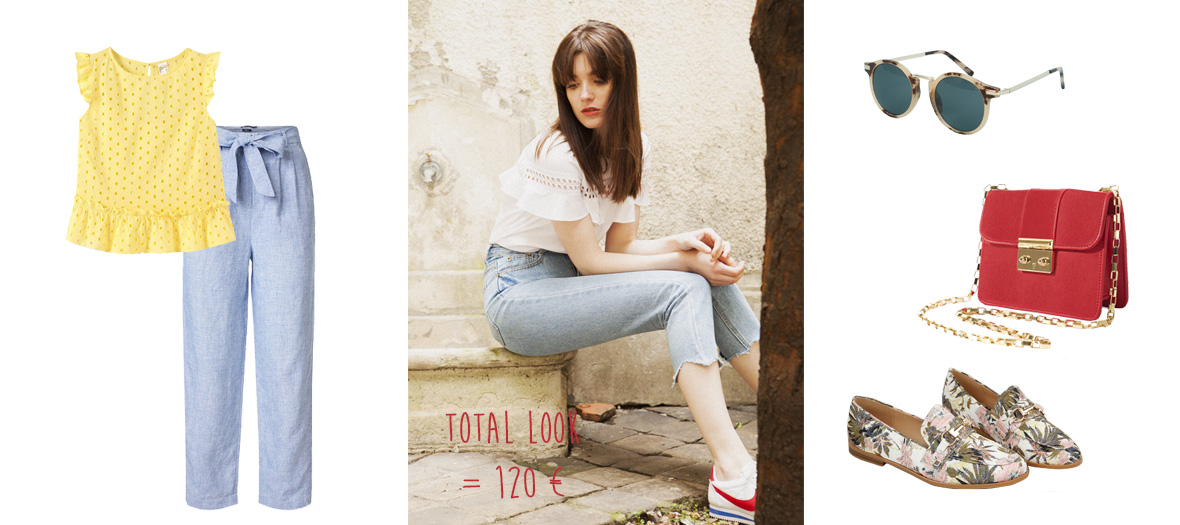 © Lookbook Harpe SS17
No stylistic setback while waiting for the holidays, with this trendy look that won't send your banker in a tizzy, inspired by the stylish collection of Harpe. Paris in the Summer: a real poem.
Yellow blouse with coat-tail and English embroideries, La Redoute, 34,99 € on sale at 24,49 €.
High-waist belted pants in linen, Monoprix, 39,99 € on sale at 20 €.
Red handbag with chain, L'Atelier Caesars, 69 on sale at 48 €.
Faux tortoise shell sunglasses, Pimkie, 7,99 €.
Off-white moccasins in jacquard with banana leaf motifs, New Look, 39,99 € on sale at 20 €.
The perfect Party Girl silhouette for Ibiza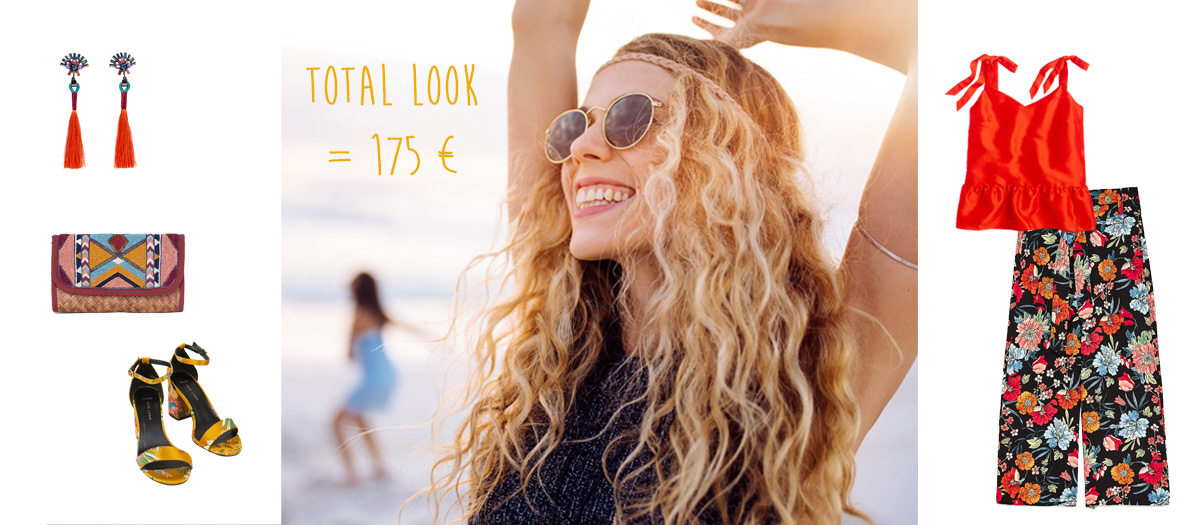 Floral pants, satin sandals, fluid silk top … Only upscale fabrics and strong pieces at mini prices, to shine under the sunlights of Ibiza.
Top in red silk, J.Crew, 122 € on sale at 85 €.
Pants with flora print, Zara, 39,99 € on sale at 25,99 €. Available at the Zara boutique of the 53-57 rue de Sèvres, 75007.
Sandals with heels in yellow brocade with floral motif, New Look, 39,99 €.
Braided Renata pouch with pearls, Etam, 29,99 € on sale 17,90 €.
Earrings with multicoloured pompons, Zara, 9,95 € on sale at 5,99 €.