The allure of the Parisienne is based on this natural elegance without overdoing it, this evidence of unconventional but never ostentatious clothing. And it is typically this wardrobe that we find at Sandro , the favorite label of urban style.
That's good: the sales are just the time to invest at friendly prices in these chic essentials that provide a naturally racy silhouette. Rock Boots, leather pants, blazer lamé sweater preppy ... Follow the guide with these five looks to hell procure emergency before others.
For male / female followers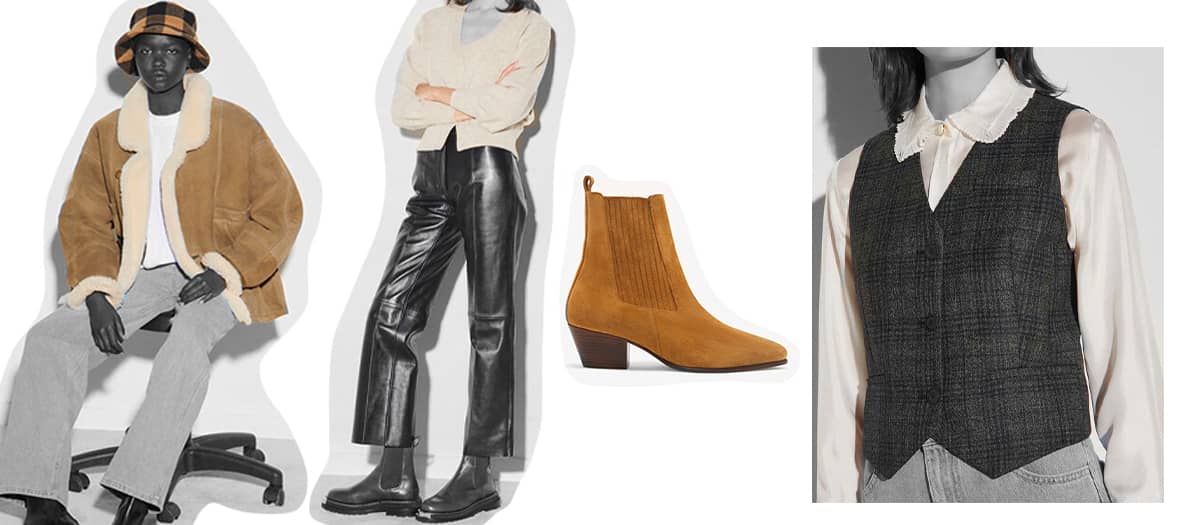 Revealing your femininity with a masculine garment is what the greatest designers have advocated since the history of fashion shows, from Yves Saint Laurent to Celine to Lanvin . And it's even better when you dig into a rock star's closet! Among the typically masculine pieces to absolutely have this winter, we will retain the short-sleeved cardigan , the leather pants, the large shearling coat and the eternal boots with pointed toes.
Men's checked waistcoat , € 165 on sale at € 99
Leather pants , € 495 on sale at € 247.50
Short shearling coat , € 1,395 on sale at € 976.50
Elastic leather boots , € 295 on sale at € 177
For the elegant with a preppy trend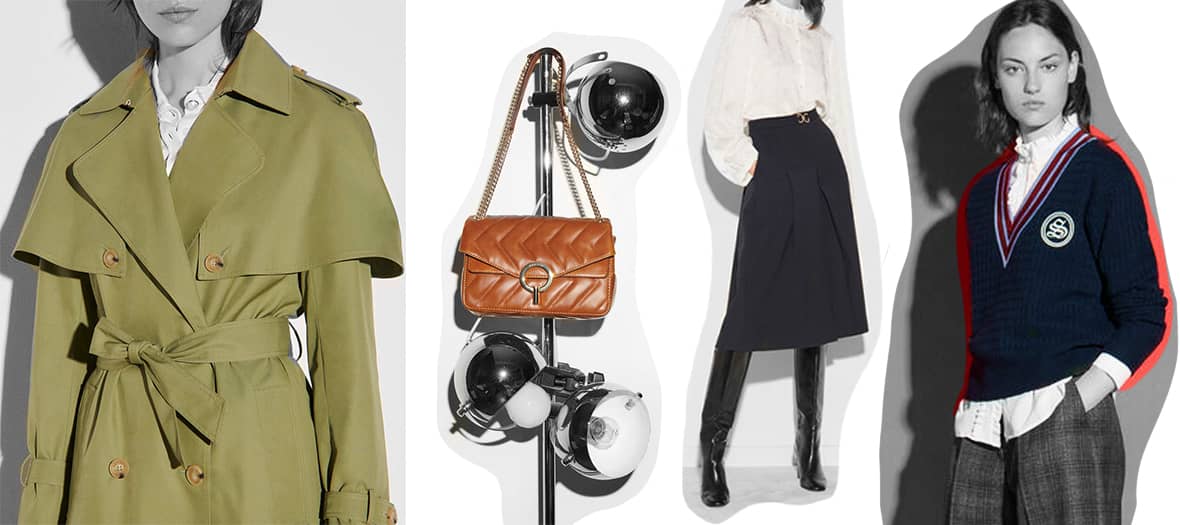 Inspired by the uniform of the great English- style universities Oxbridge , the preppy style takes up the essentials such as the wise cardigans or the cricket sweater with a large V neck. Sandro has made it one of his trademarks. We add typically Parisian notes such as the large wool culotte skirt and the legendary trench coat that you absolutely must own, and we end the whole with beautiful black boots with heels and a shoulder bag.
Oversized cable sweater with striped neckline , € 225 on sale at € 135
Culotte skirt with box pleats , € 265 on sale at € 132.50
Trench coat with removable insert, € 445 on sale at € 222.50
Yza bag , € 295 on sale at € 236
For the divine feminine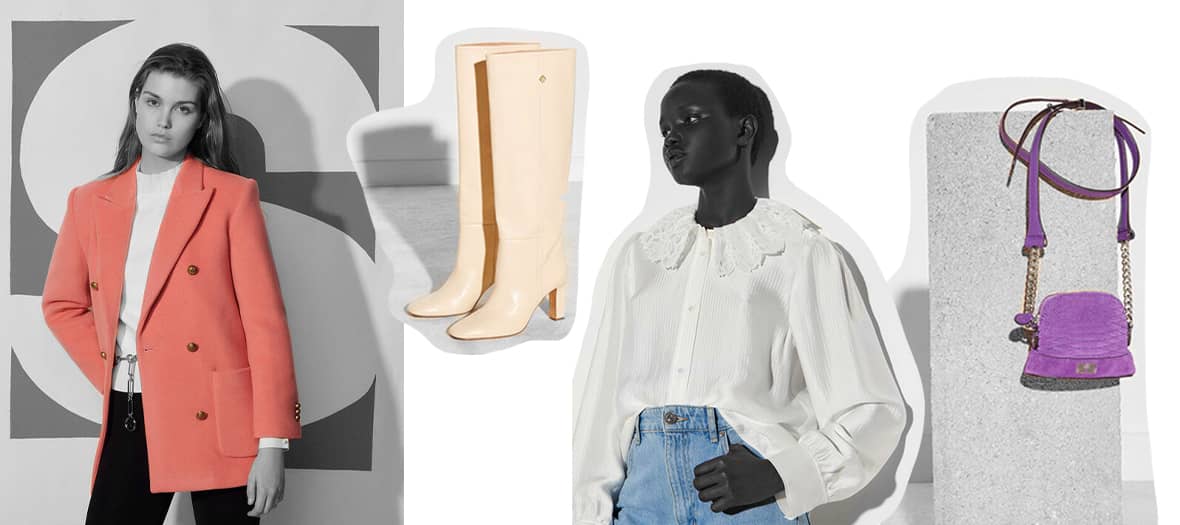 Winter does not necessarily rhyme with oversized dark clothing and large soft toys ... Coquettes will prefer the freshness of powdery shades and the sharp elegance of sharp cuts. Evidenced by this fitted pea coat in a resolutely good-looking pink, to match with cream heeled boots and a small purple bag in tune with the times. Highlight of the show: a supple shirt with a wide lace collar .
Pea coat with double breasted , € 425 on sale at € 340
Shirt with lace frill, € 195 on sale at € 117
Heeled boots in smooth leather , € 425 on sale at € 212.50
Mini leather bag , € 115 on sale at € 80.50
For sportswear enthusiasts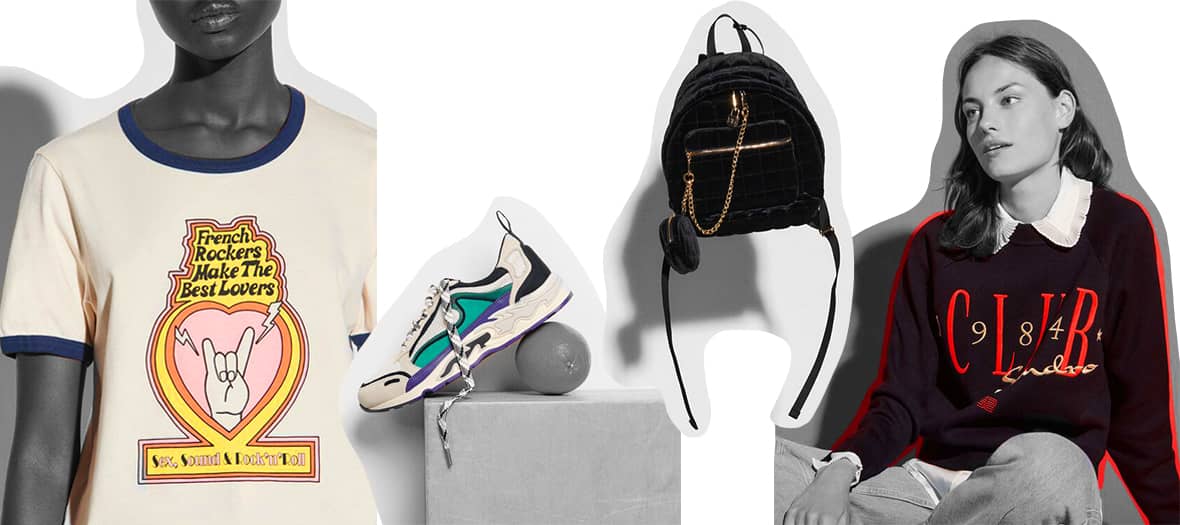 Joy of the streetwear obsessions of the moment: to make believe by small touches that one is an inveterate sportswoman. The illusion goes through a resolutely 90's embroidered sweatshirt , a very cool printed cotton t-shirt or a small quilted velvet backpack , an urban reinvention of the hiking backpack. Sandro's ultimate essential: the Flame sneakers available in all colors, which can be found at the feet of all Parisiennes in the wind.
Sweat sweater and logo embroidery , € 215 on sale at € 150.50
Printed T-shirt , € 75 on sale at € 37.50
Quilted velvet backpack , € 225 on sale at € 112.5
Flame sneakers , € 195 on sale at € 136.5
For those who dream of partying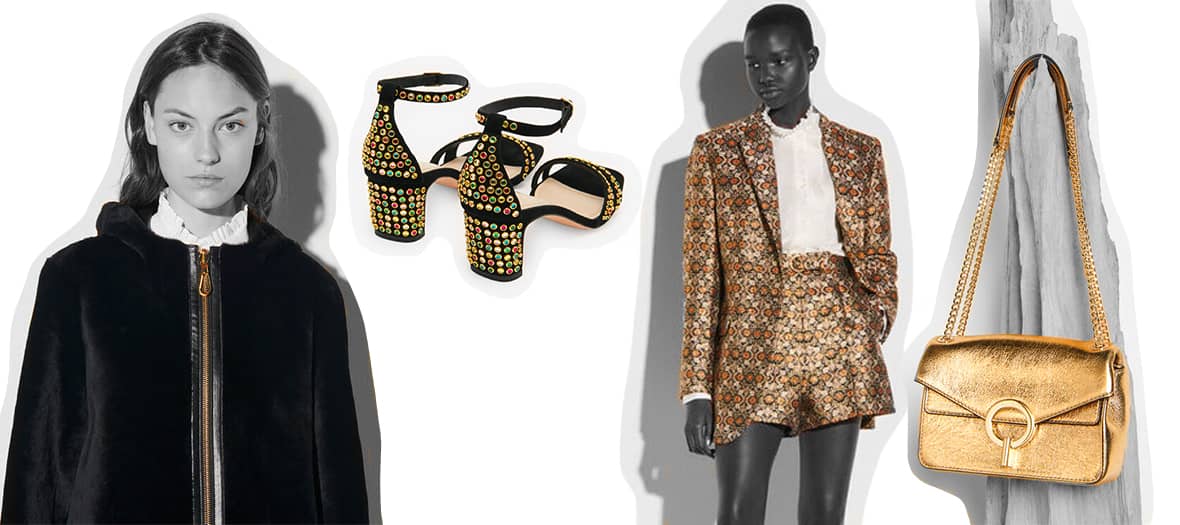 One day, perhaps, the Silencio , Raspoutine and Régine will reopen their doors. While waiting to be able to tread the dancefloor of these high places of the Parisian nightlife, we do everything as by scooping up pieces worthy of the most beautiful parties to shine in small groups: a very sumptuous brocade shortsuit, a black faux fur coat. , a glittery it-bag and pretty studded sandals in all colors. All that's missing is a good playlist and the best bunch of friends.
Tailored jacket in brocade fabric , € 295 sold for € 147.50
Brocade fabric shorts , € 195 sold for € 97.50
Hooded shearling coat , € 1,395 on sale at € 697.50
Small full gold Yza bag , € 275 on sale at € 220
Sandals adorned with multicolored studs , € 265 on sale at € 132.5


Psst… As any excuse is good to have fun, on the occasion of Valentine 's Day , we benefit from an additional -20% from two sale items purchased, until Sunday February 7 at midnight. It's a gift !