© La Seine & Moi
Vegan is the new chic? You are bound to have heard about veganism, this ethical and cruelty free lifestyle that consists in consuming in respect of the environment and animal conditions.
At the time of slow fashion, more and more young fashion labels are emerging, banishing leathers, furs, silks, wools and scales, produced in conditions that are respectful of men's rights.
In turn, the young generation is committed with a small army of young inspired designers that has nothing to envy from the well-known brands of Fashion Week. Ethical jeans, vegan it-bags and shoes, colourful coats in faux-fur— zoom on five vegan and truly couture compatible brands.
Minuit sur Terre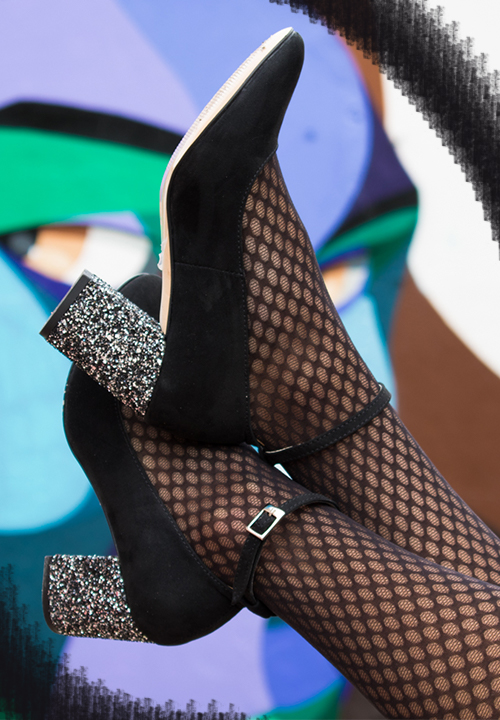 Its style: chic and very feminine trendy shoes that highlight the ankle, like those of Carel, Repetto and Robert Clergerie.
The label: Minuit sur Terre, the label that showcases the cruelty free shoe. Preppy derbies, high-heel booties, glam' pumps, glitter sneakers or babies with sequin heels, shoe addicts will not be able to resist. All the more since these ethical and highly desirable nuggets are offered at mini prices, between €95 and €150.
The inside story: big boss Marie Viard-Klein, herself a vegan and shattered by images of violence in the leather industry, could not find shoes that suited her. The revelation to create her own company came while watching Cinderella, whose famous glass slipper changed her life – hence the name, Minuit sur Terre.
Its vegan credibility: pieces conceived without leather and without any product of animal origin, using only synthetic fibers without any solvents, natural and sustainable fibers comprising cereals. All assembled in small factories near Porto respectful of human rights.
Ultimate consecration, Minuit sur Terre was awarded the Prize of Vegan fashion 2017 by PETA, in the category « Best vegan shoes».
La Seine & Moi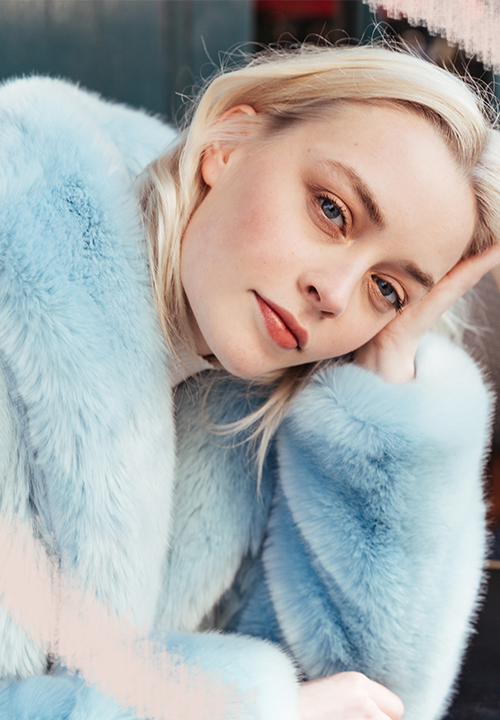 Its style: incredible couture silhouettes thanks to coloured furs, such as presented in the Fendi and Givenchy fashion shows. But without wearing real animals on the shoulders.
The label: the Parisian La Seine & Moi label, a new trendy and ethical alternative to real fur, launched in 2016 by Lydia Bahia, comprises a large collection of great coats, jackets and accessories, made in a soft and colourful material on pockets, sleeves or in colour block : « A fun touch like in England or in New York ». A big fave of trendy fashionistas and fashion editors in the capital, its essentials for a chic and colourful winter are made in Paris and 100 % vegan.
The inside story: 6 years ago, this former law and journalism student had a revelation. « In the middle of a shop-op, a friend told me she felt uncomfortable wearing real fur, but could not find a large choice of chic and warm coats. We all had the same, picked up at Maje or Sandro ». In one fell swoop, this born fashionista created her own chic and never cheap collection.
Its vegan credibility: Lydia Bahia controls the entire production, each piece is hand-made in her Parisian workshop.
La Seine & Moi was awarded the 2017 Prize of Vegan fashion by PETA, in the category « Best faux-fur brand».
Collection to be found through the e-shop, on Farfetch and also two models at Manifeste 011, the new vegan concept-store creating the buzz.
Appointment possible to visit the showroom at 3, rue Sainte-Opportune, 75001.
1083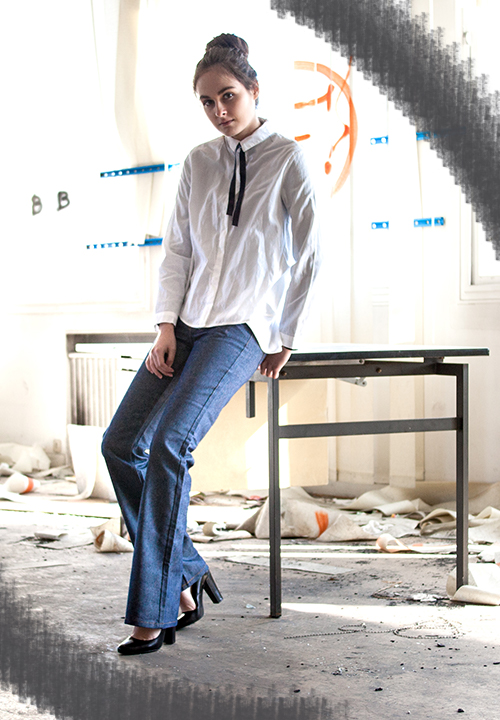 Its style: jeans that hike up and enhance the fanny, as those of Mother and Isabel Marant.
The label: the straight, boot cut or slim denims of 1083 creating the buzz. Ethical and ultra sourced made in France confection, super soft cotton, enhancing cuts, in short the very symbol of French fashion that really works.
The inside story: 1083km, is the distance separating the two furthest points in France (Menton and the village of Porspoder, near Brest). Anative of the Drôme region, the green entrepreneur Thomas Huriez drops computers and in 2013 with his brother launches into the confection of French denims. Made as close as possible to their clients, starting with cotton threading, then dyeing and actual assembling, 1083 is like the Mille Bornes game of jeans.
Its vegan credibility: the details of the stitching and very noticeable signature red tab in fabric (this small plaque generally in leather on the back). For its creations without using any raw animal material, the label nabbed the 2016 Prize of Vegan fashion by PETA, in the category « Best vegan jeans».
Poétique Paris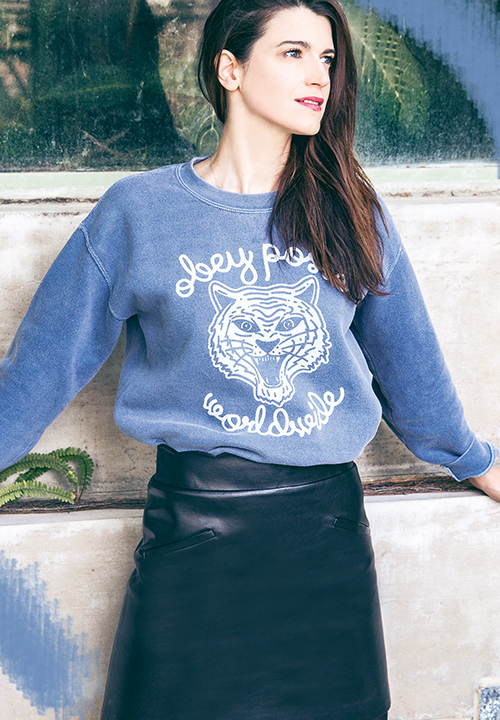 Its style: the skirt, perfecto and shorts we all dream of in vegan leather version, worthy of Claudie Pierlot, Iro and Maje.
The label: Poétique Paris, the brand new Parisian house that revisits the three essentials of the wardrobe in vegan leather version. The result is a scalloped pair of shorts (€160), a fab trapeze skirt (€155), perfect to highlight pretty legs with fantasy hosiery and a supple perfecto blouson lined in jungle satin or organic cotton (€295).
The inside story: it's the tale of two friends, Pauline and Cattleya, a real duo since their first experience in the digital realm. Concerned by animal suffering and accomplished fashionistas, they decided to jump the gun by creating a « vegan, transparent, respectful of men and animals» collection . One entire year was spent sourcing materials and collecting on KissKissBankBank a little later, Poétique Paris was born.
Its vegan credibility: « We work exclusively with French Ecocert companies and produce in a workshop of women in reinsertion ».
The three models are made using sustainable polymers (viscose and cellulose stemming from cereal, polyurethane party recycled), « anyway less polluting than leather», according to Pauline.
E-shop on line in January, products on the market starting in February.
Jean Louis Mahé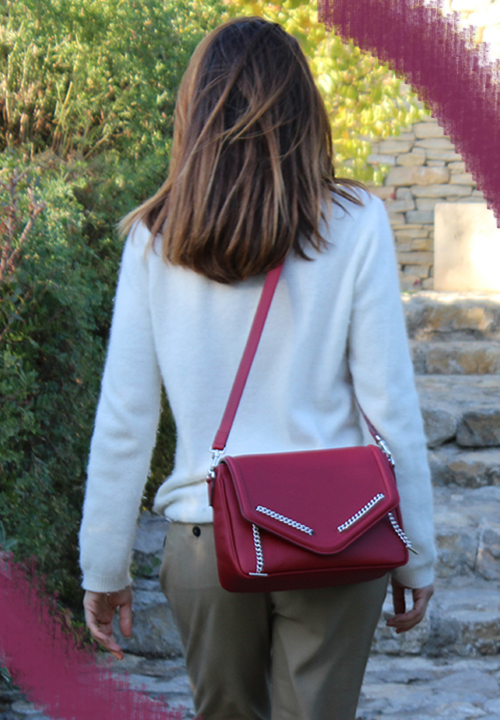 Its style: urban, streamlined and wildly couture it bags, with rock details (chains, rings), worthy of Stella McCartney and Mansur Gavriel.
The label: Jean Louis Mahé promises eco friendly bags, at reasonable rates as well as a high-end positioning with handmade finishing. Cabas XXL (€329), structured crossbody (€259), pouches (€59 )— all products are made in France and in Italy in workshops that specialize in deluxe leather goods.
The inside story: a vegetarian since 7 years and more recently a vegan, Virginie Barbier, originally from Aix-en-Provence, worked in the mobile phones universe. A leather goods buff, she notices « collective conscience raising in terms of the impacts and drifting of animal exploitation ». Concerned by « this relation of dominating/dominated between man and animal », creating her brand of vegan bags was her way of contributing to a greener economy. « Everyone is sensitive in terms of respecting the environment, especially at this time of slow fashion », she adds.
Its vegan credibility: since vegan workshops don't exist yet, Virginie selects hers « in terms of the work quality, competences, know-how and equipment». Thanks to insightful sourcing, the Jean Louis Mahé creations were awarded the 2017 Prize of Best Vegan bags by PETA, France, « a recognition that establishes our credibility». 1 % of the benefits are donated to associations for the protection of animals and / or the environment. Bags are made in vegetal leather with cotton that is worked with natural and synthetic microfiber, treated with polyurethane to be waterproof and provide the grain and feel of a bag in real skin.