In contrast to traditional French brasseries, the Parisian restaurants Mosuke, Jujube and Bomaye draw all their inspiration from the tastes of Africa to transport their guests on a sensory journey. These three African-inspired tables transport diners on a road trip to Africa, reversing the trend of French brasseries. Here's our pick of Paris' best places to explore international flavors.
MoSuke : Mory Sacko's Michelin-starred restaurant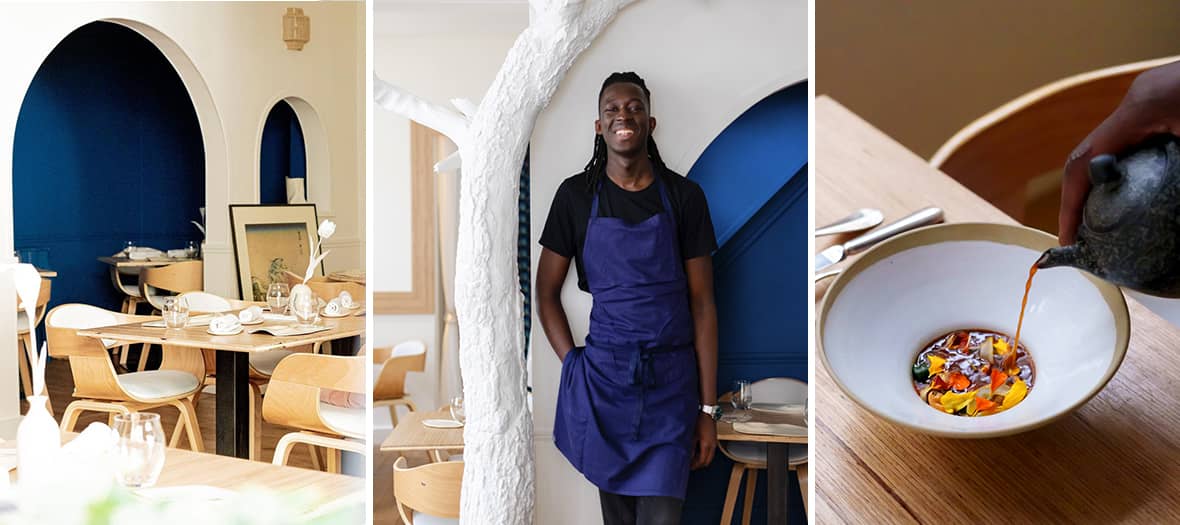 Behind the stove — Mory Sacko, a young starred chef who was first spotted during a Top Chef competition. He worked closely with Chef Hans Zahner at the Royal Monceau - Raffles Paris and Thierry Marx at the Mandarin Oriental. He stands out as the face of modern gastronomy bringing together Africa and Japan on the French terroir.
His motto: "Good cooking combines passion and intelligence".
His cuisine is creative, refined and precise, bridging the gap between three cultures... and we absolutely love it!
The location — MoSuke is a place filled with simplicity and light tones, everywhere from the walls down to the tableware, a well thought out decision by Mory Sacko, tired of clichés, who wanted neutrality in the decor to allow diners to focus solely on the food. A small alcove painted in royal blue is the only thing that adds color to this soothing cocoon, along with a couple of masks on the walls, reminiscent of the chef's Malian origins.
Top foods you MUST eat — the sole in banana leaf, the lobster with lacto-fermented peppers, miso with tomato and the mean Yassa chicken with pepper of paradise, cream of rice and yuzushu are irresistible.
For a touch of sweetness, dive into the freshness of the roasted pineapple with shiso and its bissap sorbet: a marvel!
Lunchtime formula starter, main course, dessert (60€),
Menu from 75€ up to 130€ for the Night Flight in 7 courses (evening only) and plant-based variations.
To add to the list — Mory Sacko - fried chicken aficionado - has also opened two street food joints (Mosugo, 22 rue Raymond Losserand, Paris 14th and Lafayette Gourmet, 35 boulevard Haussmann, Paris 9th) to serve his cuisine in street food mode.
MoSuke, 11 rue Raymond Losserand, Paris 14th. 01 43 20 21 39. Open from Tuesday to Saturday from noon to 2pm and from 7pm to 10pm.
© Quentin Tourbez et Virginie Garnier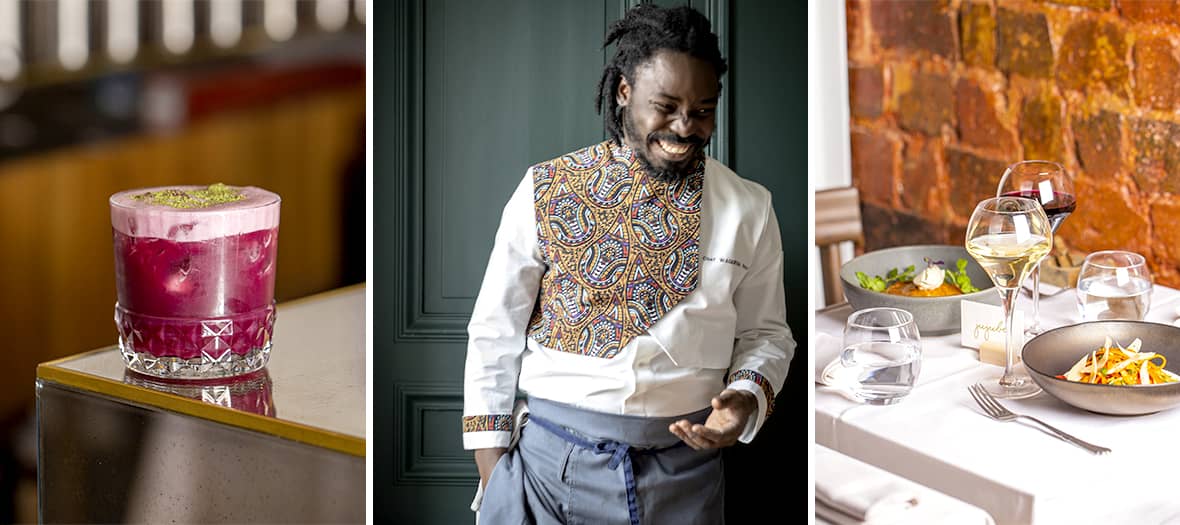 Behind the stove — Senda David Waguena, a chef from Togo, has passed through places like the Wanderlust and the Bachaumont Hotel. He draws on his childhood tastes and experiences in Italy (Venice, Tuscany...), his travels around the globe and his fascination for Japanese flavors.
His signature style? Creative cuisine with a wealth of flavors that'll make you dream of adventure and enjoy surprising food pairings.
The location — Near the pretty Place du Théâtre de l'Atelier in Montmartre, Jujube displays a beautiful wood and stone setting with tablecloths and a minimalist décor that puts the spotlight on the colorful dishes.
Top foods you MUST eat — The menu varies to reflect seasonal changes and new arrivals, however, we recommend the mouth-watering taco of molted crab, avocado and oatmeal cream, lime pearls and dried tomatoes, linguini gbomadessi with scampi, shellfish and African spinach, or a sarma of beef cheek confit, pine nuts, manioc chips, and habanero chili juice. As for desserts, the pastry chef proposes lovely red fruit tarts or the citrus crêpe with sorbets.
Note: we urge you to try out the chef's cocktails - the Agricanto Sour with notes of spices and cherries, yum!
3-course menu 75 €, 5-course menu 90 €, +35€ with food and wine pairings.
Jujube, 4 rue Dancourt, Paris 18th. 09 74 97 40 02.
From Tuesday evening to Saturday evening. Lunch on private bookings only.
Bomaye : the newest street food gem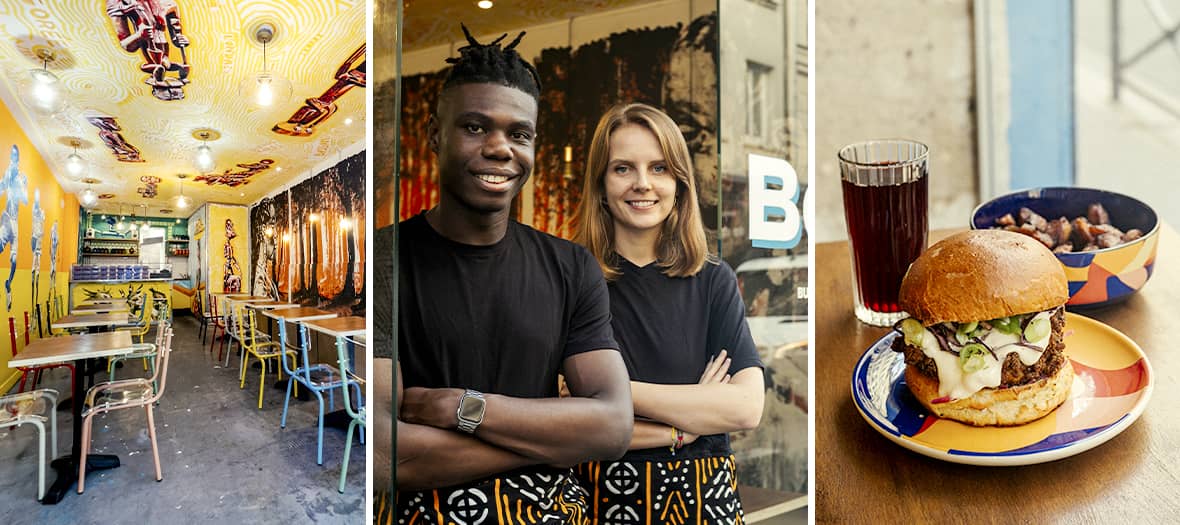 Behind the stove — a young passionate duo, Camille Gozé and Laurent Kalala, who after obtaining their cooking diploma and travelling the world - which included a three-month stop in Africa - fell in love with the continent and decided to venture into a delicious 100% homemade street food concept in the delightful Rue de Paradis.
The location — The atmosphere is cheerful and colorful with frescoes from floor to ceiling created by two painters, pop chairs and dishes and a killer playlist.
Attention is also paid to the packaging of the take-away boxes, stamped with blue and red African motifs that will brighten up your desk!
Top foods you MUST eat — the burgers are to die for, wrapped in a homemade banana bun, brioche-like to perfection.
Six recipes that showcase the original flavors of Africa with a dash of boldness for added pleasure.
The best-sellers? The 2022 African Champion, which revisits Mafé with Black Angus beef ground steak, Mafé sauce, runny cheddar and roasted peanuts (€13.90). The Lion of Teranga with marinated chicken breaded with 10 spices, yassa sauce, cheddar cheese infused with Penja pepper and mesclun (13,90 €).
Before digging in, order a plate of 6 little Ivorian doughnuts (8 €) and finish off with the brick lane mama, an incredible ice cream fried in coco breadcrumbs (7 €) or the solar pineapple cake served with hibiscus coulis (6 €).
**Special treat: the fabulous homemade Bissap drink with hibiscus flower, mint, orange blossom, vanilla and a hint of sugar.
Bomaye, 16 rue de Paradis, Paris 10th. Open Tuesday to Thursday from 12 to 2:30 pm and from 7 to 10 pm. Friday from 12 to 2:30 pm and from 7 to 10:30 pm. Weekend from 12pm to 10pm non-stop.
© Mister Wong
Also discover Dar Mina, the new festive table in collaboration with Jamel Debbouze and Perception, a cuisine that brings France closer to Korea