There are those who adore to show off their glitzy jewels with large coloured sparkling stones. And there are the others, more into the current trend of accumulating fine jewellery pieces such as the influencers IntoYourCloset and Adenorah. The latter are thrilled about the recent opening of the first boutique featuring the Spanish label Aristocrazy in the middle of the Marais, after highly successful corners at BHV and Galeries Lafayette.
The boutique, located on Rue des Francs-Bourgeois, stands out with its pretty grey facade with a purple door. From the outside one can admire the all-wood interior with parquet floors, beams, large mirrors and caning on the walls. In the middle, a pretty central island like a merry-go-round presenting tempting novelties. It's going to be hard to resist...
The kingdom for earrings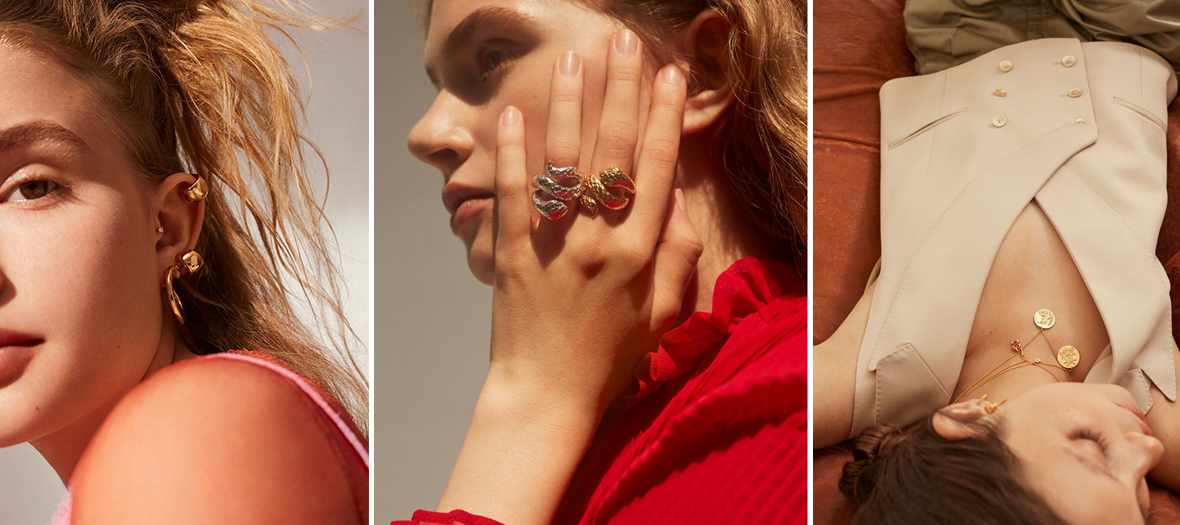 Like its competitor, Maria Tash, but in a much more affordable version, Aristocrazy has made earrings their specialty. There are loops and studs for all kind of piercings, in the thred gold colours, with or without  diamonds and precious stones.
One also finds a selection of pretty necklaces, snake cuffs, mdedals, rings and long chains, starting at €79. In short, the perfect setting is you need a gift idea.
Small holes at whimsy
Piercing passion? Si If you dream of accumulating pretty little holes all over the ears, since it's the big trend at the moment, note that there is a piercing studio on the upper level. During a monthly session by appointment, generally on Saturday, chic punkettes can have their piercing done here, aside from Tragus and Daith.
So just settle in a big sofa while waiting for you turn and select your fave piece of jewellery. For piercings, the jewellery used in only 18 carat gold, starting at €155 until €299. The service is free—you only pay for the jewellery piece— so beautiful it will last a life time.
Open Monday to Saturday 10:30am-7:30pm, on Sunday starting at 11am.
Also discover the first Parisian boutique of Anthropologie in the Marais and the new brands everyone is talking about.