" Next time, I'm the host! "... A good idea on paper. Yes, but that very morning, between the hassle of work and the rotten weather, a huge laziness took hold of your Bree Van de Kamp instincts .
Never mind. A phone call to the right caterer , some pretty crockery , a nice bottle of wine and that's it: no need to go to the kitchen thanks to these turnkey dinners that throw a punch. Demonstration.
Lenôtre pie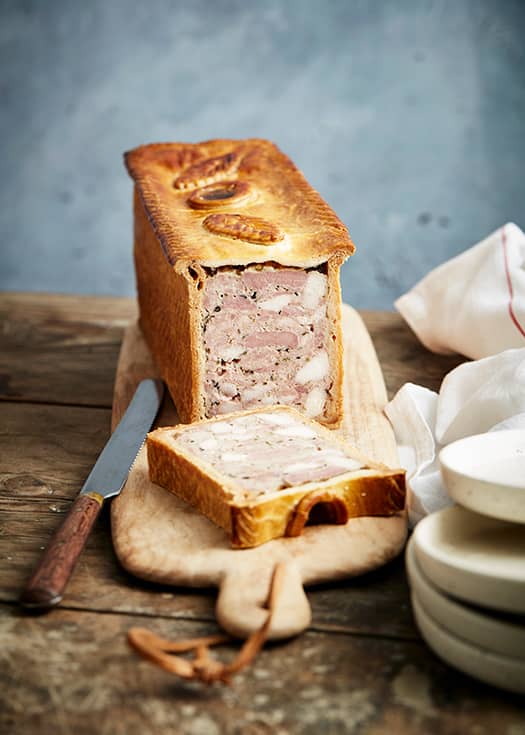 Impossible to go wrong with a good pie . Raised to the rank of food snobbery since the fanciest bistros of the capital serve it at their tables, the Rolls Royce of charcuterie dishes proudly serves its guests. And not just as a starter!
The best is obviously caught at Lenôtre in a light version with pork , chicken , duck and mushrooms , to be presented whole on a beautiful rectangular silver dish, accompanied by gherkins and a beautiful colorful salad. Those less agile with a knife will ask in store to cut it by the slice for regular portions.
The right wine to accompany it: a good Volnay or a Saint-Julien .
Poultry pie , permanent presence in the shop , €67/kg or €7.90 per slice. All the addresses of Maisons Lenôtre here .
Bolo lasagna from Eataly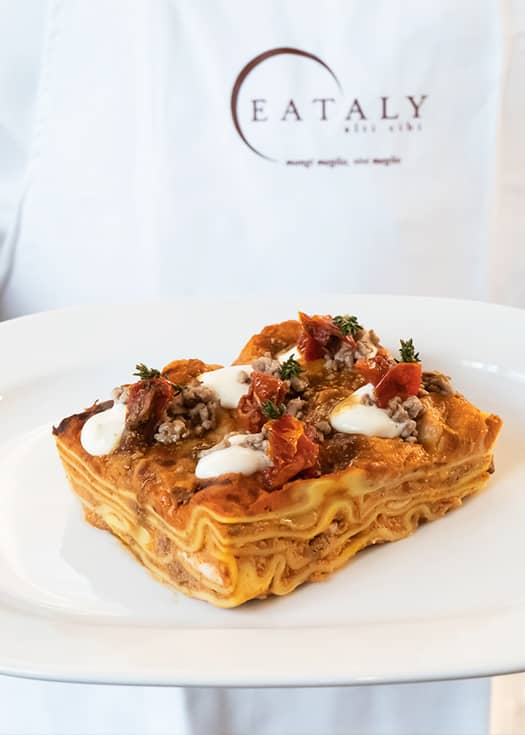 Mamma mia! Difficult to make more consensual than a good dish of lasagne Bolognese . So head to Eataly , at the gastronomy counter (between the fruit and vegetables and the restaurant) to order a cast of pasta in the rules of the art. Understand the mythical dish of Sundays with the family with beef, sausage and tomato, all obviously sprinkled with parmesan cheese .
The secret to its good taste? A secret sauce spiced up with white wine with carrots, onion and of course a good shot of olive oil. Mmmhh…
The right wine to go with it: a bottle of Otello nero di Lambrusco from the province of Parma (€10.90), a sparkling red wine with lively freshness and creamy bubbles.
Lasagna al ragù , €30 per kilo. Available every day at the Eataly catering counter, 37 rue Sainte-Croix de la Bretonnerie, Paris 4th.
The beautiful Lebanese dishes of Noura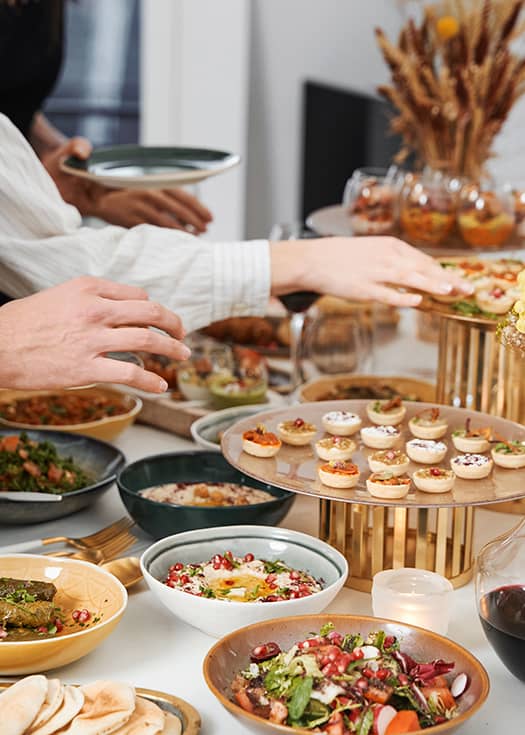 It's hard to get more convivial and colorful than the mezes and Lebanese dishes to be arranged nicely on a beautiful festive table. Freshly refurbished in a superb decor by Laura Gonzalez , Noura, the temple of Levantine food near the Golden Triangle , offers an ultra-responsive catering service in store and also online .
For 5 guests, for example, the teams on site will recommend an assortment of 3 or 5 meat or halloumi manakiches , duos of mezes but also portions of loubié bel zeit to place in the center of the table with beautiful skewers presented on a dish . .
The right wine to accompany it: a Lebanese red wine like the safe bet Ksara Réserve du Couvent .
Count about twenty euros per person for an assortment. Orders online or on site at Noura Traiteur , 29 avenue Marceau / 1 place de Beyrouth, Paris 16th.
Lorraine seafood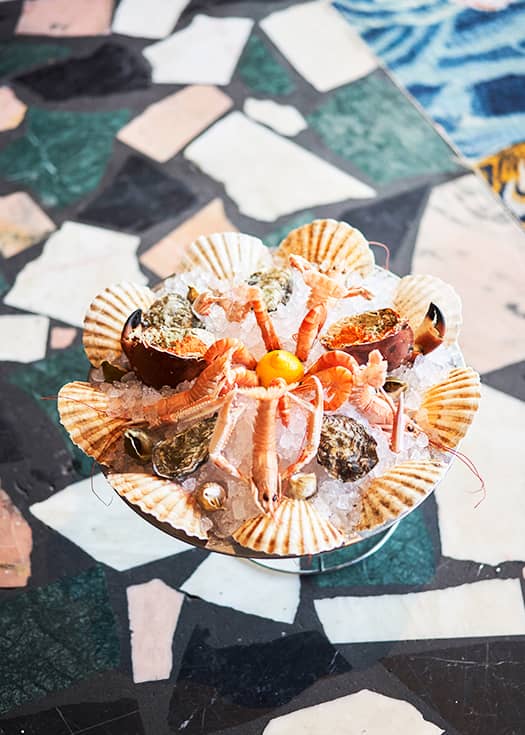 It's light, it's elegant and it always has its little effect. Providing large platters of seafood for your guests means giving them the benefit of your good taste and a certain sense of celebration worthy of the greatest social events.
So head to La Lorraine , a restaurant and shellfish darling of chic families in western Paris , to order a fine assortment of shellfish and crustaceans: oysters from Joël Dupuch , Gillardeau and Jacques Cadoret , langoustines , prawns , clams , clams , whelks , crabs , half-lobster … According to taste and budget!
The right wine to accompany it: white of course, Chablis or Chardonnay .
Trays from €16.50 per person. On delivery (in Paris 8, Paris 16, Paris 17, Levallois and Neuilly sur Seine only) or to take away at La Lorraine , 2 place des Ternes, Paris 8th. Reservations on brasserielalorraine.com .
Coulibiac from Maison Russe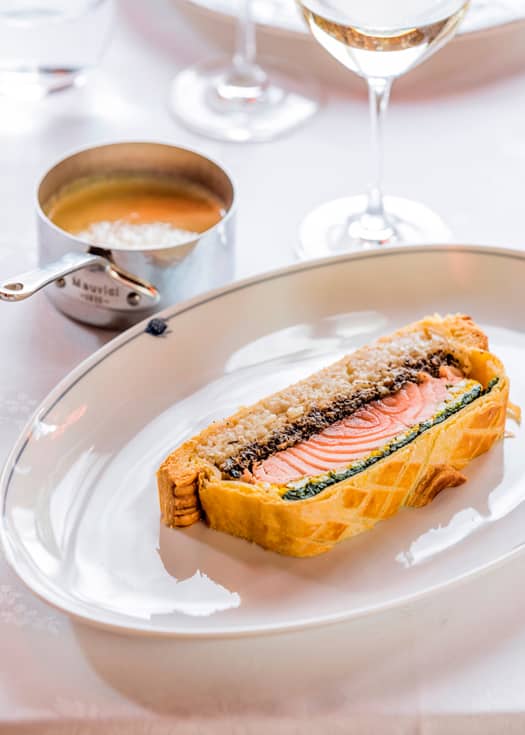 The coulibiac is a bit for the Slavs the sentimental equivalent of our Belle Aurore pillow : an ultra-chic and complicated totem to make, which we are as happy to serve to our guests as to have made by someone else. Joy: Maison Russe , neo-HQ of Russians in Paris, offers its couture version of the traditional salmon pie .
Wow! Under the puff pastry , everything is perfect with the five rigorous layers: fresh salmon, baby spinach, round pilaf-style rice, hard-boiled eggs passed through a sieve and a button mushroom brunoise. Heat for 10 minutes in the oven and cover with mushroom sauce . Too good…
The right wine to accompany it: a rather young and dry white wine like a Chablis 1er cru or a Pouilly-Fussé .
Whole Coulibiac (4 portions) €220 or €15 per portion. Orders 24 hours in advance by email (boutique-paris@maisonrusse.com) or on 01 40 62 72 05. Maison Russe , 59 avenue Raymond Poincaré, Paris 16th.
Alsatian sauerkraut from Bofinger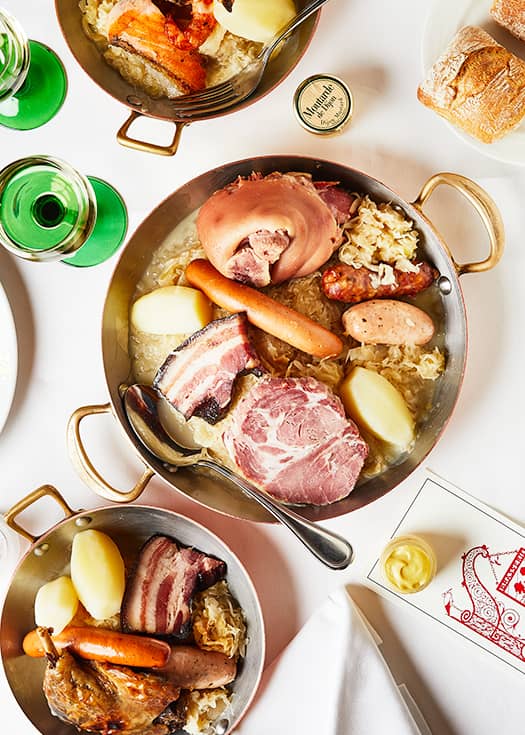 Informed foodies are (almost the only ones) to have noticed a real sauerkraut mania, an Alsatian specialty that we thought was stored in the drawer of the dishes of yesteryear. Nay! With the right ingredients and a certain know-how, the Strasbourg starlet is getting a return of cool.
We make our guests love the traditional and so yummy version of Bofinger , an Alsatian bistro institution that sells it to take away. Inside: white sausage, Strasbourg sausage , smoked pork belly , loin, boiled potatoes, home-cooked cabbage (onions confit with lard, juniper, coriander and cumin), all drizzled with Crémant d'Alsace .
The right wine to accompany it: a white from Alsace of course, Riesling or Sylvaner , your choice.
Strasbourg sauerkraut, €17.20 per person. Click & collect or delivery on bofingerparis.com
The couscous of the Moroccan caterer of Les Enfants Rouges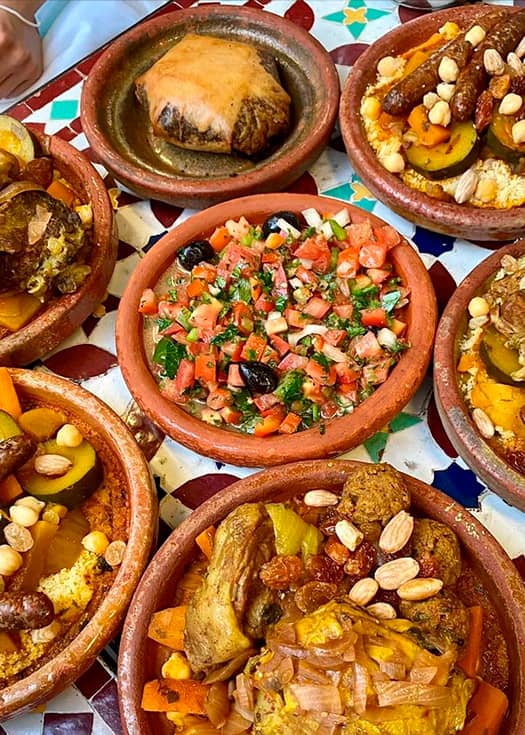 Who has never dreamed of being invited to a couscous party throwing the first dumpling at us. If Paris is full of Moroccan restaurants , each one more pleasant than the other, the caterer of the Marché des Enfants Rouges in the Marais continues to be unanimously accepted by the neighboring editorial staff of Do It In Paris.
To please your guests, simply order the right quantity of royal couscous directly at the stand (chicken, lamb, merguez, €13 per person) or even a veggie version (potatoes, peas, semolina, chickpeas raisins, €9 per person). It remains to transpose each ingredient into different dishes and let everyone choose as they wish.
The right wine to accompany it: a Sidi Brahim (in red) from the foothills of the Atlas.
Covered Marché des Enfants Rouges , 39 rue de Bretagne, Paris 3rd, open Tuesday to Sunday from 9 a.m. to 7 p.m.
Also discover Hando: the new temple of Handroll Nippon and Noura caterer: the new temple of Lebanese food