Cock-a-doodle Doo ! French know-how is no longer the monopoly of the great couturiers or the Breton striped sailors of our grandmothers. The proof, these 7 fashion labels 100% Made in France and resolutely sharp resist again and again to the invader. Shirts , jewelry , dresses and even silk squares , who said the grass was greener elsewhere?
DLC's upcycled workwear wardrobe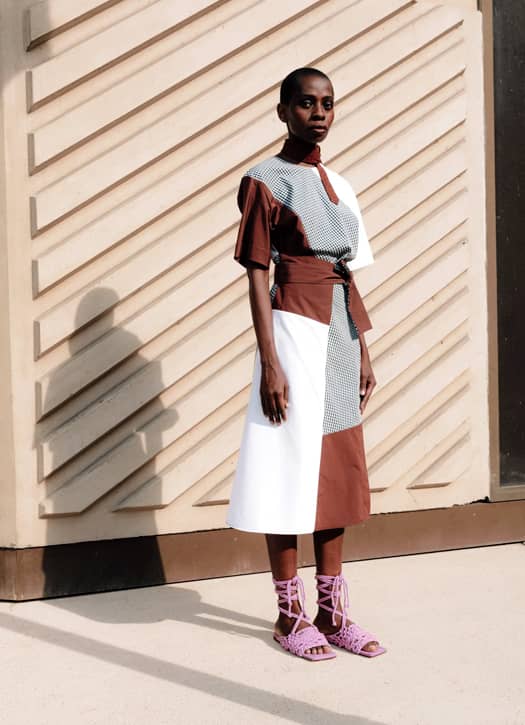 Its DNA: modern-day stylist, Dammarie Le Chatelier (DLC) wanted a brand that was as stylish as it was virtuous, with no expiry date (do you have the pun?) and produced on an upcycling principle promoting the circular economy . Her women's ready-to-wear house launched its very first collection in 2021, with pieces made to order to avoid waste.
Why Parisiennes love it: for its contemporary and desirable pieces inspired by the men's wardrobe and workwear by favoring feminine cuts that will not be seen on everyone. The result ? A patchwork wrap dress/skirt to wear in summer and winter, a clever mix of orange and khaki, bias seams, a belted blouse or a perfect trench coat.
Its Made in France credibility: the clothes are created in Paris from natural fabrics sourced in France and then worked in high-quality French clothing workshops.
Dress €390, top €200 onwww.dlc-paris.com
The too beautiful jewels of YAY Paris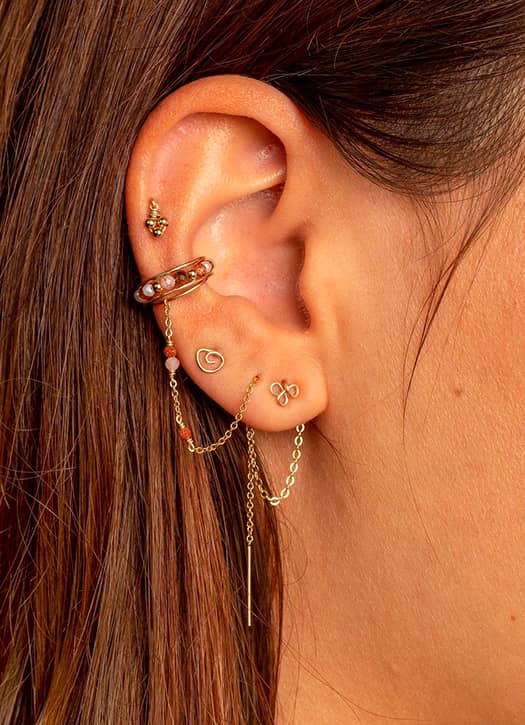 Her DNA: straight from the Côte d'Azur in our Parisian region, Julie Terranova left her job in the advertising department of a TV channel to devote herself to her true passion. In search of the ideal jewel to wear every day, she launched YAY in 2015 and turned to quality materials such as natural stones, Swarovski crystals, gold plating or silver.
Why Parisiennes adore it: delicate and contemporary, the YAY Paris collections are quite simply a safe bet for a gift. All you have to do is choose from the adorable necklaces , the couture BOs , the rings and bracelets (wrist and ankle) to accumulate or even the divine chains adorned with small delicate pearls.
Its Made in France credibility: the French jewelry brand produces pieces entirely by hand, 100% made in Paris, to be found online but also in its pretty boutique in the Marais ( 26 rue Pastourelle, Paris 3rd ).
Ring from €35 on www.yay.paris
Maison Flore's love blouses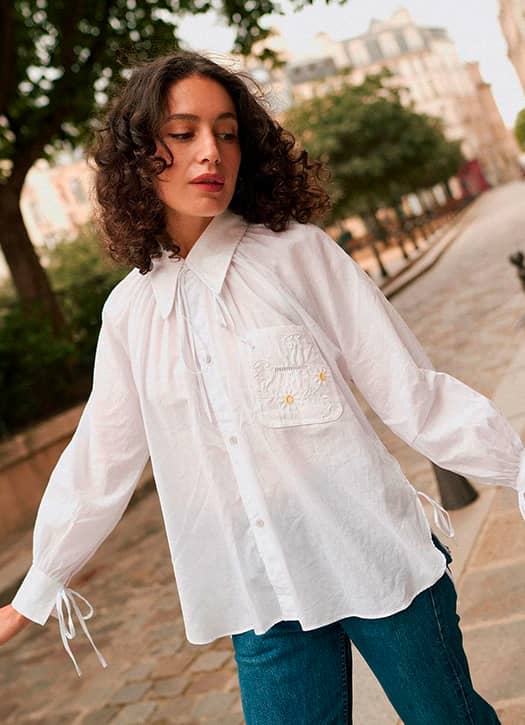 Her DNA: extremely attached to her family history (the founders of Chocolats Mouren in Marseille ) and to the traditions of yesteryear, Flore revisits in her pretty shop in the Marais the famous linen trousseau that was once passed down from mother to daughter. His hobby? Collect superb old sheets (from the 60s to the 80s) in cotton or linen, embroidered or lace, then upcycle them to give them a second life. But the chic signature of Maison Flore is its delicate floral embroidery on the collar or cuffs.
Why Parisiennes love it: because to try them is to adopt them. The old cottons used by Flore adapt perfectly to the body, since the seamstress obviously offers a tailor-made service for fashionistas between two sizes. The pieces that everyone tears off? Blouses, dresses, removable collars, " Tulip " trousers with ruffled ankles, table mats and highly romantic cushions. Or the art of giving yourself a deliciously retro charm, to wear with jeans or trainers...
Its Made in France credibility: everything is made on site in its shop-workshop in the Marais from old fabrics unearthed all over France.
Blouses from €140 on www.maisonfloreparis.com
Nathalie Blanc's real star glasses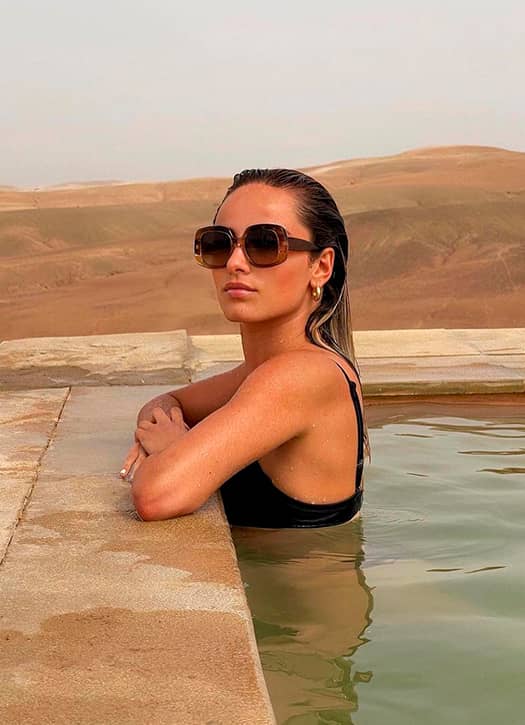 Its DNA: " to embody French excellence ", such is the ambitious ambition of the designer Nathalie Blanc , whose signature sunglasses , oversized with tortoiseshell frames, are inspired by the 70s with a very New Wave aesthetic .
Why Parisiennes love it: to copy the always elegant style of French icons like Isabelle Adjani or Virginie Efira , who never leave their pairs. The models ? Hélène for Virginie, Lolita for Isabelle.
Its Made in France credibility: designed in Paris, the glasses are then handcrafted in Normandy or in the Jura.
Sunglasses from €204 on www.nathalieblancparis.com
Petitjean Paris silk scarves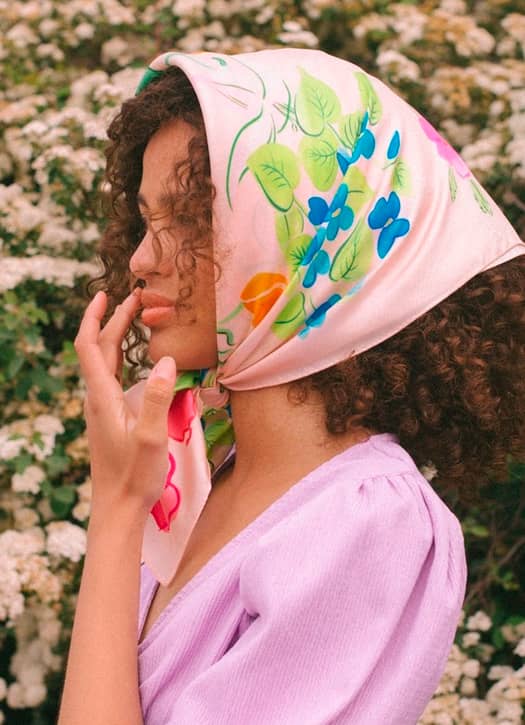 Its DNA: Léa Petitjean developed a passion for fine crafts very early on. Having worked in fine jewelry (particularly at Van Cleef & Arpels ), the native of the Jura then discovered a passion for the beauty of fabrics and began to design sublime, refreshing prints.
Why Parisiennes love it: Strawberry, pink flamingo, graphic, floral and more are all printed in vibrant shades that give you a healthy glow right away. And how not to remember that the " lavalline ", the smooth little sister of the lavallière, is already a hit for the next season...
Its Made in France credibility: if you have learned your history and geography lessons well, you will remember that the great silk specialists are based in Lyon . Luckily, the " prestigious textile finishing workshop " responsible for printing these sublime patterns is located in the Lyon region, in the surrounding countryside. As a bonus, it is one of the rare French workshops to have obtained the eco -responsible OEKOTEX label , which guarantees the absence of harmful products in the inks and fixers.
Silk scarves from €70 on www.petitjeanparis.com
Payote's LOL sneakers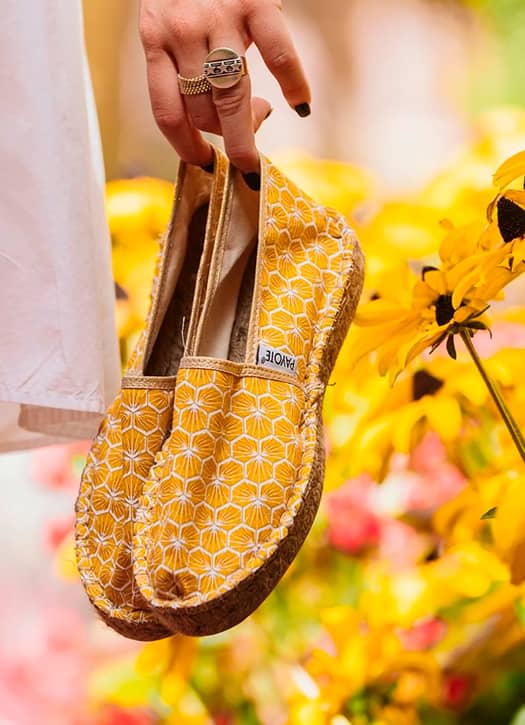 His DNA: Olivier Gelly , a real resourceful and go-getter southerner as we like them, decides to elevate the espadrille to the rank of absolute summer must-have. Fun fact : he got noticed with his " first espadrille that smells good to your feet " thanks to integrated micro-capsules that leave a smell of grapefruit under your toes.
Why Parisiennes love it: plain, two-tone, faded, lace-up, platform or pop print, every fashionista on the go will find her favorite pair. Having a choice is always more satisfying for the eternally undecided. Special mention for the red and yellow striped and the Mona Lisa pattern #WANTED. As a bonus, Payote offers to have your tatanes embroidered for a stunning personalized gift .
Its Made in France credibility: the beach shoes are OF COURSE made in the Basque Country , the promised land of jute savate, in a craft workshop that has existed for 3 generations.
Espadrilles from €22 onwww.payote.fr
The chic shirts of Marceau Paris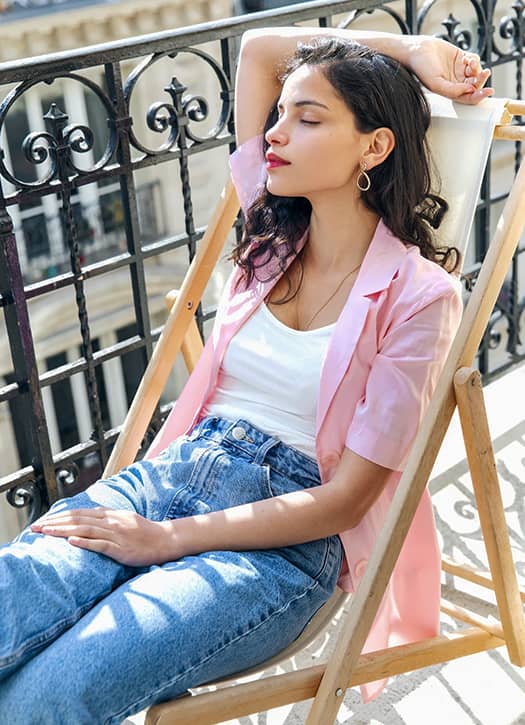 Its DNA: wearing a shirt gives confidence. It is from this basic fashion principle that the designer Sophie Durand wanted to offer a bit of empowerment to working girls who send.
Why Parisiennes love it: comfortable and furiously chic, Marceau 's boyfriend shirt is flattering from the office to the aperitif. It remains to choose your mood among their sweet little names: Rambuteau, Pigalle, Luxembourg, Blanche, Etienne Marcel… Not to mention the devilishly sexy shirt and wrap dresses.
Its Made in France credibility: the confection is carried out in French family workshops and the pieces are assembled in Paris. Everything is centralized in Paris, which also makes it possible to limit intermediaries and therefore the ecological impact. Upcycling is chic : silk and cotton come from the dormant fabric stocks of the big houses. Moreover, in an eco -responsible approach , the pieces are produced in limited quantities and the fabrics chosen are 100% natural and resistant.
Shirts from €100 on www.marceauparis.com
Also discover the first Free People boutique in the Marais and 10 shopping bags to wear all summer long .