Mini or midi, pleated, tube or totally asymmetrical, wearing a skirt in Winter can be really tricky. Beyond morphological issues and once you have found the right pair of tights (slightly sheathing and opaque preferably), the challenge is wearing it without feeling fuddy-duddy or being in bad taste. Whip out your notebooks.
Asymmetry becomes an asset
It is to fashion what the tower of Pisa is to architecture: an oddity as original as it is elegant. Especially when you know how to enhance it! To avoid the look of an ex-star of TV reality on for a gala event, it should be chosen in a noble material and a plain colour. Here the green leather version gives it a youthful side when worn with a short corduroy jacket, in zippy vitamin yellow. The Fedora will bring a finishing touch to the ensemble.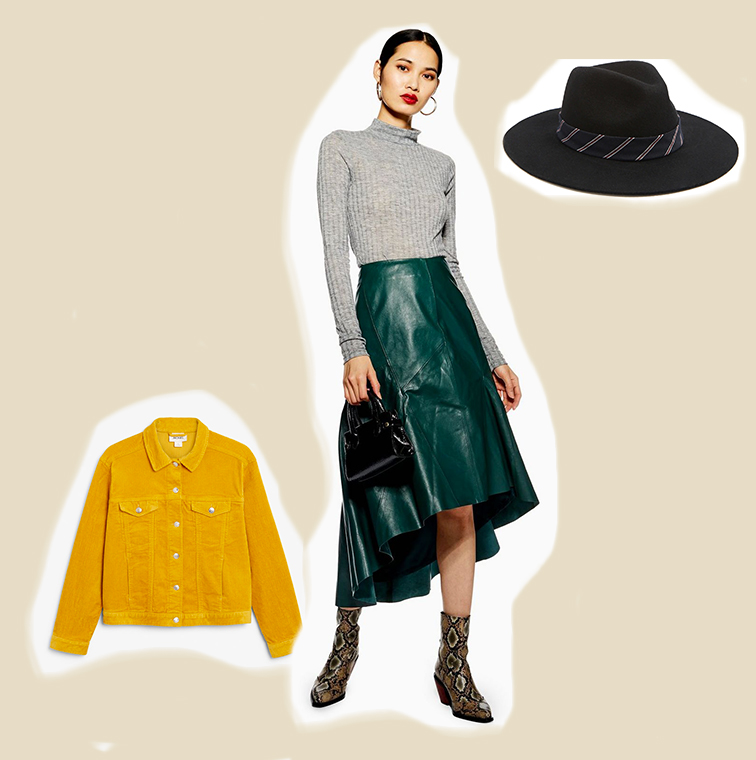 Midi asymmetrical skirt in leather, Topshop, €170
Corduroy jacket, Monki, €50
Fedora wool hat, Forever 21, €19
Look slimmer in the tube version
Know that the more a skirt is tapered, the less the silhouette will seem overloaded… and will seem slimmer. It even happens to be the favourite optical effect of Kim K. Well, the good news is that the tube skirt is making a flamboyant come-back with different shapes, materials and motifs. The most classic will go for this black model noir, to be updated with a short fluffy pullover, a snuggly warm headband and a colourful maxi parka. A pair of high-heel boots will make legs look longer and convey the trendy touch of the season.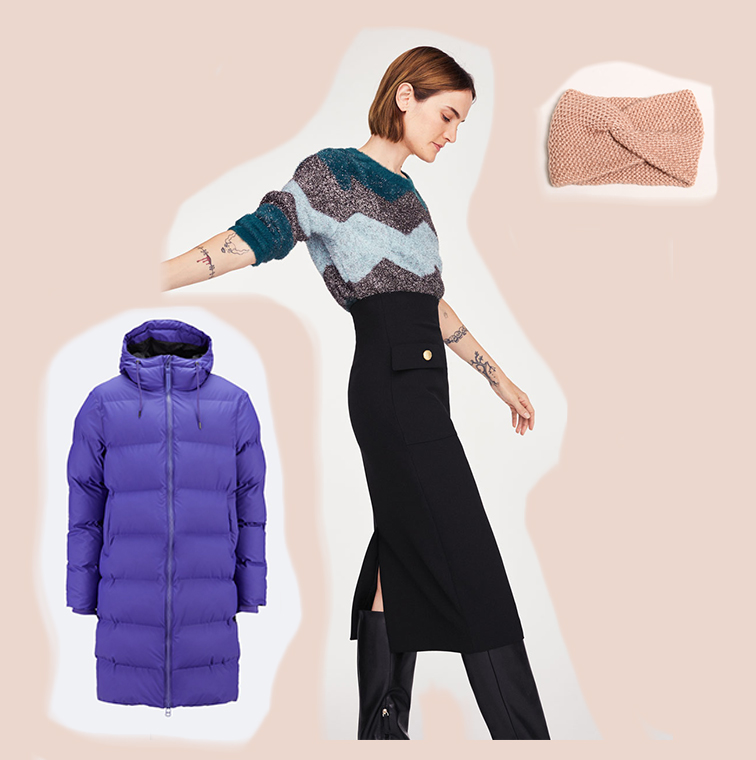 Tube skirt with golden buttons, Uterque, €115
Long violet parka, Rains, €400
Twisted headband, Pimkie, €9.99
Star of the podiums for this Winter (Fendi, Balenciaga, Chanel…), the vaporous midi skirt is back in the running for Parisian outings. Cinch the waist with a big belt in the same overtones as the print, and choose a short blouson in wool to structure the ensemble. Another cult piece of the season, the snake-motif high-heel boots to set forth the look from head to foot.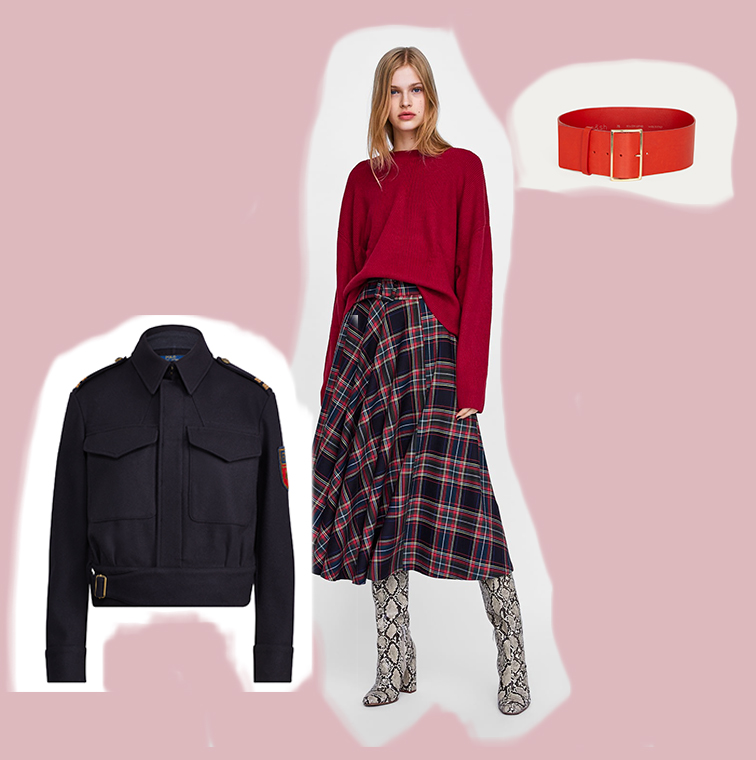 Midi skirt with tartan print, Zara, €49.95
Bianca belt, Ba&sh, €145
Jacket in embroidered wool mix, Ralph Lauren, €599
Produce the pleated skirt
Daring the pleated skirt is a good thing. But the utmost of cool, this year, is to team it up with a hoodie or a long pullover to cover up the top. And to avoid overloading the silhouette (pleats are fattening, let's be honest), it is a must to slip on highly perched boots. The good allies: a colourful trench coat, belted with panache, and color-block gloves for allure.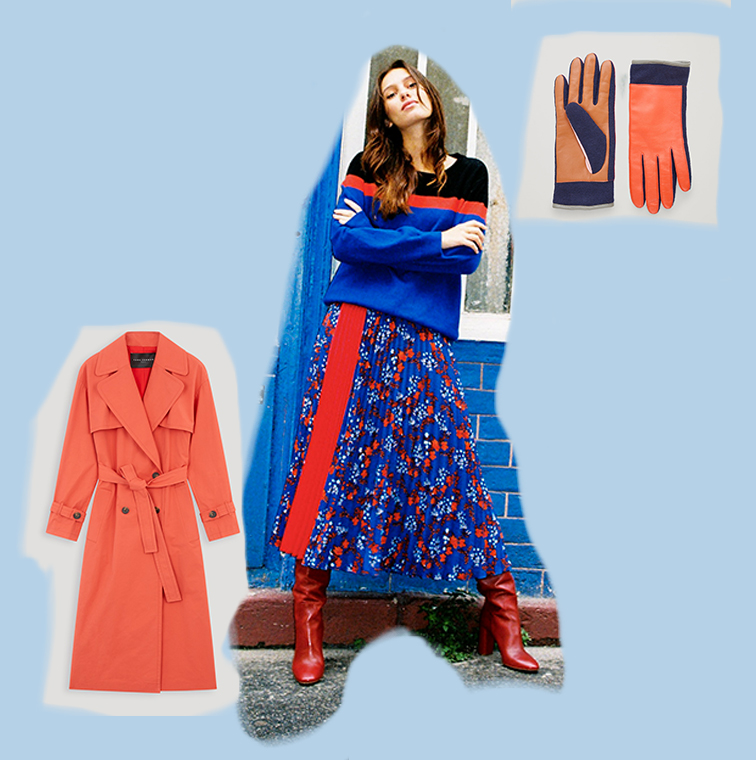 Mushroom dress, Idano, €155
Flame belted trench coat, Tara Jarmon, €395
Color-block gloves in wool and leather, Cos, €59
Recycling a Summer mini-skirt for Winter—a good way to stay coquettish in all seasons. But to avoid being chilly-willy, we team it up de facto by wearing a warm coat with tight sleeves protecting us from the wind. And on our feet, why not a pair of ultra-colourful XXL sneakers, to move about in style all day long.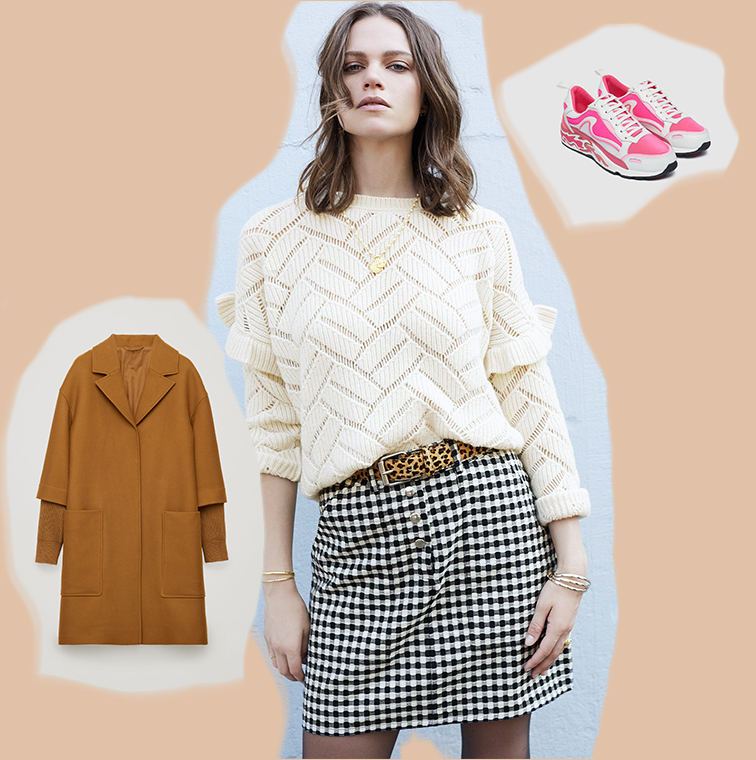 Johnetta Gingham skirt, Balzac Paris, €110
Coat in tobacco wool, Cos, €225
Trainers with  flames on the soles, Sandro, €195
Also discover the most stylish boots for Winter and the address for stylish cashmeres at less than 100 €.