The signature Parisian look in 2024? A colorful, fun style with a touch of originality (print, cut...) that reveals personality. And who better than Fête Impériale to impart that French Touch to our working girl silhouettes? Welcome to the wonderful world of its creator, Lara, who has just opened her second boutique in the heart of Le Marais.
A chic and feminine universe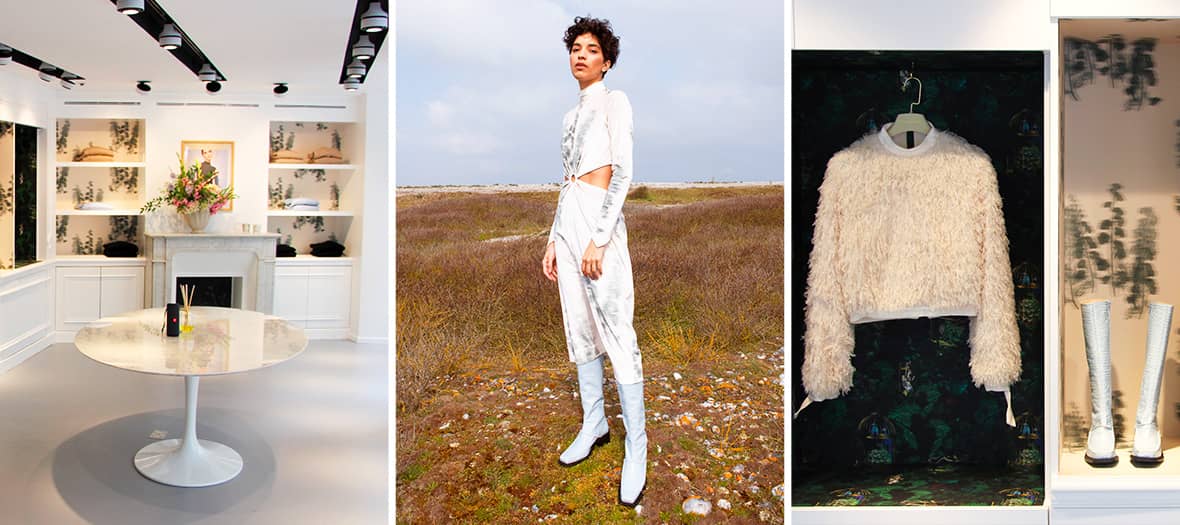 Originally destined for a career in digital, in 2015 Laura Gauthier Petit decided to launch her brand Fête Impériale. Surrounded by a family of couturiers, Laura has been immersed in the fashion world since childhood and dreams of creating a French luxury brand at affordable prices.
In its Le Marais setting, the walls, fitting rooms, curtains, and even the boutique facade are adorned with the flagship print of the current collection. Marble, Parisian fireplace, large mirrors, and soft carpets: here, you move in a luxurious yet warm atmosphere. Pssst: in the fitting rooms, you'll find the brand's first iconic print, hiding a QR code in its designs to scan during your fittings. After a short questionnaire, you'll be the proud owner of a 10% discount voucher for your next shopping spree.
Made-in-France knits, particularly flattering dresses, cozy coats, cool jackets, maxi down jackets, or cargo pants – Fête Impériale pieces mix prints, colors, and even materials like vinyl, feathers, or faux fur. You can shop for standout pieces or classic items that blend seamlessly and cater to both the eccentric and minimalist. Iconic pieces include the universally flattering Marguerite dress (€250), the well-tailored Alice shirt (€285), the Zadie cropped jacket with a turned collar (€395), and the Ebony robe coat (€1,095). Also, don't miss the Iseran boots, made in Italy, currently the only footwear in the collection (€495).
We love: the Natalia faux fur coat (€550), the Lennon tulle turtleneck top (€140), the Eva tube dress (€235), and the Johanne feather mini skirt (€295).
Open Monday to Saturday from 11 am to 7:30 pm and Sunday from 12 pm to 6 pm. Tel: 09 84 08 79 48