She did it ! At 30, Jade Génin , daughter of chocolate genius Jacques Génin , threw herself into the arena of gluttony and launched her chocolate factory two pirouettes from the Opéra . Let's go ?
A family affair
When you spent the Wednesdays of your childhood in your father's chocolate factory and educated your palate in good taste, something is bound to remain. Add a good ladle of envy, sharpen the talent, simmer and send! The adventure begins for Jade Génin , a former figure skater who started a career as a lawyer before throwing off her dress to let her passion for chocolate speak.
Pushing the door open, you enter a setting covered in white and enhanced with gold-coloured elements with warm reflections. More than a decoration, the signature of a fantastic universe with multiple inspirations imagined in duo by Jade and her designer friend Khaled Kolsi .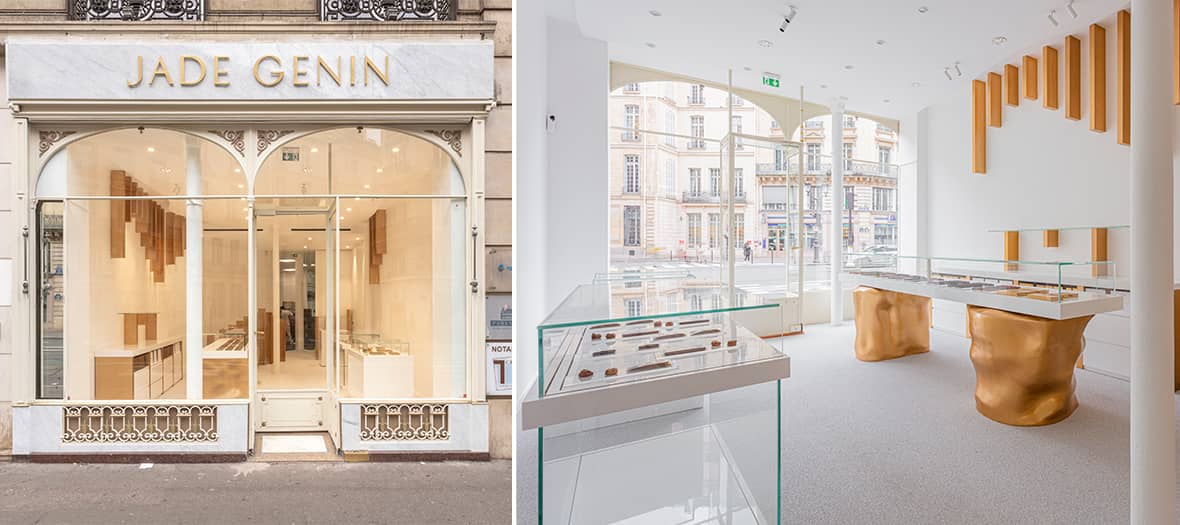 Behind the scenes, at the end of a curved hallway, chocolate alchemy comes to life in the manufacturing workshop visible from rue Danielle Casanova . In this magic lab, no more additives, preservatives, flavorings and flavor enhancers : sugar is discreet and the ingredients are natural and meticulously sourced.
cocoa fever
But how beautiful are all these little chocolates , wisely lined up in the windows.
The Pyramidions , cutenesses in the shape of a pyramid, are replicas of the tip of the Concorde obelisk, intertwining ganaches in a feast of flavors : Tahitian vanilla , lemon juice , ginger , natural dark chocolate tree ... And also pralines : Périgord walnuts , pistachios , oats infused with wild zaatar and fleur de sel , crispy malted wheat , almonds and green spices ( box of 15 pieces, €15).
Note: do not miss the crazy rocks. Those with malted wheat praline can be boiled on the chain (€18 for a 140g bag). Also jubilant, the spreads that will spruce up snacks (€9), the candied chestnuts right in season (€4 each) and the super cute baby bars (€3).
Open Tuesday to Sunday from 11 a.m. to 7 p.m. and weekends from 10 a.m. to 7:30 p.m.
Also see The Alleno chocolaterie and Bonheur Paris, a fantastic praline specialist