From sinful spreads to contemporary furniture, from special sauces for fries to  arty works, including original beer brews, Charlotte Smoos has gathered the very best names from the flat country in an amazing cabinet of curiosities designed by him. It's the story of a Belgian scenography, that has just opened a terrific place featuring über trendy Belgian venues, where everything is for sale—and it's not a joke !
His Genius touch? Daring the chic and off-beat Belgian card inside the walls of the famous Claverie corset boutique in the 10th, that was about to close. Result: a DIY chandelier of French fry cones, hanging in the middle of the Second Empire structure,  that has remained untouched —unique !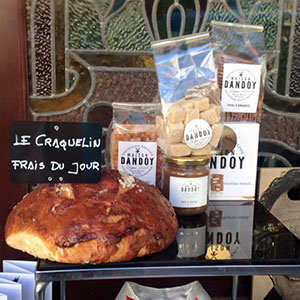 We adore: their cramique, the fresh Belgian brioche of the day for a 100% Belgian breakfast.
Tops, Charlotte regularly goes to check out tag sales in Belgium and sells her pretty discoveries.
Open Tuesday to Friday from11am to 3pm and from 4:30pm to 8pm. Saturday from 11am to 7pm, Sunday from 10am to 1 :30pm.