Did you know it? The RATP network comprises 302 metro stations (thanks Wikipédia for the on the spot info). Like all Parisians, Aurélien Pfeifer and Philippe Madar are particularly fond of "their" metro station, Pigalle, which is where the Bijou Parisien adventure began. Their idea? Reproducing the famous writing in blue and white earthenware on the sweatshirts and tee-shirts embroidered and printed in Paris. The young label has just opened its first boutique in the Marais, at the Saint-Paul station.
How about you, what is your favourite metro station ?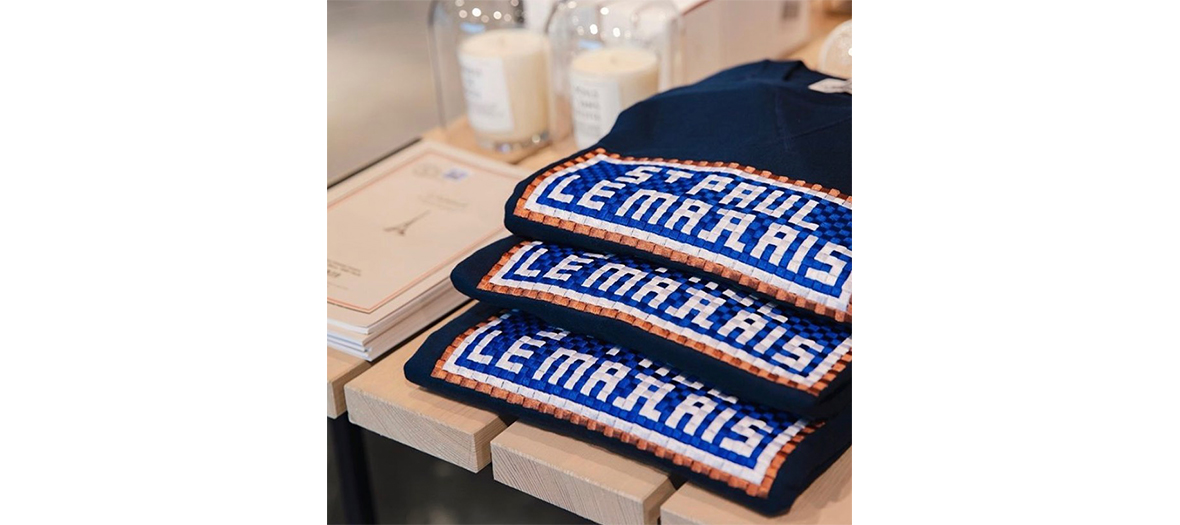 Bastille, Montmartre, République, Saint-Germain, Belleville, Parc des Princes, Louvre…  and very soon Opéra. Since its launch in 2015, the collection of Bijou Parisien continues to expand with its new collections. Today, a dozen stations, amongst the most emblematic of the underground network, are displayed on basics for men and women in certified Fair Wear organic cotton. The embroideries, created in keeping with tradition by Parisian workshops, feature the signature blue and the shiny aspect of the famous tiles, the result is bluffing.
In addition to sweats (€139) and tee-shirts (€75), the metropolitan label is developing accessories since several seasons, notably very stylish embroidered cuffs (€49), tote-bags (€29), caps, backpacks (€75) and wax pouches, all featuring the name of a station. Latest novelty, embroidered shirts with discretely sewn crests on the side.
A first address in the Marais
For its first boutique, Le Bijou Parisien has created a dream metro station de métro rêvé, organized like a cosy living room with the signature tiles on the walls, comfy armchairs, furniture in vintage wood—and of course, the network map. One also finds all the universe of the urban brand with clever gift ideas to boot, such as cute cord bracelets stamped Paris.
Alsoc check out the 5 new fashion brands everyone is talking about and the arrival of Anthropologie in Paris.