How to run into new people (and eventually more if things work out) without having to go through Tinder? Come chill in this new unique place in Paris, and you will see!
Because this huge Art Deco building from the 30s shelters a youth hostel for hipsters from around the world. Forget the old broken down flat, here everything has been conceived to feel right at home and also encourage encounters…
Come squat the 100% Frenchy touch bar open to all, with occasional tourists as well as real Parisians. An ideal place to meet a handsome New Yorker by the fireplace or chat with an Argentinian accent in a chesterfield sofa around a bottle of wine (La Tour de Gatigne, 17€) and a slab of  charcuteries (12€).
We also like: playing a video game with a Deck and Donohue Mission beer, brewed in Montreuil (6€).
And on the different levels? 162 made-to-measure beds, distributed into dormitories and double rooms. Ultimate must? The 4 rooftop rooms have an amazing view.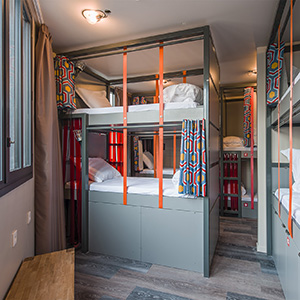 Starting at 25€/ person in dormitories. 90€ for a double room.
Also discover the Hotel Providence.