We have good news for sporty types, and all the others who want to get started: the famous lululemon Sweatlife Festival has landed for the first time in Paris. Already well-known in London and Berlin, this major event (the largest in Europe, organized by the Canadian brand) showcasing sports, yoga and personal development is going to shake up the capital. It's happening the 5th of October from 9am to 6pm at the Centquatre. Three good reasons to go there.
Unlimited yoga classes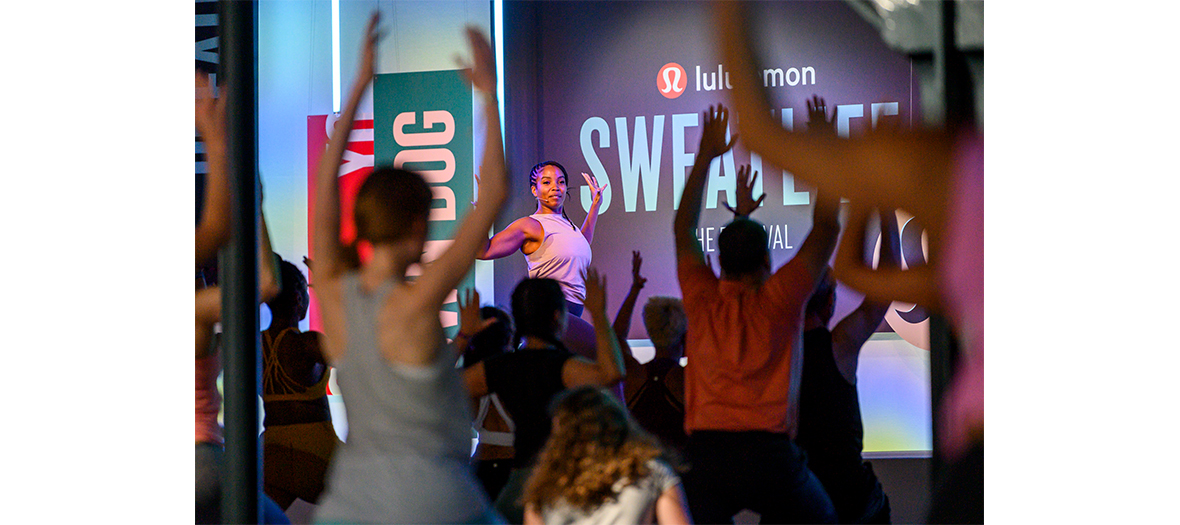 Yes, yes, you are reading correctly. During the lululemon Sweatlife Festival, it's yoga galore: morning flow vinyasa, hatha yoga, hip-hop yoga, yin yoga…
A golden occasion to test at leisure ultra-targeted disciplines, accessible to all in an incredible room with two hundred other yogis. Energies will be circulating more than ever. Namaste.
Go, go, go
Bootcamp, fitness, boxing, crossfit… A dozen intensive sports courses are on the agenda, animated by top coaches in Paris in a super fun ambiance.
A strong argument to be super motivated, right?
Inspiring encounters
A the lululemon Sweatlife Festival, there is also the possibility of boosting…spirits with free access to relaxation and meditation spaces, as well as conferences to blossom and reach one's objectives.
We are impatiently waiting for the talk, named "goals to move ahead", an interactive workshop that will surely give the keys to succeed in all our projects. Reserve quickly.
lululemon Sweatlife Festival 2019, Saturday the 5th of October 2019 from 9am to 6pm at the Centquatre-Paris. Starting at €25. Information and ticketing www.lululemon.fr.