The Spirit: Palm Springs in the 60's. Does it ring a bell ? The über chic patio of the Prince de Galles has morphed into a fantasy decor  going back to the Golden Age of California where one could have met Al Pacino, Marilyn Monroe or Elizabeth Taylor around a drink.  Total glam.
On the program: very Californian Style cocktails and grilled skewers concocted by Stéphanie Le Quellec in an ambiance featuring cactus, palm trees and pink flamingos with reasonable tabs, a rare occurrence for a palace. This will certainly rejoice Parisiennes seeking out luxury and exoticism.
Drinks and eats: Enjoy the delights of the BBQ with skewers of veggies (12€) lemon chicken (14€) or spicy shrimp and summer vegetable  tempuras (16€) to be shared around a glass of rosé (13€) or a bottle (50€).  And let's not forget very very couture cocktails. Mmmh !
Special kudos for the Palm Springs cup, an orgasmic ice cream with vanilla, caramelized pecan nut, caramel with salty butter and cookie chips (16€) to savour in the afternoon enjoying this California style oasis. A terrific morale booster in case of occasional blues.
Open every day from 8 a.m to 12 p.m.
Find also Mezcaleria, the clandestino bar.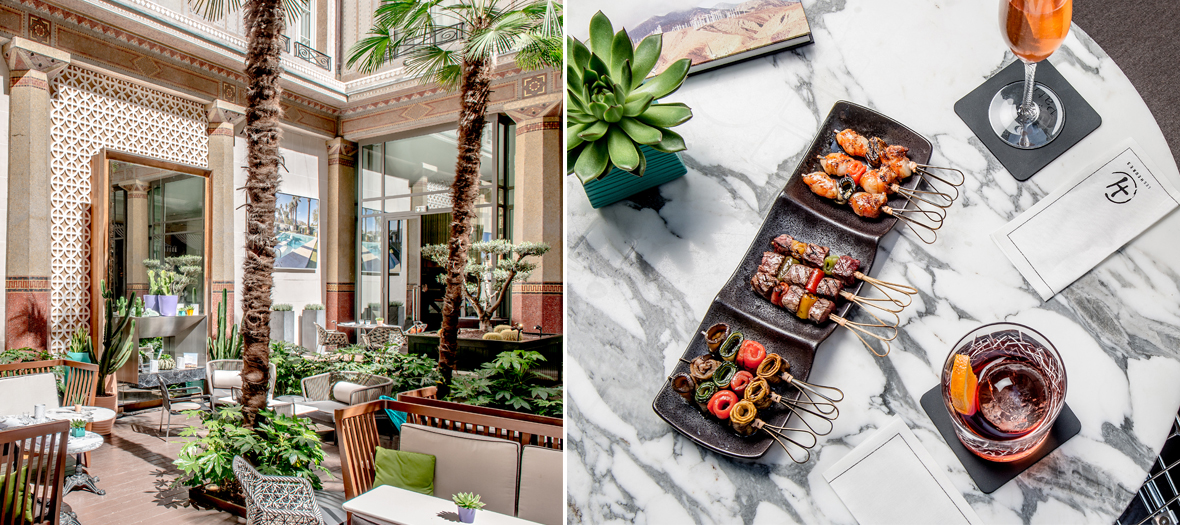 © Caspar Miskin