© Vincent Leroux / Ritz Paris - © Mathieu Salvaing / Laurent - © Lucas Carton
These three addresses are Parisian legends. Celebrities from the world of show business and political personalities have always reserved their assigned tables here. Showing up there has even become a true sport of high society! For a while, they were neglected by the new generation of gourmets, waiting to find the chef who would do them justice or simply closed for significant renovations. This autumn, Lucas Carton, Espadon at the Ritz, and Laurent are staging a highly anticipated revival. Let's take a closer look at these iconic Parisian dining establishments that have decided to entice you back.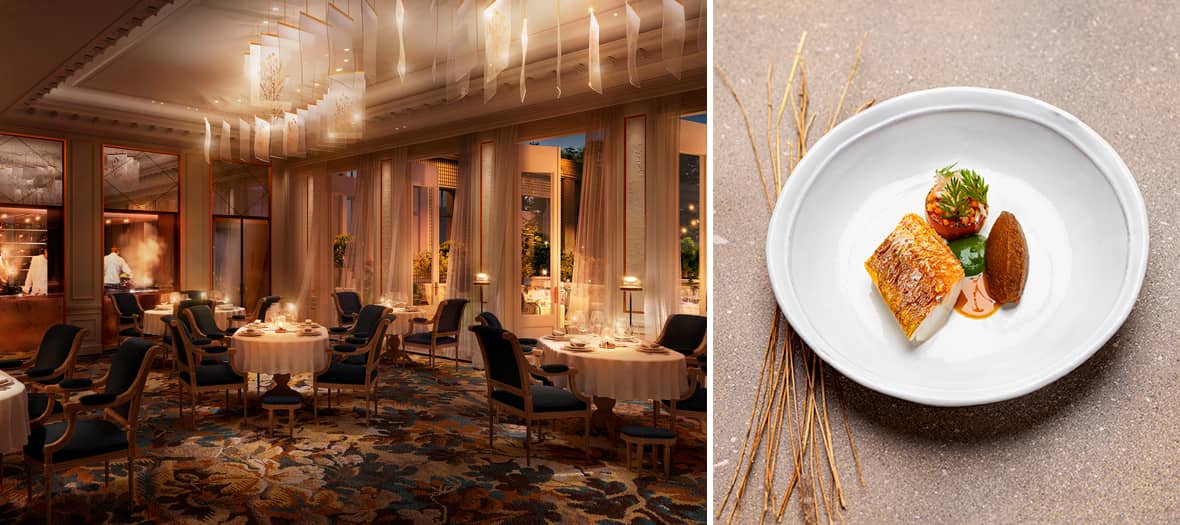 The venue: Nicolas Sale is no longer, long live Eugénie Béziat! To take the helm of the most iconic palace restaurant (with 2 Michelin stars under the guidance of the bespectacled chef), the Ritz Paris has given carte blanche to a relatively unknown chef in the public eye, who has worked at La Roya in Corsica and with Michel Sarran. Espadon has also changed its location within the hotel (and lost its apostrophe 'L'), opting for an intimate dining room facing the garden. This makes one eagerly anticipate the return of warm weather to claim a table on the terrace. An open kitchen, carpet reminiscent of the seabed, and blue Ritz armchairs complete the 5-star ambiance of this iconic restaurant inaugurated in 1956... and certainly didn't see this new direction coming!
On the menu: born in Libreville but spending 20 years in Africa, notably in Gabon and Ivory Coast, Eugénie Béziat offers a clear, distinct, and readable approach. The Ritz approached her with complete confidence, and the chef boldly embraces her cuisine inspired by both continents, featuring astonishing yet brilliantly executed combinations. Lobster / cassava / hibiscus, oyster / mafane greens / curd cheese, tomato / rosemary / grapefruit, all enhanced by clever cooking techniques for an unprecedented result. Daringly, the chef presents her gastronomic version of the chicken yassa from her childhood: a seductive Houdan chicken and its sweet black onion. To bridge the gap to dessert, Ritz's pastry chef François Perret continues a harmonious composition with a honey almond orange honeycomb cake and a crispy chocolate soufflé, heightened with kororima seeds. Menus from €290.
Espadon at the Ritz, 5 Place Vendôme, Paris 1st. Open from Tuesday to Saturday for dinner.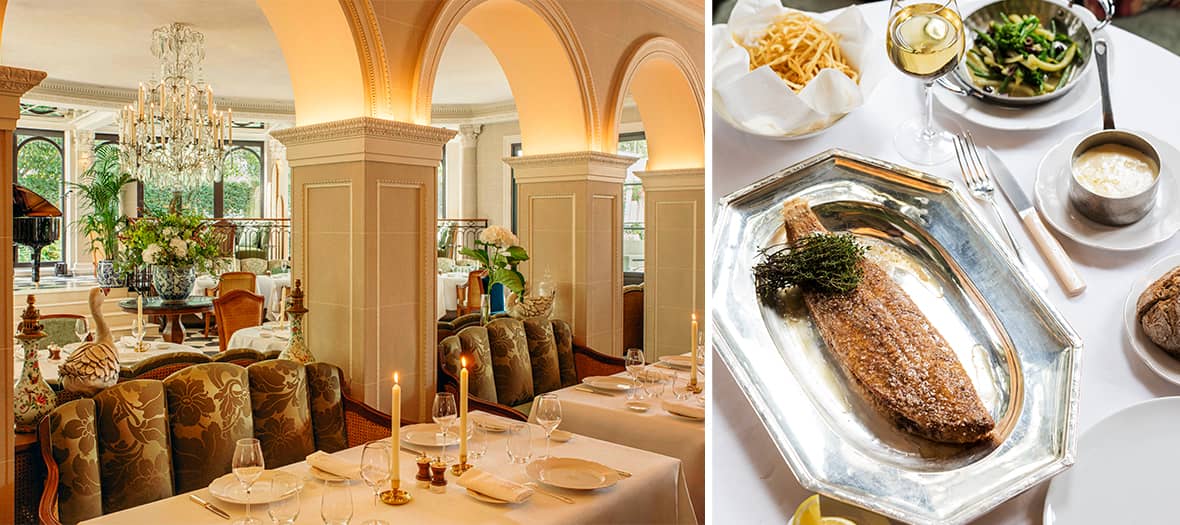 The location: in the square surrounding the Théâtre Marigny, just a stone's throw from the Élysée Palace, stands a former hunting lodge beloved by the Sun King, coveted in modern times by all the powerful figures of politics and high society in Paris. In short, Laurent, closed for years, was awaiting a splendid revival to regain all its glory. It took the Paris Society group (known for Maison Revka, Perruche...) to go all out and invite Cordélia de Castellane (Artistic Director of Baby Dior and Dior Maison, known for her work at Café Lapérouse) to work her magic. The result? Intimate alcoves tucked away from an ultra-bright XXL dining room overlooking the garden, a completely pink terrace, seats and sofas with extraordinary tapestries, private lounges upstairs, and a particularly splendid cocktail bar, accessible independently. In the kitchen, Michelin-starred chef Mathieu Pacaud (known for Divellec and Apicius) reimagines the house's classic dishes... and more.
On the menu: Among Laurent's signature dishes, you'll naturally find the blue lobster salad (€120) and the chilled spider crab with fennel jelly (€85). But it would be a shame to miss out on the exquisite thin tart with just-confited tomato petals (€36) and the sole meunière with buckwheat butter to share (€170), prepared tableside and served with mashed potatoes and delicious crunchy vegetables. The only "smaller" priced option is the revamped shepherd's pie (€35). To end the meal on a high note, the dessert trolley caters to all sweet cravings, grandly presenting a caramel eclair, a charming strawberry tart, or an extra-praline Paris-Brest (€25). Everything is (very) expensive, but everything is (truly) delicious. The chic clientele doesn't bat an eye, but we do raise an eyebrow...
Laurent, 41 Avenue Gabriel, Paris 8th. +33 1 42 25 00 39. Open Monday to Saturday for lunch and dinner.
© Mathieu Salvaing - © Romain Ricard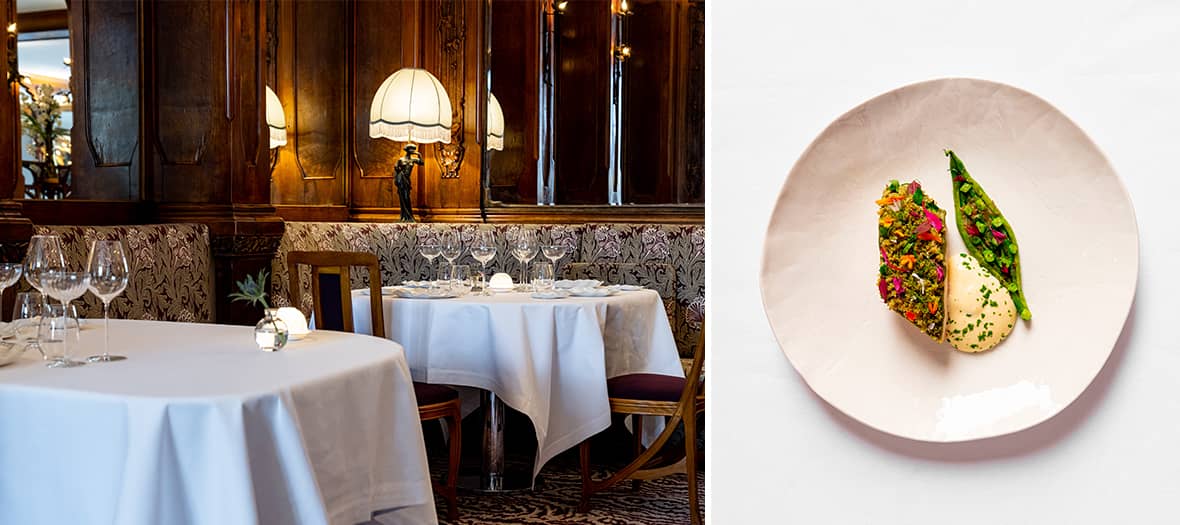 The venue: Inaugurated in 1860 (originally called La Taverne de France) facing the Madeleine Church, Lucas Carton restaurant was one of the most sought-after establishments during the Second Empire and one of the first gourmet restaurants in the capital. Today, it still boasts an impressive Art Nouveau decor, with woodwork and undulating designs reminiscent of nature. Upon entering, you can appreciate the cozy nooks and spacious floral banquettes for sharing. However, what's making headlines about this iconic Parisian restaurant today is the recent change in its chef: having worked in the kitchens of renowned female chefs Anne-Sophie Pic and Hélène Darroze, Hugo Bourny now offers inspired recipes through surprise tasting menus.
On the menu: While Hugo Bourny has brought back some great ideas from his travels, his upbringing in La Rochelle by the ocean has instilled in him a certain fondness for fine seafood. This is evident in dishes like the delicate red mullet with smoked tea bathing in a trumpet mushroom, kombu, and burnt lemon paste. We also loved the garden tomato from Simone, still warm from the sun, served on a smoked raw cream or the exquisite confit beetroot (even "shrunken," as the chef himself puts it!) with its incredible sauce. The highlight: the poultry and its sabayon with verjuice, cardamom, and marjoram. For dessert, Jordan Talbot takes the reins and presents a playful dessert with grand cru chocolate and its surprising kalamansi marmalade and sorbet, infused chocolate with tagetes passion. Prices range from €120 for the 4-course menu, €150 for the 5-course, to €200 for the 7-course.
Lucas Carton, 9 Place de la Madeleine, Paris 8th. +33 1 42 65 22 90. Open Tuesday to Saturday for lunch and dinner.
Also discover 3 compelling reasons to return to La Tour d'Argent and The new chic dining experience near the political bub