And that's two for the Brasseries à la Mode group! After Rosie in the Bastille district, the little sister Rosie Lou brings a big dose of cool to Boulevard Bonne Nouvelle with its ultra-fresh decor and wallet-friendly solar menu, paying tribute to Basque cuisine. A super chill spot that extends the holiday spirit, a perfect starting point to ease into the back-to-school season with the feeling of a stopover in Biarritz!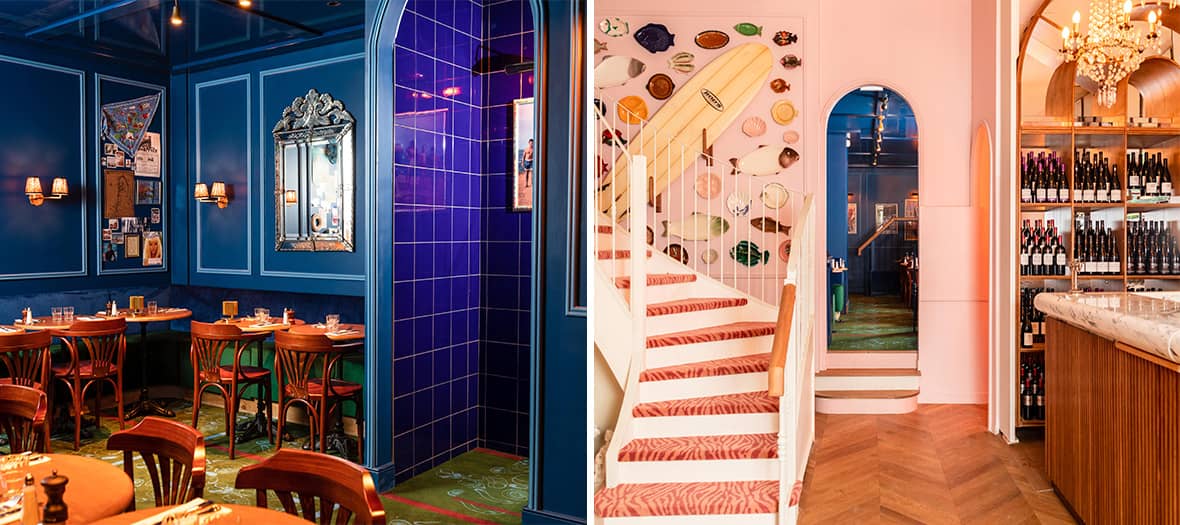 Rosie Lou dazzles with its stunning decor, drawing from the aesthetic repertoire of Biarritz residences. At the helm are Juliette Cerdan and Kevin Caradeuc, the founders of Brasseries à la Mode, who have gone all out by incorporating numerous references to the Atlantic coast, overflowing with colors: soft pink and sky blue in the first room and mezzanine, celebrating surfing and the beach with walls adorned with shells, espadrilles, and surfboards. More glamorous and cozy, the second part of the restaurant immerses itself in deep blues and adds a vintage touch with posters, postcards, and old photographs. Large tables for groups of friends, intimate alcoves for couples, and a breath of fresh air on the terrace: the Instagram-worthy Rosie Lou embraces all possibilities in a relaxed and hyper-friendly atmosphere.
A CUISINE BETWEEN LAND AND SEA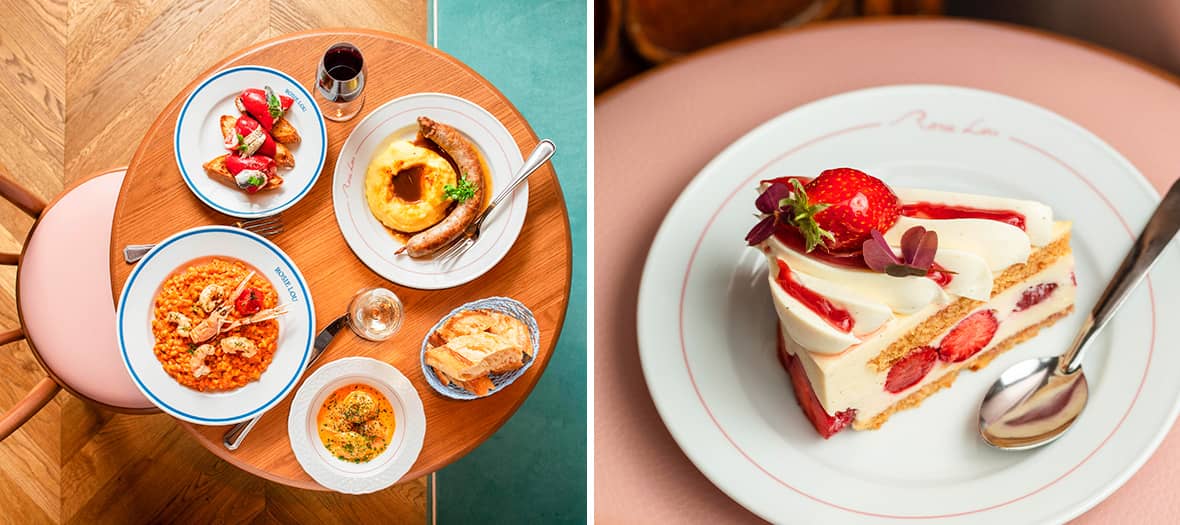 Having worked alongside Jean-François Piège at Clover, Chef Xavier Blanc celebrates seafood delights and the pearls of Basque terroir without losing the Parisian brasserie spirit that made Rosie successful, elevating the famous cheesy-truffle ham macaroni (€19) and the excellent sausage-mashed potatoes (€13) to classic status, both of which are found on the menu. But if you're going to imagine being on the beach, start by placing Ilbarritz-style shrimp on the table, covered in an Espelette pepper and garlic cream (€10), stuffed piquillo pintxos with fresh cheese (€7), and the essential Txistorra, a spicy Basque sausage straight from San Sebastián (€6). To satisfy appetites while looking towards the ocean, continue with the catch of the day (on that day, hake fillet for €17) or the langoustine macaroni (€24). Or cozy up with the Piperade, an iconic delight from the South-West reinvented here as chakchouka with a runny egg and a perfectly spiced gratin of Ossau Iraty cheese (€14). Feeling like something lighter? The chef's kikinoa salad provides a veggie feast (€15).
Crafted by pastry chef Geremy Ramdani (formerly a collaborator of Kevin Lacote), the dessert menu takes care of the grand finale. The must-not-miss gem: Basque blueberry cheesecake with vanilla whipped ganache (€8). A chocoholic? Dive into the chocolate mousse, cocoa crumble, and fleur de sel (€7). And for those seeking lightness: the fresh fruit salad drizzled with verbena syrup hits the spot (€7).
Open 7 days a week, from Monday to Thursday, 12:00 PM to 2:30 PM and 7:00 PM to 10:30 PM; Friday, 12:00 PM to 2:30 PM and 7:00 PM to 11:00 PM; Saturday, 12:00 PM to 3:00 PM and 7:00 PM to 11:00 PM; Sunday, 12:00 PM to 3:00 PM and 7:00 PM to 10:00 PM.
Discover Maria Belza as well, the restaurant that brings Biarritz to Paris, and the charming bistro to book as soon as possible.