It was a dream, they made it happen. Franck Guigault and Benoît Mollet wanted to honor their native Basque Country in a restaurant that would stick as closely as possible to the art of living in this beloved region. And the Southwest has gone up to show off in Paris! Facing the Saint-Martin canal , the Maria Belza restaurant conveys its joy of living, its love of sharing and large tables in a joyful conviviality.
Quirky chic
A decor that makes a big " wow " grow! Blue sweeps everywhere, from the walls to the furniture, a nod to Biarritz bathed by the ocean with the majesty of a hand-painted mural. Paying homage to Basque culture was the red thread of interior designer Daphné Desjeux , who adorned the 220 m 2 of this space with a patchwork of references.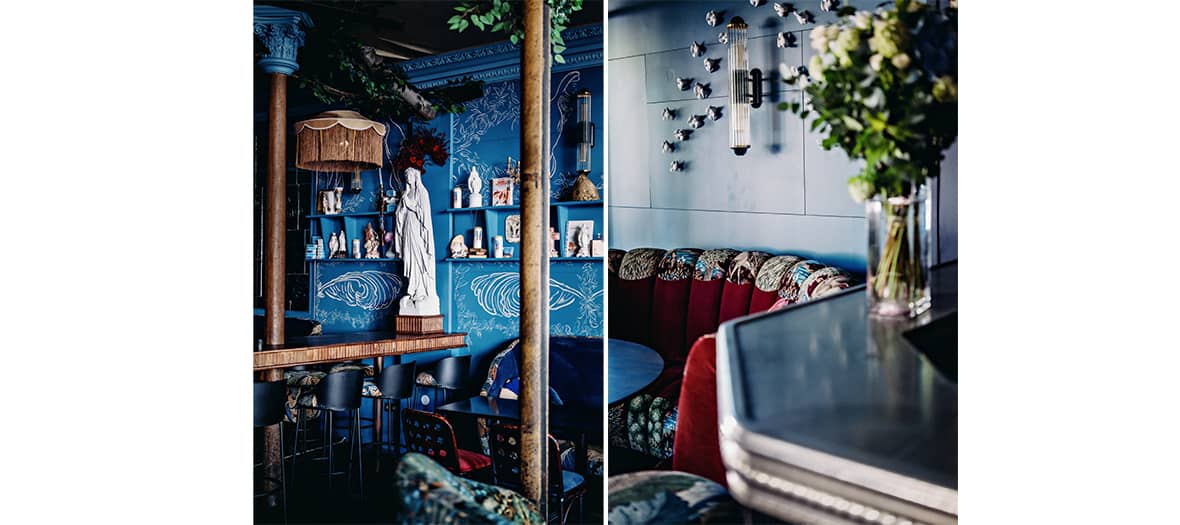 Impossible to escape the surfboard and the books on the subject, but the soul of Maria Belza is elsewhere. It is embodied in a profusion of biblical objects, rosaries , candles , candles , frames... And beautiful beautiful beautiful Virgin Marys , placed here and there, which lead to contemplation. Wrapped in the softness of velvet, the space comes to life in multiple warm alcoves, takes pride in a very Parisian elegance, falls in love with antique furniture, fringed suspensions, vintage mirrors and does honor to plants by letting flourish lush vegetation on the ceiling.
The Basque terroir on the plate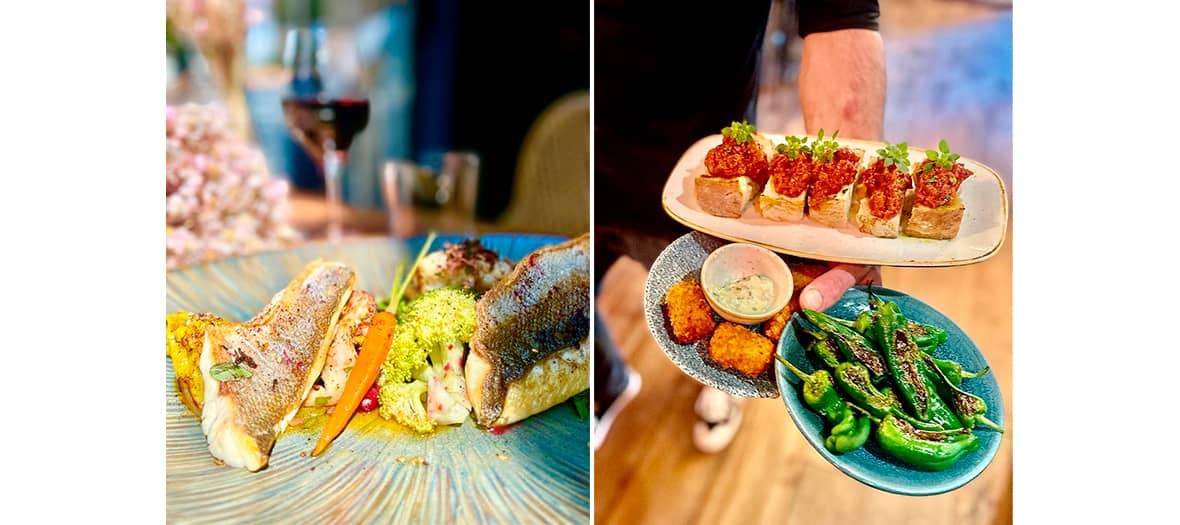 Between land and sea, the menu writes its vision of the South-West through small and large emblematic dishes of the region, but will also seek inspiration in the Mediterranean land. The fault of the Italian chef Christian Zerlini ! If the burrata accompanied by heirloom tomatoes is on the menu, here it is boosted by an incendiary cream of piquillo peppers with basil (€13).
Well established in the Basque region, the pan con tomate (€7), the Ossau Iraty cheese croquetas (12.50), the squid a la plancha with chorizo (€13) and the octopus with hibiscus, potatoes crushed (€25), gave us great pleasure that evening. For the finale and as a preview, we plunged our spoons into a brand new dessert imagined by the chef: the chocolate fondant with taggiasche olives . We will come back for him! In truth, for everything else too.
Its added value: Maria Belza is gaining momentum in the evening and at aperitif time with, to quench your thirst, a fine selection of wines, Basque beers and well-frozen cocktails .
Open daily from 11 a.m. to 1 a.m.
Also discover the most popular restaurants of fashion week and the best canteens under 10 euros