When fashion-week starts in London, twigs go haywire.
If you cannot get front row seats for the podiums at Somerset House, where the shows are taking place, we have selected for you the closest restaurant where ALL-London in the fashion world is going. See and be seen, this is where it's happening.
Scene of the crime ? STK, a brand new very trendy steak-house with strong glamour potential imported from New York.  Here, it's more it-girls than fathers, as indicated by its evocative slogan « Not your daddy's steakhouse ».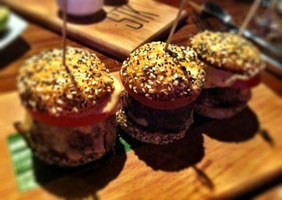 On the program : the latest fashion gossip, clones or the real Kate Moss, la deluxe meat and already cult cocktails.
On the plate!  Raw tartare of beef with truffle, grilled wagyu beef, lobster mayonnaise, incredible salads for mini-calories : seafood platters. Brownies and cheesecakes to finish on a high sugar note.
Count 60£ à la carte.
Open 7/7