© The Maybourne Riviera Hôtel
Ah, the French Riviera, with its radiant sunshine, turquoise waters, and the scent of the Mediterranean vegetation that tickles the senses while enjoying a glass of rosé by the sea or in the hills... A true postcard setting! And what better place than Roquebrune-Cap-Martin (abbreviated as Roquebrune for insiders), this village perched between Monaco and Menton, to indulge in the delights of the South? We reveal our favorite addresses for discovering the most desirable spot on the Riviera.
The Perfect Hotel to Settle In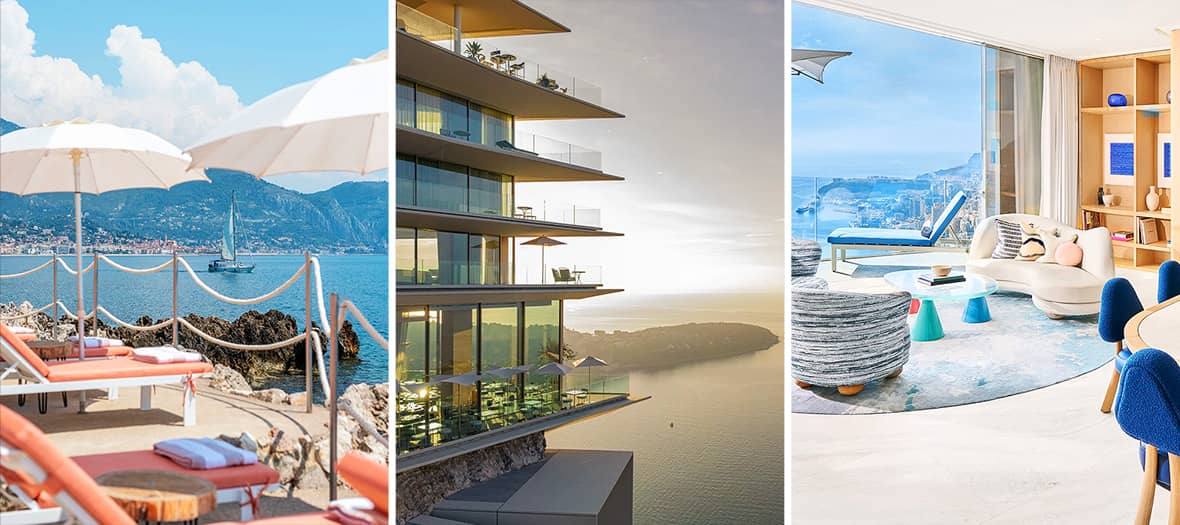 Hotel Maybourne Riviera overlooks Cap Saint Martin with its modern facade and seafront terrace. Immediately book a Corniche room with its super king-size bed and panoramic view, or even the grand Azur suite with its designer living room, steam bath, and terrace bathtub... A dream!
On-site, you'll find several bars and restaurants, including Riviera (yum, fresh fish just out of the water), an infinity pool worthy of the most beautiful villas in Los Angeles, an amazing spa, and even a private beach with cocktails and sun loungers, for a VIP experience. Ultimate chic: one of the hotel's bars, Ceto, collaborates with Gucci to offer an exclusive menu (available until August 5) for a fashionable dining experience this summer.
Corniche room starting from €600 in low season. Expect €1,850 in high season. Hotel The Maybourne Riviera, 1551 Route de la Turbie, 06190 Roquebrune-Cap-Martin. Phone: 04 93 37 22 41. Online reservations. © Hotel The Maybourne Riviera
The Most Desirable Spot of the Summer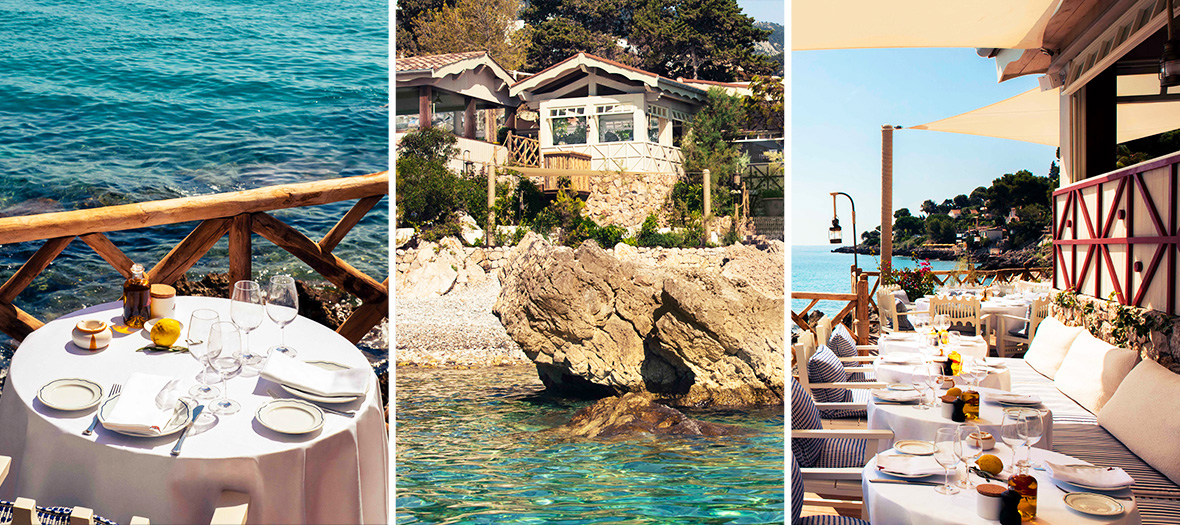 © Matthieu Salvaing
The most glamorous terrace in Paris, a.k.a. Loulou, sets up in Roquebrune-Cap-Martin to revive a legendary address: Le Pirate. The historical hangout of stars (Brigitte Bardot, Frank Sinatra, Johnny Hallyday, and the whole gang attended legendary parties there), this magnificent place overlooking the sea is back! Codename: Loulou Pirate.
The vibe? Lavish banquets featuring grilled fish, stuffed vegetables, and extraordinary cocktails in a high-end cabin perched on the rocks. Girls in swimsuits under their evening dresses, guys with partially unbuttoned linen shirts, music, encounters, barefoot dancing... Loulou Pirate is the promise of highly socialite vacations where flirting and networking happen in an iconic address that made the glory days of the Riviera.
Loulou Pirate, opening on Friday, July 7, 46 avenue Winston Churchill, 06190 Roquebrune-Cap-Martin. Lunch every day from 12 PM to 4:30 PM and dinner every day from 7 PM to 11 PM. © Loulou Pirate / © Matthieu Salvaing
Must-Book Restaurants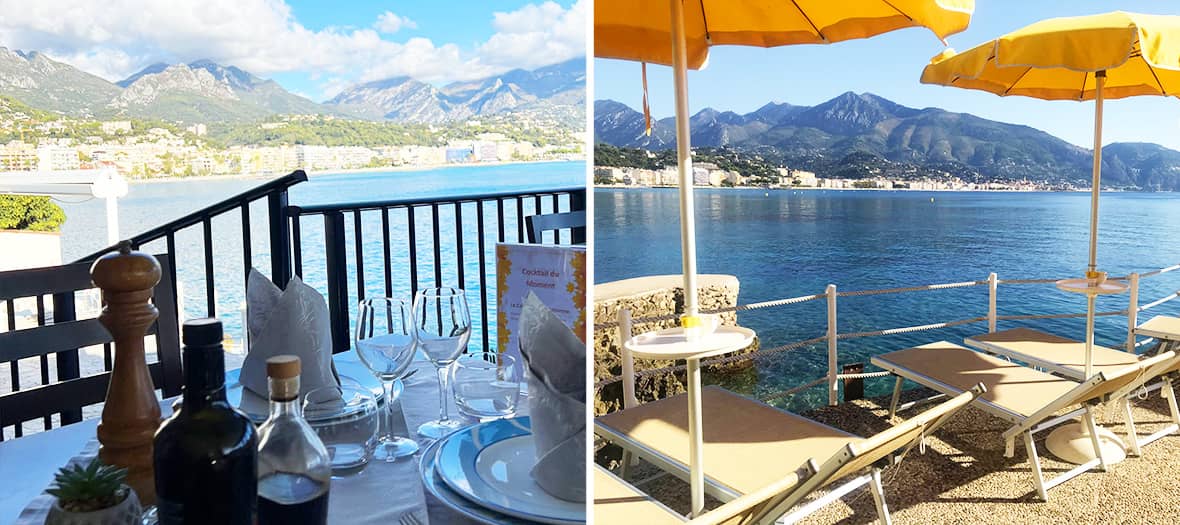 Casarella : A Neapolitan osteria in a Mediterranean-style house setting, where the owner Rosario offers a more than enticing menu with homemade bruschetta, fresh tomatoes and basil (€8), fresh seafood pasta (€18), or beef meatballs with tomato sauce and pecorino cheese (€16).
15 rue Grimaldi, 06190 Roquebrune-Cap-Martin. Open from 12 PM to 2:30 PM and from 7 PM to 10 PM every day except Monday. Phone: 04 93 35 03 57.
L'Hippocampe : Between its azure blue walls and its white terrace resembling Mykonos, this place offers plates of seafood and well-chilled cocktails (starting from €10) with a view of the Mediterranean. Enjoy basil sauce terrine with scorpionfish and salmon (€18), a bouquet of pink shrimps (€18), stuffed hot mussels (€15), and grilled sea bass flambéed with fennel (€35 per person).
4 avenue Winston Churchill, 06190 Roquebrune-Cap-Martin. Phone: 04 93 35 81 91. Open for lunch from Tuesday to Saturday from 12 PM to 2:30 PM and for dinner. © L'Hippocampe
Not-to-be-Missed Cultural Visits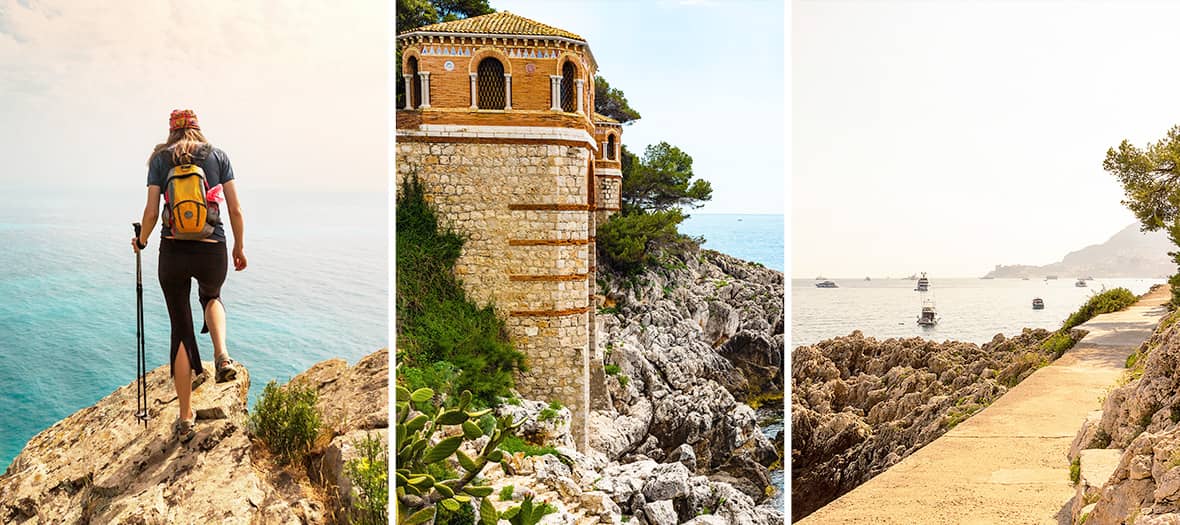 Cabanon de Le Corbusier : Did you know that Le Corbusier regularly stayed in Roquebrune, his beloved city, in a minimalist cabin he built in 1952? This architectural gem, designed to be as compact as possible, can still be visited by reservation. An architectural marvel to see at least once in a lifetime! To extend your visit, head to the famous coastal trail known as the "Promenade Le Corbusier" to go around the Cap and enjoy breathtaking views of Menton, Monaco, and Mount Agel. Sublime!
Sentier Le Corbusier, 06190 Roquebrune-Cap-Martin. Phone: 04 89 97 89 52. Complete tour of all sites for €18.
Villa E-1027 by Eileen Gray : Le Corbusier is not the only architect who fell in love with this village of Cap Martin, as Irish designer Eileen Gray, an icon of modern architecture, also created an ultra-modern villa with Badovici, located just below the aforementioned Cabanon. This white seaside house stands out in the natural landscape, conceived as a futuristic yet highly functional creation. A hidden gem visitable by reservation.
Sentier Massolin, 06190 Roquebrune-Cap-Martin. Phone: 04 89 97 89 52. Complete tour of all sites for €18.
Medieval Castle Visit : History enthusiasts and aspiring knights, this place is for you! Roquebrune, an ancient medieval city, still has the remains of a donjon open to the public, which is simply called a castle and offers an unusual experience to discover life in the Middle Ages. With its 26 meters in height and thick walls, you can visit the ceremonial hall, the lord's chamber, and even its terrible dungeons. Brrr. Note: The rooftop terrace on the top floor offers a sublime view of the city that rivals the rooftops of Paris!
Place William Ingram, 0619 Roquebrune-Cap-Martin. Information and reservations at the Tourist Office: 04 93 35 62 87. Tickets for €5.
3 Unforgettable Outdoor Walks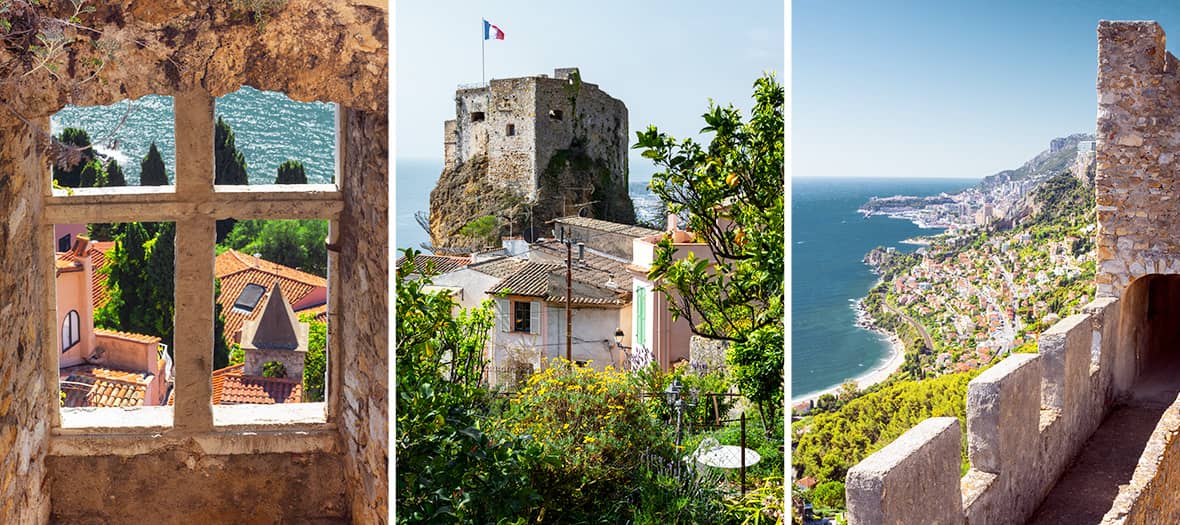 Sentier des Douaniers : Departure from Carnolès train station for a 9 km hike that leads to Roquebrune-Cap-Martin. This beginner-friendly hike, lasting 3 hours, offers a breathtaking view of the Mediterranean. The only slightly challenging part is the uphill climb to the village, which is quite steep but still manageable! So put on your best walking shoes and off you go.
9 km hike. Route available online.
Balade de la Tête de Chien : For the more adventurous, there is a more challenging trail near Beausoleil and Monaco. During this 4-hour hike on the highest spot of the French Riviera, you'll be accompanied by many hikers as these beautiful paths are very popular. It is also possible tobring your dog along as long as it's kept on a leash!
10 km hike lasting 4 hours. Route available online.
Balade de la Vieille Ville de Menton : Don't miss a visit to the old town of Menton and its unique atmosphere. With its narrow streets and Baroque charm, you'll feel like you're in Italy! In these small alleyways, you'll come across quaint shops, an old princely palace, not to mention the Saint-Michel Archange Basilica, and a stunning view of the coast from a higher vantage point.
Visit the Saint Michel Archange Basilica on Mondays, Wednesdays, and Fridays from 3 PM to 5 PM.
And Also...
Psst... Here are a few more gems to absolutely try during your next visit to Roquebrune:
A day trip to Monaco : Spend 24 hours exploring the most elegant principality on the coast, just a 20-minute drive (or 5-minute train ride) away. Enjoy stunning landscapes, architectural treasures, and don't miss the must-visit Oceanographic Museum's aquarium. Book your train reservation online on the SNCF website.
Nocturnal Musical Evenings at the Bains du Cap Aquatic Center, for an evening of fun with inflatables and snacks! Bains du Cap Aquatic Center, avenue Robert Schuman, 06190 Roquebrune-Cap-Martin. Phone: 09 71 00 49 00. Every Tuesday from 7:30 PM to 10 PM, from July 11 to August 29. Ticket prices available online.
Paragliding session above Mont Gros with Roquebrune Cap Martin Paragliding. Rue de la gare, 06190 Roquebrune-Cap-Martin. For information, contact Yann at 06 12 42 17 90. Open every day of the week from 9 AM to 6 PM. Starting from €100 with an instructor.
The prehistoric site of the Vallonnet Cave is a must-see during a hike. Not open for visits but visible from a distance on the Chemin de Menton, 06190 Roquebrune-Cap-Martin.
Outdoor markets to discover local specialties from small producers. Place des Deux-Frères in Roquebrune, every Thursday from 7 AM to 1 PM, and at the market square in Carnolès, avenue Aristide Briand, every Wednesday from 7 AM to 1 PM.
Also, check out Marravigghia: the best festival of your life in Sicily .