For once, the star pieces for the Fall of 2018 plead in favour of a joyful season. In the spotlight, daring and fun obsessions such as the one-piece mechanic overalls in denim, Western style cowboy boots straight from the Far West or a deliciously oversized round bag. Demonstration.
The one-piece denim suit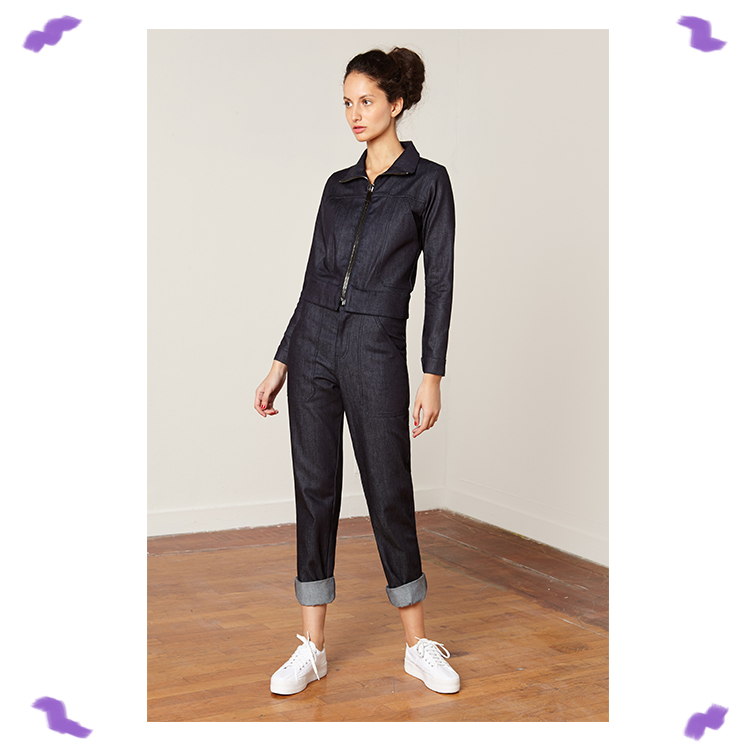 "I am looking for a garage mechanic one-piece overalls, but for a cocktail". This sentence, heard by Loïc Prigent at the Bon Marché is in keeping with the big fashion trend of the Fall season: one-piece workwear overalls in denim. Simply stylish during the day with sneakers and a large tote, these can be accessorized as an evening version with a nice colourful belt and elegant jeweller.
A denim 3-in-1 zipped one-piece suit (overalls, jacket, pants), Carolina Ritzler,
€560 .Available at Galeries Lafayette.
Shopping: Bershka, Monki (available end of August, €50), G-Star, Sister Jane on Asos.
The large round bag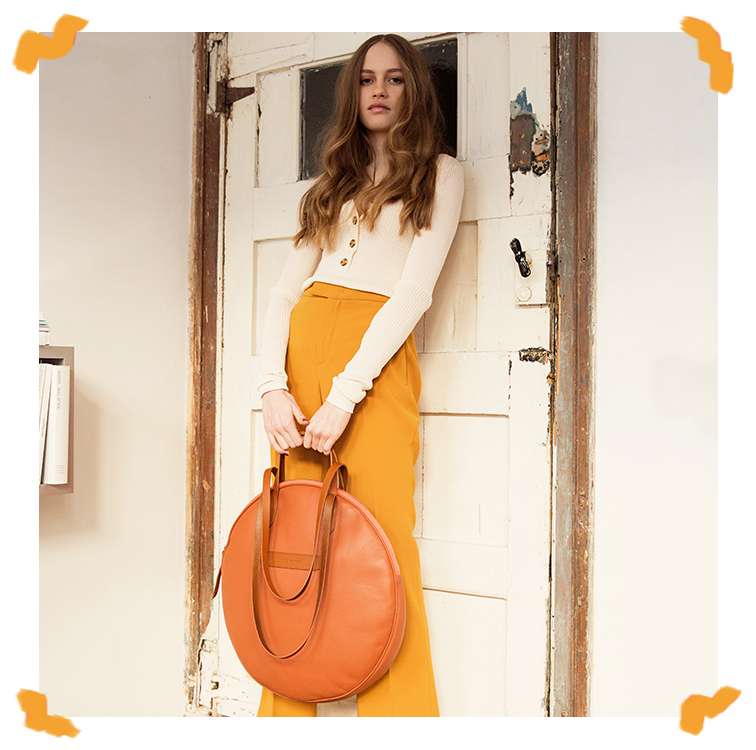 Practical to carry plates, vinyl records and frozen pizzas, the maxi round bag has become the it-bag of the season. It's not surprising that designer Marie Martens has made it her fad with a great looking model. It will deffo brink panache to a Fall season look: boots, flare pants and a Prince of Wales jacket.
Grand Trianon cognac record bag, Marie Martens, €52.
The Parisienne slippers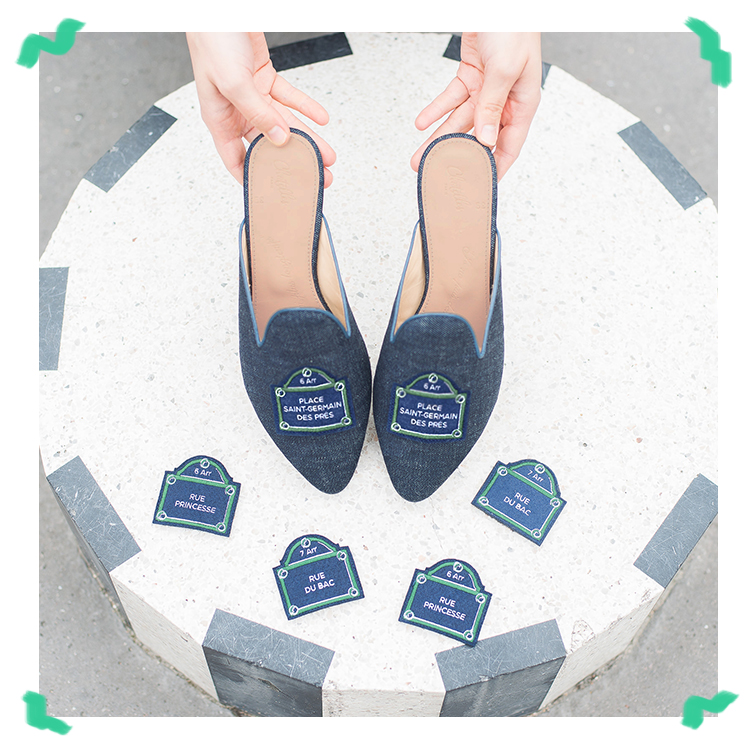 A real Parisienne right down to the footsies! Show off your favourite district like a fashion statement with these totally darling Chatelles mules with patches. Whether they feature Rue Princesse, rue du Bac or place Saint-Germain-des-Prés, for sure Left Bank trendies will find the pair that will enhance their ankles when worn with a ¾ pair of jeans, a white tee-shirt and a small graphic bag.
Paris mules in denim, Chatelles, €220 or  €170 as pre-order. Available in September.
The logomaniac collab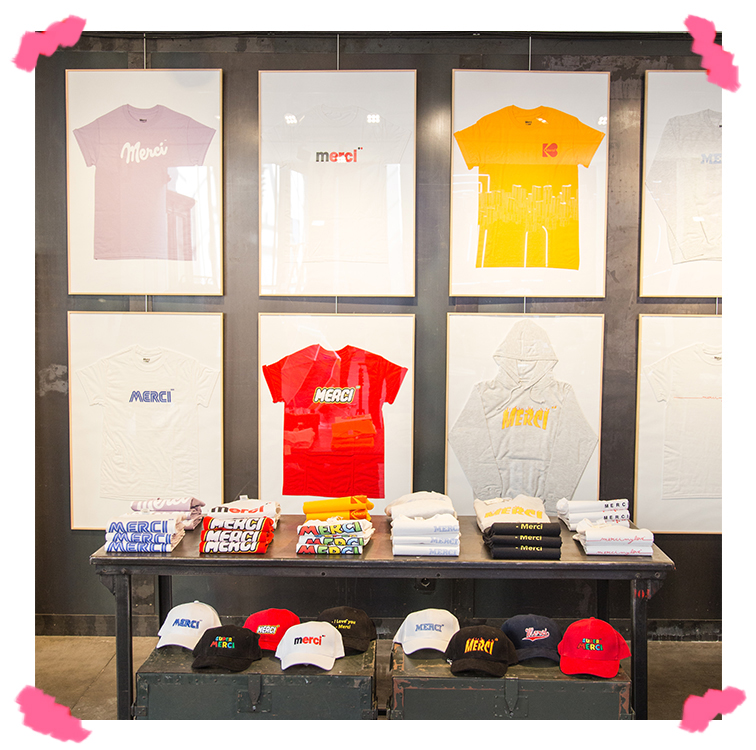 When the trendy concept-store Merci flirts with Parisian street artist DEIN, a logo maniac, the result is a resolutely addictive pop collab. On the programme, tee-shirts and caps that morph the Merci logo into Super Mario, Nutella, Milka, Lego or Kodak versions. In short, all the brands that rocked our soft childhood. Collector for sure!
Tee-shirt €45, cap €35. Already available at Merci, 111 boulevard Beaumarchais 75003 Paris, and on www.merci-merci.com.
The Western boots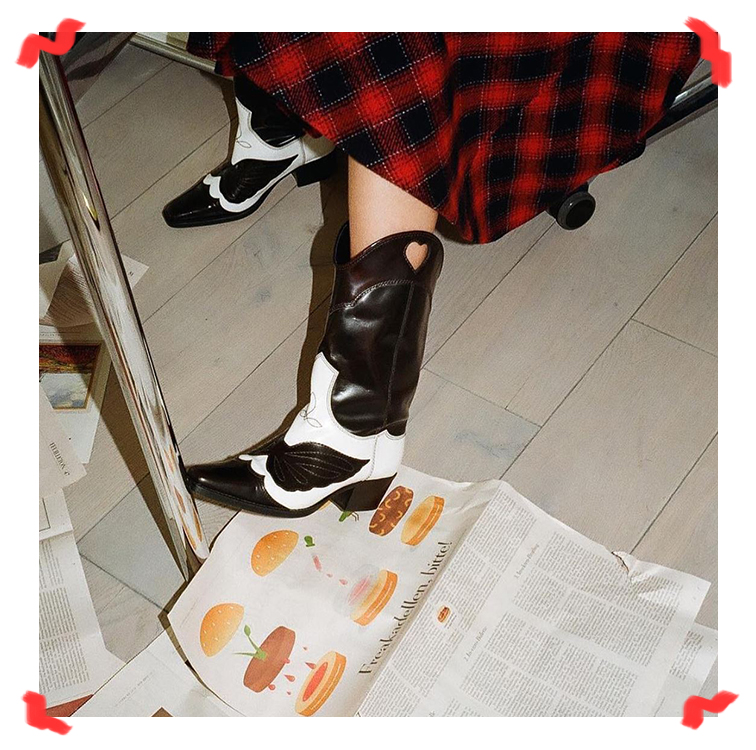 Camille Cottin presented them as  rock' n' roll in Larguées, Natacha Ramsay-Levi makes them our obsession in the Winter fashion show of Chloé. The West boot is back from the Far West in an updated version, to be found second-hand or to have as an investment and give them a patina ourselves. To be slipped under a long dress, a leather skirt or over a high waist pair of jeans. A great choice for those into the cow-girl style.
Cowboy boots, Ganni, €519.
Shopping: Ralph Lauren, Coach, Zara, Isabel Marant, Mango, Calvin Klein
Also discover the 10 total white looks of the season and how be stylish in the rain.