No more cold and doldrums, throw your prettiest bathing suits, sun cream and sunglasses in your bag, and… Welcome to Miami !
Fly away for a few days of detox in the hippest city of Florida. Five minutes from the Frenzy of South Beach, the Canyon Ranch Hotel & Spa Miami Beach is a small paradise on earth. This super comfortable five-star hotel with a fabulous view of the ocean is the ideal setting to combine pleasure, relaxation and sports activity—to work on your tan in low-key mode and loose a few extra kilos.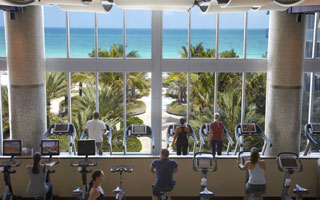 With its four pools and forty daily back in shape sessions de remise, we are happy to pick up sports again. Here we play at being a healthy it-girl with a yoga session on a private beach, to start off the day on a high note. Tennis, swimming, Pilates, surf … We  adopt the life style of the famous bombshells of Miami beaches.
In terms of comfort and cocooning, it's total bliss with treatments and massages in the huge spa (the biggest in Florida !) and nice local dishes, such as scallops panned with mango and coconut while sipping cocktails near the pool.
We like: the detox formula that begins after two nights, everything is planned to obtain a maximum of results in a minimum of time.
PRIX à venir
« Your Stay, Your Way » : offer for 4 nights rerserved in a suite with sea view or superior category, a 250$ credit (worth  186 €) is offered to hotel clients used at the spa, in the restaurants of the hotel or in the setting of well-being formulas. Price starting at  630$ for 470€ per night for a suite, valid until 30 April 2013.
Information and reservations au 001 800 742 9000 or by email reservations@canyonranch.com