No need to rush to the Puces to bargain-hunt in style! This time we'll stay in Paris, we'll enjoy a lovely sunny weekend and pick out beautiful photographs, Scandinavian mirrors, and tableware from the coolest flea markets before heading off to a hearty brunch nearby...
For Funky Photos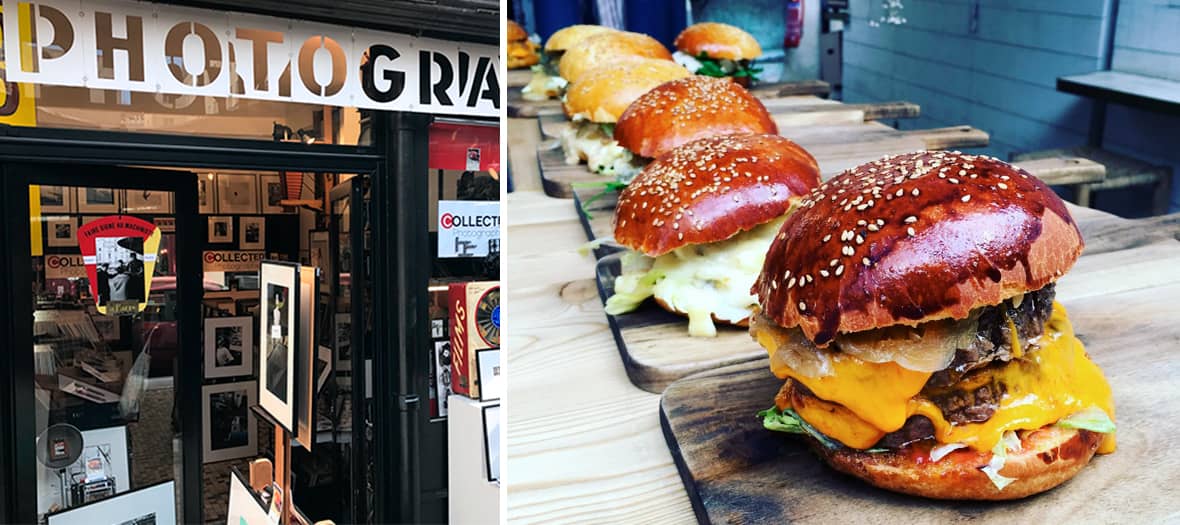 The best spot - Collected. Marion Cotillard and Paul Smith regularly visit this small shop on the "Marché des Enfants Rouges" in the heart of the Marais.
What will you find? Photographs from the shooting of Nouvelle Vague films, black and white prints of Paris and its inhabitants in the 40s and 60s, cabaret dancers... Thousands of handpicked photos acquired from antique dealers and other specialists in so-called "vernacular" photography.
To unearth them, Fabien Breuvart wanders around the country in quest of unpacked merchandise every week, and relies solely on his crushes!
Price range - The prints are rarely autographed, hence the low prices.
The unframed ones vary from 15€ to 180€, as opposed to 130€ to 450€ for the framed ones. Signed works come with a higher price tag.
Brunch combo - Make a detour at the Marché des Enfants Rouges, wander down the aisles and pick out your favorite stand. The regulars will recommend Le Traiteur Marocain (couscous from 9€, up to 16€ for lamb, 3 dumplings, merguez and chicken, and pastries for 1€), Taeko's Japanese stand with its incredible bentos (from 14€).
For vegetarians, Le Stand offers bowl and veggie soup combos (16€).
Collected, 35-37 rue Charlot, Paris 3rd. Open Thursday to Saturday from 11am to 7pm, and Sunday from 11am to 7pm.
Marché des enfants rouges, 39 rue de Bretagne, Paris 3rd.
Open Tuesday to Saturday from 8:30am to 8:30pm and Sunday from 8:30am to 5pm.
For A 70's Style Home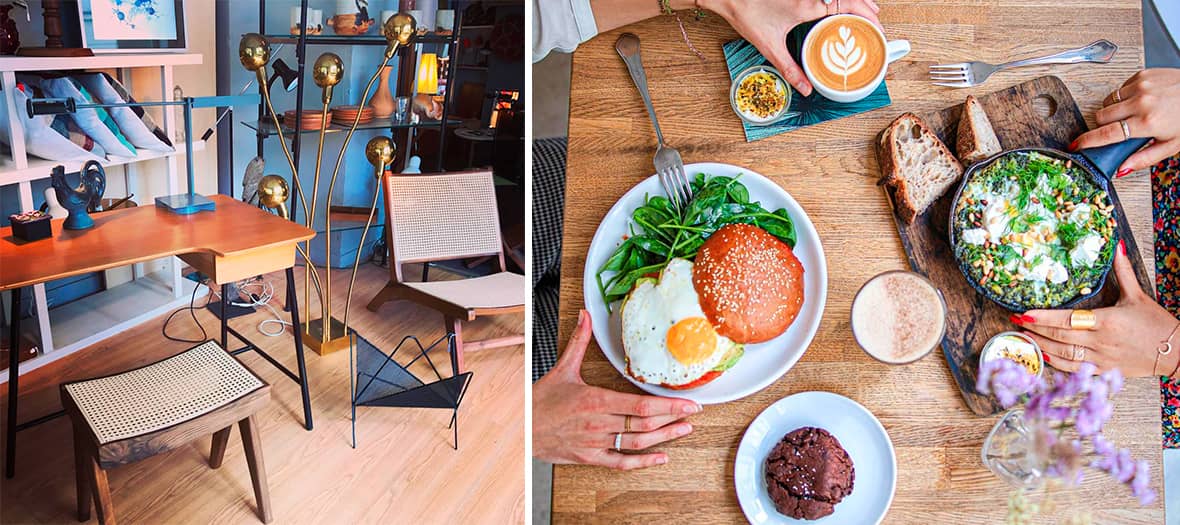 The best spot - Alasinglinglin, for die-hard deco fans from the 50s to the 70s.
What will you find? Little gems in good condition: velvet sofas, rocking chairs, tables, sideboards, vintage children's toys, seventies chairs... Everything you'll need to spruce up your living room with subtle details.
Price range - It all depends on the coup de coeur de jour. 80€ the batch of china plates, 5€ the vinyl, 60€ the seventies suspension… choices are endless!
Brunch combo - Have brunch at Café Méricourt, the awesome restaurant/coffee-shop just a few blocks down that serves up freshly squeezed juices (5€), sweet granola (9€), pancakes (between 12€ and 14€), focaccias (14€) and so much more.
Alasinglinglin, 1 rue du marché Popincourt, Paris 11th. Open Tuesday to Friday from 12pm to 7pm. Saturday and Sunday 14h-19h.
Café Méricourt, 22 rue de la Folie Méricourt, Paris 11th. Open Monday to Friday from 8:30 am to 3 pm and Saturday and Sunday from 9:30 am to 3:30 pm.
For High-End Furniture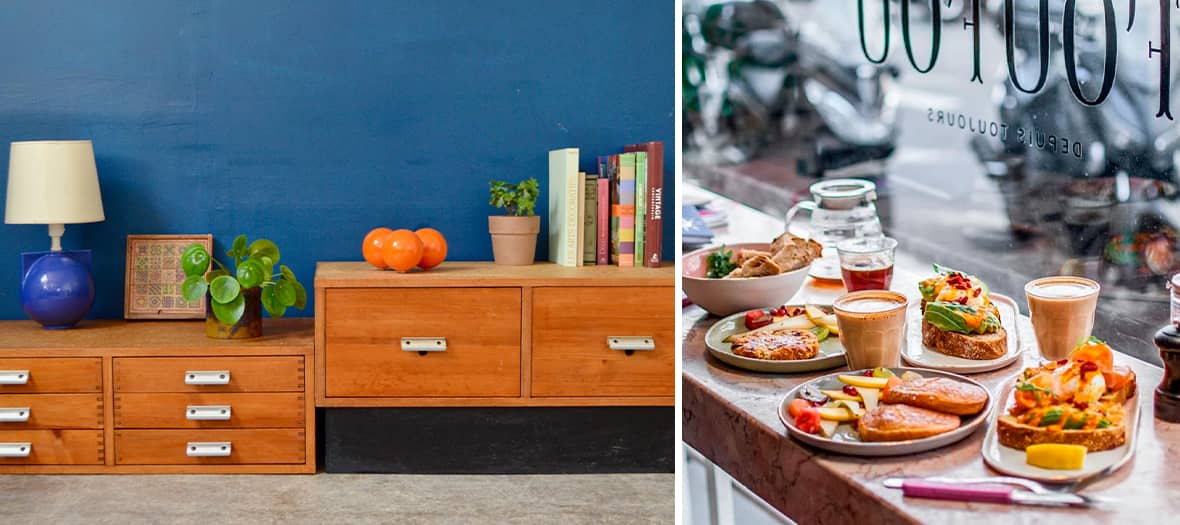 The best spot - Belle Lurette, for connoisseurs eager to observe antique dealers at work on their latest finds.
What will you find? New pieces each week: mirrors, lighting and furniture from the late 19th to the 70s, including Scandinavian pieces, all in great condition.
Price range - Quite expensive, you'll find quality pieces to warm up your living room, such as an earthenware table (100 €), Italian coffee makers (15€ - 30€), vintage rings (90€), old iron posters (120€), velvet sofas (350€)...
Brunch combo - The Café Foufou is a short walk away and their super hip healthy brunch will not disappoint. French toast (9,50€), chia pudding (6€), salmon and avocado toasts (11,90€) or pancakes (9,50€) you name it!
Word of advice: be sure to come early!
Belle Lurette, 5 rue du marché popincourt, Paris 11th. Open from Tuesday to Friday 12pm-7pm and Saturdays and Sundays 2pm-7pm.
Café Foufou, 10 rue Oberkampf, Paris 11th. Open Monday to Saturday from 8am to 6pm and Sunday from 9am to 6pm.
For Statement Pieces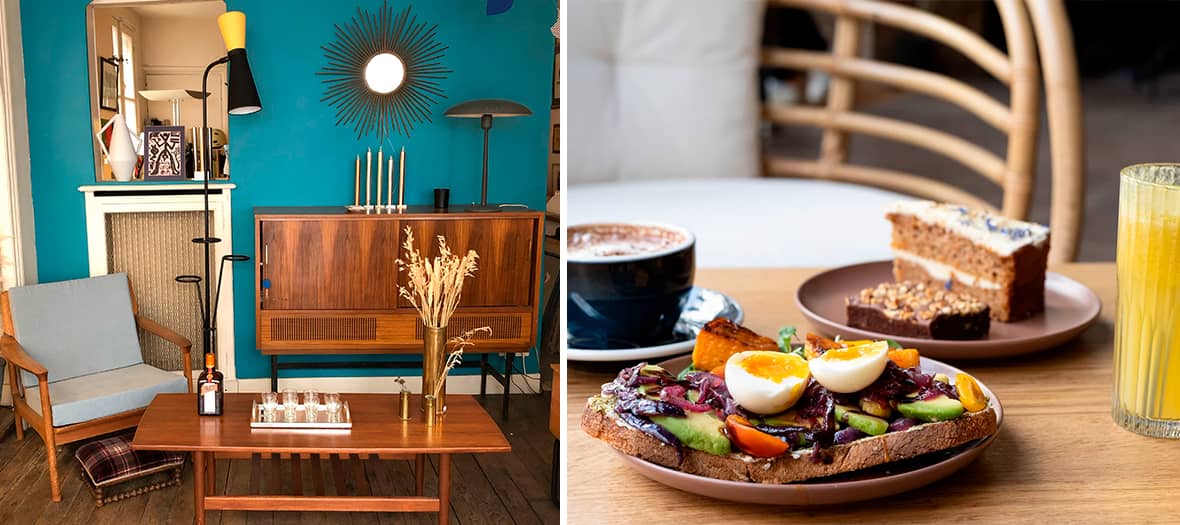 The best spot - L'Art et la Façon, A mother-daughter duo with a passion for nice things, a chance to learn about past and present talented designers!
What will you find? This flea market/gallery offers objects in both good and excellent condition with an extensive selection of French, Scandinavian and Italian furniture circa 1950s, 1960s and 1970s.
Besides, you'll also find decoration and framing services, curtains, lampshades and shelves, as well as upholstery.
Price range - Budget-friendly, you'll find furniture ranging from 90€ for a bedside table to 2 000€ for a couch, along with smaller items like glasses/bowls from 10€ to 200€ or beautiful vases signed.
Brunch combo - A stone's throw away, La Pépinière des Batignolles is the go-to coffee shop in the area. On the menu: fresh juices, homemade cakes, granola bowls and awesome iced-coffees!
Worth mentioning: the brunch starts at 11am and runs until 3pm.
It comprises a choice of hot beverages or juices, an avocado toast or a vegan bowl and a dessert (18€).
L'Art et la Façon, 9 rue Nollet, Paris 17th. Open Wednesday to Saturday from 11am to 7pm.
La Pépinière des Batignolles, 15 rue des Dames, Paris 17th. Open Saturday, Sunday and Tuesday from 9.30am to 6pm and Wednesday, Thursday and Friday from 8.30am to 6pm.
For a Vintage English Feel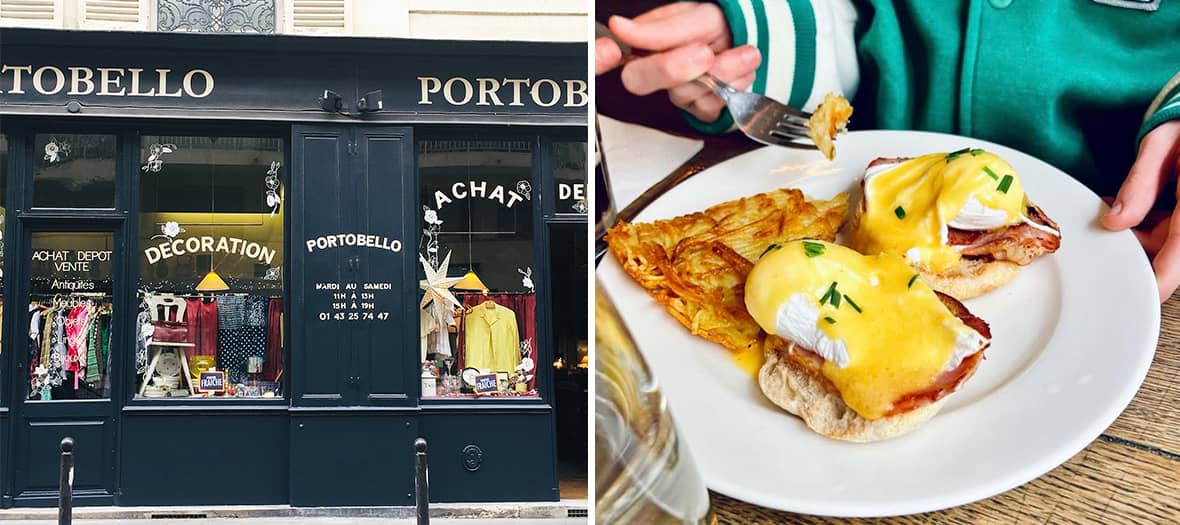 The best spot - Portobello, with its mysterious black storefront...
Ann, the owner, sells a collection of hand-picked vintage goods in pristine condition.
What will you find? Mostly decorations, garments, scarves, crockery and jewelry.
This place looks like Ali Baba's cave!
Price range - Each item has its own value. For the plates, prices go from 10€ to 30€, the dressers vary from 350€ to 1 500€, the vintage silk scarves from 40€ to 100€.
Brunch combo - 2 minutes away on foot, rendez-vous at Coffee Club, most popular place in Saint-Germain-des-Prés. 100% homemade brunches are served daily starting at 10:30 am. You'll love the Breakfast Club which offers pancakes with maple syrup, eggs, avocado, bacon, sausages and hash brown (18,50€), or the famous eggs Benedict (16,50€), a French toast and fresh fruits (12€) and loads of juices prepared on site (from 5€), all set in a New York City vibe.
Portobello, 56 rue Notre Dame de Champs, Paris 6th. Open Tuesday to Saturday from 11am to 1pm and from 3pm to 5pm.
Coffee Club, 87 rue d'Assas, Paris 6th. Open daily from 10:30 am to 10pm.
For Hidden Gems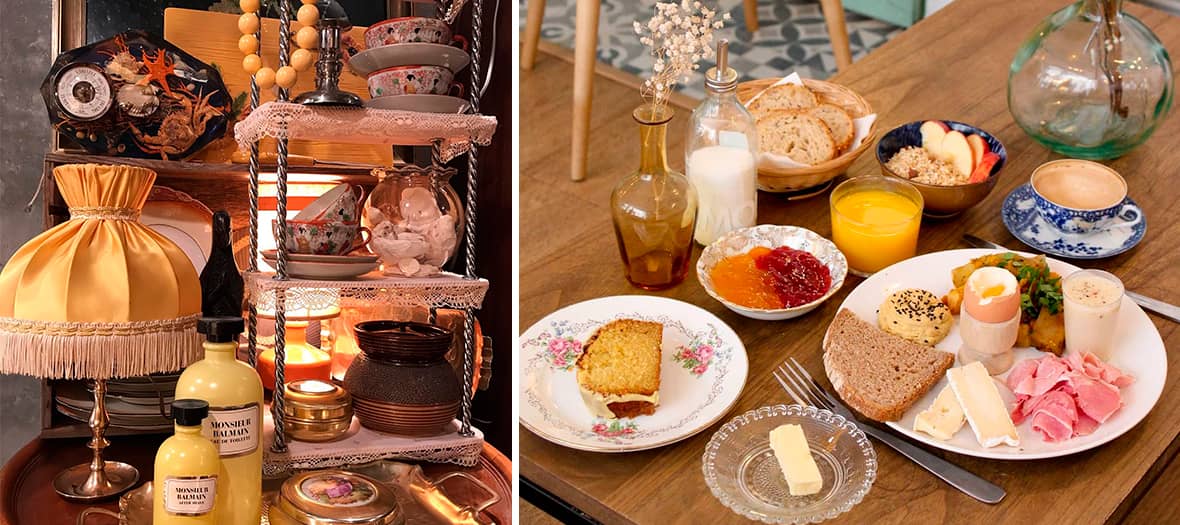 The best spot - Emilie brocante, a family-owned flea market since 1977 where you will find precious pieces.
What will you find? Home decor, furniture, costume jewelry, linens and other colorful items selected with utmost care. Vintage and quirky finds that have character, just waiting to find a new home!
Price range - Attractive prices, starting at 1€ in bins (go ahead and dive in, you'll probably find some treasures), or maybe some small pieces of furniture between 150€ and 200€.
A good way to spoil yourself without breaking the bank!
Brunch combo - Chez ta sœur is a comfort-food brunch in a friendly setting that offers homemade dishes you will adore. This pastry café offers brunch on Saturdays and Sundays from 11am to 3pm with savory treats (15€) including scones, eggs, grilled vegetables, cottage cheese, granola, as well as its signature salted butter caramel, pear and whipped cream pancakes (10.50€). We're already licking our lips.
Emilie brocante, 22 rue Hermel, Paris 18th. Open Tuesday to Saturday from 3pm to 7pm.
Chez ta sœur, 57 rue du Mont-Cenis, Paris 18th. Open Monday to Saturday from 9:30 am to 6 pm and Sunday from 11 am to 6 pm.
Also discover our 20 favorite addresses in Lyon and a romantic weekend 1 hour from Paris without a car