No need to trek all the way to the Puces flea market for stylish antique scouting. Stay in Paris and take advantage of this sunny weekend to pick up a pretty photo, a Scandinavian mirror, fun dishware in the coolest second-hand and vintage venues, before sitting down to a nice comforting brunch…
To nab a stylish photo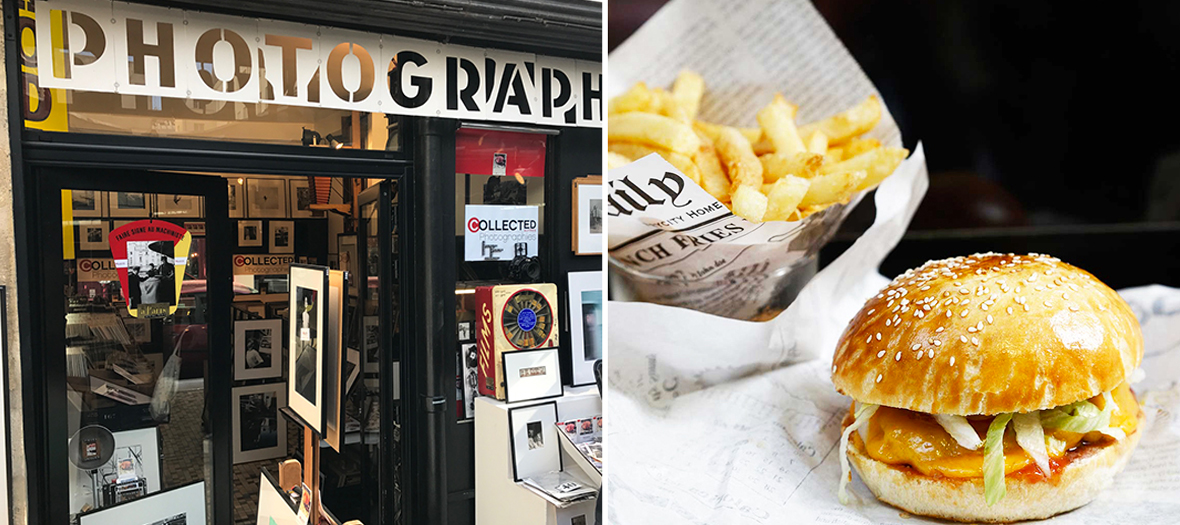 The right vintage spot: Collected. Marion Cotillard and Paul Smith are regulars. This small shop in the trendy Marché des Enfants Rouges happens to be the photo treasure trove of the Marais.
What does one find there? Photos from the film shootings of the Nouvelle Vague, black and white prints of Paris and its inhabitants during the 40s-60s, cabaret dancers… In short, thousands of carefully selected photos purchased from antique dealers and other specialists of anonymous photography (aka "vernacular"). To find them, Fabien Breuvart has traveled all around France since 13 years, always on the lookout for good deals, and functions by heart throb !
The prices: since photo prints are rarely signed, you can get a very good deal. Unframed ones vary from €15 to €180, against €130 to €450 for framed ones. Collected also offers a jumble of photographs in their street booth at €5 each. Signed works are of course more expensive.
The good brunch: choosing your favourite table at the Marché des Enfants Rouges and strolling in the alleys to pick your favorite stand. Ultimate references from regulars: Traiteur Marocain (couscous €12, veggie kefta €13.50 and fabulous pastries €2), the jap' stall of Taeko and his incredible bentos ( €12.50 €). Ultimate junk food, juicy burgers from the burger counter on the market (€12), top notch meat and house buns.
Collected: open Thursday to Saturday from 11am to 7pm, and on Sunday from 11am to 5pm. 35-37 rue Charlot, 75003 Paris.
Marché des Enfants Rouges : open from Tuesday to Saturday from 8.30am to 7.30pm, Sunday from 8h30 to 2pm. 39 rue de Bretagne, 75003 Paris. 01 40 11 20 40.
For vintage dishware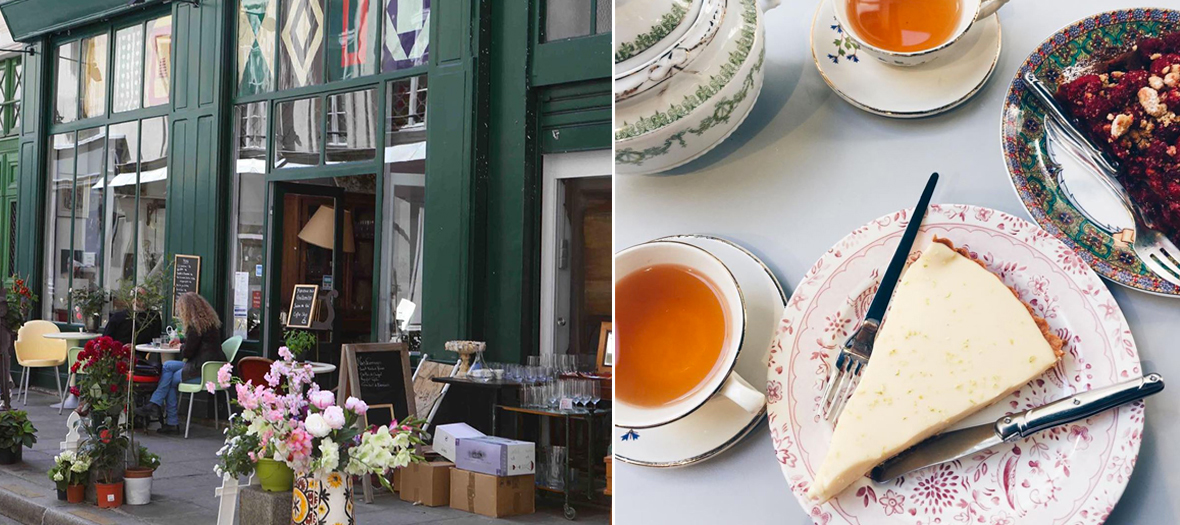 The right vintage spot: L'Atelier des Guillemites, an antique tea salon where everything is for sale. All those who adore pretty table settings and afternoon tea.
What does one find there? Everything you need for an atmosphere worthy of Downton Abbey : porcelain, highboys (platters with levels), paintings, mirrors, tables, or mismatched silver picked up here and there.
The price: James Sadler English teapot at €22, Louis XV chair at €50, Japanese sugar holder €15, wood screen €30 , wine jug €8 , Murano blown glass vase €100, bamboo table €200...
The good brunch: to be enjoyed right there, obviously, English style with a super formula at €27 including a melting quiche, waffles, pancakes, viennoiseries, warm drinks, cannelés biscuits, fresh fruit, tartines just like at Grandma's… The alternative: tea time, with amazing desserts whipped up by a neighbor pastry chef : carrot cake, clafoutis, flan, chocolate tart, cheesecake... (€8). To be washed down with: ice tea (€5) or vanilla, red fruit, mango smoothies (€5.50)—and let's not forget their special selection of teas.
L'Atelier des Guillemites: open Monday, Wednesday and Thursday from 11am to 6pm, on Friday until 7pm and on Saturday and Sunday until 7:30pm. 3 rue des Guillemites, 75004 Paris. 01 42 78 28 58.
© @aux_guillemites - @fannyfilippi / Instagram
For wildly Seventies furniture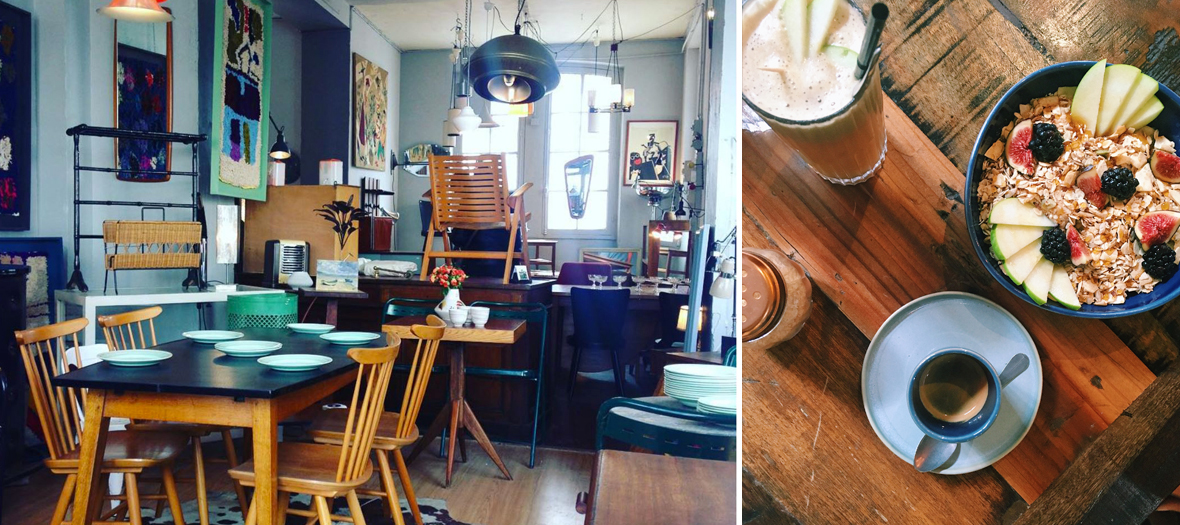 The right vintage spot: Alasinglinglin, for 1950 to 1970 buffs.
What does one find there? Small treasures in mint condition: velvet sofas, rocking chairs, tables, dressers, vintage toys for kids, 70's chairs… A good way to pimp your decoration in small touches— without necessarily transforming your living room into an OSS 117 decor.
The price: everything depends on the heart-throb of the day. €80 for a batch of plates in Gien porcelain, €5 for a vinyl record by Michel Fugain, €580 for a mirror or a leather sofa, €60 for a 70's hanging lamp, €90 the red typewriter, or €10 for a canvas "Parisien" keychain.
The good brunch: zip over for an Italian brunch to Scaria, the great restaurant / coffee-shop nearby that serves freshly squeezed fruit juices, granola, no gluten house pastries, slabs with burrata and focaccia from the grocery store, avocado toasts…
Alasinglinglin, open Tuesday to Friday from noon to 7pm. Saturday and Sunday from 2pm-7pm. 1 rue du marché Popincourt, 75011 Paris. 01 43 38 45 54.
Scaria, open Monday to Friday from 8:30 am to 11pm, Saturday from 9:30 am to 11pm, on Sunday from 9:30 am 6:30pm. 88 avenue Parmentier, 75011 Paris.09 83 47 62 66.
© @alasinglinglin_brocante / Instagram
For top quality furniture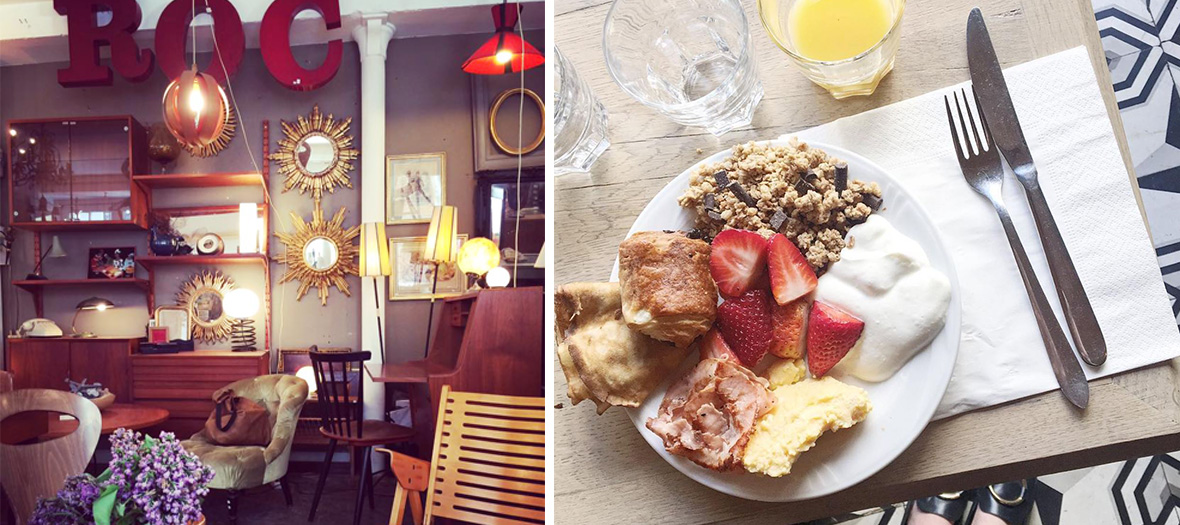 The right vintage spot: Belle Lurette, for savvy vintage shoppers who adore watching pros at work refurbishing their latest finds.
What do you find there? New pieces each week: mirrors, luminairies and furniture spanning from the late 19th century to the Seventies, without forgetting Scandinavian pieces, all in excellent state.
The price: not exactly cheap, but the pieces are of super quality and ready to be placed in your living room: table in faïence €100, Italian coffeepot between €15 € and €30, 70's coffee table in Scandinavian style wood €320, vintage rings €90, old iron posters €120, movies seats €150, mirror €120 ...
The good brunch: five minutes away, the comforting brunch of Estaminet at €23: sweet/salty, all you can eat buffet with warm drinks, viennoiseries, crêpes, a wide array of fruit juices, salty or sweet cake, scrambled eggs, perfectly crispy bacon, hard boiled eggs, farmer cheese with muesli, fruit salad, chocolate mousse. Then, choose your camp between a club sandwich with smoked salmon and cream of chives or a club sandwich with chicken, croquettes of camembert and brioche-like French toast. Reservations are highly suggested by telephone.
Belle Lurette - Trolls et Puces, open Tuesday to Friday from noon-7pm and on Saturday and Sunday from 2pm-7pm. 5 rue du Marché Popincourt, 75011 Paris. 01 43 14 60 00.
L'Estaminet, everyday from 12pm to 12am. 116 rue Oberkampf, 75011 Paris. 01 43 57 34 29.
© @chicandclothes / Instagram