Try this exercise in style : dress exactly the same two days in a row, just change your accessories. Verdict ? You will bluff them all and those around you will remember your sense of style without even noticing you are dressed the same. Morality? Go for accessories that provide character to your look.
Well the good news is that, Anne Thomas has just opened up in the Marais, a skip and a hop from Carreau du Temple. Based in Lyon, the jewellery designer has recently launched into flat shows borrowed from men's wardrobes. Her two fave domains find themselves in a very streamlined setting in the image of her collections.
As far as jewellery is concerned, super graphic and minimalist earrings, pendants and  rings in gold plate brass. Amongst our heart-throbss, the Assembly earrings, super contemporary 3D hoop earrings (€85) and the skinny Aponi reed bracelet (€65).
There are also boots, moccasins and pumps with small heels in leather or velvet, ultimate snobbism of the season.
Some models even feature brass pieces such as the Tzigane Boots with its small barrette inlaid on the instep (€280), so buckle up !
As extra bonus : a selection of exclusive bands. Bags from the  L.A. Cuero&Mor brand, Olo of Portland perfumes and Clyde made in New York hats. The accessory? An indispensable.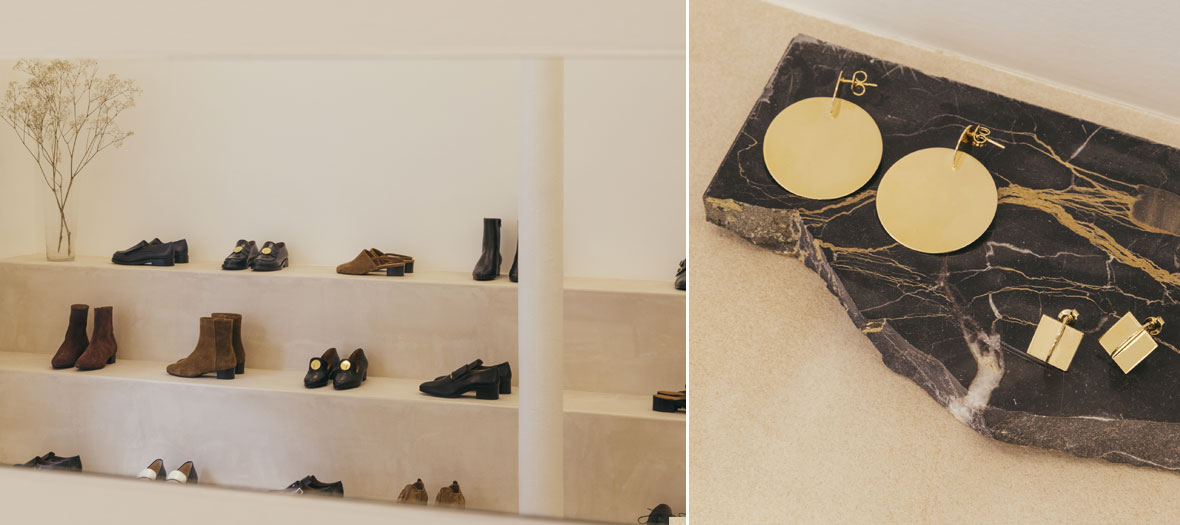 Open Tuesday to Saturday from 11am to 2pm and from 3pm to 7:30pm.