We also want to party like they do in Bayonne! Throughout the Rugby World Cup, Chouchou Hotel, the 4-star haven for Parisians just steps from the Opéra Garnier, is launching a 100% South-Western program to celebrate the promised land of oval ball. A Basque fiesta in the heart of Paris? We're on our way.
French Touch as a Moodboard
We often talk about Chouchou, this ever-friendly hotel always ready to organize good vibes events. Since last May, this cool hangout has been highlighting French and local culture around regional themes. After Normandy and Corsica, it's now the turn of the Basque Country to set the highly festive mood...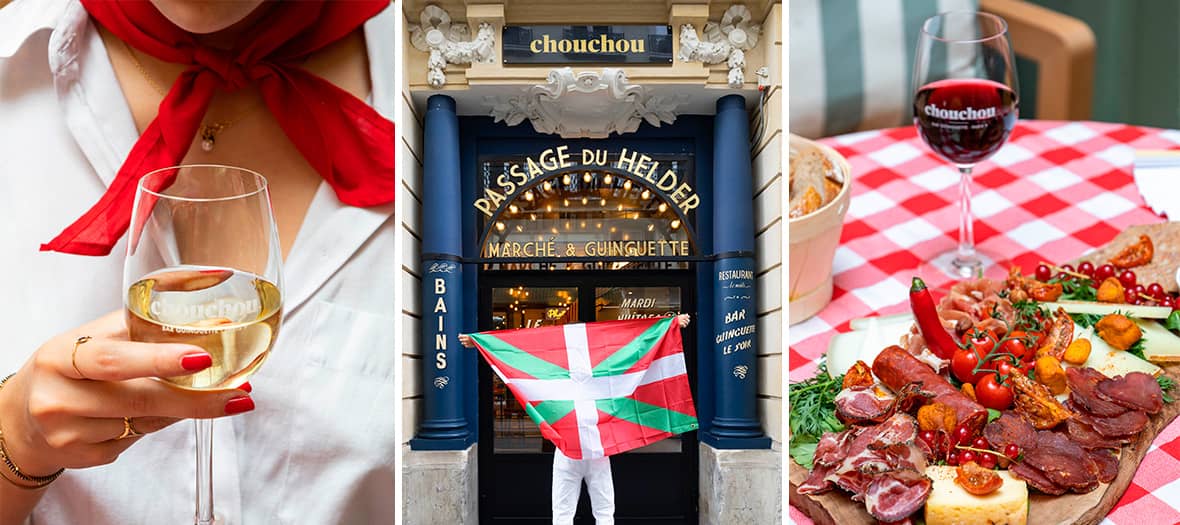 You can drop by with friends to gather around the long tables of the guinguette in a truly welcome vacation spirit. In the evening, The Stage hosts an eclectic program (open stages, DJ sets, live concerts...) with a focus on Basque artists, of course.
From September 21st to 23rd, spend the weekend there for blind test evenings with prizes to be won. White dress code and red scarf (provided on site) are mandatory! Also, note that on October 3rd, there's an oyster - kombucha pairing night, or on October 17th, a special Basque wine tasting workshop. Art enthusiasts will also find their interest on October 28th during a Basque landscape painting workshop hosted by POPIN and the artist La Mandarine Bleue (details and reservations for all workshops on their Instagram account).
Obviously, Basque-style aperitif is a must: with each new regional season, the menu revisits locally selected terroir products. Here, you can enjoy Basque charcuterie and cheese platters, sun-dried tomatoes, pâté with Espelette pepper (starting at €28) or a vegetable platter for vegetarians (€24), and for dessert, a delicious Basque cake from the famous Maison Pariès, accompanied by its black cherry jam (€10).
And to wash it all down, there's a selection of local wines and sodas or even a cocktail (€15) based on Izarra, a liqueur created in Hendaye, making the cultural experience complete. Topa!
Basque Season in September and October at Chouchou Hotel, 11 rue du Helder, 9th arrondissement. Guinguette open from Sunday to Wednesday from 7 am to 10:30 pm and Thursday to Saturday from 7 am to 12:30 am. Rooms starting from €200.
Also, discover A Getaway in a Castle Amidst Vineyards and Choukran: The Moroccan Restaurant Making Waves in the 9th Arrondissement