A Big Thumbs Up for This Fresh Find! Following the success of Yemma and its beloved recipe book, Chef Abdel Alaoui once again professes his deep love for his Moroccan homeland in this new spot that promises to bring sunshine year-round. Far from the postcard clichés, Choukran's vibrant decor instantly transports us to a fun and gourmet world, blending traditional dishes with top-notch street food. As a food enthusiast, it's simply outstanding!
From colorful Zellige tiles on the floors to white lime-washed walls, bottle-green banquettes adorned with cushions, and wicker pendant lights - Choukran's joyful and modern decor instantly teleports us to Jemaa el-Fna square. Adorning the walls are the vibrant snapshots of Hassan Hajjaj, the master of Moroccan pop art, along with humorous signs from the souk, adding a fun touch. Every piece of tableware, stools, and decor items has been carefully sourced from Morocco, right down to the impressive restroom door! The design was entrusted to Studio Belem, with decor conceived by the Bureau Barbara in collaboration with Abdel Alaoui.
A Sunshine Personality Chef
When you're literally born in a kitchen, it's destiny! Abdel Alaoui honed his skills under the guidance of culinary giants like Michel Rostang in Paris and Gagnaire's Sketch in London. He dabbled in theater, his second passion, and caught the eye of Canal +. He became a food commentator on "L'Édition spéciale," continued on "C à Vous" on France 5, and then went on to have a food segment on Europe 1 in the show "Bienfait pour vous." In parallel, he founded the "Yemma" eateries and in 2022, captivated gourmets by publishing his cookbook, "Choukran," which sold over 20,000 copies. In June 2023, his most exciting project came to life: he opened the doors of his first restaurant in the heart of Pigalle. In his signature cool style, Choukran radiates sunny vibes and delights in all the things that make us happy in life: kémias, couscous, and top-notch sandwiches!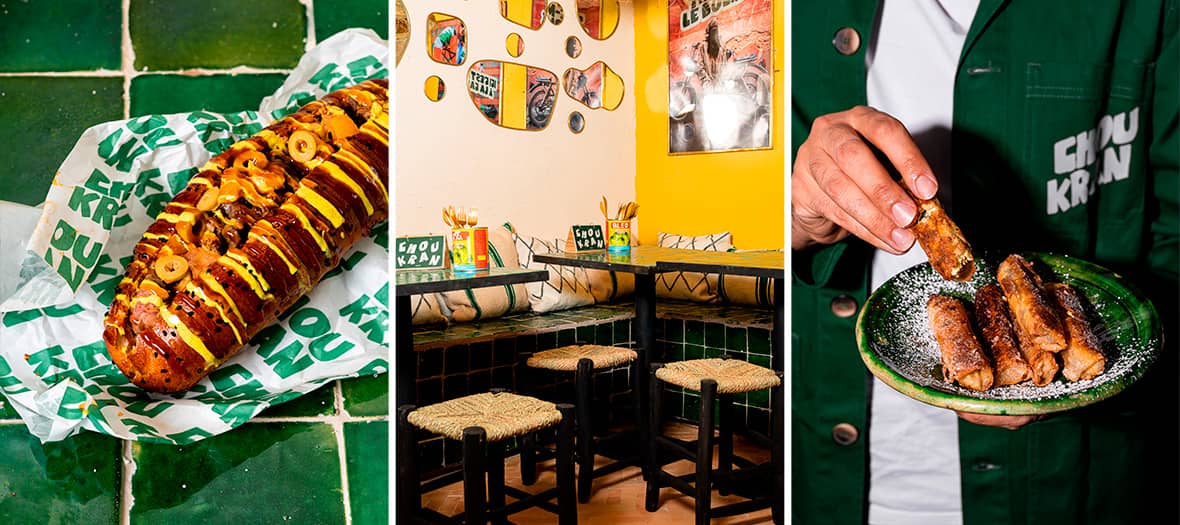 On a menu that tantalizes our taste buds, the delicious kémias start the show: cucumber and tomato salad with orange blossom (€5.50), beetroot hummus (€6.50), and chicken almond pastilla fingers (€7.50). Next up, the chef's masterpiece: couscous. At Choukran, it comes in various versions: chicken, merguez, kefta, and royal (ranging from €15.50 to €19), and there's even a gluten-free semolina interpretation for the veggie crowd. Alongside, the delightful chakchouka is prepared like a ratatouille, perfect for dipping with homemade bread (€14.50). But the true stars of the place, the ones that draw crowds spilling onto the sidewalk for takeout, are the Moroccan sandwiches! The crowd-pleaser Kazdal elevates the sandwich to new heights. In its delicate Msmen crepe (the kind you have for breakfast in Morocco), the merguez nestles in a magical sauce of yogurt, turmeric, and lemon, with a refreshing mix of cucumbers and herbs (€11.50). Equally impressive is the Bledwich, a meaty delight with shredded beef in a fluffy brioche bun (€13). Leave room for a few spoonfuls of tiramisouk: an oriental twist on tiramisu where orange blossom replaces coffee, and mascarpone is mixed with almond paste, argan oil, and honey (€6.50).
Please Note : Choukran serves excellent coffee sourced from Fève.
Choukran, 29 rue Saint-Georges, Paris 9th. Open daily from Monday to Friday, 12:00 PM to 2:30 PM and 7:00 PM to 10:30 PM. Continuous service on Saturday and Sunday from 12:30 PM to 10:30 PM.
Also discover Phénice ; Yoni Saada's new table and 5 girly restaurants to see life in pink