The Winter collections are finished, the sales are getting rid of the unsold pieces, yet Spring-Summer has not arrived yet—in short we are actually swimming in a stylistic desert. Luckily, a series of small pop and vitamin-filled capsules collections are going to liven up the new season.
Fab sweatshirts, fun accessories, pop art socks or colourful jewellery, zoom on six associations of ideas filled with panache.
Viktor&Rolf x Zalando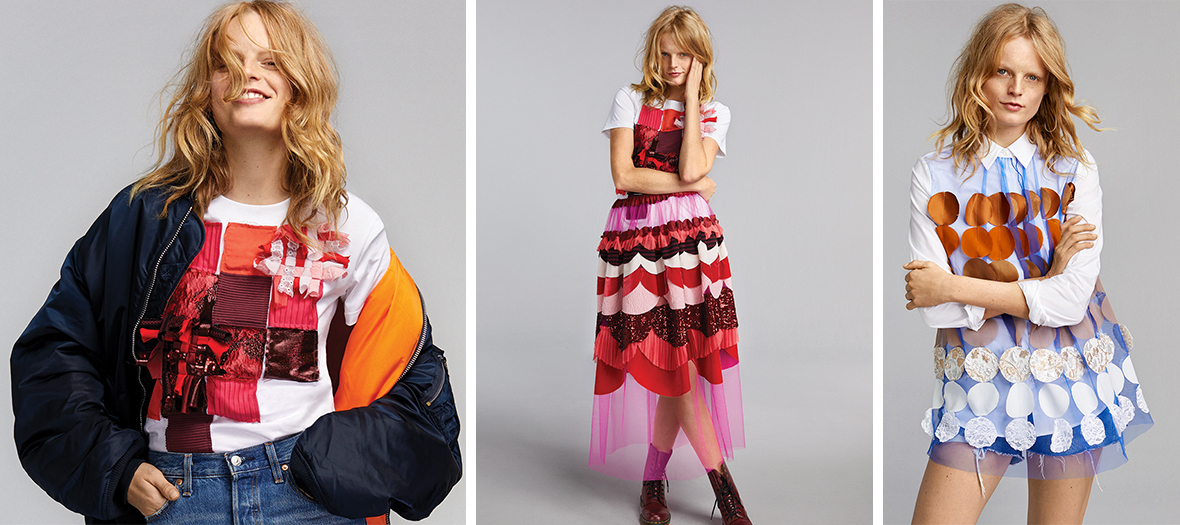 The collab: the inseparable Dutch stylist Viktor&Rolf stamped haute couture, and the on-line sales site Zalando, temple of fast fashion. Improbable, you say? Well the sustainable and highly fashion collection RE:CYCLE might just surprise you. For this green collab', Viktor&Rolf is offering a second life to fabric discards and unsold Zalando pieces. Or the art of enhancing imperfections, with a limited edition carefully handmade with recycled materials.
The good: 17 avant-garde and carefully worked pieces: t-shirts with patches, embroidered dress-shirts, fairy tale skirts, and incredible sweatshirts with big bows tied on the sleeves (from € 50 to €250).
Available exclusively on www.zalando.fr starting the 1st of February.
Essentiel Antwerp x Snoopy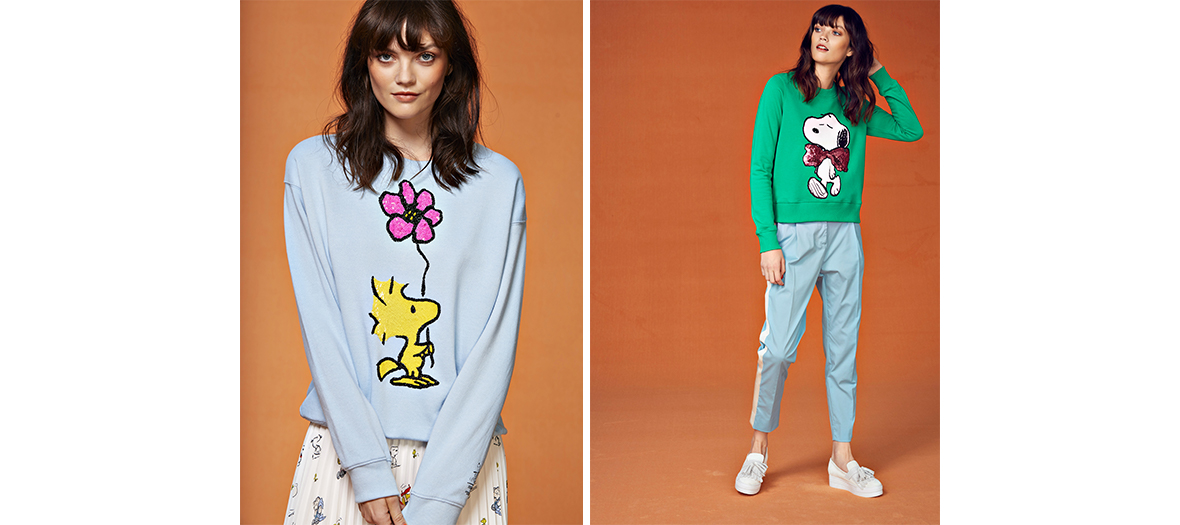 The collab: the most trendy of Belgian labels, Essentiel Antwerp, pimps its basic with the iconic image of Snoopy. Impossible to resist the adorable beagle of Charlie Brown and his feathered friend Woodstock ? It's wonderful to step back in childhood.
The good pieces: pastel handbags (€155), tangy sweatshirts to give a cool touch to a leather skirt (€165), a pleated midi skirt to wear with pumps and a street t-shirt (€185), stylish tops to pimp your jeans (€45) along with a wide array of irresistible accessories (key-chains, socks…).
Starting at the end of January 2018 on www.essentiel-antwerp.com.
MCM x Eddie Kang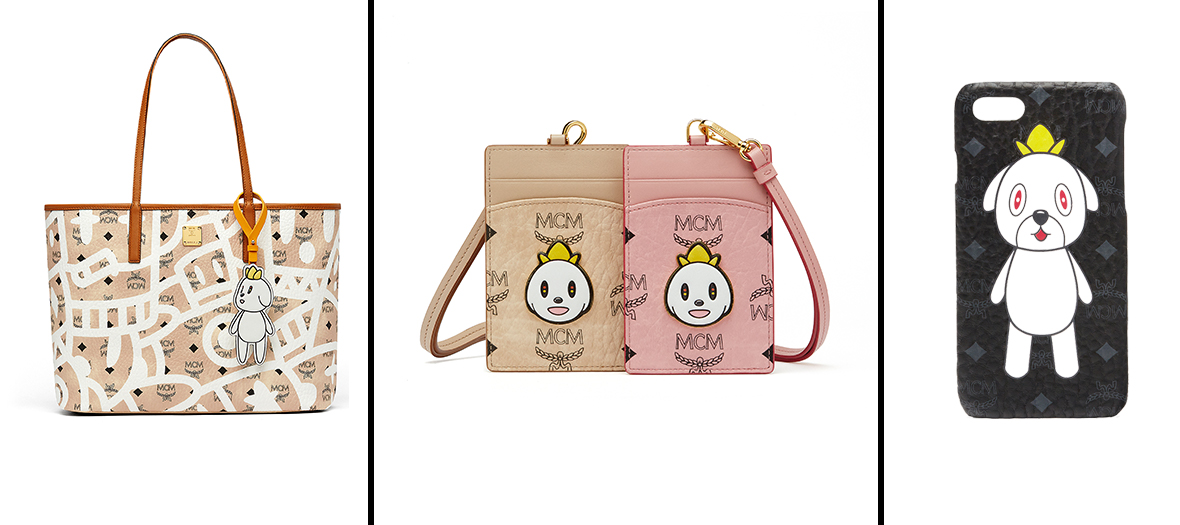 The collab: the iconic German leather goods brand MCM has imagined an adorable capsule of accessories in collaboration with Koren artist Eddie Kang and his famous « Animamix » (as desirable as the cult duo Vuitton/Murakami). With its mascot, Loveless, an adorable puppy and very kawaï, the artist wanted to focus on the adoption of abandoned animals rather than race. MCM will be the partner of several shelters to pass on the message "Save those that are not loved ".
The good pieces: adorable phone cases (€250), hand bags (€796) and card holders (€195) labelled with the crowned little dog, in grey overtones or pale pinks. This will deffo give an aristocratic touch to its accessories along with a touch of fun.
Collaboration available early February on www.mcmworldwide.com and at Printemps Haussmann.
Balaboosté x Hala Salem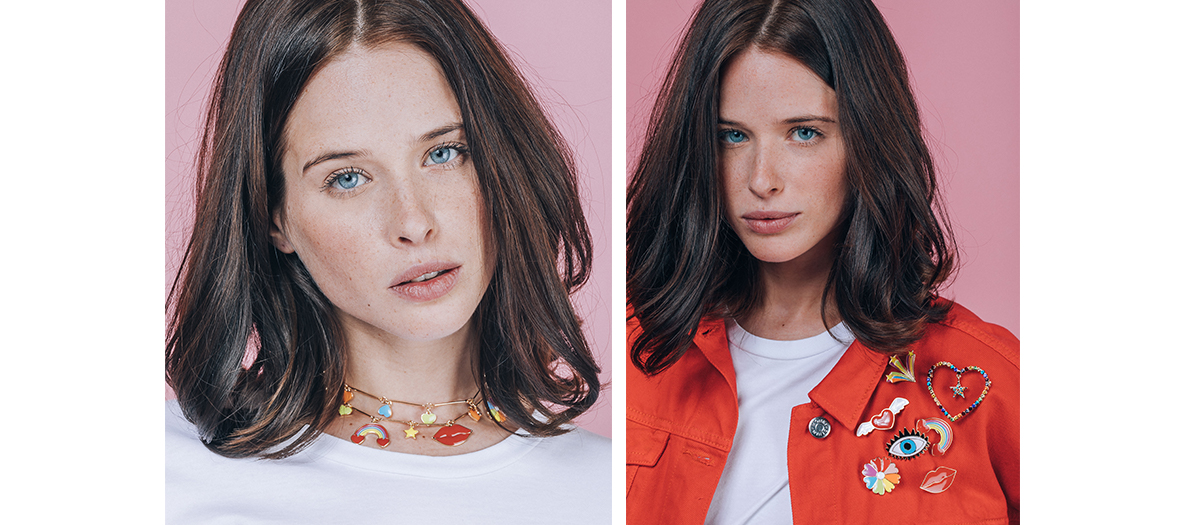 The collab: the king of fantasy jewellery, Balaboosté, has imagined a wildly pop and feel good capsule with illustrator, print creator and it girl Hala Salem (who has already hit the bull's eye with Pierre Frey, Tara Jarmon and Aquazzura).
The good pieces: refreshing earrings, necklaces, brooches, key-chains with heart, rainbow, eye, mouth, flower or shooting star motifs (from €12,90 to €14.90). A slew of colourful accessories to bring a pop touch to our Winter outfits, often to drab. Collection already available on www.balabooste.com and in Balaboosté boutiques (132 Rue de Rivoli, 75001 ; 326 Rue de Vaugirard, 75015).
Elsa Muse x Soi Paris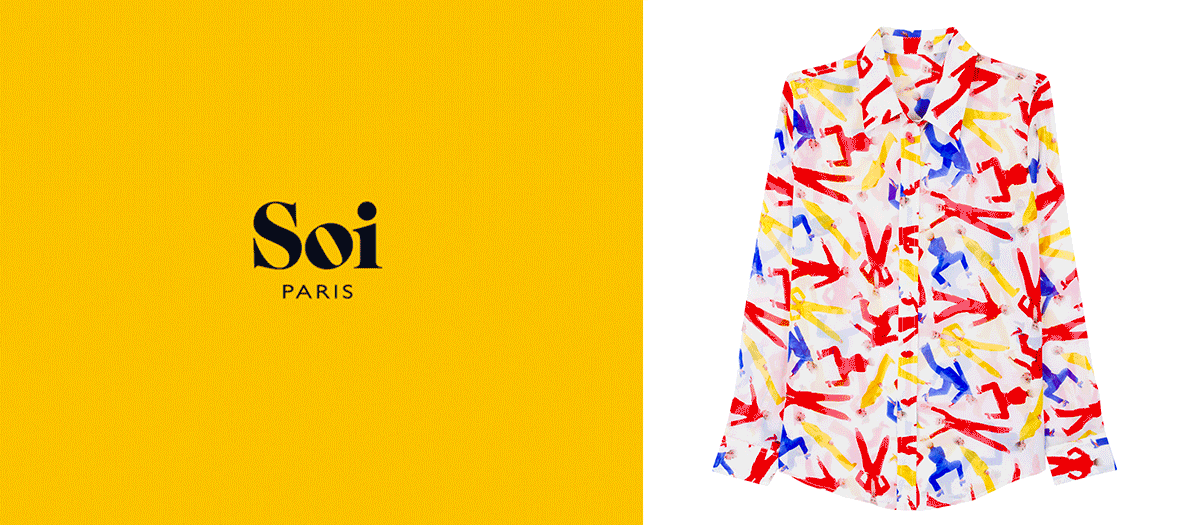 The collab: Soi Paris, showcasing the most beautiful printed clothing in the capital, is quite naturally associating itself with the arty and colourful universe of fashion and DIY blogger Elsa Muse, immediately recognizable with her short and platinum cut.
The good pieces: a shirt (€145) and a scarf (65x65cm, €55) in silk chiffon, printed with the pretty blonde head of Esla Muse. Add a jean skirt, tennis shoes and pretty earrings to complete the outfit.
Available starting mid-February on the eshop SOI PARIS www.soi-paris.com or the eshop ELSA SHOP www.elsamuse.com.
Happy Socks x Keith Haring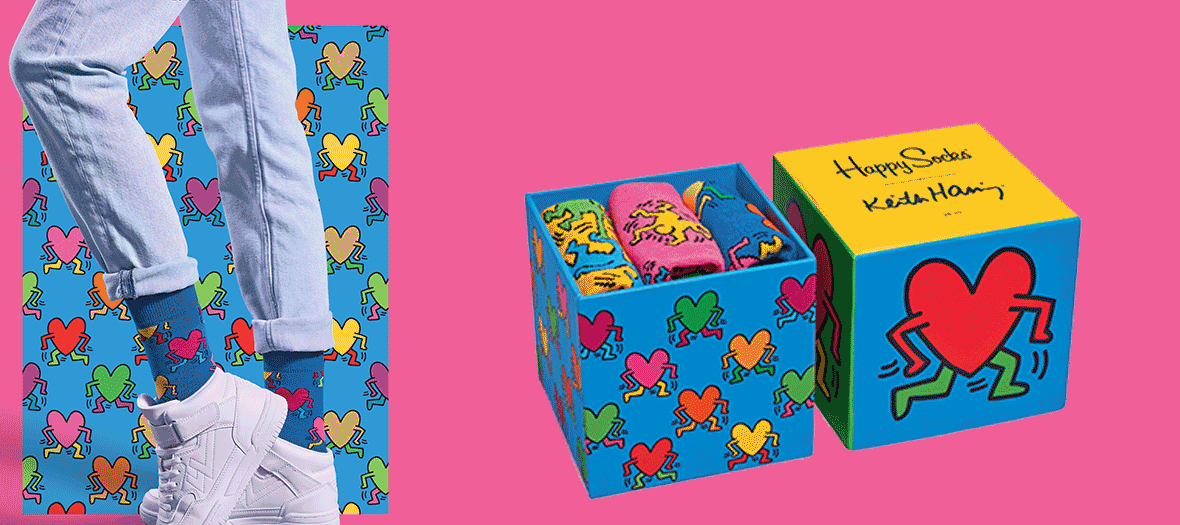 The collab: the utmost hipster sock brand Happy Socks is going to feature the iconic characters of pop art legend Keith Haring, for a collection of unisex socks and undies. Cult. As bonus, small fun and was a a great success at the Museum of ModernArt in 2013.
The good pieces: three pairs of unique socks in combed cotton (€10, or €29.90 for a set of 3) two pairs of men's boxer shorts and two pairs of girly panties. A great way to affirm you soft folly in small touches with streamlined sneakers.
The Happy Socks x Keith Haring collection will be available as of January 30th on www.happysocks.com and in with a number of vendors.