When the emblematic brands meet and mix their influences and their know-how, it gives new and sacredly desirable capsule collections that panic the entire fashionsphere. Focus on the sharp and stylish collabs that are waking up the fashion news of this fall / winter. Attention, limited series: we go for it!
Puma x Palomo Spain
Before peroxide hairstyles, wildly bling watches and total b looks , footballers had style. This is the fashion theory of Alejandro Gómez Palomo , founder of the ultra-theatrical brand Palomo Spain , which is inspired by the swag of football stars in the 70s , like the triple Ballon d'Or Johan Cruyff . This unisex collaboration with the equipment manufacturer Puma proves to be the perfect streetwear marriage.
To be won: two-tone nylon shorts , a retro-style polo shirt , hybrid high boots , sweatpants , a red crossbody bag .
Available on palomospain.com and puma.com , from €40 to €446
La Redoute x The Label Edition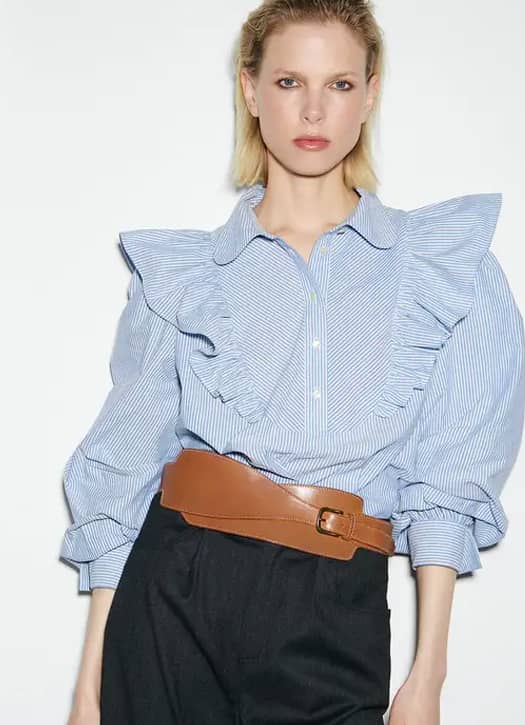 Decidedly, La Redoute is chaining stylish collabs and is turning to Véronique Vaillant von Siebenthal , the Franco-Spanish designer behind the ultra-bankable house The Label Edition . The result ? Strong pieces ideal for going to work, with wow blouses (his signature piece) and conquering cuts, all for less than 100 € .
To grab: a floral blouse with puffy sleeves , a suit waistcoat to put on over it , a striped shirt with ruffles on the shoulders or velvet trousers with a bow ,
Collection available from October 2 on laredoute.fr , from €69 to €99
Tommy Hilfiger x Richard Quinn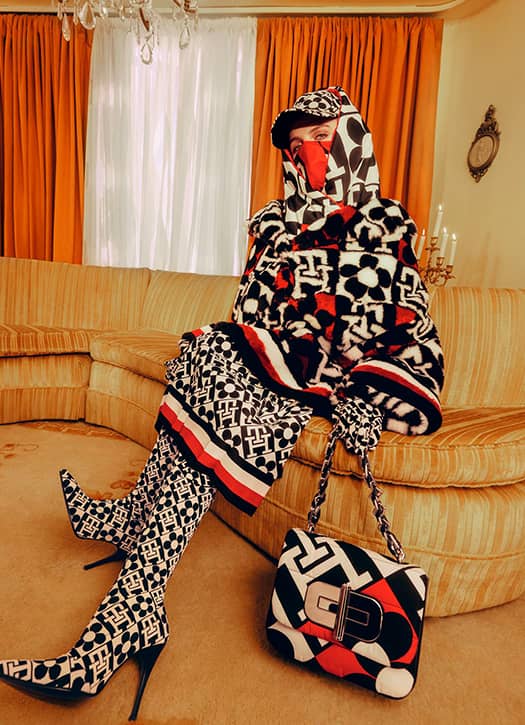 When the spectacular English style of Richard Quinn ( Elizabeth II Prize ) meets the American preppy wardrobe of Tommy Hilfiger , the collaboration sparks. This capsule, as sexy as it is improbable, presents a perched, even punk universe , all monogram, tartan and large flowers. Strong pieces revisiting the emblems of collegiate style and of which the two designers are both frank fans: " It's unexpected and optimistic, and it reflects the playful spirit at the heart of our two brands ", declared Tommy recently.
To be won: an oversized puffer jacket , a striped and floral polo shirt , a reversible jacket , an awesome backpack for the weekend and respectively Richard and Tommy's two favorite pieces, namely sublime embroidered chinos and a studded jacket in leather .
Collection available on tommy.com , from €159.90 to €1,490
Valentine Witmeur Lab X Apple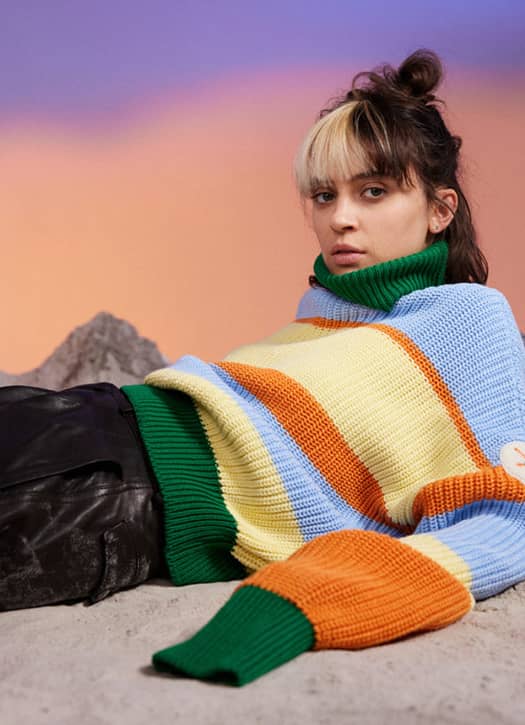 An early fan of knit sweaters designed by the Belgian designer Valentine Witmeur, the French singer Apple signs a pretty solidarity capsule poetically called Same Moon Same Sun , half of the profits of which will be donated to the F4GL association (Foundation for Girls Leadership ) based in Malawi.
To be won: the house's signature turtleneck in feel good colors, a sleeveless top adorned with the singer's drawings, pink and orange bigoût pants or an adorable crop top with a patch .
Collection available on valentinewitmeurlab.com , from €160 to €220
Levi's® x Ganni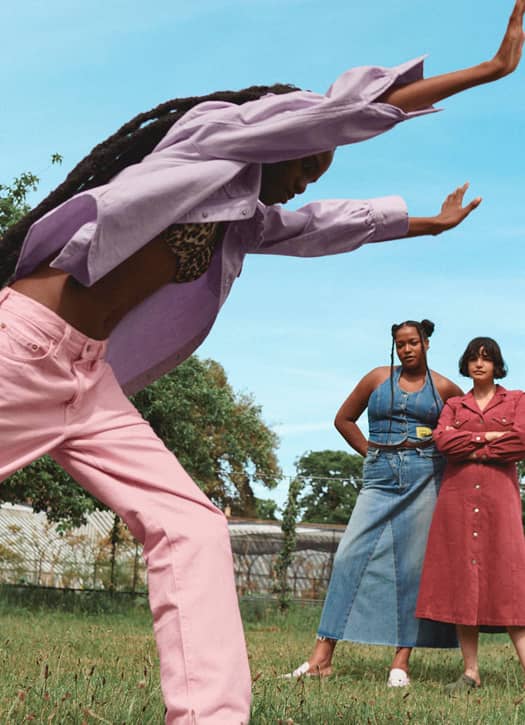 For their new collaboration after the success of the previous ones, Levi's® and the star Danish label Ganni once again take on the codes of the two houses to deliver a panoply of cool pieces inspired by the new passion of the city dwellers of Copenhagen or San Francisco for gardening. , each made from at least 55% certified organic cottons and natural dyes from plants and minerals. When we tell you that sustainable fashion is sexier than ever…
To be won: baggy and bootcut jeans with a perfect fade , a midi-length red buttoned dress , an XXL collar western shirt (Ganni's signature) and its denim jacket version or a resolutely 90's pink 501 .
Collection available on levi.com and ganni.com , from €185 to €325
Veja x Ba&Sh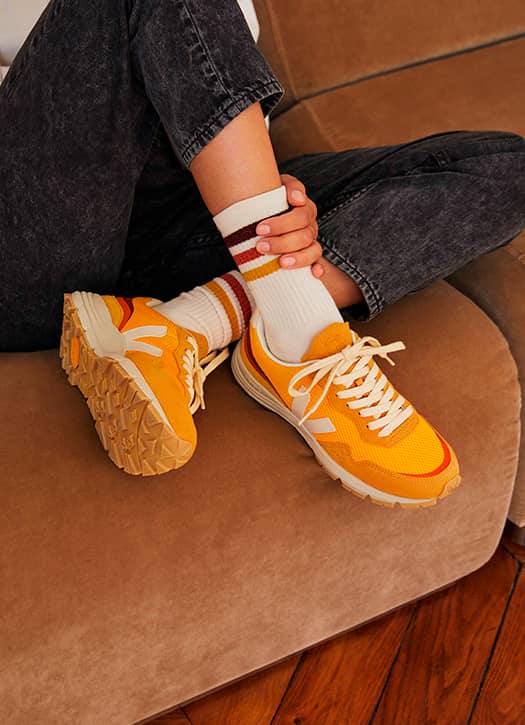 After Marni and Rick Owens, the green shoe brand Veja continues its momentum with a deliciously retro collaboration imagined with Ba&Sh, the favorite label of Parisiennes. We catch two models of 70's/trekking-inspired trainers in warm colors evoking " winter suns ". An entire program.
To grab: a single model available in two colors with a yellow-orange pair and another in softer tones , made in particular from waste rice, rubber , sugar cane and recycled polyester .
Collection available on veja-store.com , €185
Bonton x K-Way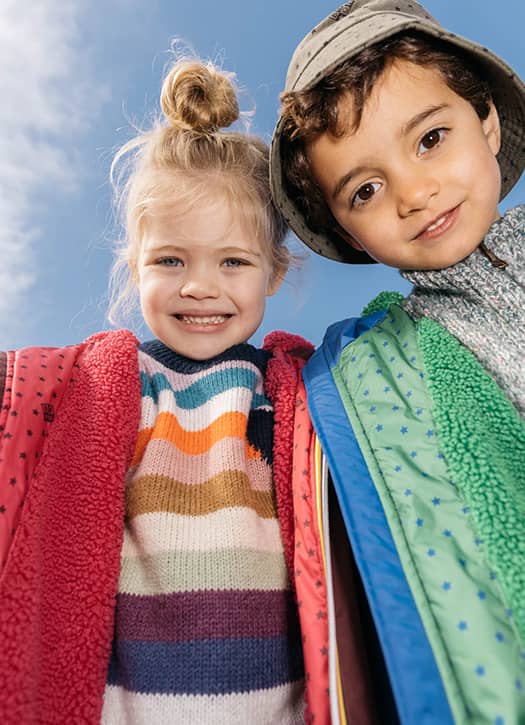 A K-Way to keep the kids dry is good. But when it's stuffed, it's even better! The iconic outdoor house is branded with Bonton 's bourgeois wardrobe for a new mini-capsule for girls, boys and babies, perfect for mid-season... that we'd gladly steal from them!
To be won: a jacket lined in sheepskin fleece available in burgundy / pink or blue / green, an adorable beige pilot jumpsuit and chapkas matching the coats to keep your ears cold.
Collection available on bonton.fr and k-way.fr , from €69 to €199
Betty x Vanessa Wu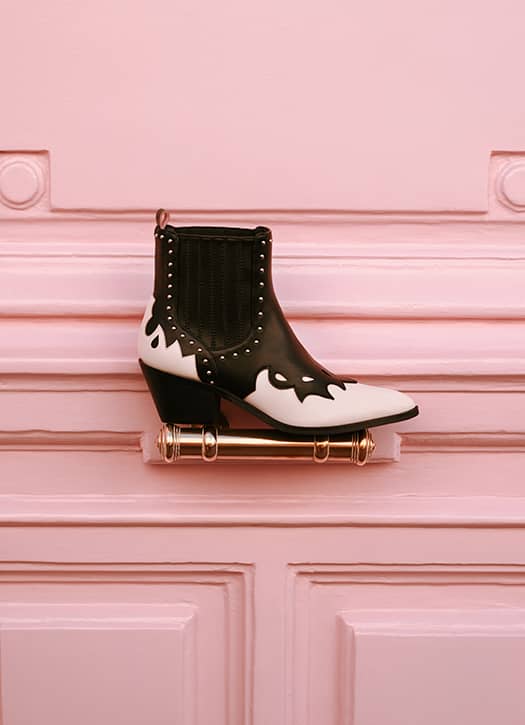 It's the surprise collab of the new school year! On the occasion of the brand's 10th anniversary, Vanessa Wu has imagined a very first capsule collection co-created with star influencer Betty Autier . A professional and virtual love at first sight for the two girlboss who are offering 6 pairs of shoes inspired by the Wild West for the season . The cowgirls are coming to town...
To grab: Montmartre notched boots , black and white or beige studded cowboy boots, zebra and leopard sneakers or even off- road heeled boots .
Collection available from October 2 on vanessawu.fr , from €80 to €100
Also discover the new brands that are driving the fashion sphere crazy and the labels that teenagers love .