Tailoring geniuses, clothing architects, the close ties between Spaniard Cristobal Balenciaga and Franco-Tunisian Azzedine Alaïa seem quite obvious and yet it's the first time a combined exhibition is dedicated to these talented couturiers. The Association Azzedine Alaïa is offering a very unusual conversation between the two famous couturiers by making their haute couture creations dialogue in the Marais space. Even better than a fashion show!
The memory of Balenciaga saved just in time by Alaïa
While Demna Gvasalia, current AD of Balenciaga, has just announced the comeback of the cult label on the haute couture fashion show calendar planned next July, it's important to remember that in 1968, Cristobal Balenciaga made the decision to close his studio faced with the rise of ready-to-wear, which he refused to submit to.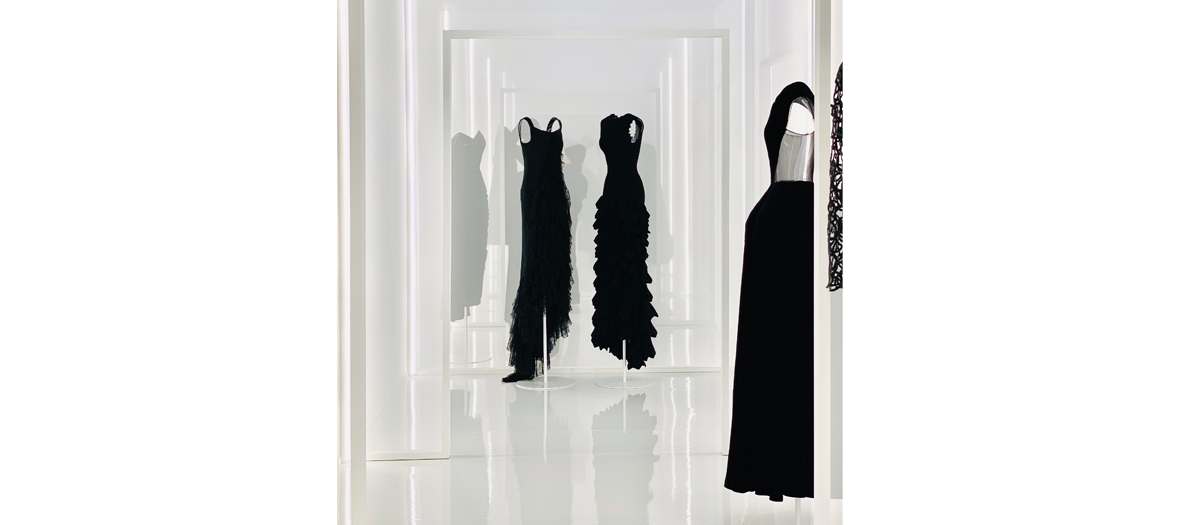 At the time, Azzedine Alaïa was entrusted with the stock of dresses and fabrics from the house by the former deputy general director of Balenciaga who gave him carte blanche. Rather than transform them, Alaïa, totally fascinated, kept them preciously and drew his inspiration from this  himself this unique heritage for his own collections.
The encounter between two monuments of the couture universe
Strolling through a labyrinth of veiled panels, a dream-like scenography signed by the American sculptor and painter Kris Ruhs, one discovers along the way pieces by the two masters that echo each other. 56 silhouettes in total.
Mirror effect of the long Fall/Winter 1960 bustier dress by Balenciaga, there is the one created by Alaia in 1988, the bolero tops of the Spaniard dating back to the 40s reappear in the models of the Franco-Tunisian during the 90s and so on with coats, cape ensembles and cocktail dresses. Such as a ping-pong game between the two most important names in fashion history.
Alaïa et Balenciaga, sculpteurs de la forme, until the 28t of June 2020. Every day from 11am to 7pm. Full rate 5 €.
Also check out the Daniel Arsham show at Galerie Perrotin and the Pierre et Gilles exhibition at the Philharmonie de Paris.