© La Cinémathèque française
Good vibes guaranteed. After months of lockdown, La Cinémathèque française has reopened its doors with an exhibition placed under the sign of the cool Frenchie and good humour. The star of this very special retrospective? Louis de Funès, to whom Frédéric Bonnaud, big boss of the Cinémathèque, is finally paying a true homage curated by Alain Kruger.
But who really is the actor that made us laugh hilariously during our entire childhood and entertained us during summer evening in front of the TV set between cousins or sitting on the lap of our grandfather? Lights, camera, action!
Louis de Funès: Proust's madeleine of French cinema
From Gendarme de Saint-Tropez to Rabbi Jacob including La Traversée de Paris or Le Grand Restaurant, Louis de Funès is part of the French heritage just like camembert, the Eiffel Tower and Brigitte Bardot.
But who is hiding behind this very amusing character? Born in 1914 in Courbevoie, this jazz buff had a hard time making a living as pianist in a bar. His career truly exploded after the war when Daniel Gélin, then Sacha Guitry gave him his chance… Before the beginning of a big career when Claude Autant-Lara placed him alongside Gabin and Bourvil in the cellar of La Traversée de Paris.
A burlesque icon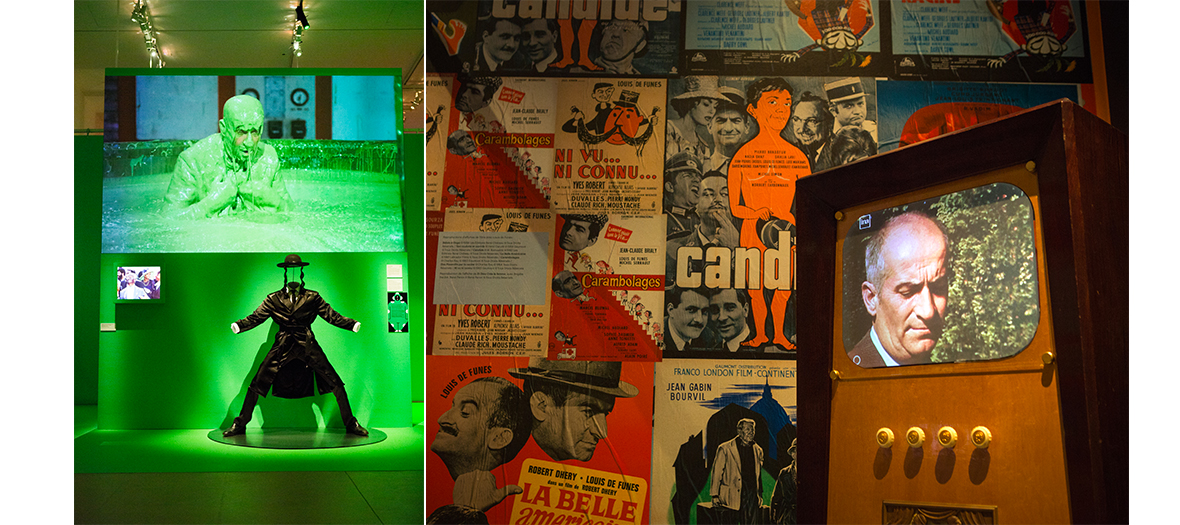 © La Cinémathèque française
You naturally recall his grimaces and silly gigs. A true sense of burlesque. The art of gags and mimics... Such is the Louis de Funès signature.

True heir to the heroes of silent films, the actor does not hide his boundless admiration for his mentors. "I venerate Chaplin, Buster Keaton, but those who I truly love, (...) are Laurel and Hardy. For me, they are really the best of the bunch".
He is the only one to really ensure this incredible gesticulation and wild rhythm, except maybe… other leading comical stars of that era: the highly amusing and super excited characters of Picsou and Donald Duck.
The unforgettable duo of La Grande Vadrouille
It's precisely this love of comedy which created a magnet between Gérard Oury and Louis de Funès, who always encouraged his friend to play in comedies. Soul brothers, the film director propelled Louis de Funès as a true movie star in the 60s.
With Le Corniaud (1965), La Grande Vadrouille (1966), La Folie des grandeurs (1971) and Les Aventures de Rabbi Jacob (1973), the duo was the French cinema box office blockbuster with more than 50 million entrances.
The success of the Gendarmes saga
Then came the Gendarmes saga , when the icon of laughter was at his apex. And with reason. Louis de Funès brings a touch of unclassifiable humour amidst an upheaval in society.
In each one of this films, the merciless gendarme, conservative by principle, resisting change, reconciles all the audiences. The very strict family man ends us giving freedom to his children, the incorruptible becomes more easy-going under the Riviera sun. The France of de Gaulle and all those partaking in the yéyé fad laugh happily…
Really cool collabs
Ultimately LOL: the Louis de Funès mug. Impossible not to indulge in the fashion collabs initiated by the Cinémathèque and so very much pop culture. More trendy and snobbish: brooches signed Macon&Lesquoy – the buzzing embroidery house. Where one finds his mythical "Ma biiiiiche" or the DS car of Rabbi Jacob.
Obligatory online reservation: €10 € (€5 under 18 years old). Open Wednesday to Sunday from 11am to 8pm. Closed Monday and Tuesday.
Also discover the best exhibitions this summer and the Musée Rodin garden which is allowing visitors to picnic on its lawns this summer.