Which are the must-have accessories to wear this season? Stylish Parisiennes wager everything on vintage spirit jewellery, cute silk scarves, shoes with a python print, good looking couture hand bags or XXL brooches to bring some peps to a timeless Prince of Wales jacket. So why not use them to the max, especially since there will be lots of good ops! Here is a wide array of addictive nuggets.
The new it-bag of the Parisienne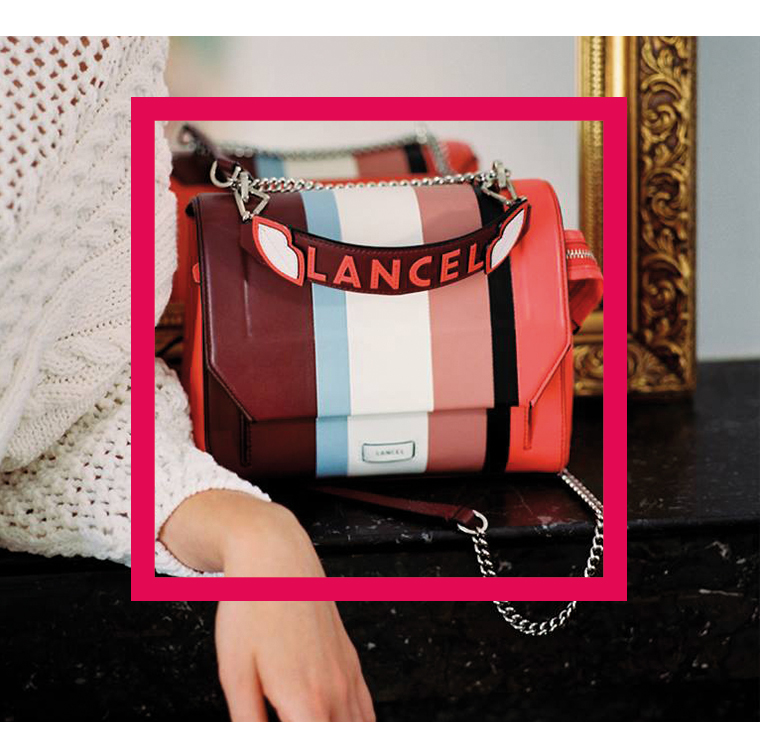 Maxi logo, pop coloured stripes, mostly incarnated by the divine Louise Follain—we all dream of this neo Ninon it-bag by Lancel that is giving us the eye. An ally of choice to bring vitamins to a dull outfit, slipped on quickly.
Ninon by Lancel, M flap bag, Moyen Modèle Multicolore, Lancel, €680
The python boots of Gigi Hadid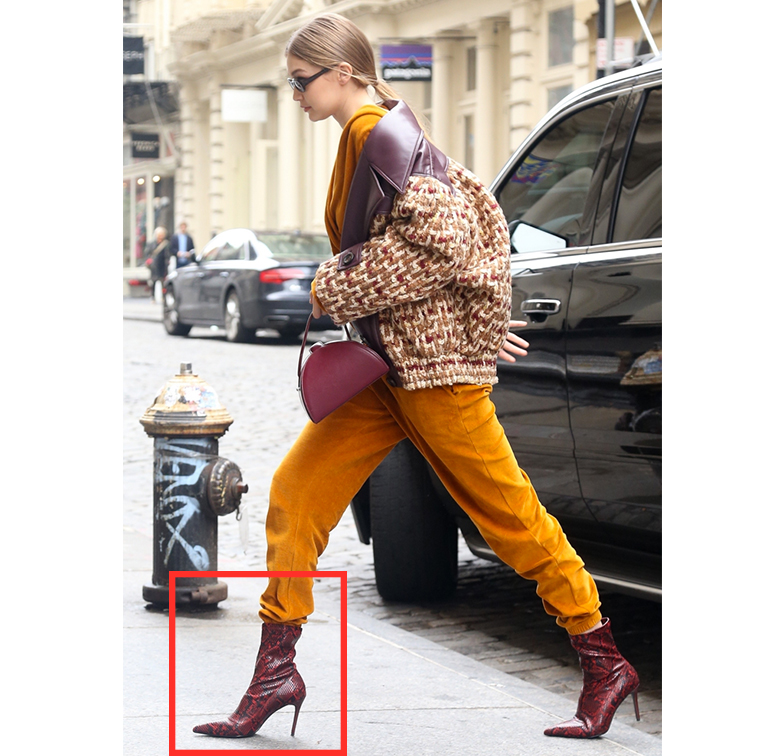 Spotted, Gigi Hadid entirely dressed in Miu Miu for New York Fashion Week, wearing mini priced addictives Mango boots. Or how to have a common denominator with the most bankable top of the moment for just €50!
Imitation snake booties, Mango, €49.99
Socks with labels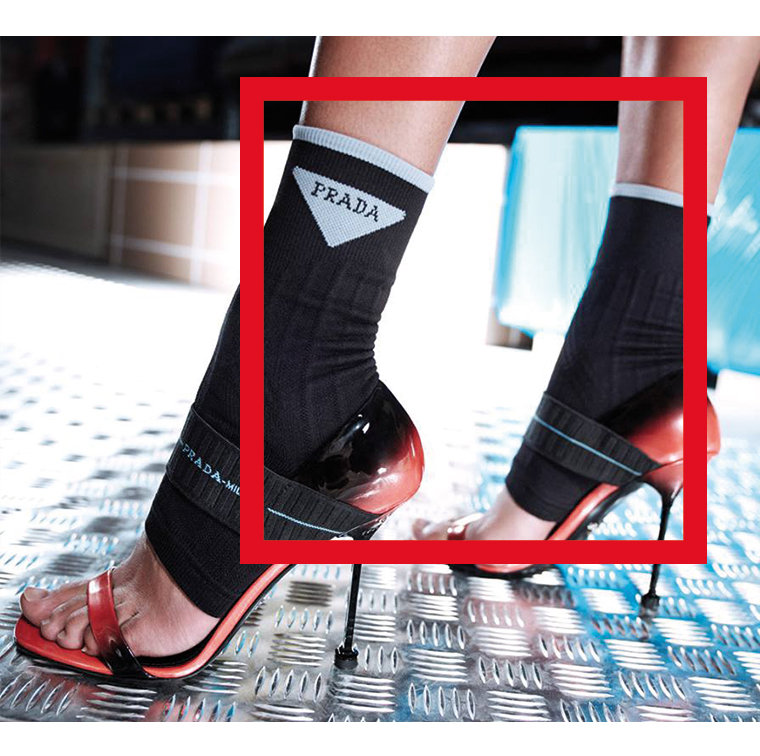 Here is what we call a small accessible luxury. The sock with a Prada label is offering a street wear note to open sandals, giving them a second well deserved winter life. This small detail that makes all the difference is precisely the touch of real fashionistas.
Toeless socks in nylon, Prada, €120.
Futuristic sneakers Interstellar? Gravity? Star Wars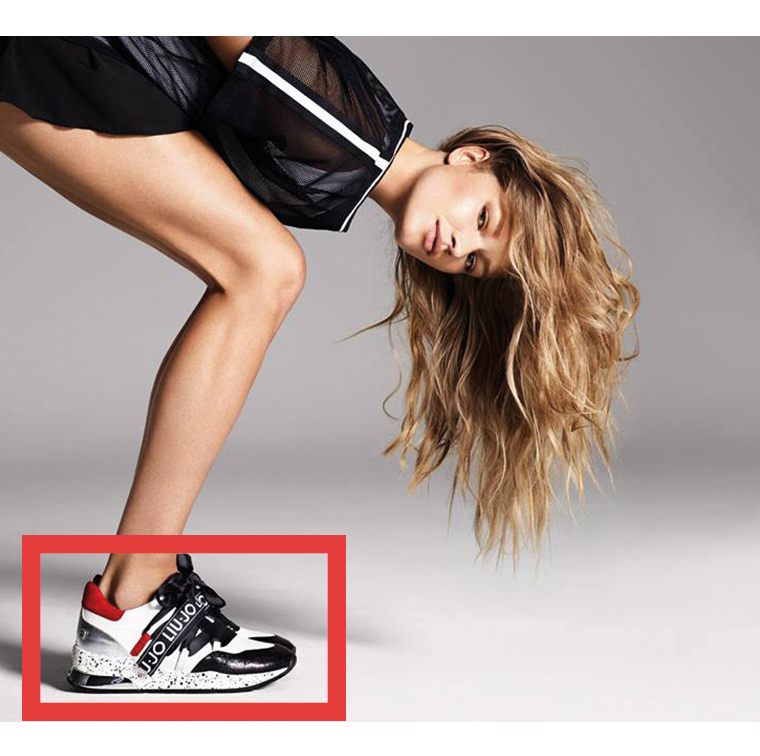 For all the geekettes, fans of films such as ET, with stylish sneakers, this incredible Liu Jo model  could very well end up discussed on the social networks.
« Karlie » sneakers, Liu Jo, €179.
The colorblock bucket bag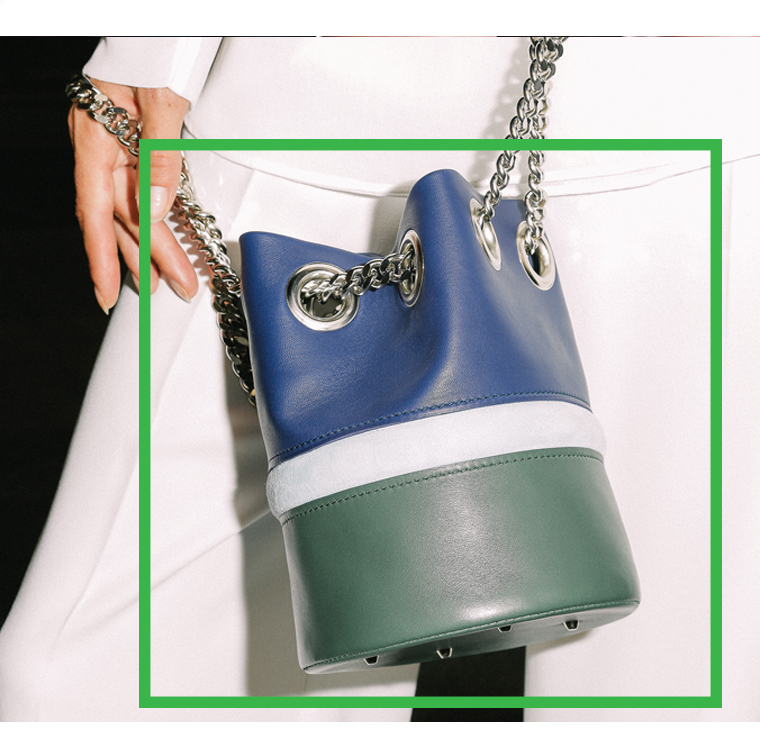 We thought colorblock and Delphine Delafon had gone by the wayside. Wrong! Both are back front stage with the perfect bucket bag featuring soft colours, to be taken everywhere and that really holds its own with a big chain and solid leather. A long lasting essential.
Bag in three-coloured lambskin, Delafon Paris, €470.
The large logo brooch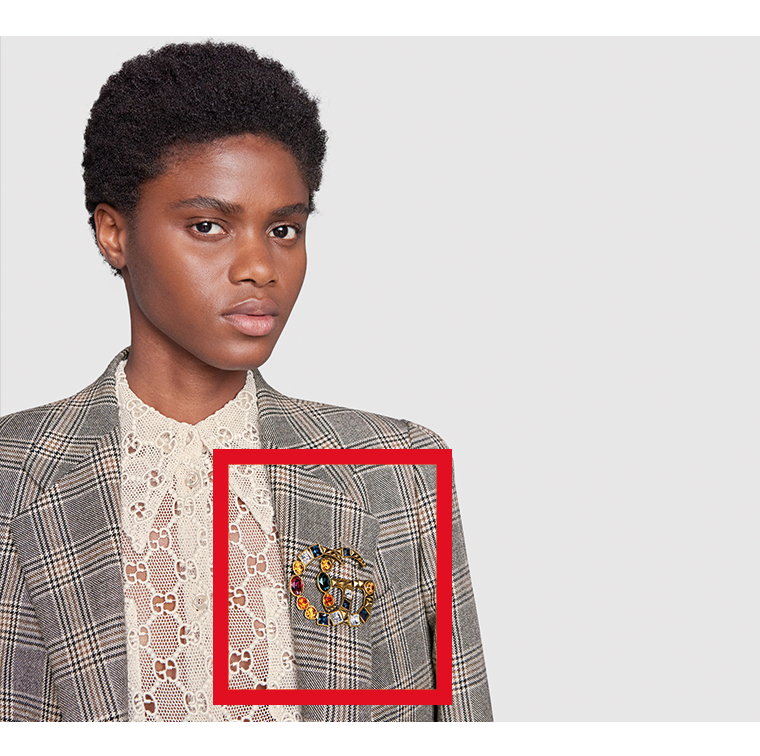 A brooch + a maxi logo = the most desirable jewellery piece of the year. Hip-hip-hurray for show off fashion, highlighted with rhinestones and sequins. No need to go over the top, you just need one good looking piece to reasonably upgrade a much too basic Prince of Wales jacket.
Double G brooch with crystals, Gucci, €650.
The animal jewellery piece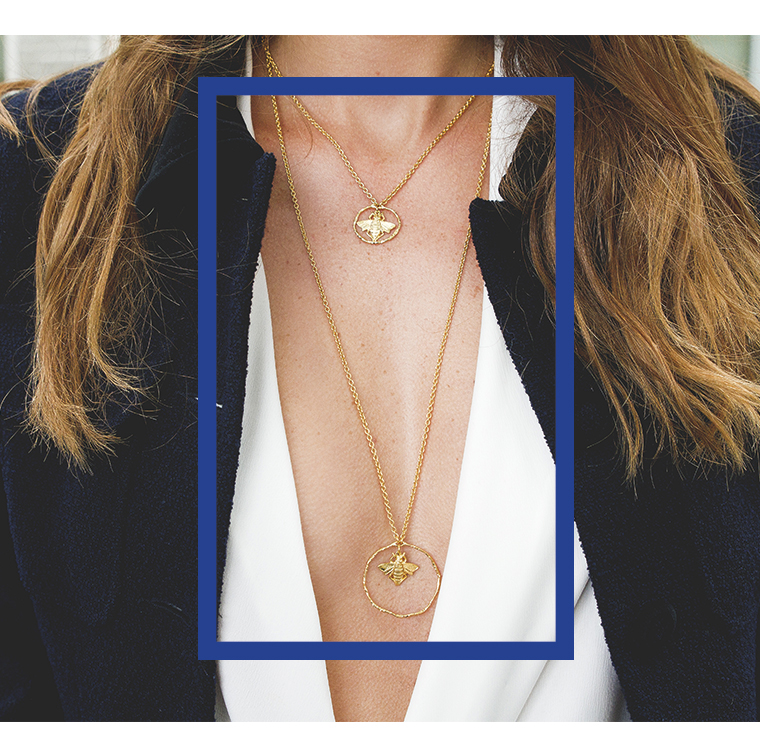 Boucheron, Tiffany's, Cartier… Leading jewellery designers have always drawn their inspiration from wild animals to imagine furiously chic collections, a tad off the beaten track. The star animal? The bee, which one finds at an affordable price as a short or long necklace in the latest collection of French designer Charly James.
Clara necklace (€49), long Clara necklace (€57), all by Charly James.
A silk scarf as bag gem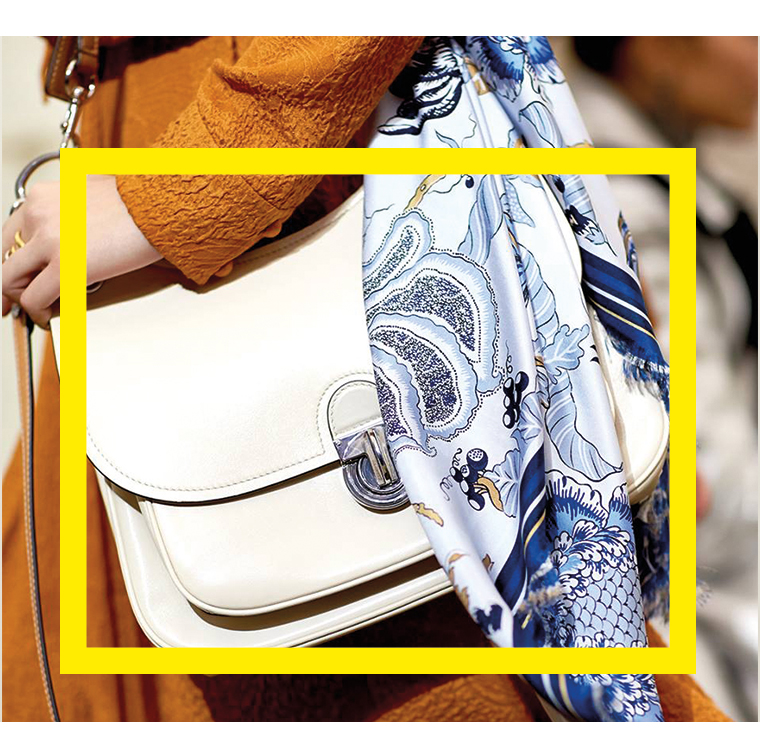 An it bag, yes, but pimped with a silk scarf, is even better. Best to try and find one with the overtones of the bag on the scarf (here, white), for a harmony as though both were together since the start. A style technique also called aristocratization of an every day bag.
James Saddlebag (€715) and Happy Times silk scarf (€150), all byTory Burch.
Couture earrings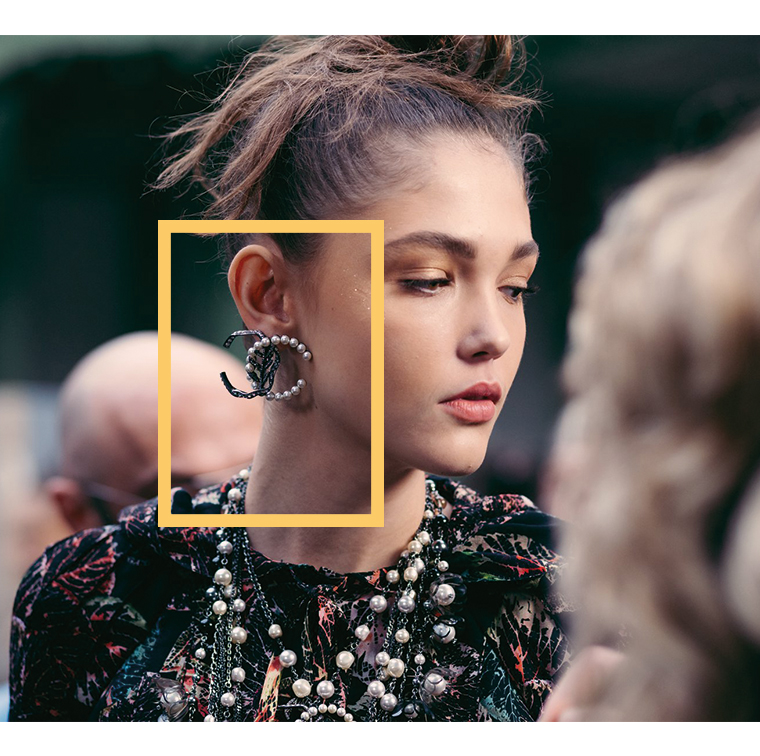 Very noticed on the Fall-Winter Chanel catwalk, these earrings of vintage inspiration will come highlight the face with a most noticeable couture note. An investment worth the effort, which you will surely be able to explain to your banker.
Clip-on earrings, Chanel, €650.
The slogan belt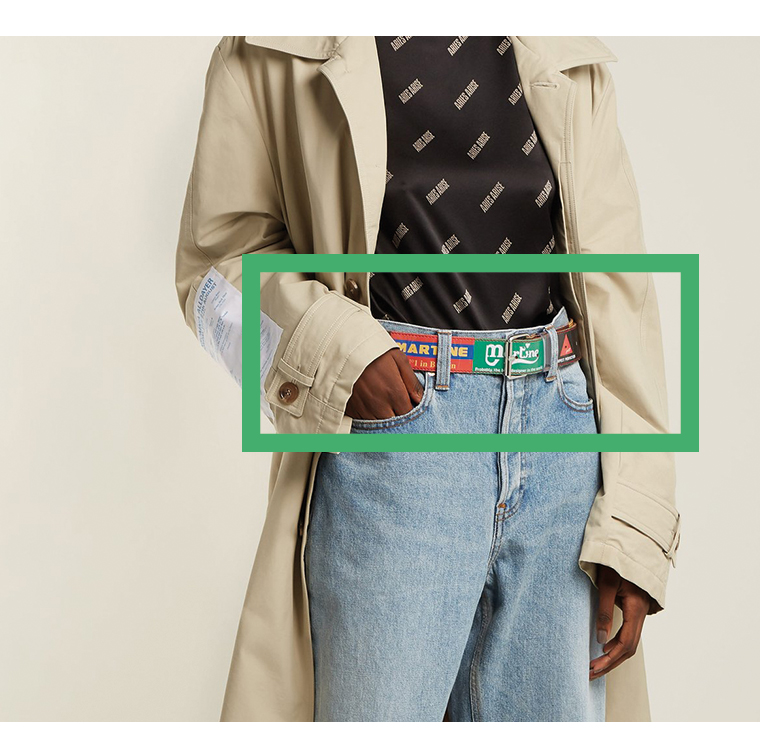 She was the only one capable of imagining such an accessory. The queen of street wear, Martine Rose, highlights the belt by flocking it with large slogans under PVC, giving it an ultimately cool and fashionable aspect. A great op to refresh an old 501.
Belt, Martine Rose, €151.
The must-have technical watch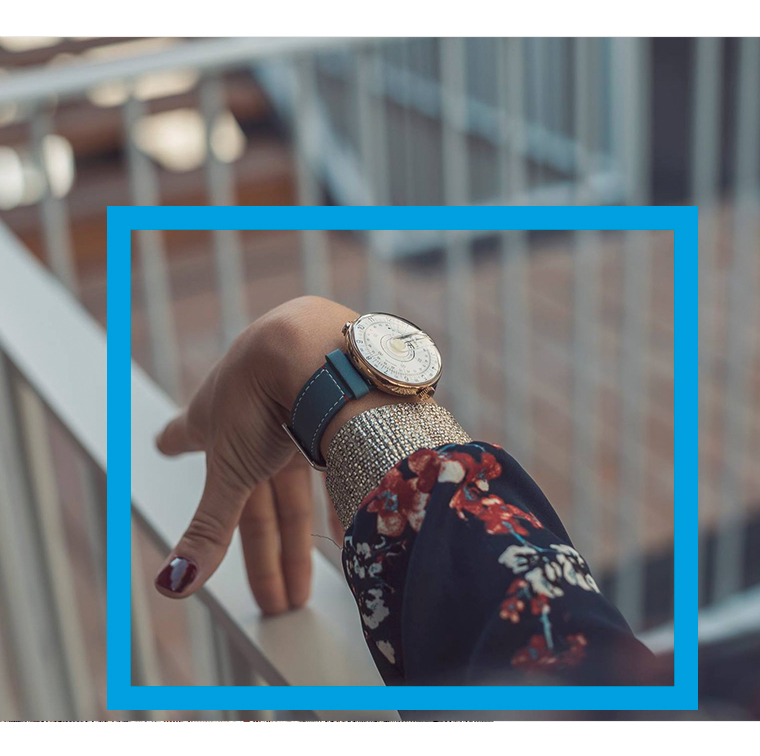 A face with a whole bunch of numbers and information, for a refined fine Klokers watch with a trendy result, to be given by a connoisseur. You will become a pro when it comes to the circular calculation rule, the Ronda high technology and the pin buckle. Just let yourself go.
KLOK-01 STRAIGHT BRACELET, Klokers, €468
Also discover the star silhouettes of the new season and the trendy shoes of the moment.