Fact: the season autumn-winter is not the most suitable for flamboyant outfits and bright colors to invigorate gloomy moods. Suddenly, the best alternative to offer a fashion guarantee of character to the looks of Parisiennes is to use accessories . That's good, the coolest labels have taken it and deliver really original proposals to stand out.
Customizable Jewelry endlessly, shoulder rock to offer a second life to her favorite bag, scrunchies and assorted masks, hide buns retro worthy heroines of English literature, corset belts pimp jackets and coats or socks tapestries princess pattern… Zoom in on these new accessories which are very attractive and will not be seen on everyone.
Clever and stylish jewelry The Interchangeable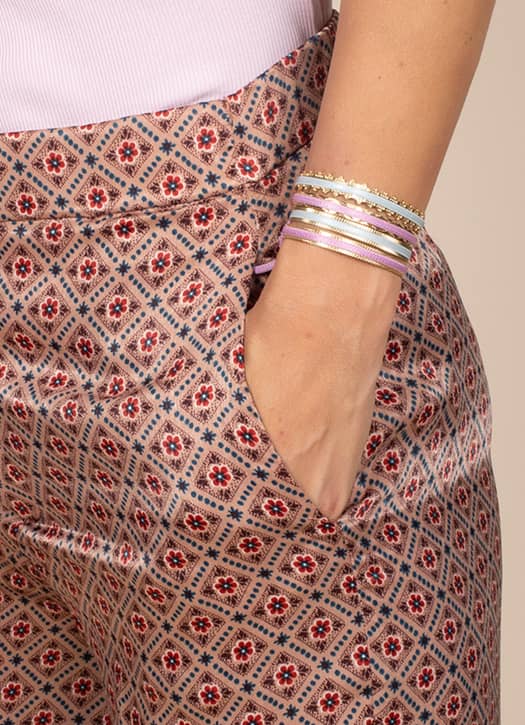 Well known for her iconic elastic bracelets adorned with Swarovski® crystals , Audrey Bot has been a hit for more than ten years with her made in Paris jewelry label Les Interchangeables . Its brilliant innovation? The Ruban Bangle , an infinitely customizable bracelet, whose ingenuity and very Cleopatra look have earned it the gold medal at the Lépine Competition . Just that !
It must be said that the star of the label combines the strengths of the heart. Water resistant thanks to its metal gilded with fine gold, you choose the size of its ribbon (between 3 and 12 mm), the color of the plating (yellow gold, pink gold or palladium), the type of ring ( classic, with or without rhinestones, hammered, quilted, striated, serrated ...) then the color of the ribbon that will be placed on it as well as a second offered to be able to change it as desired. Smart!
Out of ideas for gifts ? The label's fresh and colorful DNA can be found in the pretty Strass Boxes , which allow you to accumulate on the wrist 4 bracelets adorned with Swarovski® crystals and semi-precious pearls. Small charms handcrafted in a Parisian workshop, which turn out to be adjustable to all sizes and are water resistant (too), so you never have to take them off.
Ribbon bangle , € 44 - € 79; Strass Box La Malicieuse et Re-belle , 59 €, all Interchangeable
Maje's leather shoulder straps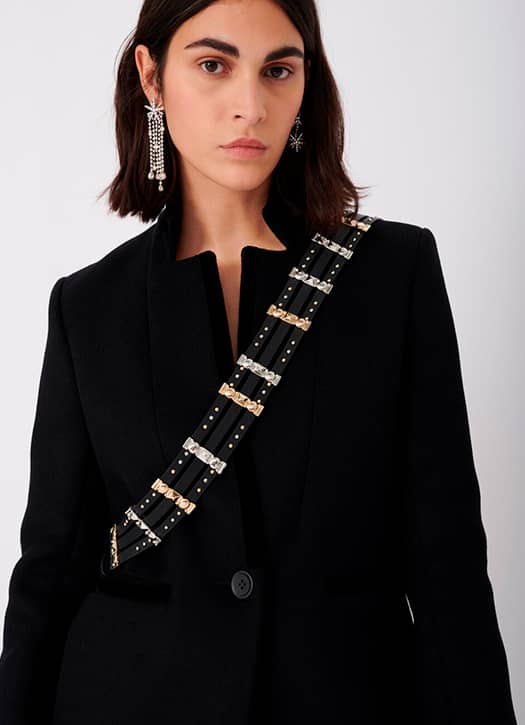 We have found the trick to have the impression of changing handbags when we are broke. The luxury of change is now. Shoulder straps take power and become the perfect inexpensive accessory to personalize old, slightly outdated bags. Maje in deale of the resolutely desirable specimens in leather, with eyelets, adorned with pearls or even in the shape of a jewel chain.
A bit bondage, this model with black leather carabiners seems straight out of a Balmain show and will give a second life to his favorite it-bag, while bringing style by playing the starlets on our winter coats.
Black leather shoulder strap and studs, Maje , € 125
Low-cost precious stones from Golden History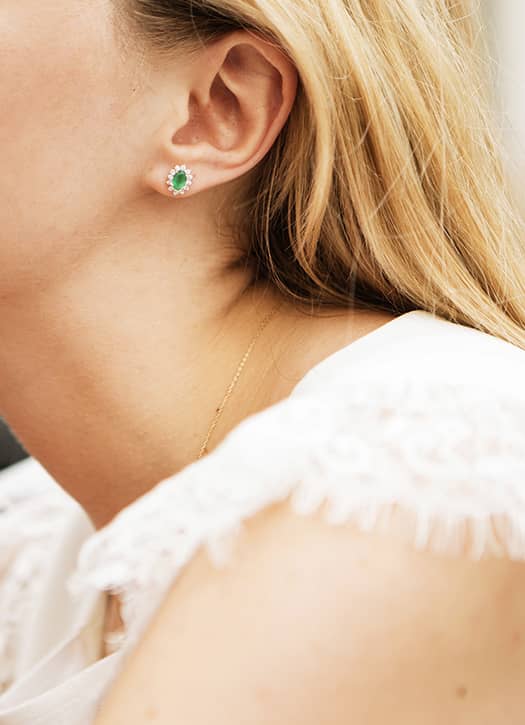 It seems that diamonds are the " girl's best friends ", but the same is not always the case for the wallet. If you need to make (yourself) a beautiful and valuable gift without breaking your PEL, just enter one of the famous red boutiques of Histoire d'Or or create your wishlist online and discover the immense selection of jewelry set with precious stones at low prices.
Sapphire pendant at 189 €, bracelet in white gold and diamond at € 169, yellow gold, diamond and ruby ring at € 299, diamond and emerald earrings at € 299… We finally dare to invest in the bling piece we have always deserved. The trick that always makes you happy? The possibility of paying for your jewel in three installments without charge, so as not to have to tighten your belt for the months to come.
Selection and information on www.histoiredor.com
Shrimps retro bun covers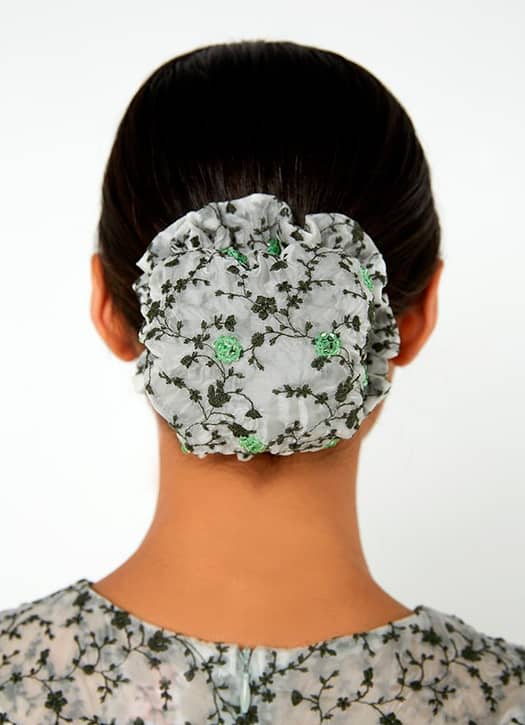 Mainly known in France for its pearly pearl bags and barrettes, the London label Shrimps has been inspired since 2013 by modern art with a good touch of British humor. For her fall collection, designer Hannah Weiland happily digs into the wardrobe of Jane Austen's heroines.
Evidenced by this brilliant old-fashioned bun cover with delicate floral print, to offer an old-fashioned charm to a very current look (masculine blazer pulled up on the arms, moccasins with notched soles, high-waisted jeans ...) and seduce the Mr Darcy modern times.
Rebecca Bun Cover - Green, Shrimps , € 99
Isabel Marant's rock belts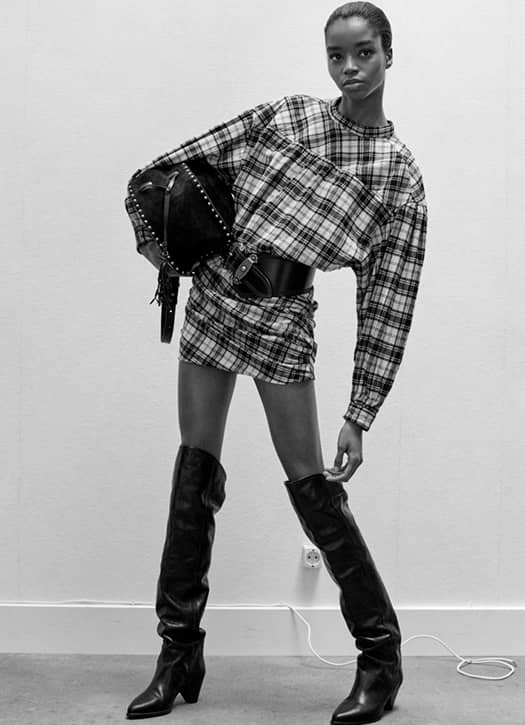 Between the favorite designer of Parisiennes and belts , it's a love story that has lasted forever. It must be said that the one who stung her daddy's clothes knew how to accessorize outfits as stylish as they were original. In short, Isabel Marant is THE safe bet for those who dream of investing in a beautiful leather belt that will last a lifetime.
In particular this winter, we literally flash on the Liko corset style of the Far West with its wide brim, its embossed leather and its western buckle. We wear it over a plaid dress, an oversized jacket or a coat, like the most photographed it-girls of fashion week .
Liko belt, Isabel Marant , 420 €
Bonne Maison tapestry socks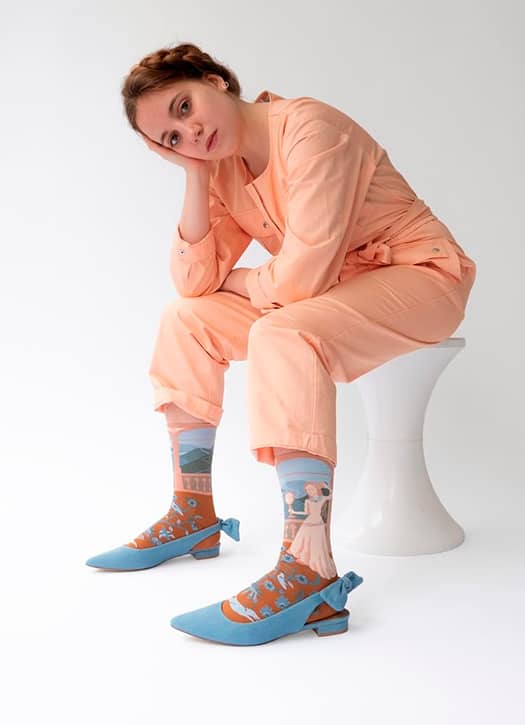 Made from high quality Egyptian cotton , Bonne Maison socks never stop adding fantasy to our often sad winter looks. After his obsession with stripes of crazy colors, now is the time to travel through time.
Back to the Middle Ages with its dragons, tapestries, castles and princesses with long hair. We obviously let them go beyond shoes, ideally worn with small slingbacks or patent derbies .
Princess Sky Socks, Bonne Maison , € 19
Nicole Studios masks and matching scrunchies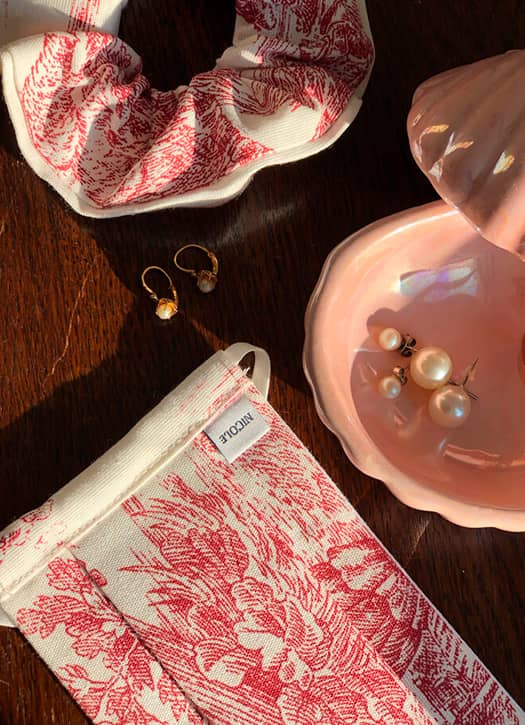 Clearly inspired by the fictional icons of the 90s ( Thelma and Louise , Rachel and Monica ...), the designer of Nicole Studios admits to being taken by a slight obsession for the assortment of the protective mask with a big darling to tie in the mane.
This creates pairs of character in Prince of Wales fabric, tobacco color, cream, silk and glitter lurex, tartan, velvet or toile de Jouy print, our favorite. Or the art of making silly everyday accessories couture.
Vivian mask € 10, Vivian scrunchie € 8, all by Nicole Studios
Liberty London's flowery umbrellas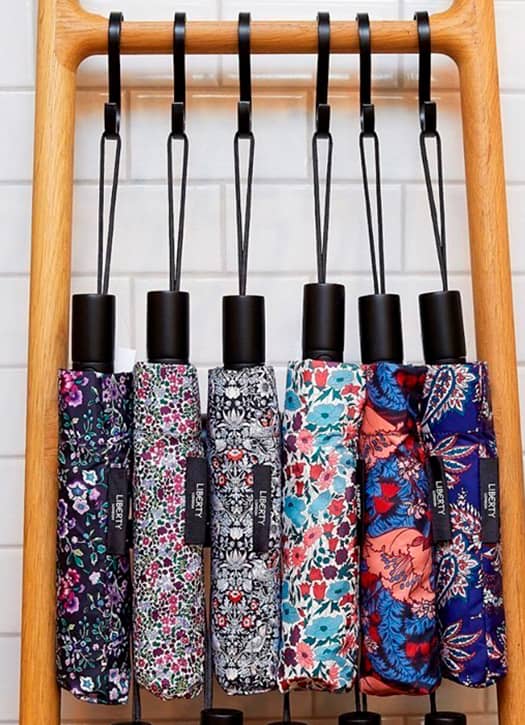 Get rinsed off by the deluge, yes, but at least under the most chic umbrella in Paris. And if the quarantine prevents going to look for it in the capital of bad weather aka London , it is ordered immediately online on the eshop of the concept store Liberty London . Or how to make your umbrella this winter's rustic accessory to brave the elements with the power of flowers!
In addition to its Liberty print , the compact umbrella (convenient to store in the bag) is made from recycled materials to add a good green conscience.
Umbrellas with floral print, Liberty London , € 60
Also find the must-have sneakers and 10 coats to survive in the rain .