Ready for another Coachella ?Until the 22nd of April, all those who appreciate good music, influent instagrammers and stylish models will rival in terms of stylistic daring to gyrate in front of the stages where Beyoncé, Eminem, Cardi B or Jamiroquai will be performing. Some people are lucky...
And were are familiar with the lyrics: denim shorts, fringes everywhere, lace, feathers, Santiag cowboy boots, round glasses, wild hair… We all dream of morphing our city look look with the feel-good influences of this neo Woodstock worthy of a Pinterest moodboard.
Of course, in the streets of Paris early in the morning, its not easy to dress up in a total look like the regulars such as Kendall Jenner, Alessandra Ambrosio – and even Nabilla this year – without looking like a "walk of shame" survivor the day after a party. Nonetheless, here are a few wearable inspirations to nab from the festival-goers. Janis Joplin salutes you form above.
Boho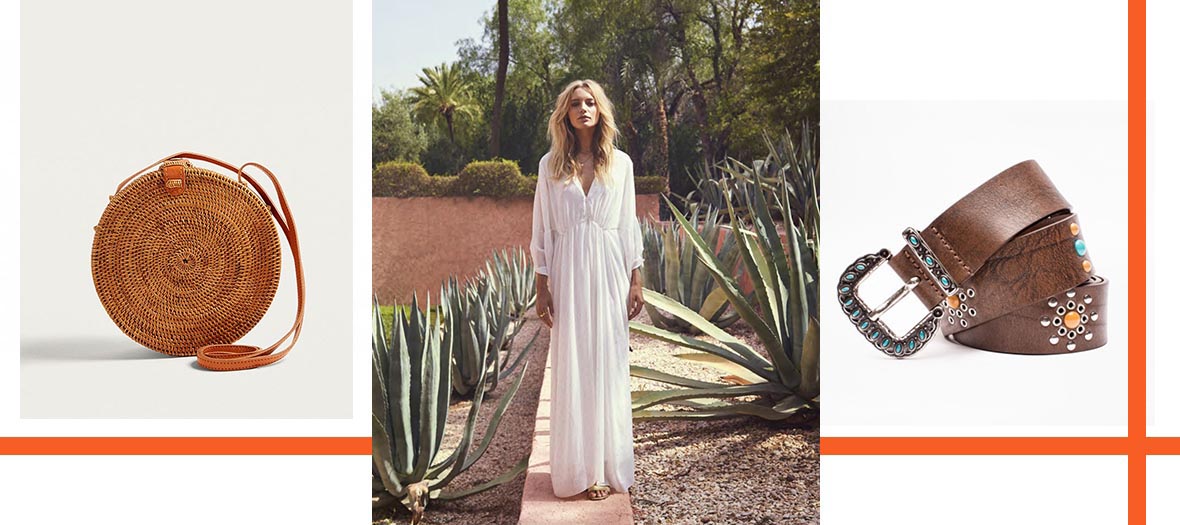 The long white dress, a great classic of Coachella. A belt with turquoise stones and the round straw bag finish this resolutely bohemian look.
Long white Reach dress, Amenapih, €145.
Roucn straw shoulder-strap bag, Urban Outfitters, €59.
Kioki belt, Zadig & Voltaire, €195.
Flashy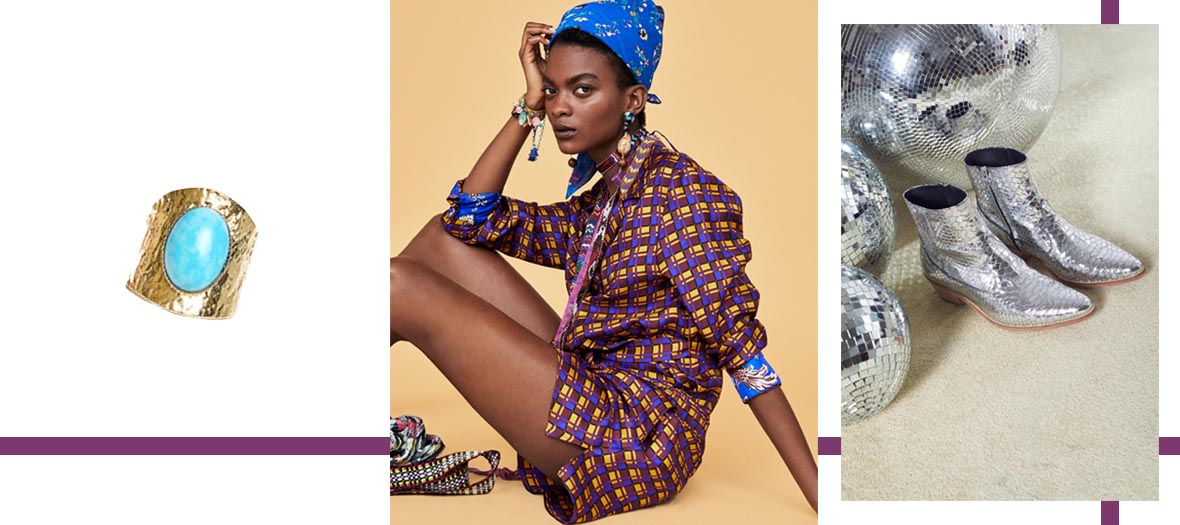 Forget discretion to be noticed on the dance floor of the Californian desert. A challenge respected with this printed ensemble, without forgetting fab boots in silver python.
Shorts in checked silk, Zara, €69.95.
Silk shirt with glass trinkets, Zara, €99.95.
Keith Silver booties in silver python, Valentine Gauthier, €450.
Sila ring, L'atelier Emma & Chloé, €55.
Hippie chic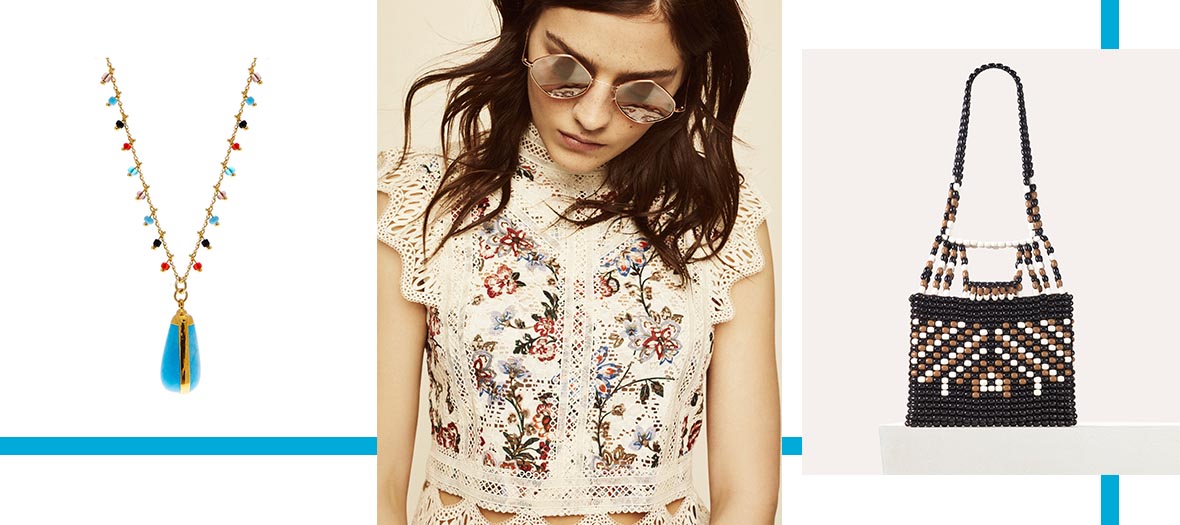 Floral lace to be associated with a high waist flare pair of jeans, accessorized with a long colourful necklaces and the it-bag of the season.
White lace top with flowery print, New Look, €24.99.
Pink geometric glasses, New Look, €9.99.
Long Gipsy necklace and turquoise pendant drop, Les Folies d'Agnès, €125 on sale at €75.
M bag with pearls, Maje, €355.
Evening version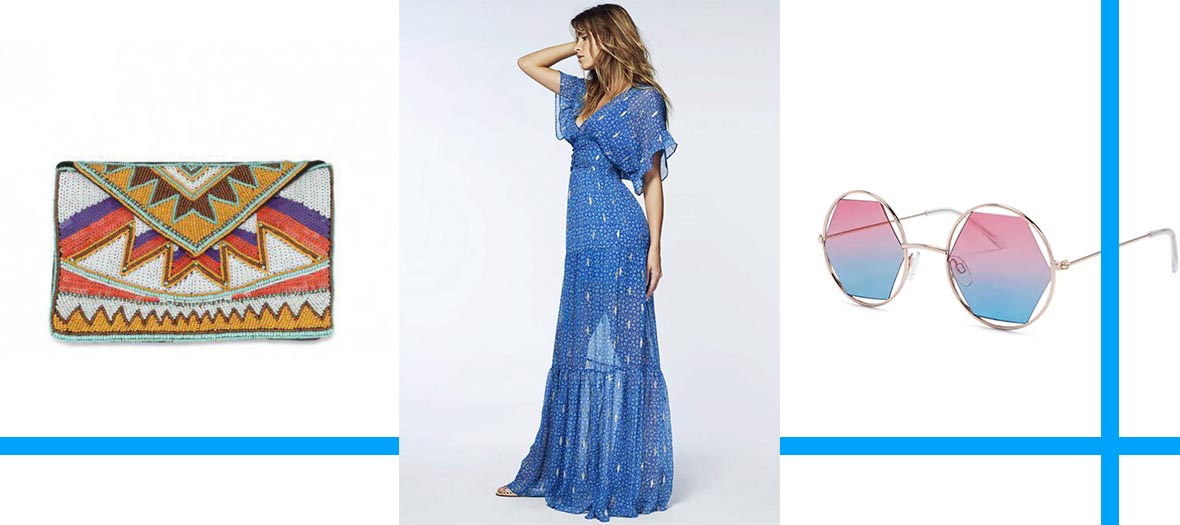 At sunset, we wager everything on a long vaporous chiffon dress, so delicate. And when night falls, we slip on our round sunglasses in our sequin pouch.
Mela dress, Ba&sh, €480.
Pouch with sequins and Aztec motifs, Balaboosté, €29.90.
Hexagonal glasses, Forever 21, €11.
Sea, sex and fun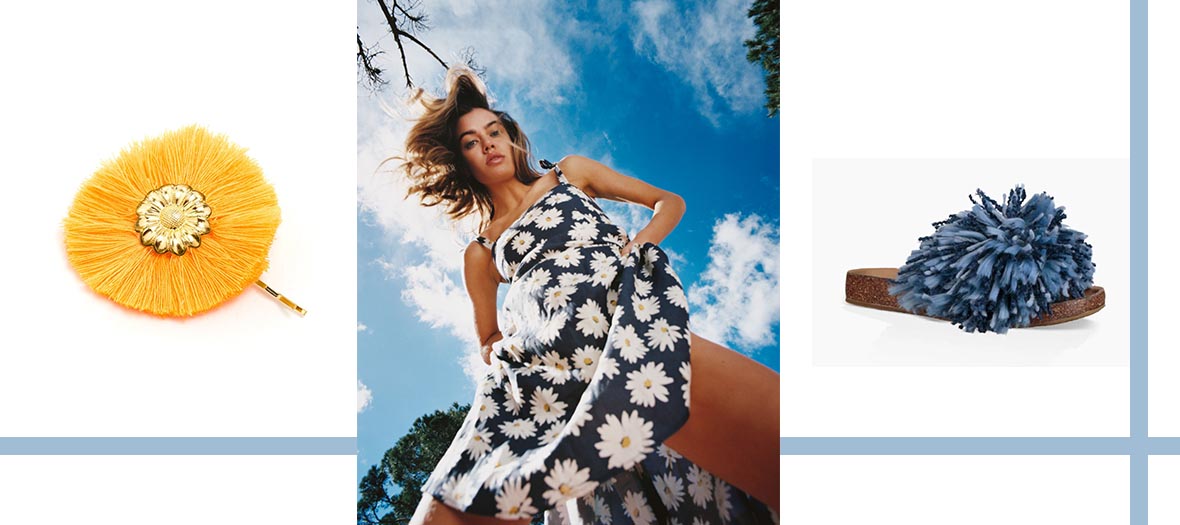 A daisy dress to brighten up the day, a barrette with pompons to tame our mane, and fluffy sandals all the fashionistas will want this Summer.
Eva dress, Mirae, €185.
Cind sandals, Ugg, €120.
Paula apricot barrette, Charly James, €49.
Land of fire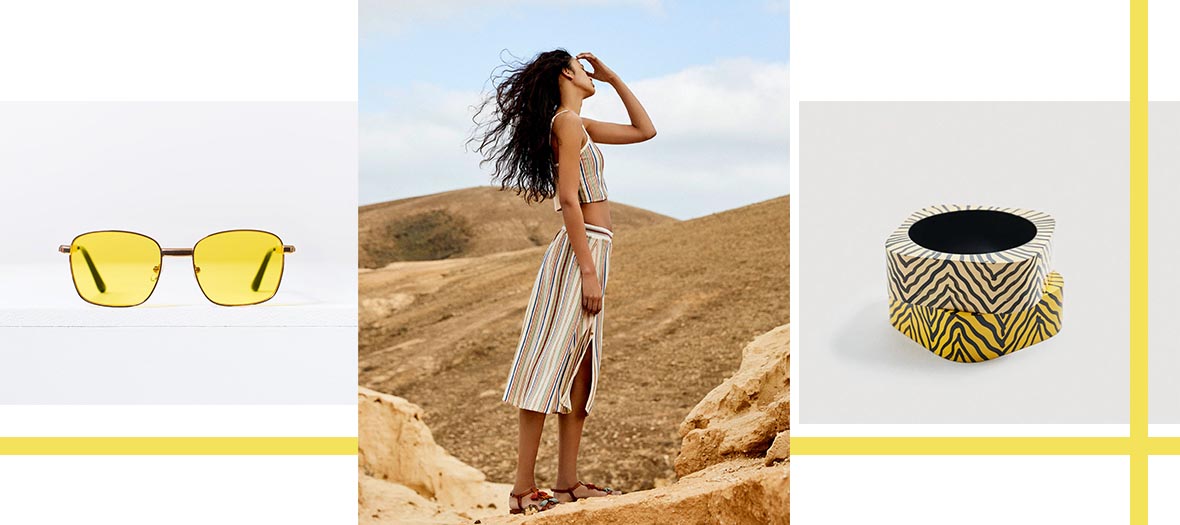 We want sun ! Head for California with this matching buttoned ensemble, pimped with large wooden bracelets and yellow lense glasses.
Midi buttoned skirt with stripes, Pull & Bear, €25.99 .
Striped knit top, Pull & Bear, €15.99.
Poys & Pirls sunglasses, Edie et Watson, €65.
Pack of two wood bracelets, Mango, €19,99.
All-terrain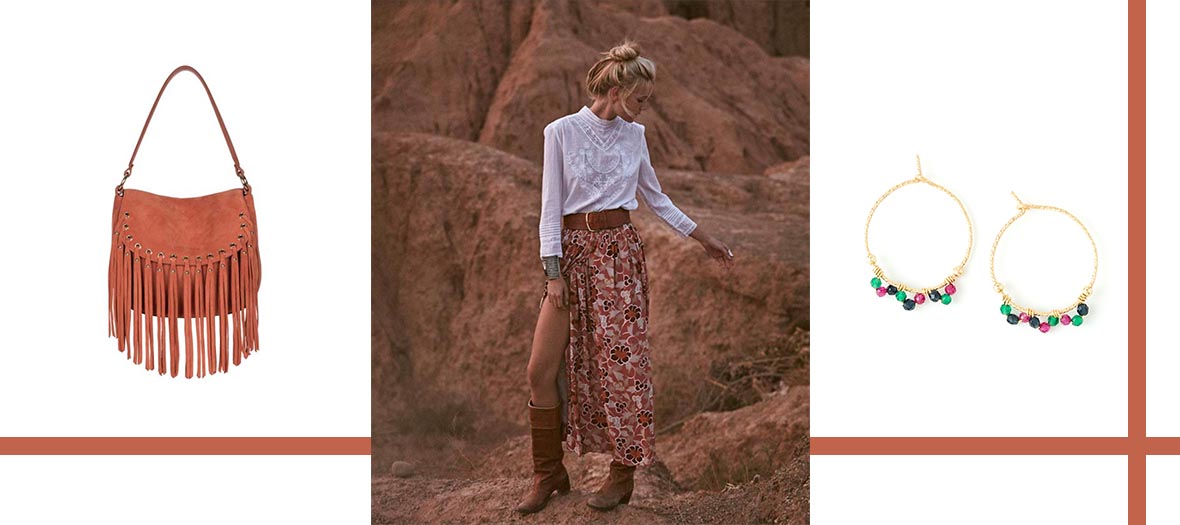 What could be more Coachella compatible than this fluid and belted silhouette, with hoop rings and a fringed bag? Also to whip out on Parisian pavement and even at work.
Kate embroidered blouse in white cotton voile, My Sunday Morning, €178.
Skater skirt with pink Byzance floral print, My Sunday Morning, €172.
Average multicoloured Frida hoop rings, YAY, €48.
Flap bag with fringes, Lancaster, €189.
Worker overalls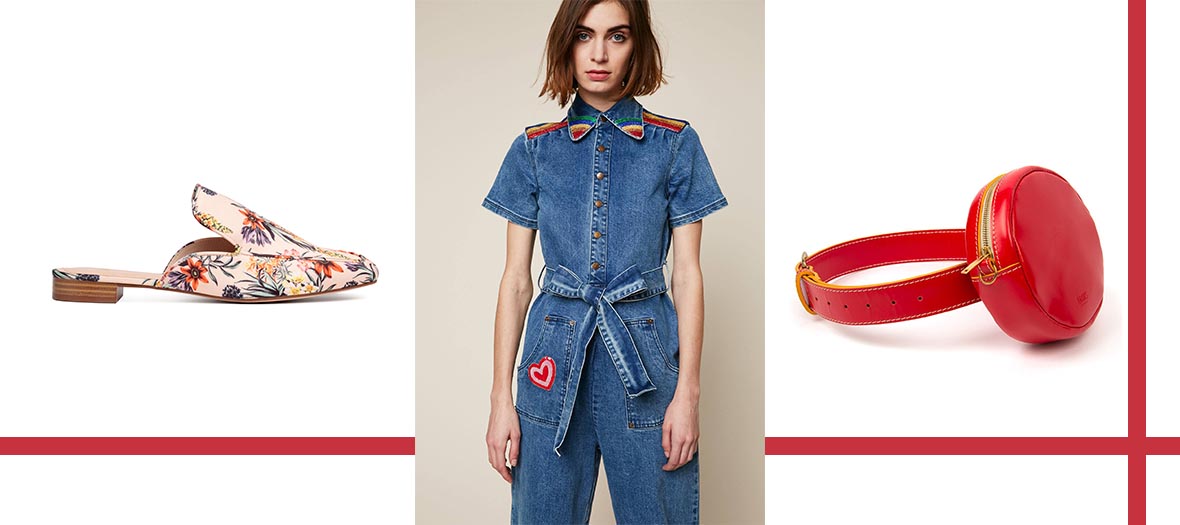 Jean overalls come with colourful sequins to brighten up the season. At the waist, a round fanny pouch in glazed leather and on your feet, pretty printed slip-onmules.
Glitter denim overalls, Manoush, €355.
Slip-on moccasins, H&M, €19.99.
"Juste en dessous" red leather fanny pouch, Darris, 245 €.
Farm girl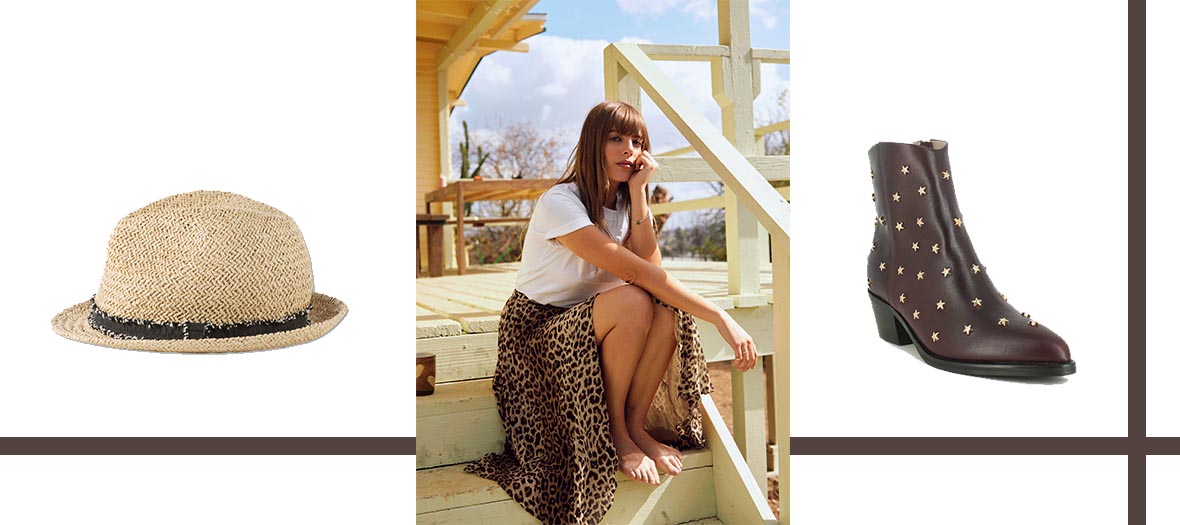 Read for a rodeo session? The combo flared leopard skirt /studded boots / rolled up t-shirt, will give you a deliciously badass look.
Dress with leopard print, & Other Stories, 99 €.
White cotton and linen T-shirt, & Other Stories, 25 €.
Hat in braided straw, C&A, 12 €.
"Ocho", burgundy booties with stars Jonak, €250 on sale at €162.50 on www..monshowroom.com.
Bucolic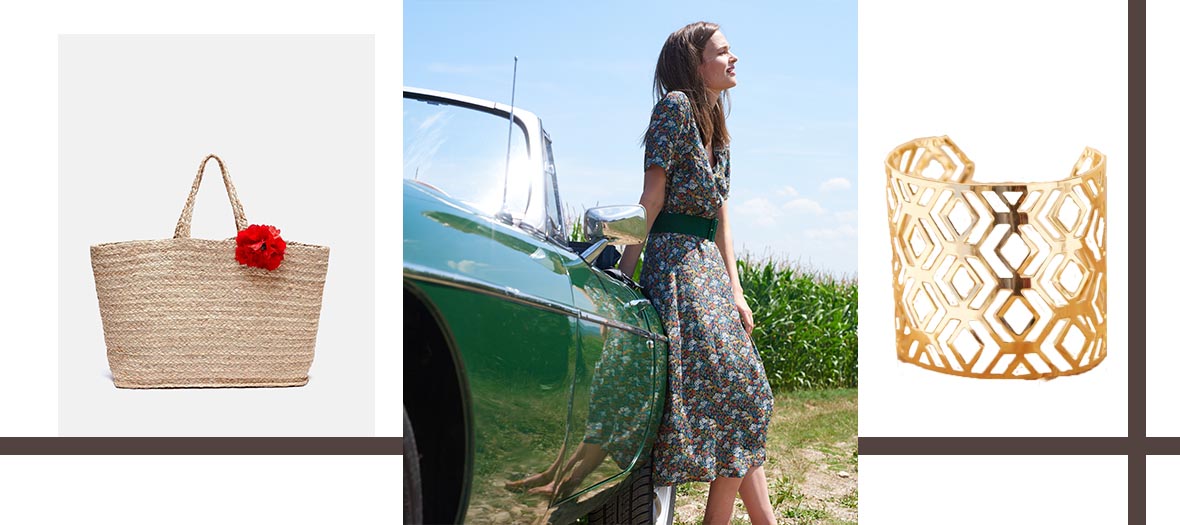 A young flower girl escorted by her basket and a pretty golden cuff.
Rivality dress, La Petite Française, €149.
Cuff bracelet, Kiabi, €6.
Navrina bag with silk flower, Bellerose, 59 €.