Chic details, must-have pieces, unexpected associations … This Fall, fashion is pert and playful thanks to stylish tricks that offer a certain panache for simple daily looks.
Small fluo pullover, oversize pants, belted coat, one-piece chameleon pantsuit or leopard print, to go work or chill out, zoom on the looks, pieces and materials that will create the buzz this season.
The mix and match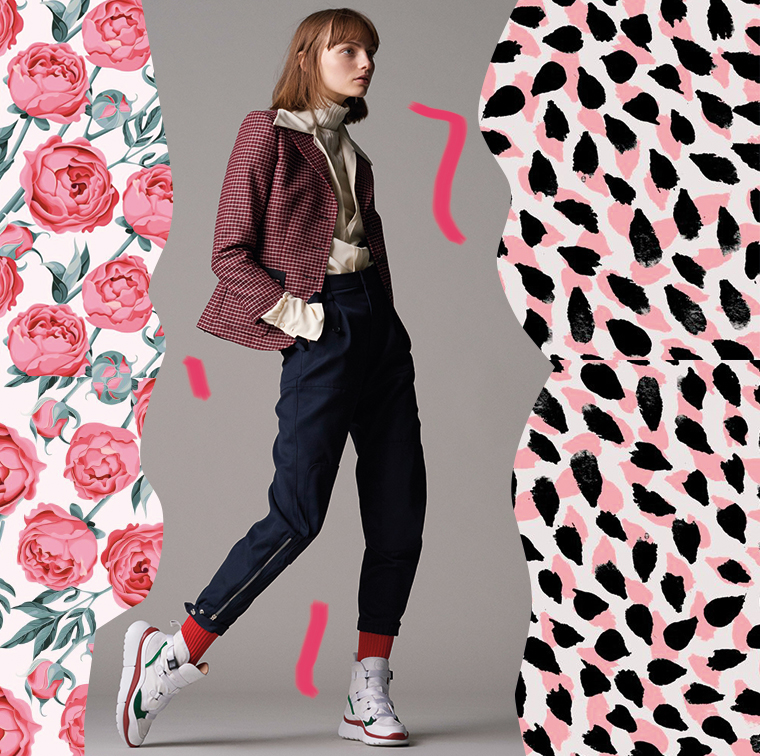 One room, two ambiances. Mix the chic combo of a Prince of Wales jacket / silk shirt and, for the bottom part, a pair of pants almost nabbed from your guy with oversize sneakers, will you dare? It's the new mix and match trend that has taken over the streets of Paris and that all the fashion editors will be wearing during Fashion Week. But in order for the mixture to click, it's important to privilege homogenous cuts in compatible overtones.
Cargo pants in mixed serge wool (€890), blazer jacket in wool with herringbone motif (€1,790), turtleneck pullover in finely ribbed wool (€490), blouse with polo collar in crepe de Chine (€690 ), high Sonnie trainers in suede (€595), all by Chloé.
The slimming one-piece suit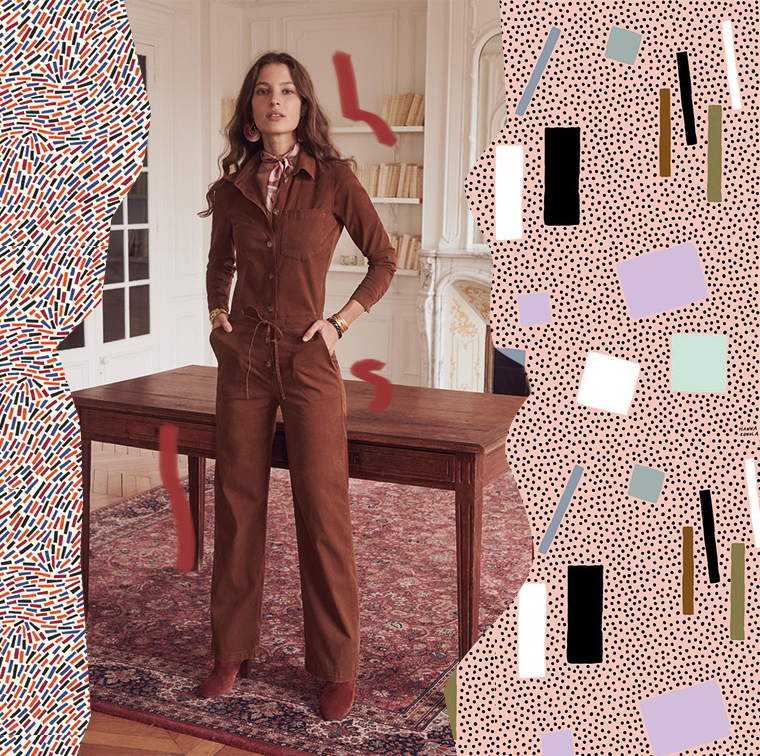 We will never say it enough, the one-piece is without any doubt the icon must of the season to bring panache to a silhouette and make legs look infinitely longer. The good options: reaching up higher by wearing short boots with heels and a jacket with rolled up sleeves, or in a loose version with sneakers and a thick large knit vest. In short, the chameleon piece that is a saviour every time.
One-piece pantsuit, Ben, Sézane, €150.
The fluo detail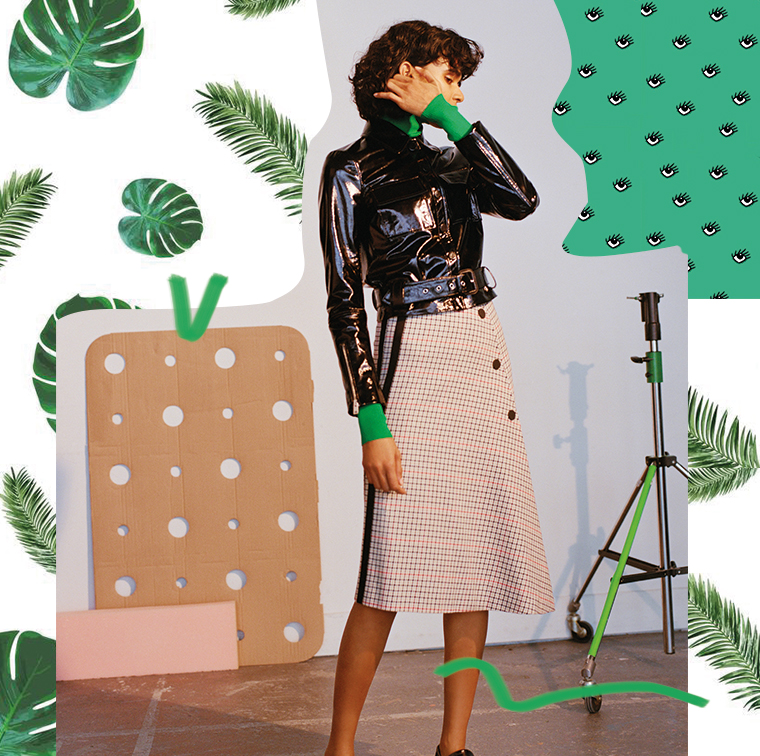 Under a blouson as a small extra touch, with the high collar that shows under a shirt and/or to bring some peps to a goody-goody skirt, the cute fluo pullover is a precious ally to wake up an outfit. In green, pink, violet orange or yellow, think of it when your skin is looking dull. Foolproof!
Long asymmetrical skirt with checks, Jessil (€195), trucker pullover, Mandou (€175), short jacket in vinyl leather, Bliza (€395), all by Maje.
The extra large pair of pants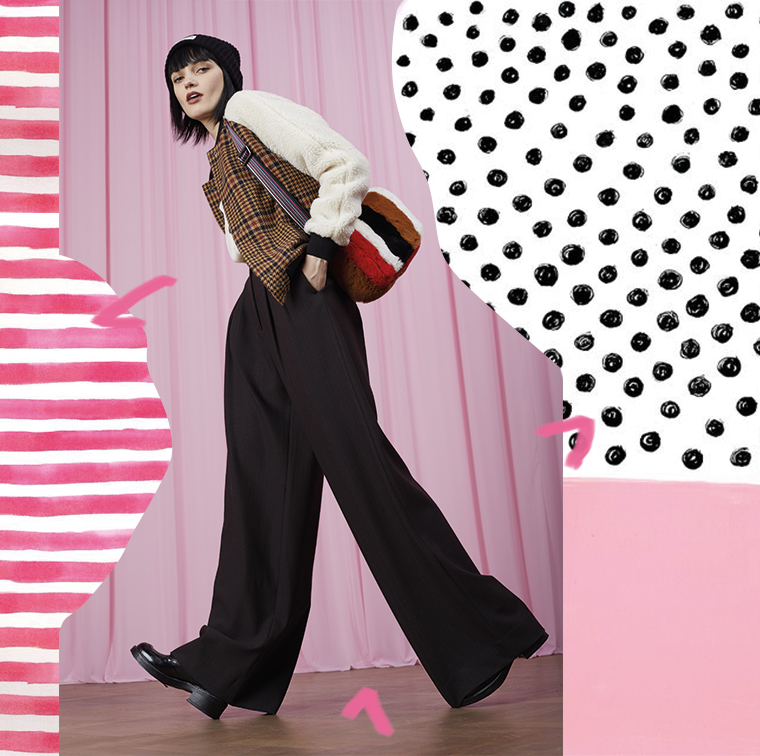 To be privileged in a noble material, the oversize pants gives the Parisienne a chance to play the resolutely cool boyish card. Spotted at the 2018 Winter show of Céline, it is cleverly dedramatized as presented here with a fur bag and a Prince of Wales aviator blouson. We also like it first degree with a chiffon blouse and an assorted jacket for a suit ensemble. Play it like Victoria Beckham.
Aviator blouson (€345), large pants (€210), booties with buckles (€345), knapsack in fake fur (€175), bonnet in wool and cashmere (€45), all by Essentiel Antwerp.
The printed blouse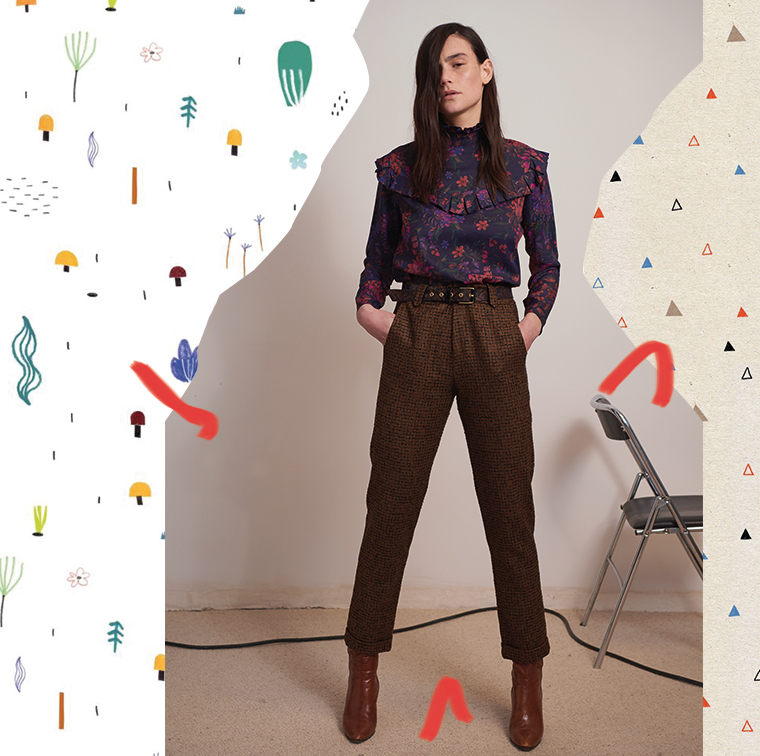 With a floral print, cashmere, heart, scarf… The fluid blouse gives a noble touch to a tapered Winter pair of pants and awakens a county look with style. To be worn with moccasins to go to the office and "gorpcore" boots with a hiking inspiration on the weekend. The tip to give an extra wake up touch: XXL golden earrings.
Zappa Blouse with ruffles (€190), all by Valentine Gauthier.
The belted coat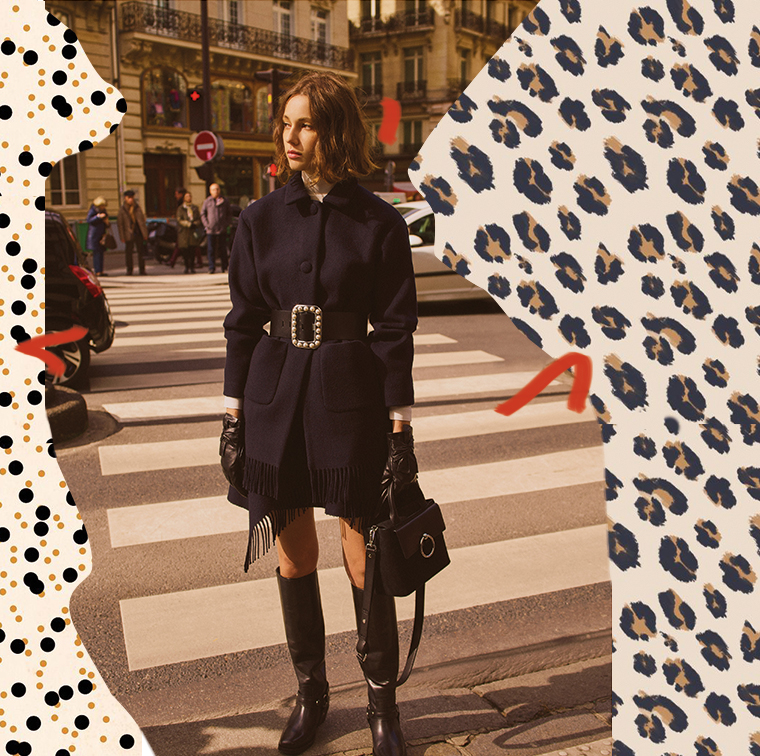 The elegance asset of Kate Middleton? Wearing a wool coat with a belt. To ensure the wowie effect, we match the colour of the fabric and the accessory tone-on-tone, and don't hesitate to roll up your sleeves for a "stylish" allure. It can be worn just as well over a pair of jeans, a pantsuit or a structured miniskirt.
Wool coat (€465, soon available), large belt with pearls (€145),two material Anouck bag (€245), leather gloves (€95), leather boots (€495), all by Claudie Pierlot.
The leopard print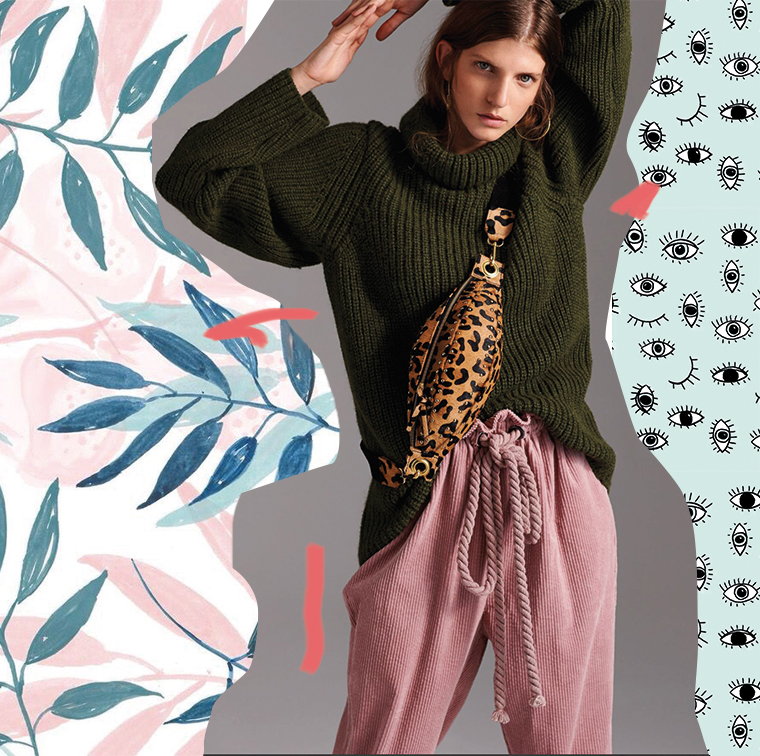 In small touches on a bag, a belt, a scarf or pumps, or then well assumed on a dress or a nice looking tapered jacket, this Fall, the leopard print is going to make the wardrobe of Parisiennes roar. Only must: choosing your piece in a high-end material (silk, chiffon, leather with pony effect) to avoid the Barbie effect. A necessary and timeless investment.
Pants in pink velvet, Papy (135 €), leopard fanny pouch, Baguera (€180), all by Antik Batik.
The pant suit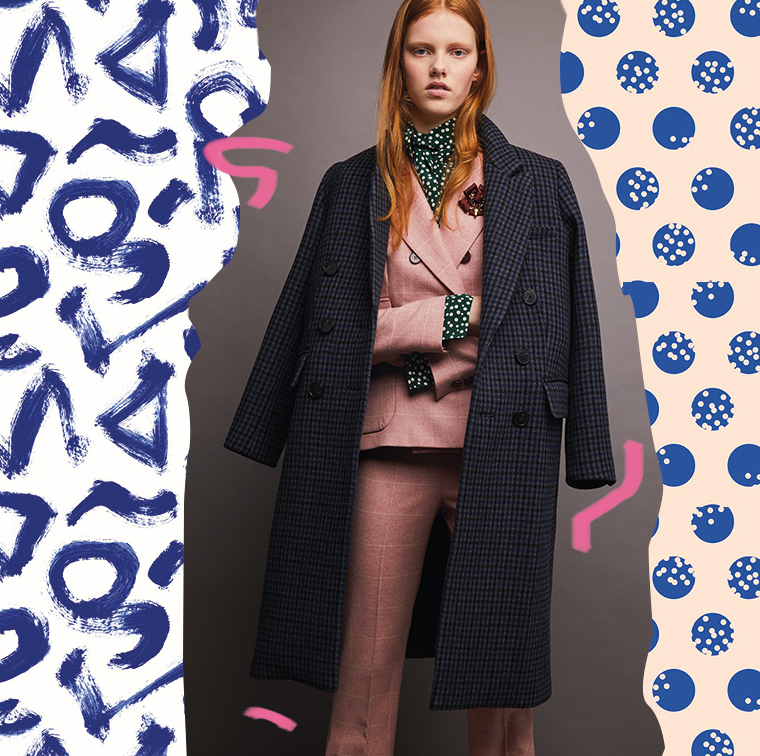 It is no longer the prerogative of women entrepreneurs and seasoned lawyers. Miranda Hobbes would have approved: the pantsuit is signing its flamboyant come-back, irresistible incarnated by fashion icon Blake Lively. Dare it in colour, with a Prince of Wales print, under a big coat, with derbies, boots or even stylish trainers. The masculine uniform by excellence has never been so glamour and sophisticated.
Pink Valenciane jacket (€490) Paris2 Rose pants (€260), Ariel grey coat (€690), Axel green polkadot shirt (€290), all by DMN.
Corduroy velvet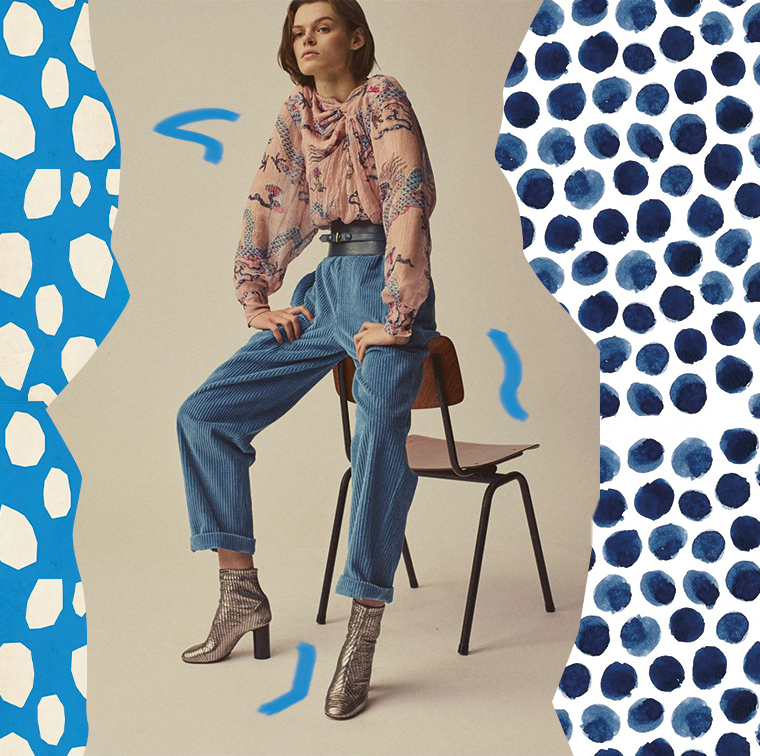 Borrowed for the occasion from country grand-dad, corduroy velvet is to Fall 2018 what low cut jeans were to the years 2000: a must to adopt no matter what, and right now. Hard to do? Drop the Diana forest huntress overtones (kaki, brown, black…) and go for unexpected hues such as a nice blue sky or pale pink. With a pair of pants, break it all up by wearing glitter-heel boots, a big belt and a fluid chiffon blouse. You have no more excuse.
Metallic and printed Debby top (€530 ), large velvet Meloy pants (€350), Datsy boots (€590), Kajy belt (€380), all by Isabel Marant.
The denim flare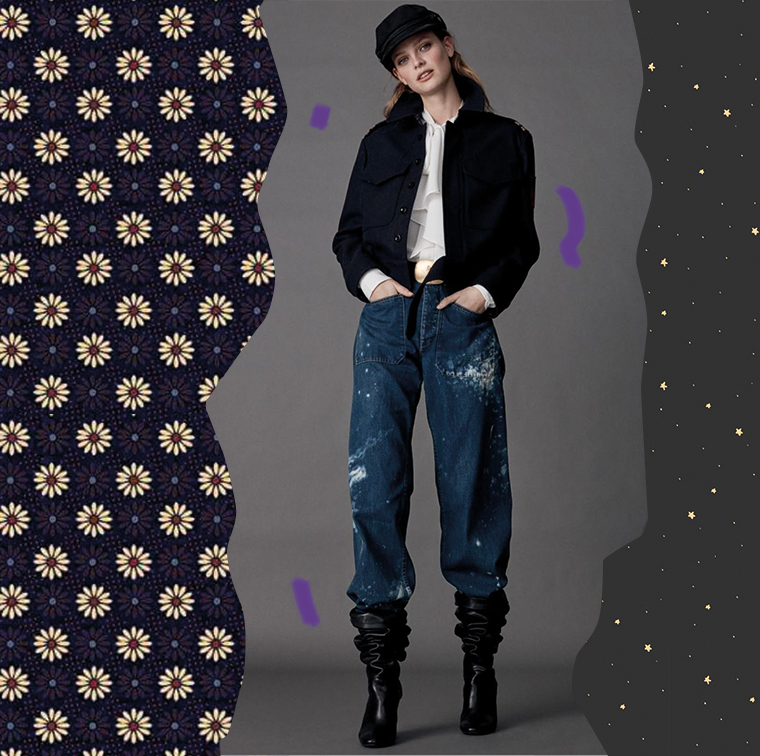 Impossible to live without them. Ideal to make legs look longer and hide a little tummy, flare jeans are blowing a seventies wind on the Parisian pavement. Trendy when worn with graphic-heeled short boots, cool with a pair of trainers, you can associate it with a short jacket and a gavroche cap for a roguish look.
Jacket in embroidered mixed wool (€599), all by Ralph Lauren.

Also discover the new Fall fashion obsessions and the star shoes of the season.