In the United States, it is downright an institution, followed by more than 4 million subscribers on Instagram. Americans are crazy about the bohemian looks of Free People , halfway between the moods of Coachella and Woodstock , which defy the laws of cool with vaporous dresses and skilful work on patchwork such as embroidery . The star brand from Philadelphia now imposes its more than desirable vibes in its very first Parisian boutique, in the heart of the Marais . We (necessarily) went there for a walk…
The perfect summer wardrobe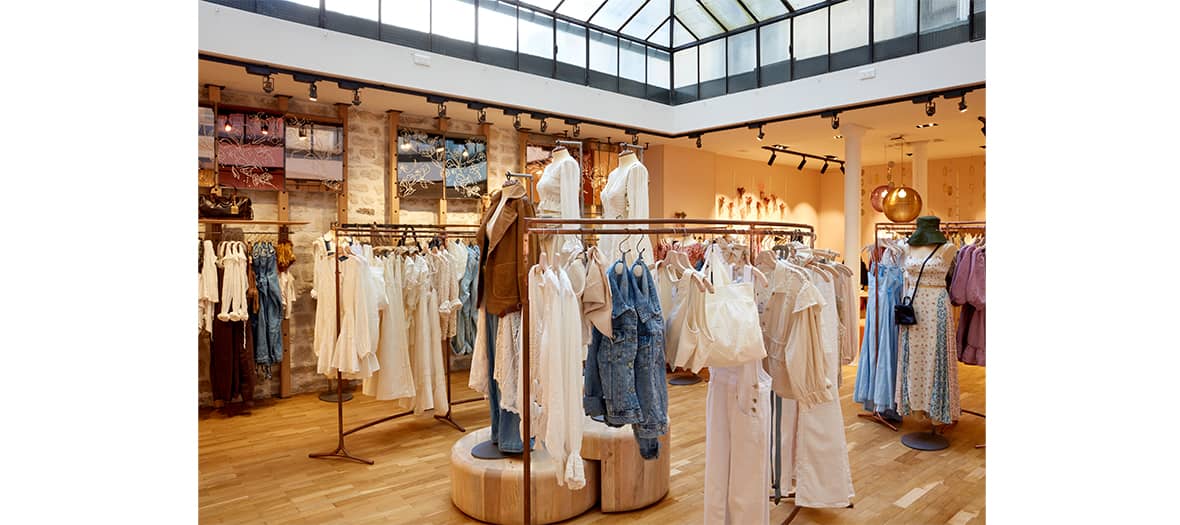 Obviously, the decor is licked, between the brand new storefront with brass logo and Parisian touches rendered by the parquet floor and the central glass roof flooding the places with light. But it is above all to try FINALLY #InRealLife the nuggets of the summer collection that we are happy to linger.
It must be said that the choice turns out to be difficult, between the very soft cotton open-back dresses, the printed accessories and other strong pieces to keep for years, with a sense of detail brought to the finishes: embroidered flowers, seams that bring character to a shirt, marriage of matte and shiny leather...
Our favorite pieces
If our fashion radar has beeped on almost the entire store, a few pieces are particularly worth mentioning: a cream linen jacket , a black embroidered waistcoat (€178), an ivory top with basques and ropes, the perfect little white dress ( €88), an insane chocolate suede jacket, Navajo - style patchwork jeans ( €248), a floral top and its matching skirt or even almond green sunglasses, a printed cotton scarf and a black and white gingham bucket hat . Everything we love.
Open daily from 11 a.m. to 7 p.m.
Also discover the first Ganni store in the Marais and the most beautiful vintage space in Paris .