The Editorial Looking for a "destination stroll" on a beautiful day? Taking a leisurely walk to indulge in incredible ice cream is the ultimate gourmet goal right now, especially when combined with a sunny break in a garden. It's a dream come true! Let's take a tour of the best frozen delights in the capital.
Glazed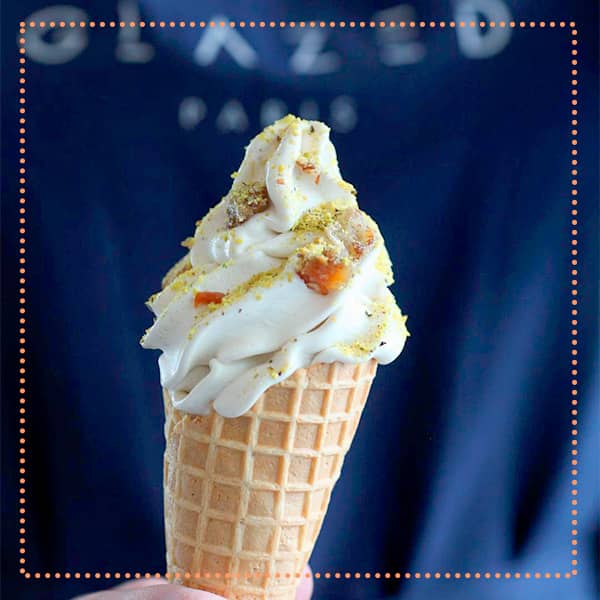 Glazed has just opened a new location in Paris! Made with the finest seasonal ingredients, these freshly produced ice creams are now available on Boulevard Pasteur. Due to their exceptional quality, the menu is necessarily limited and offers top-notch flavors in limited editions.
Throughout the year, various specialties are showcased, such as organic lemon sorbet with celery leaves and mastiha liqueur, peanut butter ice cream with red currant jelly, the indulgent Passy-Sèvres with hazelnut praline and roasted almonds, topped with small pieces of cream puffs filled with homemade salted butter caramel, and the soft ice cream with buckwheat honey, caramel, and caramelized kasha.
Price: €3.50 per scoop.

Where to find them? Glazed, 19 rue Geoffroy Saint Hilaire, Paris 5th, 43 boulevard Pasteur, Paris 15th, and available at the entrance of La Grande Épicerie, 38 rue de Sèvres, Paris 7th."
Piumino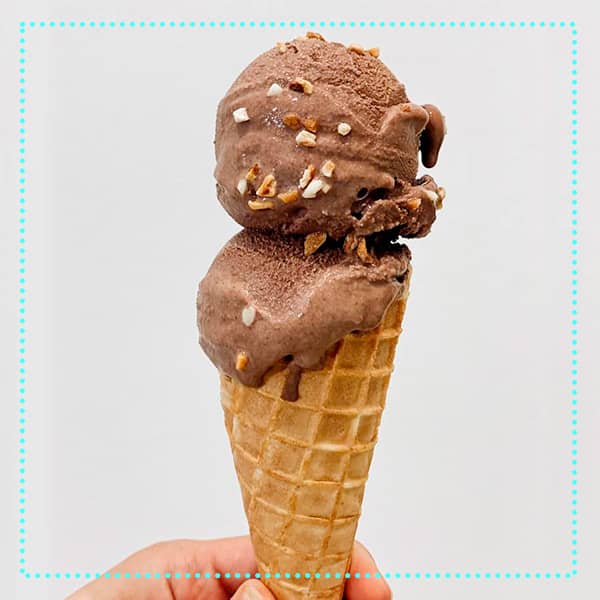 Created by Mina Massari, an ice cream enthusiast, Piumino is Paris' new eco-friendly ice cream parlor. The concept revolves around exquisite ice creams made on-site using local, organic, and seasonal ingredients, without additives, and packaged in biodegradable materials to preserve the planet.
As for the current flavors, you can find creamy vanilla, hazelnut, dark chocolate, lavender, as well as sorbets like the delicious strawberry-mint or caramelized apple, which gives the impression of biting into a big caramel apple.
Price: €3.50 per scoop.
Where to find them? Piumino, 42 rue Joseph de Maistre, Paris 18th. Open on Wednesdays and Thursdays from 12 pm to 7 pm, Fridays from 12 pm to 8 pm, Saturdays from 11 am to 8 pm, and Sundays from 12 pm to 10 pm.
Ladurée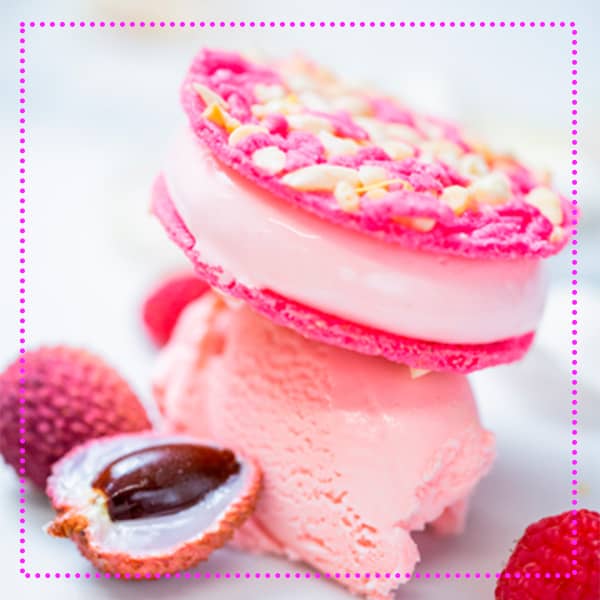 This year, Ladurée is launching a new collection of frozen delights. The house's pastry chef, Julien Alvarez, has come up with a doubly indulgent way to enjoy ice cream. His "Plaisirs Glacés" consists of two crispy almond shortbread cookies, gluten-free, filled with delicious melting ice cream.
There are 4 iconic flavors from the house: pecan vanilla composed of caramel and vanilla ice cream with a taste reminiscent of crème brûlée, Ispahan with raspberry, lychee, and rose, fruity and tangy, blackcurrant violet, and chocolate.
Price: €9 each.
Where to find them? Available in Ladurée boutiques.
Cake Shop at Mandarin Oriental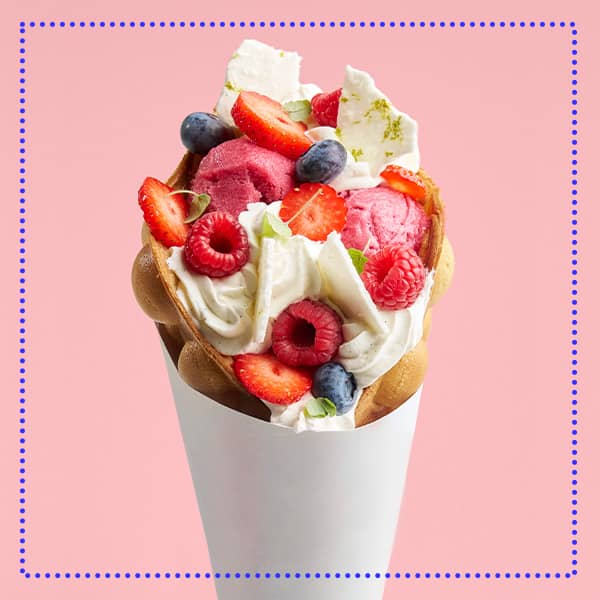 We have discovered the brand new chic spot for an ultra-gourmet break! In its Cake Shop nestled near the terrace, the Mandarin Oriental palace has given free rein to pastry chef Adrien Bozzolo, who has come up with a brand new menu to try right away for the summer.
You'll find a variety of frozen creations, such as the overflowing Bubble Waffle with whipped cream, ice cream scoops, fresh fruits, and meringue pieces, as well as ice cream sticks coated in milk chocolate and hazelnuts or white chocolate and pistachios. A true delight!
Price: €8-18.
Where to find them? Mandarin Oriental, 251 rue Saint-Honoré, Paris 1st, at Camélia by Thierry Marx from 3 pm to 5:30 pm from Monday to Saturday, and from 3:30 pm to 5:30 pm on Sundays. © Alexis Anice
Mantchouk
Mantchouk, also known as the most glamorous Armenian restaurant in Paris, invites you to discover its new ice cream creation called "Spitak," which takes on the surprising form of a butter block wrapped in paper.
You'll fall in love with the flavors of orange blossom or rose. It's worth noting that you can add rose petals, pistachio pieces, or baklava for extra indulgence and a bit of texture.
Price: Ice cream at €6 and available in a cone for €3.50.
Where to find them? Mantchouk, 106 boulevard de Courcelles, Paris 17th, open from Monday to Saturday from 9:30 am to 8 pm.
Girotti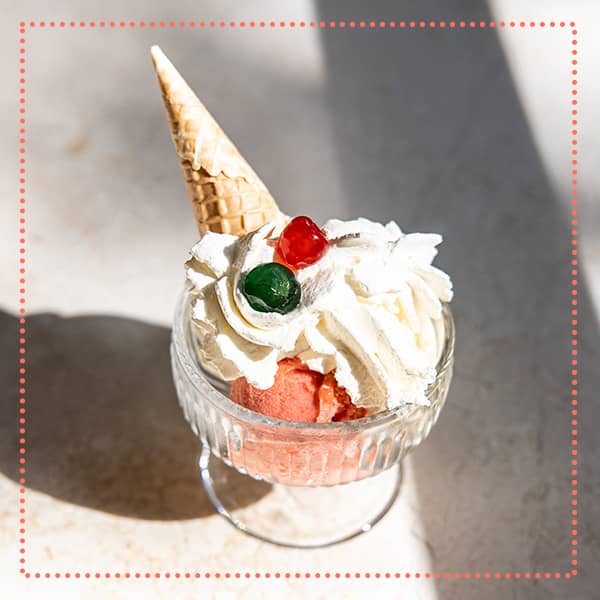 This little piece of Italy, rooted in Amelia in Umbria, is none other than the family pastry shop of actor Terence Hill! Duplicated in Paris, this Western-themed spot, with a screen continuously playing the actor's movies, captures hearts and palates with its fabulous 100% natural ice creams made in the traditional Italian way using premium ingredients.
On the menu, you'll find ice creams and sorbets with regularly changing flavors. The star? The beloved Bronte pistachio by Mister Terence! There's also Piedmont hazelnut, ricotta with dried fruits, and the energizing 100% Arabica coffee that's worth a ristretto! Also worth trying are the savory ice creams, such as the wild asparagus flavor.
Price: Ice creams and sorbets in cups or cones range from €5 to €9 when enjoyed on-site, and from €3.50 to €7 for takeaway.
Where to find them? Gelateria Girotti, 120 boulevard Raspail, Paris 6th. Open from Monday to Sunday from 8 am to 8 pm.
Bältis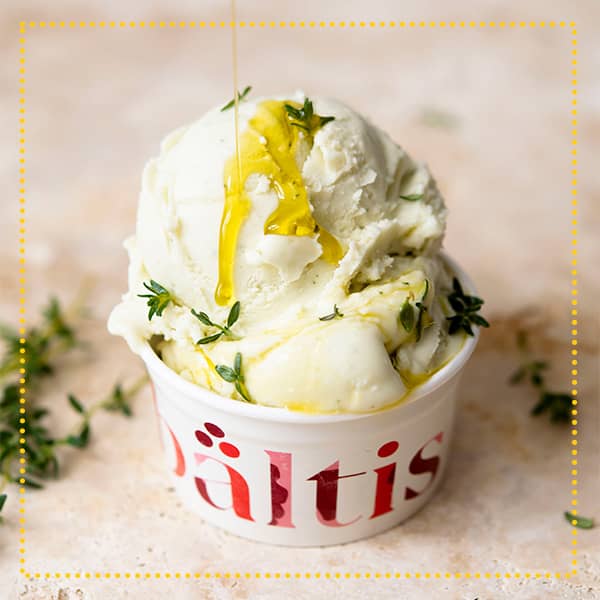 Located in the heart of Le Marais, Bältis offers 100% organic sorbets and ice creams, created hand in hand with MOF (Meilleur Ouvrier de France) Jean-Thomas Schneider, and they made a splash in the summer of 2022. The good news is that Bältis recently opened a new location in the Montorgueil neighborhood, along with a new collaboration with Micky Abou Merhy and Elie Nehme, the creators of the Kissproof bar in Belleville, for a collection of cool and refreshing frozen cocktails!
At both addresses, you'll find their signature flavors: achta, a milk cream flavored with orange blossom and pistachio, as well as silky-smooth sorbets like rosewater, lemon, passion fruit, or apricot, made ultra-smooth with the use of an amazing wood gum. And at the Bältis Montorgueil location, they have two exclusive flavors: a suave and flavorful thyme/olive oil ice cream and a dried fig sorbet that can be enjoyed like a candy.
Price: Ice creams and sorbets range from €4.30 to €6.80, frozen cocktails at €8.
Where to find them? Bältis, 27 rue Saint-Antoine, Paris 4th (open daily from 12 pm to 10:30 pm) and 54 rue Tiquetonne, Paris 2nd (open daily from 12 pm to 11 pm). © Géraldine Martens
Jade Genin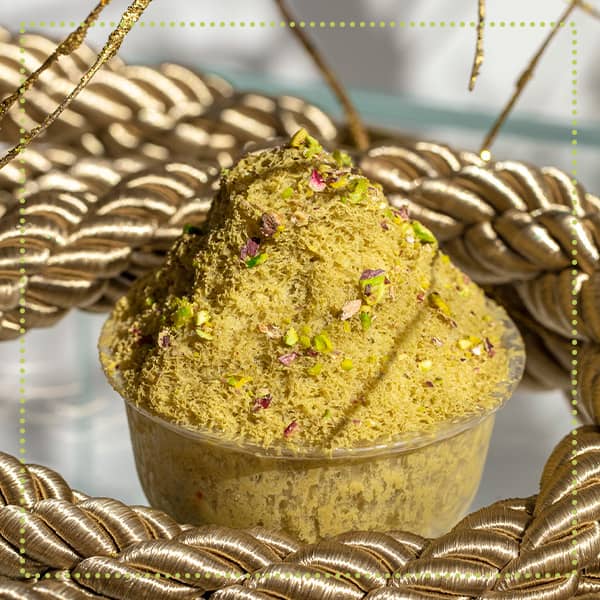 The daughter of renowned chocolatier Jacques Génin, Jade Genin is also venturing into the world of ice cream with her own unique creation called "granita." Made with fresh and natural ingredients, her granitas are as delicious as they are refreshing. Jade's creations don't use crushed ice but instead finely grated ice, resulting in a light and snowy texture.
You can find various flavors such as dark chocolate, Marcona almond, chestnut honey, Mara des bois strawberries, mango, and pistachio. As soon as the spoon touches your mouth, the texture melts and instantly refreshes you!
Price: €7-8.
Where to find them? Jade Genin, 33 avenue de l'Opéra, Paris 2nd. Open from 11 am to 7 pm from Tuesday to Friday, from 11 am to 7:30 pm on Saturdays, and from 11:30 am to 6:30 pm on Sundays.
La Glace Alain Ducasse at Le Meurice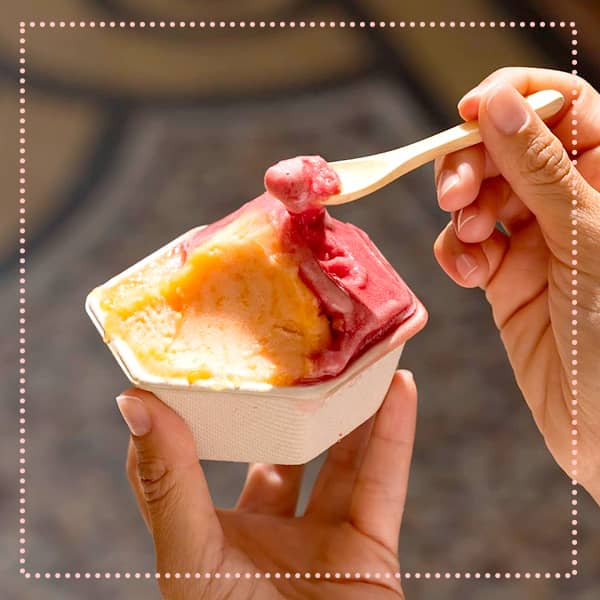 Aesthete and connoisseur of all things delicious, Alain Ducasse has just reopened his ice cream cart at the entrance of Le Meurice. The renowned 3 Michelin-starred chef has brought in Matteo Casone, the best gelato maker from Bologna (and quite the handsome gentleman), to import his extraordinary craftsmanship and churn out the best gelati and granita ever served in Paris.
On the menu: 4 delightful flavors of ice cream and 2 sorbets. We absolutely loved the creamy and intensely flavored triple vanilla ice cream and the strawberry sorbet made with gariguette strawberries, which we licked off the edges of the container because we didn't want to leave a drop behind.
Price: €4.50 - €10.
Where to find them? Le Meurice, 228 rue de Rivoli, Paris 1st. © Maki Manoukian
Plan D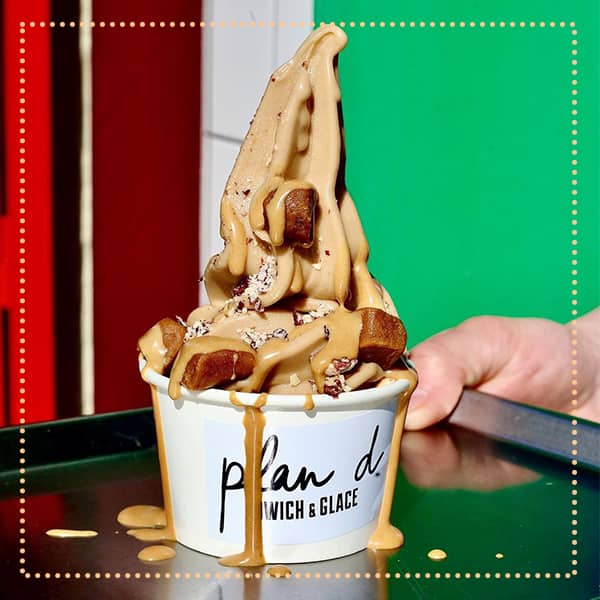 At Plan D, the hot spot on the canal where Alice Tuyet deals in vegan food porn, there are two specialties: 'dwiches (sandwiches) and ice creams that you absolutely must try.
Imagine a lactose-free sundae that combines the flavors of McDonald's and Snickers, but better, of course: oat milk and organic peanut butter ice cream, sweet and salty peanuts, caramel sauce, chocolate shavings, and fleur de sel.
Price: €4.50.
Where to find them? Plan D, 22 rue des Vinaigriers, Paris 10th. Open on Mondays from 12 pm to 3:30 pm, from Wednesday to Friday from 12 pm to 3:30 pm and 7 pm to 9:30 pm, on Saturdays from 12 pm to 9:30 pm, and on Sundays from 12 pm to 7 pm. © Alice Tuyet
Bachir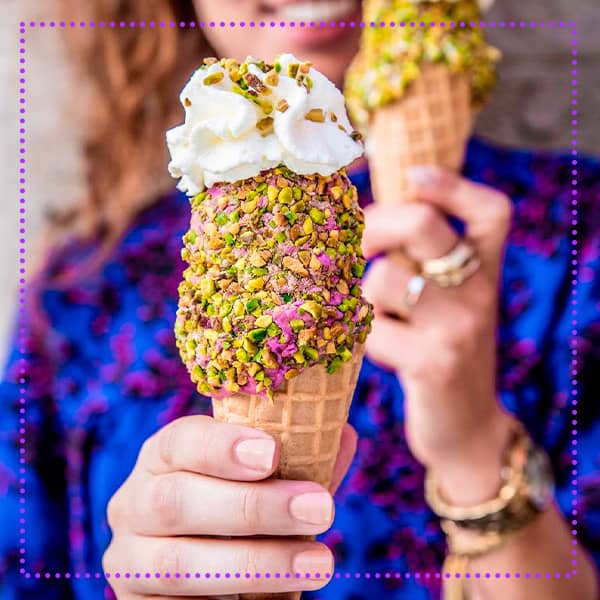 The latest Parisian chic? Lebanese ice cream, especially if it comes from Bachir, the ice cream parlor on Rue Rambuteau (also located in Montmartre) where there's always a queue. Their 100% organic achta ice cream, made with milk and orange blossom and coated with crushed pistachios, is an unforgettable must-eat.
Price: €7.30
Where to find them? Bachir, 58 rue Rambuteau, Paris 3rd, and 7 rue Tardieu, Paris 18th. © The Travel Buds
Fruttini by MO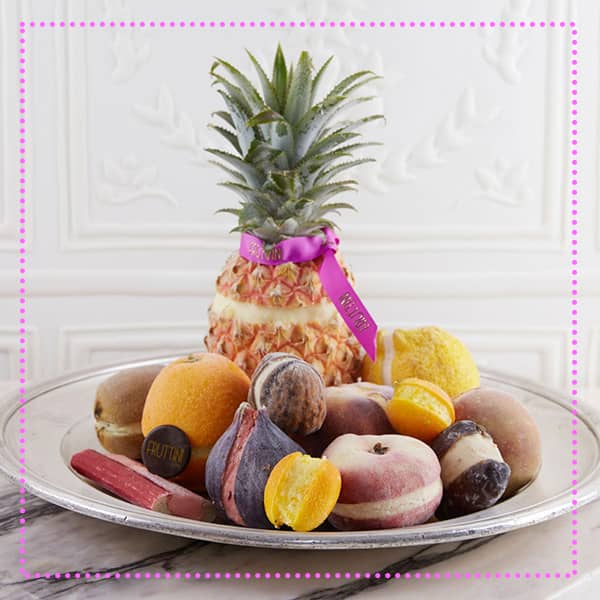 Obsessed with fruttini from their Italian vacations, Laure and Olivia decided to bring frozen fruits back to life in Paris, with a highly couture twist at Fruttini by MO, which now has two locations in Paris, including the original one near Le Bon Marché. As beautiful and delicious as a cake, as light as ice cream, these full-size fruit jewels of absolute refinement feature a creamy sorbet placed inside the shell of a seasonal fruit. Yum: apple (€11), mandarin (€9), lemon (€10), date (€5.50), or strawberry (€5).
Price: €5 - €51
Where to find them? Fruttini by MO, 24 rue Saint-Placide, Paris 6th. Open daily from 10:30 am to 7 pm.
La Glacerie de Paris de David Wesmael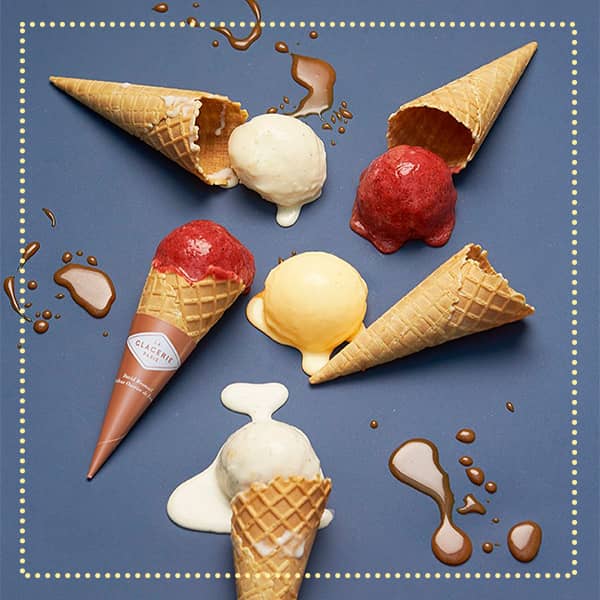 This year, Meilleur Ouvrier de France David Wesmael has decided to draw inspiration from the flavors of the East. It results in flavors like yuzu matcha caramel, Vietnamese chocolate, sudachi and sake-marinated grape, mango ginger sesame grilled and shizo mizo coco sorbet.
Another curiosity to try is the chocolate bars filled with ice cream, an authentic delight (€19.90). They also serve frozen cocktails, two scoops of your choice, blended with milk and served in reusable packaging (€11).
Price: €3.95 per scoop of ice cream.
Where to find them? La Glacerie Paris, 13 rue du Temple, Paris 4th, open Wednesday to Friday from 1:30 pm to 7:30 pm, Saturday from 1:30 pm to 8 pm, and Sunday from 1 pm to 7 pm. Haussmann: Galeries Lafayette Gourmet, 35 boulevard Haussmann, Paris 9th. © Thierry Malty
EmkiPop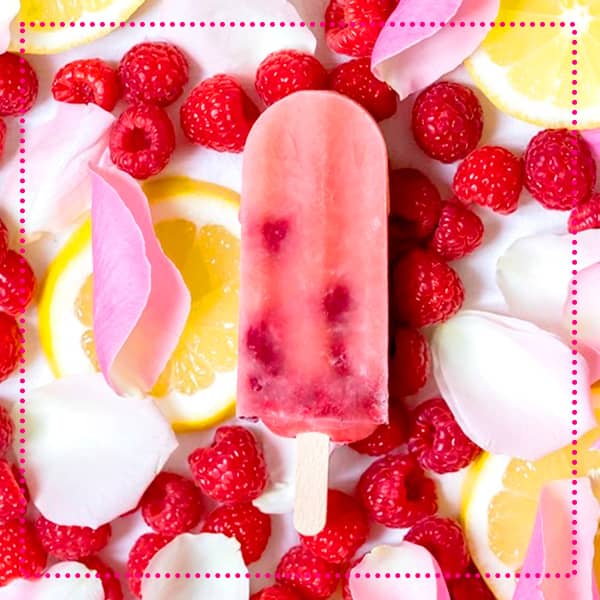 The incredibly cool Marseille label EmkiPop is a hit. Their signature? Reinventing the old-fashioned popsicle with a modern twist, using seasonal products, sourcing from the best local producers, and handcrafting them in a lab in Aubagne, near Marseille.
You can customize your popsicle (rhubarb, sesame, dark, lactose-free coconut, or even vanilla-chocolate marbled) and dip it in chocolate and stylish toppings (coconut, cocoa nibs, etc.). Pure joy!
Price: €3.90 for a classic popsicle.
Where to find them? Café Emikipop, 13 rue Antoine Vollon, Paris 12th. Open Wednesday to Sunday from 10 am to 6:30 pm.
Gelato del Marchese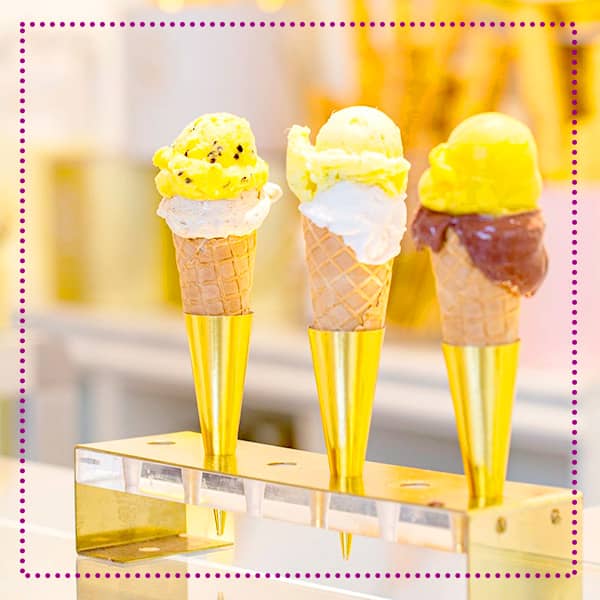 In Rome, gelato is taken very seriously, as evidenced by this Italian master gelato maker located near Odéon. With in-house roasting, daily production, and top-notch ingredients, gastronomic gelato is the focus here. And they deliver on that promise!
As for flavors, you'll find all the classic ones, particularly strong in taste, like the famous slightly salted and praline pistachio or the passion fruit sorbet that you won't be able to resist. The more adventurous might try flavors like parmesan, gorgonzola, or strawberry with black pepper.
Price: Starting from €3.40
Where to find them? Gelato del Marchese, 2 rue de Condé, Paris 6th. Open Sunday to Thursday from 1 pm to 8 pm, and Friday and Saturday from 1 pm to 9 pm.
And also...
We'll share with you three big favorites that you can order directly from the restaurant for dessert.
La glace à l'italienne du Jardin de Cheval Blanc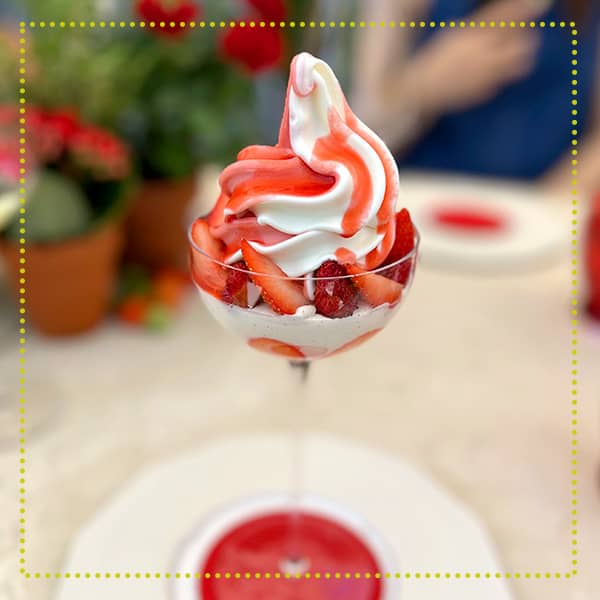 Le Jardin, the new rooftop of Cheval Blanc, is focusing this summer on the theme of tomato and strawberry. Chef Arnaud Donckele dreamed of offering Italian-style ice cream (a delight that is rarely found in Paris). After importing the machine straight from Italy, the chef worked on the ice cream recipe to create a simply sumptuous dessert.
Imagine vanilla/strawberry ice cream served in a cup, drizzled with strawberry coulis, and topped with fresh strawberries and wild strawberries. We guarantee you won't get over it.
Price: €22.
Where to find it? Le Tout Paris, 8 quai du Louvre, Paris 1st. Open every day from 12 pm to 3 pm and from 7 pm to 10:30 pm.
DELHI BAZAAR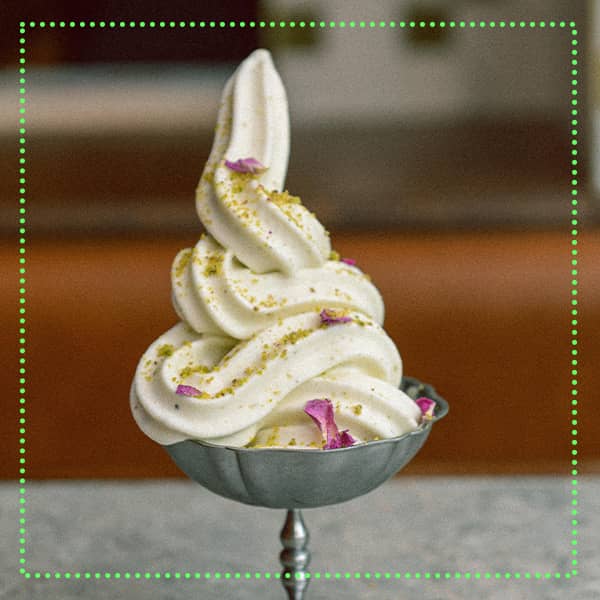 Recently tested by your favorite foodies, Dehli Bazaar stands out as the haven of authentic Indian cuisine. Among its myriad of delicious desserts, the team has innovated: what better way than to twist the kulfi, the traditional milk-based ice cream with spices and almonds?
Transformed into a terribly indulgent sundae, this cardamom, fennel, and kewra water dessert is a true nostalgic pleasure, sprinkled with pistachio pieces and rose petals. A spicy creation that refreshes and takes you on a journey!
Price: €5.
Where to find it? DELHI BAZAAR, 71 Rue Servan, Paris 11th.
FOLDEROL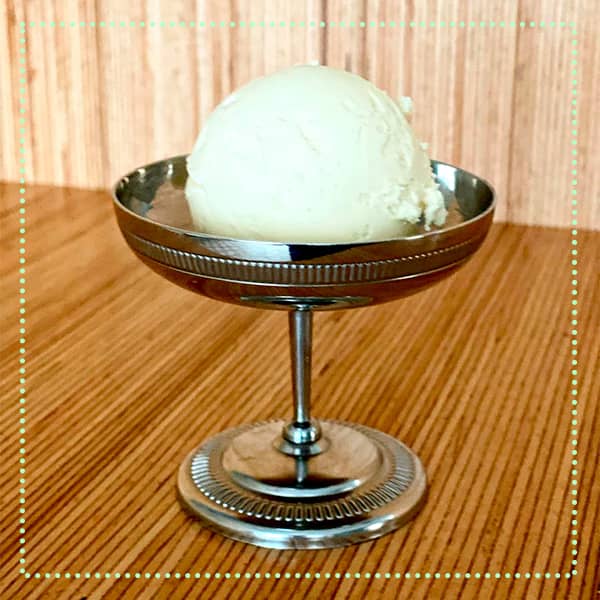 We had already told you about the gastronomic club Rigmarole, acclaimed by Le Fooding and awarded a Michelin star. The avant-garde Franco-American chef Robert Compagnon and his wife, pastry chef Jessica Yang, couldn't stop there.
Just a few steps away from their extraordinary restaurant, the duo opened Folderol, a wine-ice cream bar. A blend of simplicity and ultimate precision, there is genius in their homemade ice creams and cones (they're a treat!). Banana with raw cream, mind-blowing raspberry sorbet, perfect vanilla, enchanting pistachio, or strawberry shortcake... Have fun creating classic or pop culture combinations. One thing is certain: you'll be coming back for more.
Price: €3 per scoop, €5.50 for 2 scoops.
Where to find it? Folderol, 10 rue du Grand Prieuré, Paris 11th.
Discover Where to indulge in an insane strawberry tart ? and The best cookies in Paris