Were you looking for a " walking goal " in good weather? Going for a walk to treat yourself to a crazy ice cream is the gourmet goal of the moment, to combine with a sun break in the park. The dream ! Tour of the best frosty delicacies in the capital.
Alain Ducasse Ice Cream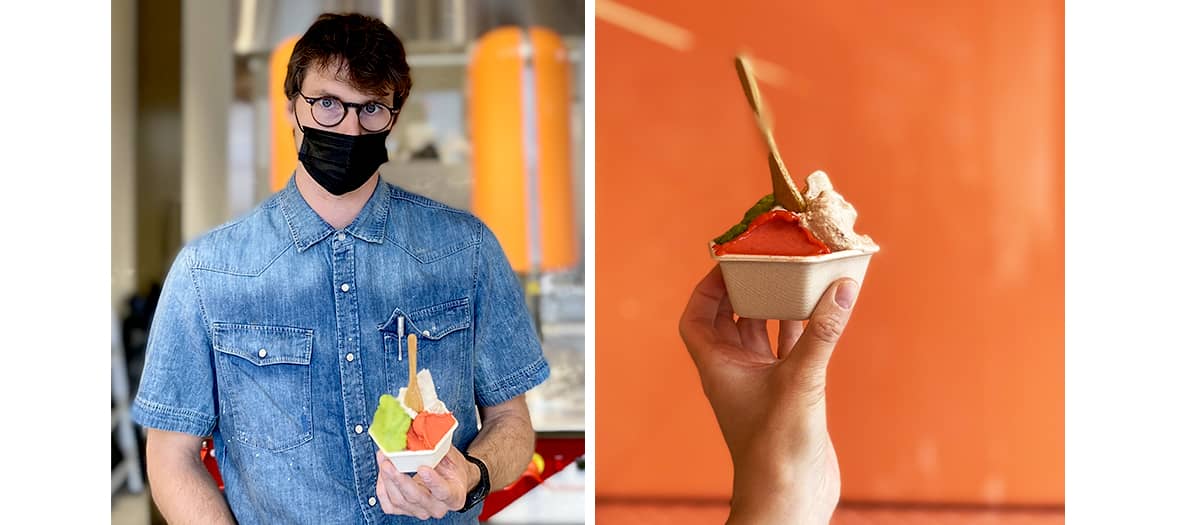 Esthete and obsessed with the good, Alain Ducasse does it again with a new address in the 11th district, a few steps from his chocolate factory, whose excellence we no longer praise.

The 3-star chef went to find Matteo Casone , the best glacier in Bologna (and handsome too) to import his extraordinary know-how and churn the best gelati and granite ever served in Paris. In this case: ice cream with hazelnut spread, fermented yogurt, a plumber twisted like never before, salted butter caramel or pistachio and lemon fleur de sel sorbet or strawberry and fermented strawberries. As for the almond granita, it is so refined that it is hard to believe that it is a simple mix and match of water and dried fruits. The ultimate foodie curiosity: the herbal sorbet (parsley, mint, coriander, basil, tarragon), a shot of fresh. The little pot: € 6.50. Available in 500g or 1 kg tub to take away.
Where to find them ? Alain Ducasse 38, rue de la Roquette, Paris 11th.
© Elodie Rouge
The Glazed x Babka Zana collection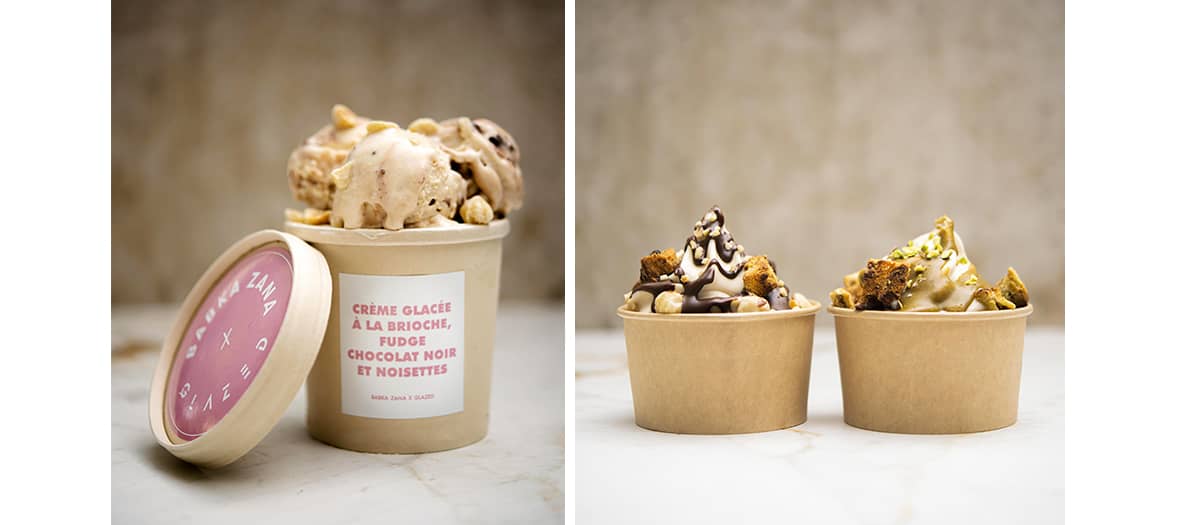 The hottest criminal association of the season is definitely Babka Zana's collab 'with Glazed , the artisanal and ultra-creative ice cream shop. It tastes like the best babka in Paris in an ice cream jar. Concretely, the ice cream maker infuses the star brioche in a crazy ice cream recipe. Before adding hazelnuts and chocolate sauce. It rocks (3.50 € the ball, 9.90 € the 350 ml jar).
But the height of the foodpornerie to draw from this collection are the sundaes pimped with babka croutons. All you have to do is choose your Mother of the Family Spread Sauce, pieces of hazelnuts or Iranian pistachio orange blossom sauce (€ 6 per jar).
Where to find them ? Babka Zana 65 rue Condorcet, Paris 9th and Glazed 54 rue des Martyrs, Paris 9th, 19 rue Geoffroy Saint-Hilaire, Paris 5th.
© Géraldine Martens
The French Bastards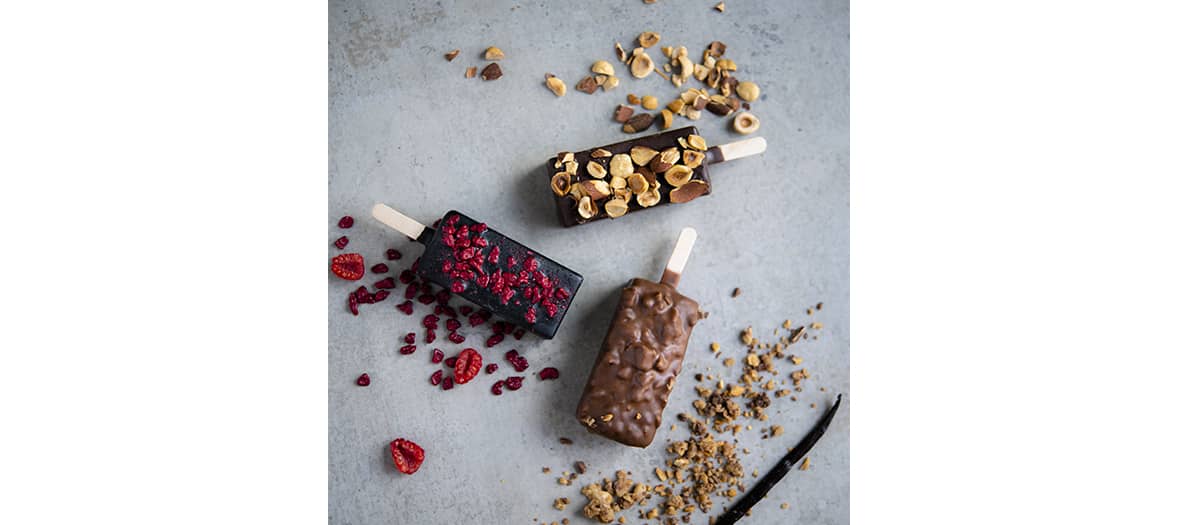 Notice to hipsters in eastern Paris: The French Bastards , it's a good dose of tradition and craftsmanship sprinkled with pop culture in an ultra-stylish store rue Oberkampf and rue Saint-Denis, opened by Generation Y of the bakery. This summer, we are happy to swap our summer body for the Frozen Bastards imagined by chef Julien Abourmad . It gives a vanilla, caramel and cookie ice cream (€ 4.90), another with the house's signature praline coated with dark chocolate, hazelnuts and roasted almonds and finally the crunchiest with raspberry, white chocolate and charcoal. A hot mix that melts in your mouth. Yum.
Where to find them ? The French Bastards 61 rue Oberkampf, Paris 11th, 181 rue Saint-Denis, Paris 2nd.
© Geraldine Martens
Plan of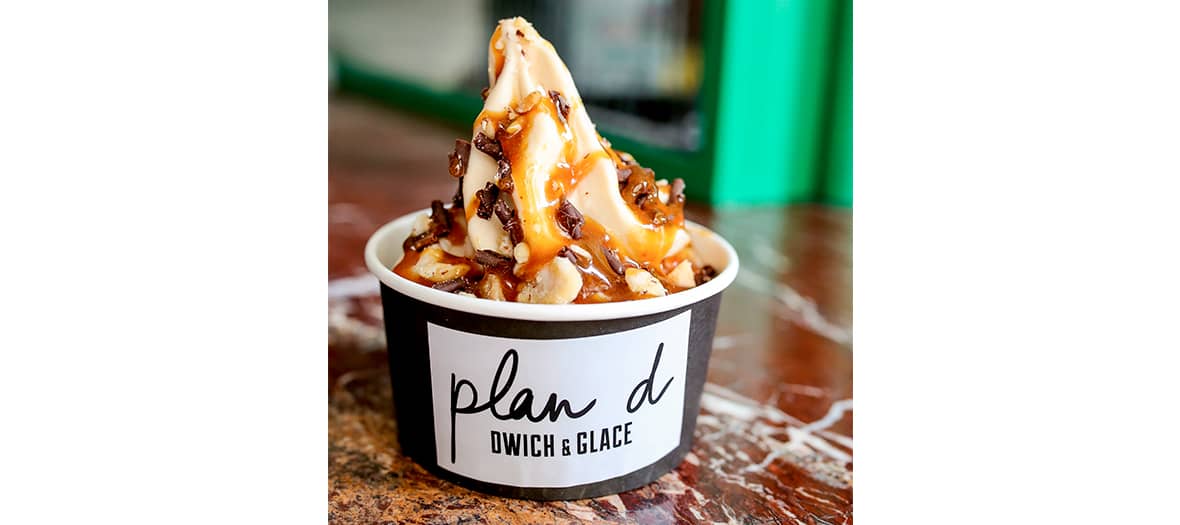 At Plan D , the hot spot on the canal where Alice Tuyet sells vegan foodporn, there are two specialties. The 'dwiches ... and ice cream to lick urgently.

Understand a lactose-free sundae, between the taste of McDonald's and Snickers, and better, of course: oat milk ice cream and organic peanut butter, sweet and savory peanuts, caramel sauce, chocolate shavings and fleur de sel (4, 50 €).
Where to find them ? Plan D 22 rue des Vinaigriers , Paris 10th district.
© Alice Tuyet
Folderol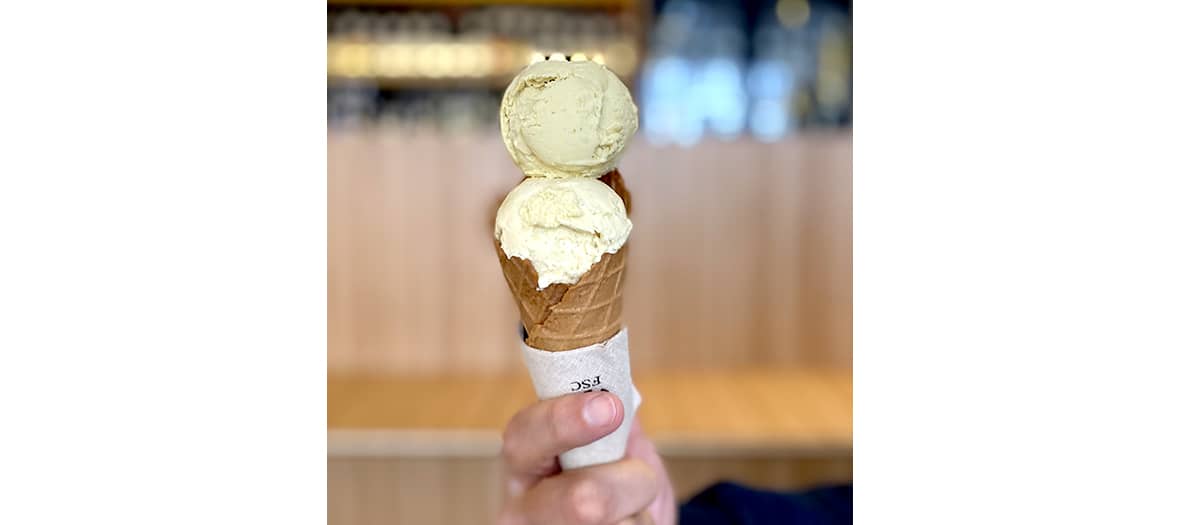 We had already told you about the small gastronomic club Rigmarole , which received an ovation from Le Fooding and a Michelin star. The avant-garde Franco-American chef Robert Compagnon and his wife, pastry chef Jessica Yang , could not stop there.
A few steps from their extraordinary table, the duo opened Folderol, a wine bar and ice cream parlor. Mixture of simplicity and ultimate precision, there is genius in their homemade ice creams and cones (cake!). Banana with raw cream, stunning raspberry sorbet, perfect vanilla, bewitching pistachio or strawberry shortcake… We have fun creating classic or pop culture mixes. One thing is certain: you will come back.

Where to find them ? Folderol , 10 rue du Grand Prieuré, Paris 11th.
Bachir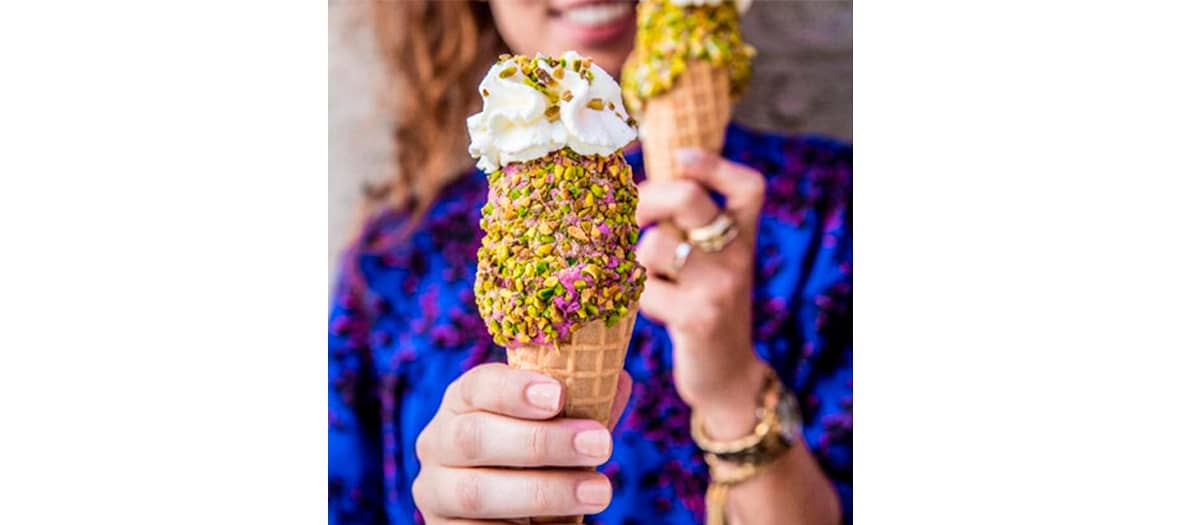 The latest Parisian chic? The Lebanese ice. Especially if they come from Bachir , the glacier rue Rambuteau (also located in Montmartre) where there is always a queue.

Its 100% organic achta ice cream made from milk and orange blossom coated with crushed pistachios (€ 5) is a new must-eat. Unforgettable.
Where to find them ? Bachir 58 rue Rambuteau Paris, 3rd, 7 rue Tardieu, Paris 18th.
Fruttini by MO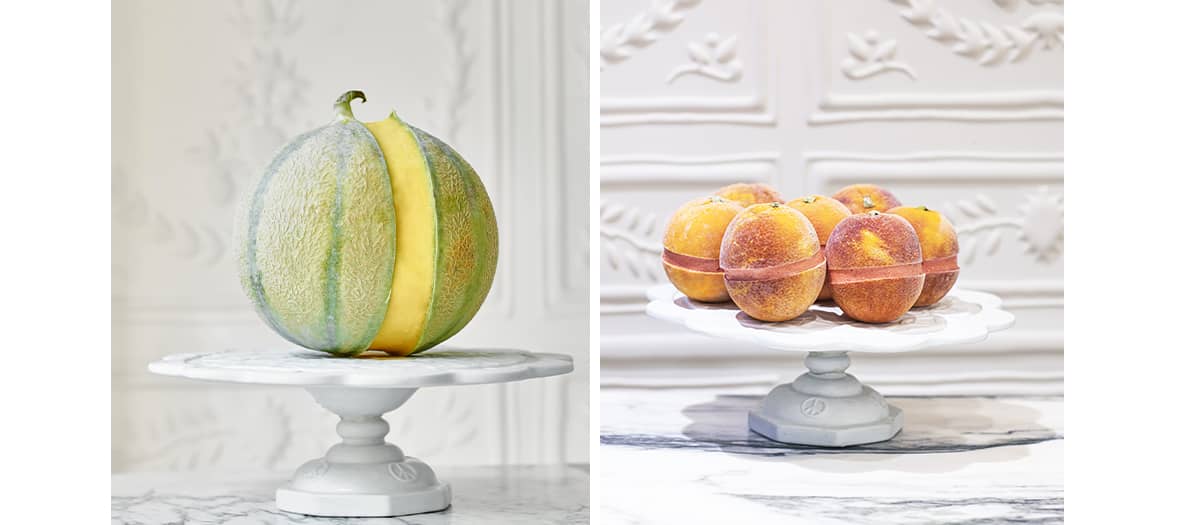 Obsessed by fruttini , a souvenir of their Italian vacation, Laure and Olivia have decided to revive frosted fruits in Paris, in a very couture register with Fruttini by MO which now has two Parisian addresses: the historic one close to the Bon Marché and a new rue des Martyrs.
As beautiful and tasty as a cake, as light as an ice cream, these life-size jeweled fruits of absolute refinement offer a creamy sorbet placed in the shell of the seasonal fruit. Yum: dragon fruit (€ 25), grapefruit (€ 19), baby mango (€ 12), lemon verbena (€ 10), apricot (€ 9), strawberry (€ 4.50) ) or passion fruit (10 €).
Where to find them ? Fruttini by MO 24 rue Saint-Placide, Paris 6th, 32 rue des Martyrs, Paris 9th.
David Wesmael's Ice Cream Shop in Paris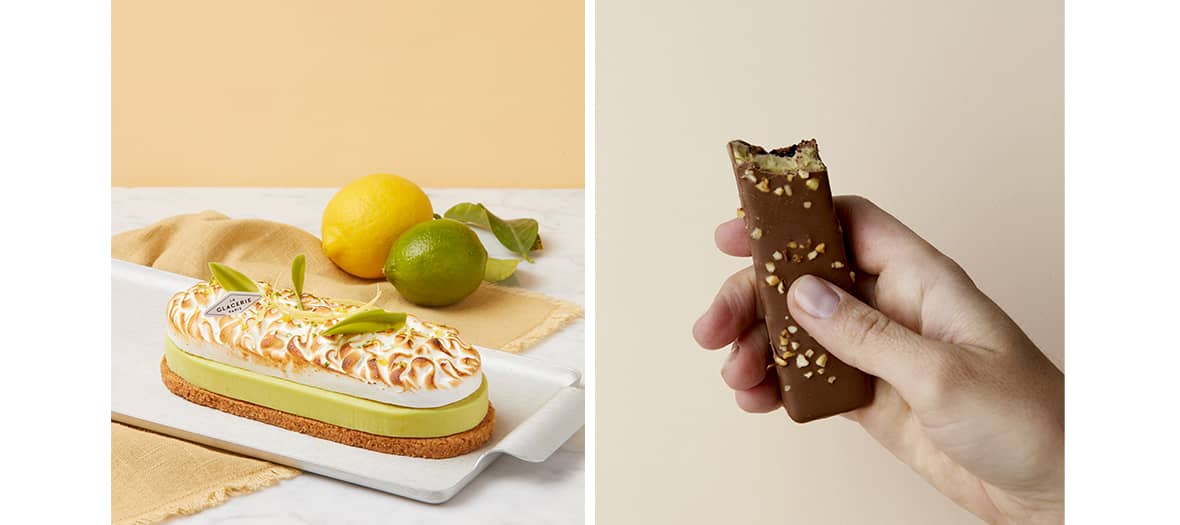 When the Meilleur Ouvrier de France David Wesmael tackles the legendary frozen Twix and Mars of our adolescence, it gives rise to luxury junk food. We're banging bars! Our favorite? Pistachio ice cream sprinkled with a blackcurrant confit and speculoos praline, coiled in milk chocolate (€ 6). It's crazy.
The other curiosity to try this summer: its iced lemon meringue tart, a priori everything there is more classic with an almond-hazelnut shortbread dough and a caramelized Italian meringue. Except that the lemon cream becomes a lemon sorbet from Menton, lime and lemon confit, an ice cream with lime and a lemon caramel (49 € for 6 people).
Where to find them ? La Glacerie Paris 13 rue du Temple, Paris 4th and at the Galeries Lafayette stand 35 boulevard Haussmann, Paris 9th.
Berthillon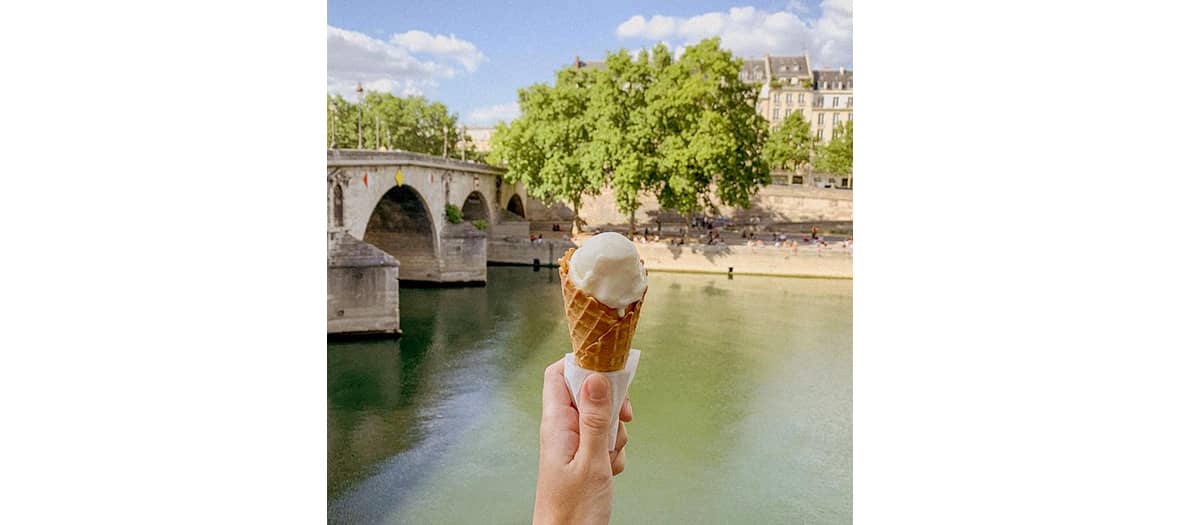 Ice cream to try once in a lifetime? A cornet at Berthillon , a cult address for Parisians for 3 generations. The legendary glacier of Île Saint-Louis continues to hit the mark with its vanilla ice cream or coffee, but also its wonderful seasonal flavors: mara des bois, wild blackberries or rhubarb . What's new for the summer? The delicious sorbets with oven-roasted pineapple and fresh basil or lemon verbena and mint leaf ( € 3 per scoop).
Where to find them ? Berthillon 31 rue Saint-Louis en l'Ile , Paris 4th.
© Instagram/ @enaraday
EmkiPop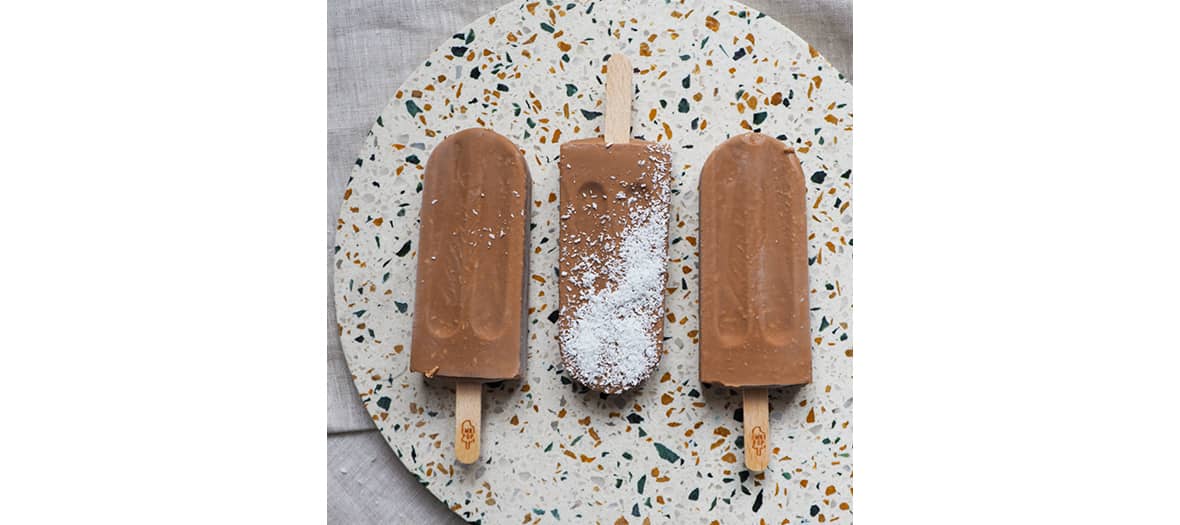 The cool Marseille label EmkiPop is a hit. His signature ? Revisiting the old-fashioned Eskimo to the taste of the time with seasonal products + sourcing from the best local producers + artisanal production made in Marseille in a lab in Aubagne. You can then pimp your stick (rhubarb, sesame, dark, lactose-free coconut or downright marbled chocolate vanilla) and dip it in chocolate and stylish toppings (coconut, cocoa nibs, etc.). Joy !
A delicious novelty for the summer, a collaboration with Carré Suisse chocolate which takes up the Eskimo classics. It makes vegan coconut milk chocolate sticks and pieces of grated coconut.
Where to find them ? Café Emikipop 13 rue Antoine Vollon Paris 12e. Pop-up in front of the Bon Marché, 24 rue de Sèvres, Paris 6th.
House Christine Champault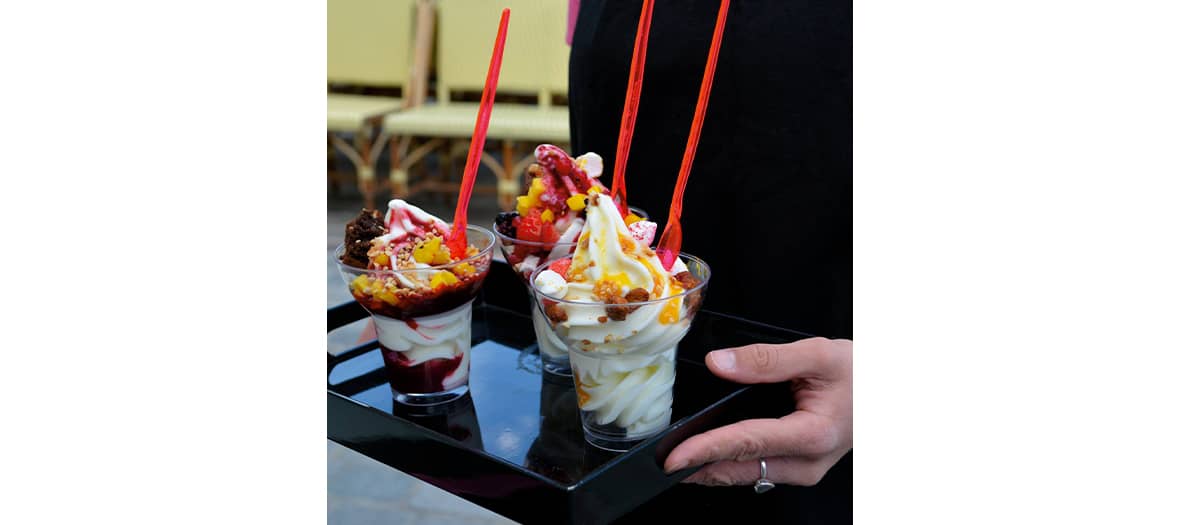 The extraordinary Christine Champault is no longer presented in Saint-Germain-des-Prés. His specialty? Its artisanal Frozen Farm Yogurts (nature or amarena cherry, lemon pie, dates, Timut pepper, Passion fruit) homemade toppings (28 € the 1 liter jar and cornets offered ) . Fun fact: the cooler provides the table of beautiful restaurants and… of the National Assembly !
Where to find them ? Maison Christine Champault 5 rue de Montfaucon, Paris 6th and at 2 kiosks in the Luxembourg garden, in delivery (order at 06 03 47 97 88.
To the Mother of the Family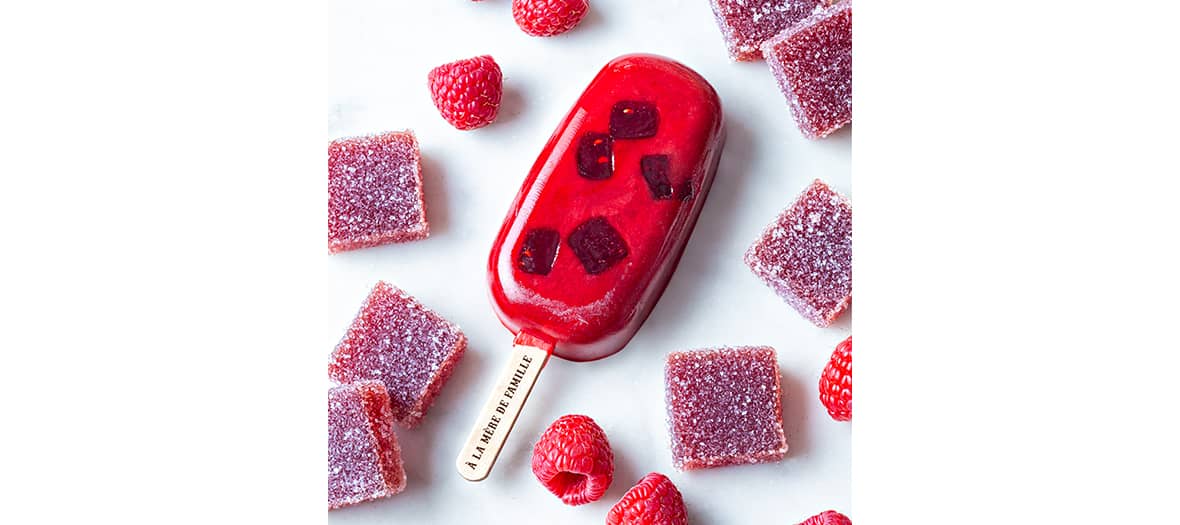 The oldest chocolate factory in Paris, renowned for its addictive sweets and artisanal sweets , hits the mark by revisiting the Eskimos: a vanilla scent covered with a sparkle of " squirrel leaf " - their star candy with pieces of roasted almonds and hazelnuts ( € 5) or sorbet sticks with pieces of homemade fruit paste (€ 4.50). Also, ice creams with the scent of their sweets: vanilla ball and caramel coulis or dark chocolate and black sesame (€ 12 per jar). Yummy! A little luxury that we could not do without ...
Where to find them ? At the Mother of the Family 35 rue du Faubourg Montmartre, Paris 9th. All the shops in Paris here .
© Laurent Rouvrais
Ice cream of the Marquis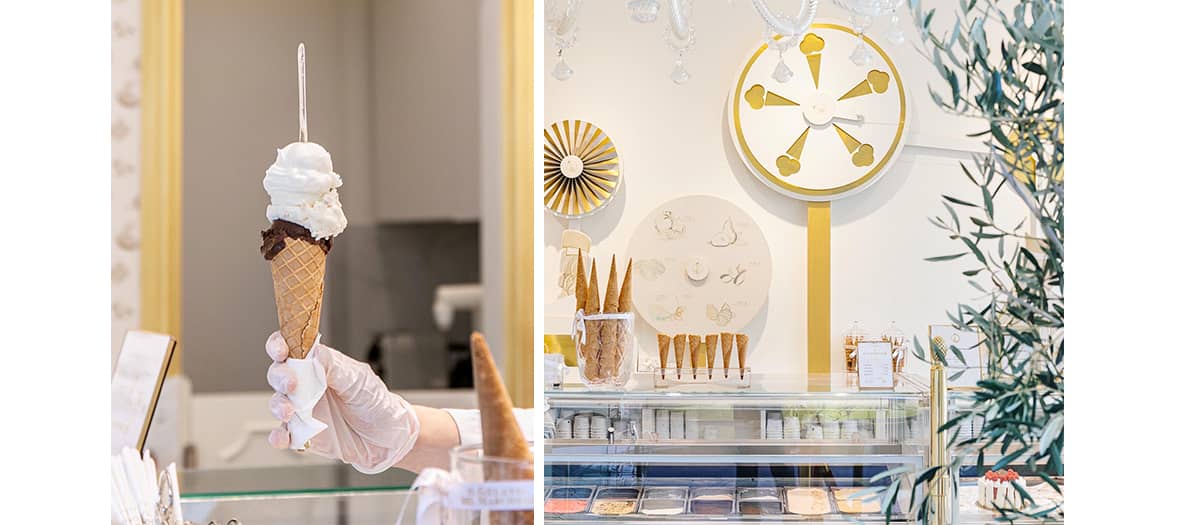 In Rome, we do not laugh at all with gelati : as evidenced by this Italian master glacier based in Odeon . Homemade roasting, daily production, high-flying products: they claim a gourmet ice cream. Promise kept!
Where to find them? Gelato del Marchese 2 rue de Condé, Paris 6e
Pierre Marcolini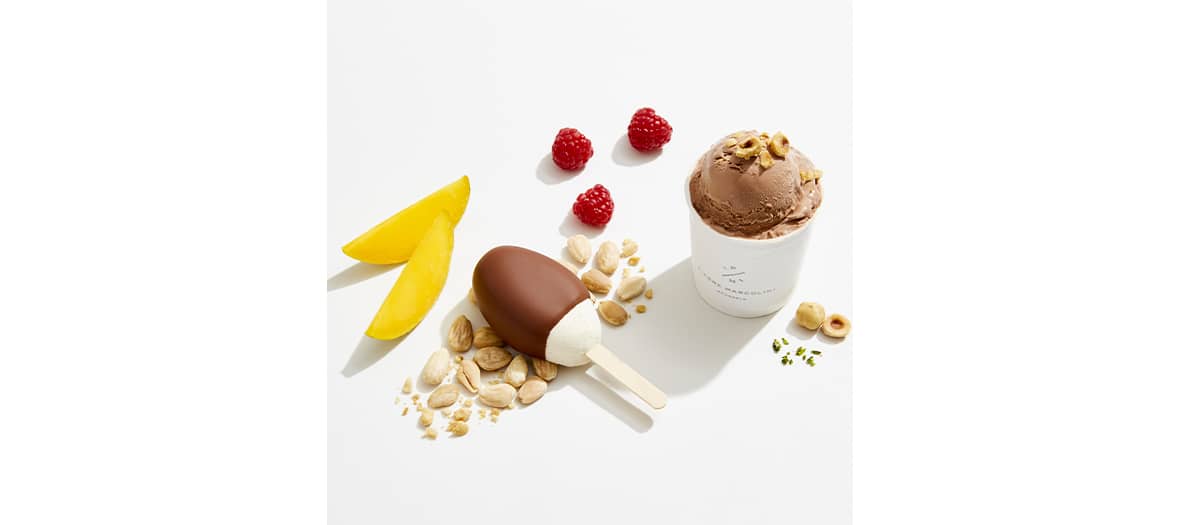 The favorite Belgian chocolate maker of Parisiennes always finds a way to attract them like flies! Latest delicacy to date that you will not resist: its " Frissons " collection with among others an ice cream with almond milk and raspberry coulis, another with Madagascan vanilla and caramel coulis or even with praline and hazelnut coulis , served on the spot in jars sprinkled with broken almonds, hazelnuts or roasted pistachios. Did you say foodporn ? (€ 4.90 for 125ml).
Where to find them ? Pierre Marcolini 235 rue Saint-Honoré, Paris 1st, 89 rue de Seine, Paris 6th.
And also …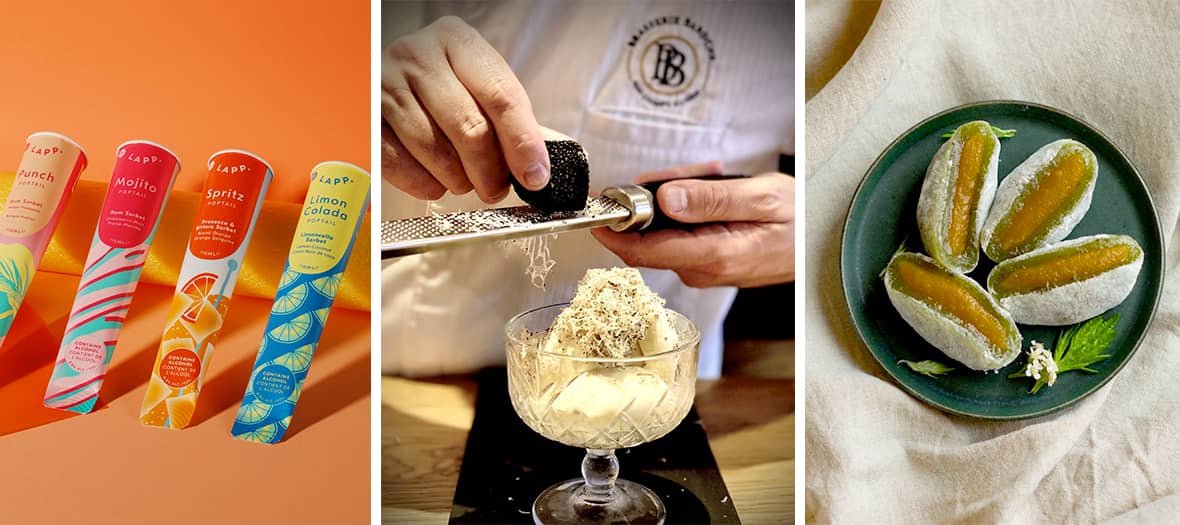 The Magnum Gold Double Caramel . In the Love Brand category, I ask? Magnum : unparalleled kif and irresistibly fooporn… That's good, its flagship in the Marais increases the pleasure tenfold by offering to concoct its tailor-made Eskimo. But the stick to test absolutely this year is the little novelty: the Gold Double Caramel. Concretely: a pecan nut ice cream, white chocolate salted caramel sauce with caramel and cookie pieces. Magnum 4 rue Pavée, Paris 4th.


Lapp's poptails. Please note, only adults are allowed to lick these sorbets. The reason ? They are twisted with alcohol : Spritz, Limon Colada, Mojito Fraise (€ 1.50). Real frozen cocktails , to be sucked in moderation therefore. Lapp on sale in Monoprix and at Today Demain 42 rue du Chemin Vert, Paris 11th.


Dumbo's frozen sandwiches. It's the summer phenomenon: after smash burgers, ice cream sandwiches are coming to Dumbo. Charles Ganem and Samuel Nataf are inspired by the US for this ultra-gourmet recipe, revisited in our style, with good French products ( € 4.50). Dumbo 64 rue Jean-Baptiste Pigalle, Paris 9th, 11 avenue du Président Wilson, Paris 16th and at Dumbo Park 14 avenue de New York, Paris 16th.


The Martine Lambert institution . The queen of ice cream in Deauville and Trouville continues to make us salivate with her Quiberon (salted butter caramel), wild blackberry or rhubarb sorbet (€ 3.50 per scoop) . Martine Lambert 39 rue Cler, Paris 7th.

Truffle ice cream . It is the food curiosity of the summer. A stone's throw from the Champs-Elysées, Baroche, the very posh brasserie, offers an ice cream cup with bourbon vanilla, house praline with Loire hazelnuts and summer truffle from Gard (€ 12), imagined by chef David Baroche . Brasserie Baroche 101 rue La Boétie, Paris 8th.

The House of Mochi . This is the Japanese sweet address to know: the French temple of mochi, this extraordinary treat halfway between the coconut ball and the Japanese macaroon. Its frozen version is infinitely delicate, with hazelnut and lemon yuzu. Absolute chic? Try out their limited edition until the end of July: a white sesame mochi infused with lemon basolici made with shiroan (cream of white beans and organic cane sugar), organic lemons and fresh basil (3.50 €). La Maison du Mochi 39 rue du Recherches-Midi, Paris 6th, 120 rue de Turenne, Paris 3rd.
© Instagram / @lamaisondumochi
Also discover Brasserie Dubillot: the trendy haunt of meat lovers and Antoine and Yannick Alléno are launching an exquisite burger terrace.